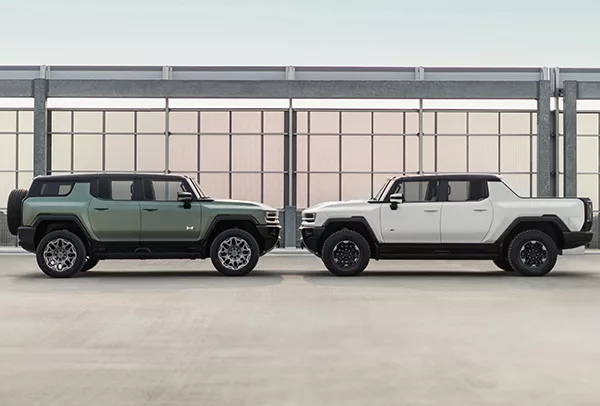 DETROIT – GMC began its electric revolution with the introduction of the GMC Hummer EV Pickup, the world's first all-electric supertruck, which is now joined by the GMC Hummer EV SUV.
These two vehicles – each with a distinct personality – build upon GMC's promise of delivering the premium, capable and precisely crafted vehicles that customers have come to expect from the brand. Today, GMC released new specifications for the 2023 Hummer EV Pickup and the 2024 GMC Hummer EV SUV, including the 3X trim for both models of the supertruck.
"GMC has long been a leader in professional-grade trucks and the GMC Hummer EV continues to rock the establishment, setting new standards in technology, capability, and maneuverability," said Al Oppenheiser, chief engineer, GMC Hummer EV. "Our unwavering goal was to develop an off-road capable supertruck right from the factory and we're excited to show the world what 100-plus years of vehicle development know-how can do when applied to EV power."
With segment-defining features like standard Four-Wheel Steer, CrabWalk and Watts to Freedom on the Edition 1 and the 3X trim for both Pickup and SUV, the GMC Hummer EV lineup has reimagined what is possible for an electric vehicle, with blistering on-road performance coupled with authentic off-road capability.
2023 GMC HUMMER EV Pickup
The 2023 GMC Hummer EV Pickup brings with it the continuation of the all-inclusive Edition 1 trim and the debut of the 3X trim, which will offer customers more choice to customize their truck.
The 3X trim will come standard with 22-inch wheels and 35-inch All-Terrain tires that offer a sportier, more on-road-oriented driving dynamic. In this configuration, customers can expect a GM-estimated driving range of up to 355 miles on a full charge1, allowing them to take their electric supertruck journey even further.
For those that want to head off the beaten path, the 3X trim will also offer the Extreme Off-Road Package, which includes additional underbody cameras, additional skid plates and rocker protection with built-in assist steps, as well as 18-inch wheels and 35-inch Mud-Terrain tires. This configuration will offer a GM-estimated driving range of up to 329 miles on a full charge, the same as the Edition 1 Pickup.