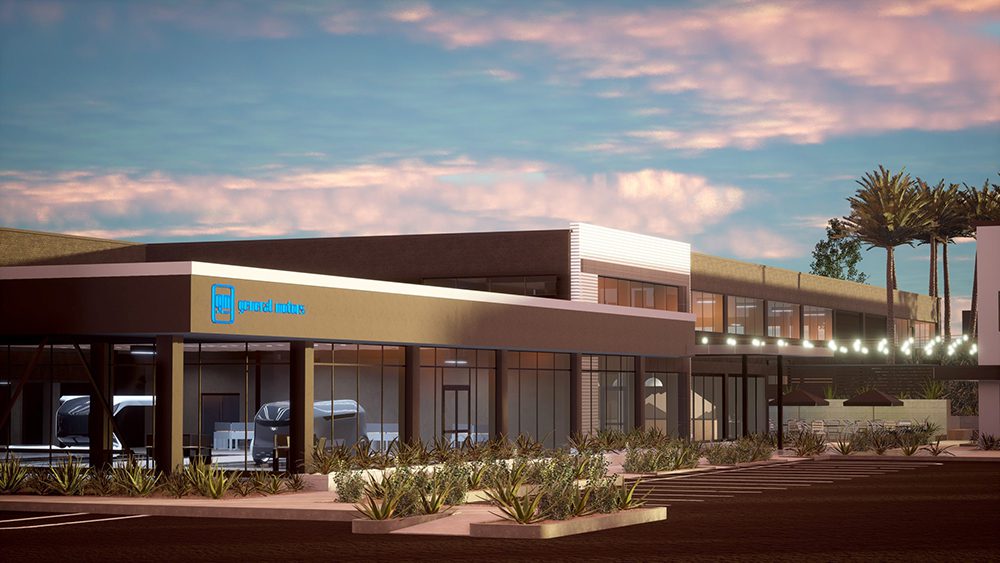 PASADENA, Calif. – Today, General Motors announced a more than $71 million investment to establish a new campus in Pasadena, California, for GM's Advanced Design Center operations, a move that will substantially increase the center's capacity and create more jobs in the area.
The facility's relocation from its existing space in North Hollywood to the nearly 149,000-square-foot campus will make room for expanded advanced technology teams that will help accelerate GM's goal of zero crashes, zero emissions and zero congestion. The new site is closer to technology centers on the West Coast and creates a recruiting opportunity with its proximity to leading universities and design schools.
The investment also signals GM's long-term commitment to maintain a physical presence in one of North America's largest hubs for multidisciplinary design and cutting-edge innovation. The new campus, which sits on 8 acres, will expand GM's capacity to support emerging business opportunities in areas of advanced technology, software integration and future mobility solutions.
"Having a physical presence in Southern California's technology epicenter is an integral part of our global design operations and this new innovation campus will not only expand our operations twofold, but offers access to the rich cultural diversity and talent in the region," said Michael Simcoe, GM vice president of Global Design. "Our positioning will allow us to attract dynamic candidates in fields that will bolster GM's proven design capabilities and challenge conventional thinking of what our future portfolio of connected products and services can encompass."
The announcement of the technology campus in Pasadena is part of GM Design's broader global expansion. GM's new Design West facility is currently under construction at the Global Technical Center in Warren, Michigan, and GM recently announced the expansion of the Advanced Design Center in Shanghai, China.
GM's advanced design team focuses on developing concept and future mobility projects that fall outside the scope of existing production vehicle programs. Creating alternative mobility applications can reveal opportunities for transformative innovation and help influence future GM products and services, while exploring new growth opportunities for the company.
Recent examples of innovation and design work linked to GM's broader growth strategy include:
BrightDrop – the newly established commercial delivery and logistics business, backed by GM – and its all-electric ecosystem of products, software and services
Cadillac's personal autonomous concept vehicle and vertical takeoff and landing aircraft
The lunar rover concept developed in partnership with Lockheed Martin
The new facility will amplify GM's role in the age of connected mobility, providing the latest tools, equipment and workspaces that have been tactically designed to foster synergy and ideation, including:
A more efficient layout, designed to mitigate disruptions and increase efficiency of the various paint, metal and plastic workshops
An increased footprint allowing for improved output of physical and virtual proof of concepts and show cars
The ability to rapidly pilot visualization and immersive technology, including augmented and virtual reality
An innovation lab for designing, implementing and validating new design tools
An advanced user experience/user interface design studio
Dedicated collaboration, research and development space for strategic internal and external GM partnerships
The additional space enables GM to greatly expand its breadth of output, leveraging the new location to recruit top regional talent in disciplines of aerospace engineering, defense, automotive design, software development and advanced technology.
"The collaborative nature of this facility will provide our advanced design team, cross-functional groups, prospective employees and external partners with the environment they need to continually redefine the boundaries of future mobility," said Bryan Nesbitt, GM executive director, Global Advanced Design and Global Architecture Studios.
Previous GM Design facilities in California include the Advanced Concept Studio in Newbury Park, from 1983 – 1996, and the current North Hollywood Studio, which celebrated its 20th anniversary in 2020.
The current North Hollywood Design Center will continue to be utilized for advanced design operations as work on the new facility is completed through the second half of 2022.