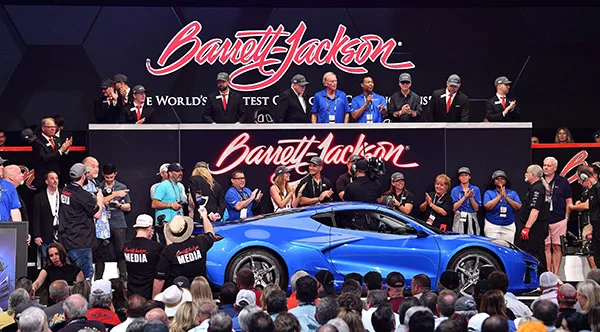 WEST PALM BEACH, Fla. – The first ever, electrified 2024 Chevrolet Corvette E-Ray raised $1.1 million for education nonprofit DonorsChoose at the Barrett-Jackson Palm Beach Auction on April 15. Corvette Executive Chief Engineer Tadge Juechter was on hand to generate excitement and encourage bids as the E-Ray crossed the block Saturday afternoon.
Founded in 2000 with the goal of making it easy for anyone to provide resources to teachers, DonorsChoose has now fulfilled more than two and a half million classroom projects by connecting donors directly with requests from educators. Rick Hendrick, chairman and CEO of Hendrick Automotive Group and owner of 14-time NASCAR Cup Series champions Hendrick Motorsports, cast the winning bid of $1.1 million. One hundred percent of this sale price will assist DonorsChoose in continuing to meet the needs of public schools in low-income communities.
"General Motors and Chevrolet are proud to join DonorsChoose on its mission of combatting inequality in school funding by providing underserved communities with the resources needed for a quality education," said Steve Majoros, chief marketing officer, Chevrolet. "The Corvette E-Ray is a special product for Chevrolet, and we are honored that the proceeds from the sale of VIN 001 will aid this organization in supporting students and teachers around the nation."
E-Ray marks an inflection point in the model's 70-year history, expanding what Corvette can deliver. Powered by a 6.2L Small Block V-8 in the rear and an electric motor on the front axle, the first all-wheel drive Corvette produces a combined 655 horsepower1. This is the quickest Corvette in history, completing 0-60 mph runs in 2.5 seconds2.
Prior to the sale of the 2024 Corvette E-Ray, Chevrolet also auctioned off first retail production models of the 2020 Corvette Stingray and the 2023 Corvette Z06. Together, these vehicles bring the total amount of money raised for charity by eighth generation Corvettes at Barrett-Jackson auctions to $9.1 million.