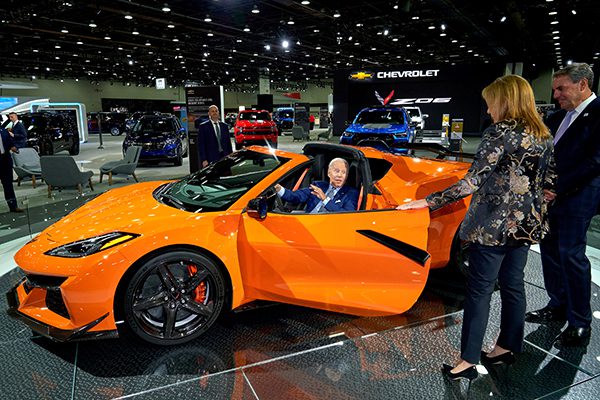 President Joe Biden has been pushing a bigger reliance on electric vehicles since he took office in January 2021.
On Wednesday, he used his visit to the North American International Auto Show in Detroit to push that agenda even more.
Biden, who test-drove an electric Cadillac SUV and made himself comfortable in several other vehicles, announced a $900 million investment in electric vehicle chargers in 35 states.
The grants, including funding for Michigan, are part of the bipartisan infrastructure law Biden signed late last year. It's part of $5 billion in funding included in the law.
"You all are going to be part of a network of 500,000 charging stations … installed by the IBEW (labor union), who I owe a special thanks to for the last election," Biden said during his media day remarks. "The great American road trip is going to be fully electrified whether you're driving along the coast … or on I-75 here in Michigan."
During his visit to Huntington Place – where the auto show is being held for the first time in three years due to the pandemic — Biden checked out displays for the various automakers, including the Chevy display, where he put himself in the driver's seat in a new Corvette.
Biden also checked out offerings from Ford and Stellantis during his visit.
In a press release issued by the White House Wednesday, the administration touted what it's been doing in the electric vehicle market:
Since Biden took office, companies have invested nearly $85 billion in manufacturing of electric vehicles, batteries, and EV chargers in the United States.
Just in 2022, companies have announced $13 billion in domestic EV manufacturing – more than triple the investment in 2020. Companies have also announced $24 billion in batteries – more than 28 times the investment in 2020 – and over $700 million to support EV charging.
The number of electric vehicles sold in the U.S. has tripled since the President took office.
In his auto show speech, Biden reiterated his belief that legislation passed since he's been in office is designed to lift the U.S. to the top of the electric vehicle market.
He said his administration will spend some $135 billion to advance the country's EV future through the bipartisan infrastructure law, the CHIPs and Science Act, and the climate and tax legislation passed last month.
"When you see these big projects in your hometown I want you to feel the way I feel," Biden said, according to The Detroit News. "Pride. Pride in what we can do when we do it together."