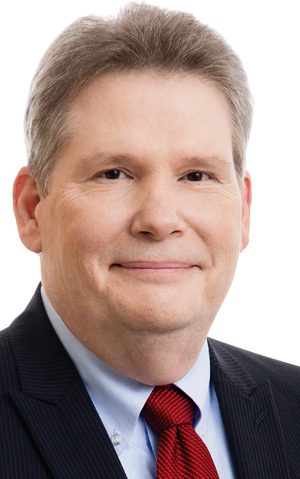 He admits it: Glen Ponczak, Adient's vice president of communications and investor relations, is a newbie to the Mackinac Policy Conference. It's his first time attending the event, which takes place on Mackinac Island the end of May.
"While I have been with involved with the auto industry for 30 years during my tenure with Johnson Controls, as a member of Adient I am now able to deepen my understanding of the industry," Ponczak said. "While others at Adient have plenty of experience with the conference, personally it's my first year attending. It's a great way to network and to get an education on all the important issues facing the state and the industry."
Ponczak talked about Adient and its investment in Detroit, the Conference and more for a wide-ranging interview. Here are the highlights:
Q: One of the pillars of the Mackinac Policy Conference is "increasing economic opportunity." How do you feel moving Adient to Detroit both increases your company's economic opportunities as well as those in the city and the region?
A: Now that we are a standalone company, Adient is investing in growth and we're already seeing a strong increase in our backlog of business for the coming years. We expect this growth will have an ongoing benefit to the economy in southeastern Michigan. We are committed to the region and will grow here as Adient grows. Our headquarter's move to downtown is a significant example of our increased presence. We purchased the 10-story, 164,000-square-foot Marquette Building at 243 West Congress Street, across from Cobo Center to be our new global headquarters. We are renovating the building now and will be bringing more than 500 jobs to downtown Detroit in 2019. But we are also keeping a significant presence at our current headquarters in Plymouth, Michigan. We've just begun a major project there to turn that facility into a world-class technical center. We're designing both facilities to reflect the latest work trends—they will be great, interactive environments! Studies show that, in general, younger generation workers have a preference for working and living in downtown areas. We expect that our new facilities will be an advantage in our ability to attract key talent in the years to come.
Q: Another Policy pillar is "winning the race in connected technology." Adient certainly is working toward making technologies that will make it easier for people to connect, especially in vehicles. What is the Adient project that has your attention right now in terms of what it will do for "regular" drivers/people?
A: I wouldn't point to a specific project but rather to the overall rethinking of the automotive seating and interior space in a world of automated vehicles and electric vehicles. In autonomous vehicles, seating will enable an enhanced interior experience for non-driving activities – leading to things like inboard rotation of seats to better enable passenger interaction. In a shared mobility environment, do you need a back seat partition? And what about increased wear and tear on the seats, and cleanliness? These trends create other questions. If a seat is not facing forward, how does that impact the delivery of HVAC or the placement of seat belts and air bags? In an electric vehicle, heating is a drain on the battery and reduces range, so does it make sense to heat the entire vehicle interior or should heat be delivered to the seat? We showed some of Adient's solutions at the most recent auto shows in Detroit and Shanghai, and will have new innovations to present at the IAA in Frankfurt this fall. We've built an innovation organization to take advantage of the significant opportunities to redefine the automotive interior in the next couple of years. We believe that innovation will be a key driver of our growth.
Q: Where do you see Detroit/Michigan in five years or 10 years with Adient as part of it?
A: It's amazing and gratifying to see all the investment and development happening in downtown Detroit and we at Adient are thrilled to be participating in the rebirth of a great city. At the same time, so much is changing in our industry … as evidenced by the session topics at the conference this week. I expect the industry will change positively in the coming years and Detroit and Michigan overall will come along with that. It's an exciting time.