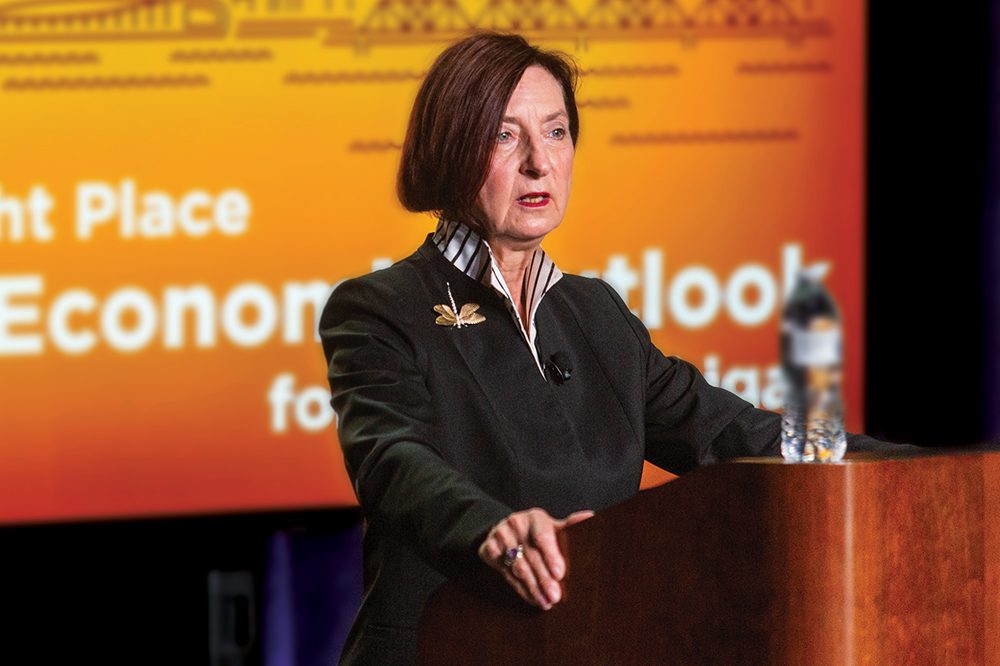 Birgit Klohs isn't a big fan of the word generally used to describe the phase of life into which she just stepped.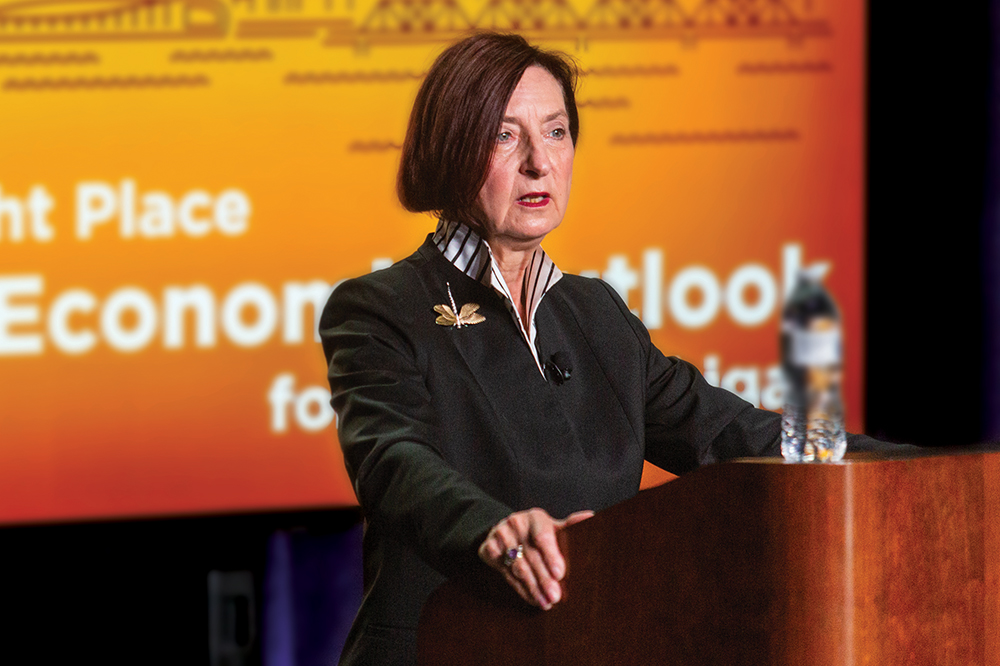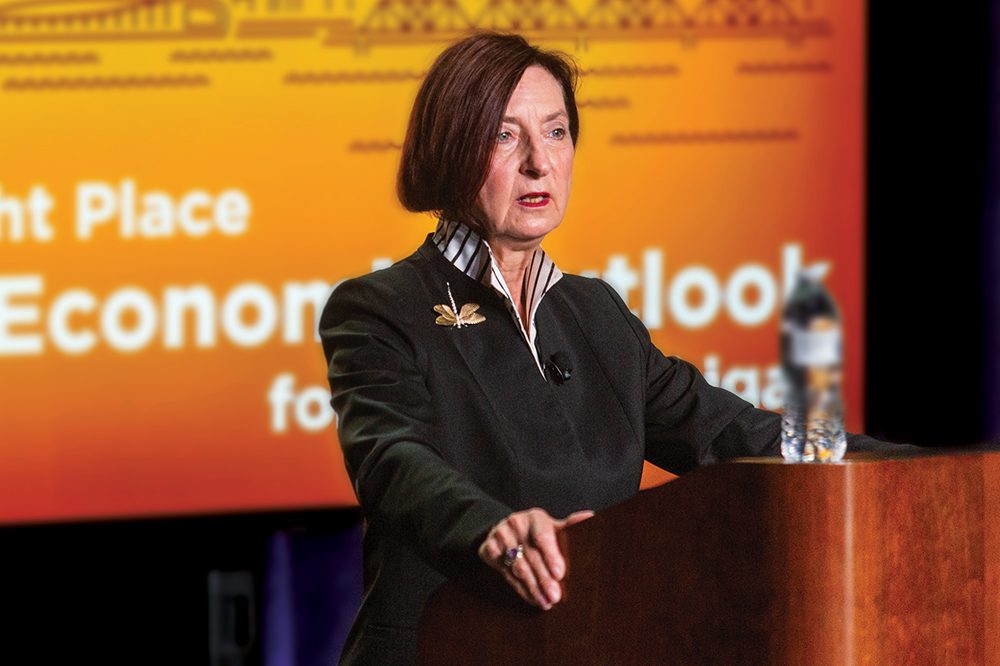 But "retirement" is where Klohs — for more than three decades the president and CEO of The Right Place — is headed after a storied career that has seen her — and her organization — turn Grand Rapids into a destination port for businesses domestic and international.
During a virtual meeting to discuss the economic future of West Michigan, Klohs used a word she likes better.
"I may be rewiring," she said with a chuckle. "I hate the word 'retirement.'"
Klohs, whose retirement was effective Jan. 31, has been toting the economic bale in West Michigan since the 80s, and she's led The Right Place since almost accidentally stepping into the president's office in 1987.
She had stepped in as an assistant director after the group's board had offered the job to someone else. That candidate accepted the job — then walked away from it.
And there was Klohs, ready and eager to step in. Klohs credits Orville Moxie, the former CEO of Amway, who had worked for Amway's Jay Van Andel who, in turn, had brought The Right Place to life in 1985. Moxie, who Klohs calls a mentor, recommended The Right Place board turn it over to Klohs.
The German-born Klohs had already led a trade mission to Europe for The Right Place, and her ability to speak German was certainly an asset in the organization's goal of recruiting globally.
So the board took Moxie's recommendation and approached Klohs, an a less-than-aggressive negotiation took place during which Klohs played something a little less than "hard to get" before accepting the job.
"Not at all," she said, laughing. "It was a lousy negotiation. Anyone in Negotiations 101 would have said, 'Why did you do it that way?' I didn't even think about it. It wasn't even a question.
"I knew it was the right thing," she added. "After I got into this business, I knew I wanted to lead an organization, and there was the opportunity. So, no, I didn't play hard to get, I didn't negotiate. But it worked out great."
She's not the only one who thinks so. When Klohs announced her retirement, Dave Van Andel, chairman and CEO of the Van Andel Institute, said his father imagined The Right Place as a "powerhouse" organization, and that that's exactly what Klohs turned it into.
"We all realize now that it has exceeded all expectations … I believe Birgit's leadership has made The Right Place the premier regional economic development organization in the country," Van Andel said. "It is the envy of communities nationally and the example everyone tries to emulate. I've had the privilege of serving with Birgit on The Right Place board for many years and have watched its impact on West Michigan. I can say with assurance my father would be very pleased with what The Right Place has accomplished."
Not bad for someone who didn't really know what she was getting into more than 40 years ago. Klohs had taken a summer job managing a workforce development program for the Berrien County Economic Development Corporation. When that summer contract was up, the boss asked her if she'd like to stay on full-time. Klohs, of course, agreed.
An opening for an industrial consultant came up in the county, but Klohs had no idea what that was about. Her boss took her to a meeting with a small manufacturer in Richmond, a family-owned business looking to expand.
"I thought, 'wow, this is pretty cool. We can help this business grow and in return he will hire people to get a job,'" Klohs remembers thinking. "I thought that was pretty nifty."
She spent a number of years with Berrien County, where she "really fell in love with the work." She had a German client — "That's how I also started to get into the German attraction business," she said — and "we lost them to Battle Creek.
"But that was the other part of it," Klohs said. "I thought, 'how interesting, I could get to work with companies from the country that I was from.'"
At the same time, Klohs was going full time to college at Western Michigan and working full time. When she got her degree, she was recruited by folks at the Michigan Department of Commerce.
"I knew I needed to grow, so I took that job," she said.
Then came a career detour that may have changed her life. Klohs went to work for the Prince Corporation, an automotive supplier in Holland. It was while at Prince — "I'm still friends with a number of Prince employees," she said — that she met the first German client she eventually landed in Grand Rapids, an automotive supplier who was shipping parts from Germany to here.
She got a call from the German businessman she'd met at Prince. He called her, not knowing she'd been planning on calling for an appointment during the trade mission she was leading.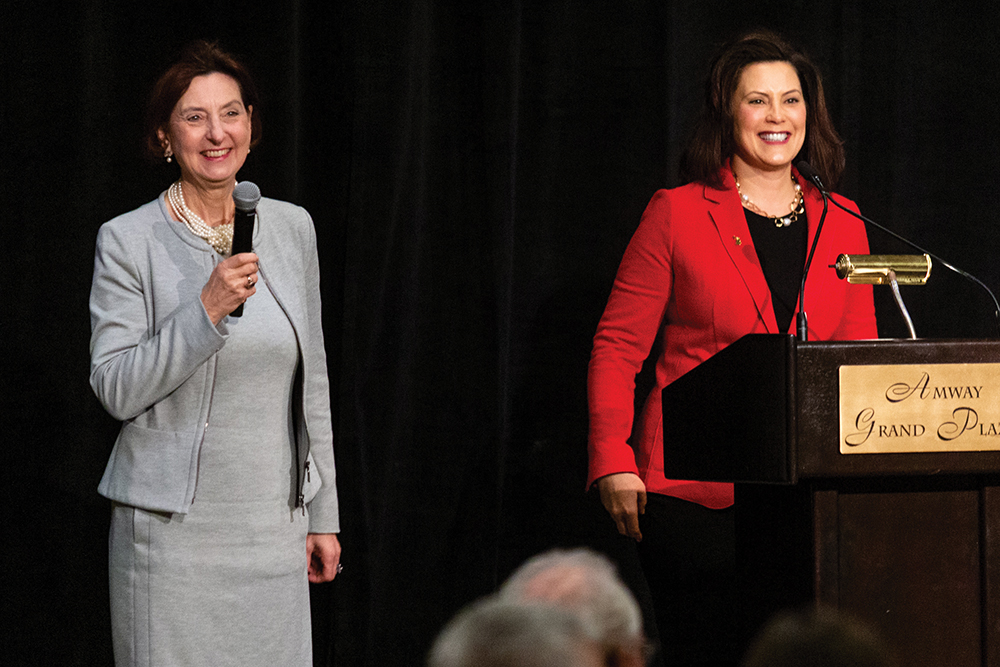 "I told him you can't keep shipping parts from Stuttgart to Michigan; it's a little expensive," Klohs recalled. Two years later, the company landed a $20 million project in Grand Rapids.
Klohs eventually left Prince, worked at GVSU in economic development, and then The Right Place came along. The business model of an organization formed by a group of business leaders intrigued her.
"It was a very different model," Klohs said. "Here they were creating a private-public partnership, raising their own money, and I thought, 'Wow, that's pretty cool. That would be really neat.'"
For what The Right Place has accomplished in 33 years, "really neat" is an understatement.
Under Klohs' leadership, The Right Place helped to create or retain 47,000 jobs and spur over $5.1 billion in new regional investment.
She collaborated with public and private entities at the local, state and national levels on transformational projects, including expansion of the Michigan State University College of Human Medicine to Grand Rapids, establishment of the Manufacturers Council and, most recently, the launch of the New Community Transformation Fund, which aims to increase business ownership and support multi-generational wealth creation within historically disadvantaged groups.
Tina Freese-Decker, CEO of Spectrum Health, credited the landing of the Michigan State University College of Human Medicine to Klohs. The project was the result of extraordinary collaboration with the university, local and state leaders, healthcare agencies and local business executives.
"Our region's emergence as a leader in bio-medical research, scientific education and healthcare services could not have happened without Birgit's relentless drive," Freese-Decker said. "She merged vision, opportunity and passion to change the economic future of the city."
Nowhere was The Right Place's leadership and influence, though, felt more than once the COVID-19 pandemic hit Michigan in early March. The group presented its three-year economic plan in February and, a couple of months later, they were closed by the pandemic.
That first Saturday, Klohs figured it was going to be a quiet weekend, because businesses were closed due to the governor's stay-at-home orders. Instead, she spent eight hours answering the phone, with most questions coming about personal protective equipment.
"We have been busier in these months than we've ever been before," Klohs said. "People either knew to call us and ask, 'is anybody making this?' or we would call and say, 'do you know how to make this?'"
Klohs noted that the depth of The Right Place paid off in getting help to people and businesses that needed it.
"We knew all of the people who make things in this region," she said. "So when the hospitals started calling about 'where do I find X, Y and Z PPE,' we knew either where it was or we could figure out who might be able to make it.
"Today we have over 100 companies on our website that either make or distribute PPE," she added. "We even taught several companies to sew gowns."
Here are just some of the ways The Right Place helped:
• Business Connections: The group made connections between healthcare systems and local manufacturers for critical supply chain needs.
• Local Business Focus: The Right Place staff was redirected to focus on supporting and retaining west Michigan businesses.
• Reopening Playbooks: The team curated a library of restart playbooks across all industries in west Michigan to support a safe reopening of business.
• Small Business Relief Grants: 195 small businesses in West Michigan negatively impacted by Executive Orders due to the COVID-19 pandemic received grant support from the Michigan Small Business Relief Program, made possible by the MEDC. MEDC allocated the 11-county West Michigan region $1,000,000 in grant funding to be administered by The Right Place, Inc. The demand was staggering with over 3,300 applications received, requesting over $71 million in both grant and loan funding.
• Small Business Restart Grants: $9.5 million in grant funding has been allocated to The Right Place to support eligible West Michigan businesses. The Right Place distributed funds to small businesses in Barry, Ionia, Kent, Lake, Mason, Mecosta, Montcalm, Muskegon, Newaygo, Oceana, and Osceola counties. Nearly 3,000 grant applications were received.
"The pandemic obviously changed a whole lot of things," Klohs said. "Because of our deep knowledge of our different business sectors, we became an even bigger resource to our businesses.
"But I will also say — and this is a hallmark of this community — people stood up and said, 'How can I help?'" she pointed out. "We became the facilitator of all of those things. From the health department to the sheriff's department to the hospitals to our manufacturers, it was very rewarding to be able to identify all those different resources. And, in the meantime, we also still led projects, what I call our regular economic development work."
Over 30 years, of course, the business has changed — "Wow, has it changed!" Klohs agreed — into a more diverse, more complex one. Obviously, technology has been the biggest driver of change — "Dial back 33 years … we had fax machines," said Klohs, unleashing another laugh — but the political climate has also been a factor.
Three decades ago, Klohs would use a faxed road map to get around when she was talking to clients in Germany. There wasn't a cell phone and the only other aid she had was "a bag full of marks or lira or French francs."
And 33 years ago, The Right Place pretty much had the foreign-direct investment business to itself. "Now," Klohs points out, "everybody's doing it."
Some 80% of The Right Place's mission is business retention, and the group has one of the country's top business retention and expansion (BRE) programs in the nation.
Still, a lot of the information clients need can be found online, although that amount of availability can be a double-edged sword.
"Clients can learn a lot about the community before they even talk to us … We need to be vigilant about keeping all of our data and all of that information up to date," Klohs said. "There's so much noise on the airwaves now because of information overload. You can get so much data, how do you help them sort through it?"
Despite all the changes, economic development, Klohs believes, is "still a relationship business."
"I can give you all the data, all the facts, I can send you all the building information, whether it's for a local company or a new company," she said. "But at the end of the day, you're going to want to see the whites of my eyes if you're going to locate here. You don't just make a big investment — or even a small investment — without really knowing who you're doing that with."
For the first time since 1987, they're going to be doing it with someone other than Klohs. She and her husband, Greg Northrup, are hoping to "enjoy a little time together," and she's got friends and family here and back in Germany she'd like to see more often.
Plus, she said, the time has come to pass it on to someone who can "have some runway" for another 10-plus years, and "I don't have those."
"There comes a time when a good leader knows when it's time to get off the stage," Klohs said. "It has nothing to do with COVID, nothing to do with any of that, it was just time. I would like to take control of my calendar a little more (more laughing) and have a little more balance between my private life and my work life."
She's certainly not going away. Klohs figures to be involved with at least nine different boards, including the Gerald R. Ford Airport Authority and the International Crossing Authority, to name a couple.
And then there's her most recent endeavor, the New Community Transformation Fund, created to uplift communities of color through capital investment.
"I'm very passionate about it and I'm going to continue to help … grow the fund and really get it up and running," Klohs said.
That's good news to those who are operating the fund. Skot Welch, a general partner for the fund, called her willingness to serve as a catalyst for the fund "critical."
"(It) speaks to her leadership, commitment and vision for the community," Welch said. "She's always been such a critical part of West Michigan business success. But more important, her involvement speaks to the fact that she really wants to see equity and opportunity in the marketplace. I truly believe this will be a lasting part of her legacy."
Klohs will, of course, miss the team of more than 30 people — "My peeps … who are great, obviously," she said — some of whom have been with her for 25 years or more.
And she'll miss "really being in the middle of where it happens."
"That can be very … it's very rewarding to be able to move things forward, together with others, obviously," said Klohs, whose last day is Jan. 31. "I'm not moving, I'm here, I love the organization and I'll always make myself available. I'll figure out a way to still play a role without getting in the way.
"I don't want to go from 100 mph to 0, but I don't want to stay at 100, either," she added. "I hope to find a place to go around 50 mph instead of 150 mph."