What happens when you take an unconventional musical performer known for staging unique performances and bring him into Detroit, arguably one of the most musical cities in the world that happens to also have lots of unconventional spaces available? You have a match made in operatic heaven.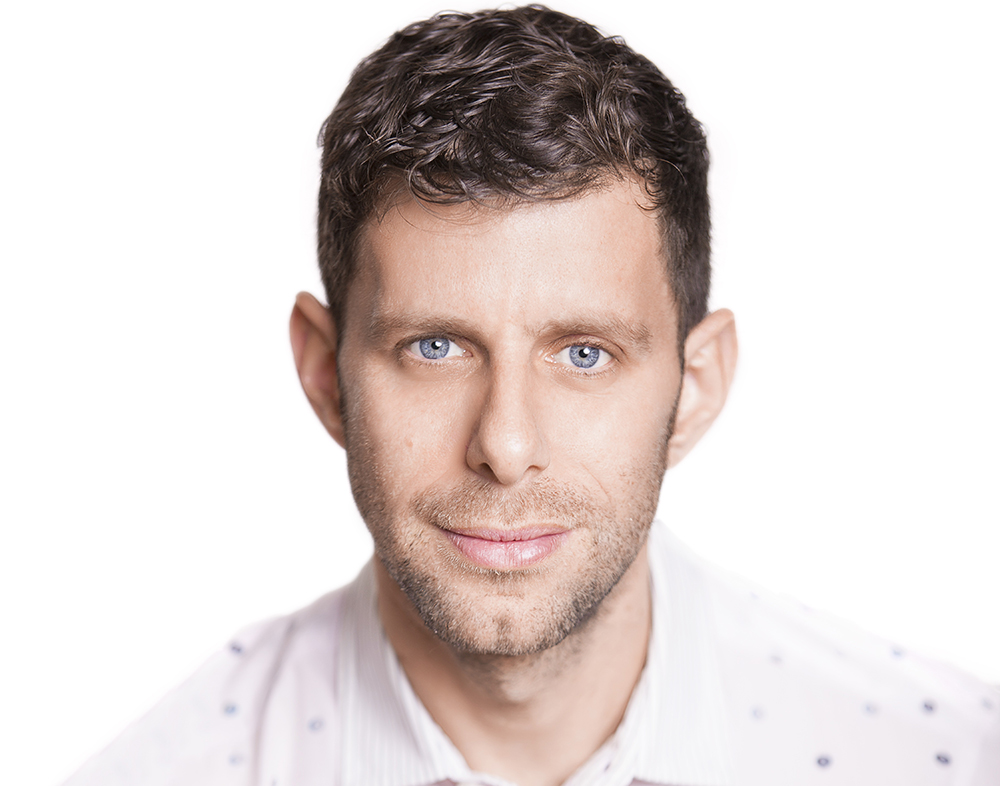 On the eve of the 50th anniversary of Michigan Opera Theatre (MOT), Yuval Sharon has been announced as the first-ever Gary L. Wasserman Artistic Director. Sharon is best known for bringing what is described as "new and experimental opera" into moving vehicles, operating train stations, Hollywood sound stages, and various "non-spaces" such as warehouses, parking lots and escalator corridors, MOT officials said in their announcement of Sharon's appointment.
Sharon's five-year appointment is made possible by a gift from Gary L. Wasserman, a member of the MOT Board of Directors. MOT, based in the historic Detroit Opera House, has long been an accessible venue for high-caliber performance while inspiring artistic investment and historical preservation in downtown Detroit.
"Our best days are ahead of us," Board President Ethan Davidson said Wednesday during a virtual press conference announcing Sharon's appointment. "Following David DiChiera is not an easy job. It is a humbling call, I"m sure. But we're confident that our choice aligns with his vision for the company."
Sharon joins President and CEO Wayne S. Brown as the leadership team for MOT going forward. Sharon begins his tenure this October with "Twilight: Gods," a production of Richard Wagner's "Götterdämmerung" ("Twilight of the Gods") staged in the Detroit Opera House Parking Center, featuring Christine Goerke. The 2021-22 season, Sharon's first full season as artistic director, will be announced this spring.
"I think opera in Detroit should look, feel and sound like no other opera company in the world; it should have Detroit's attitude and Detroit's style," Sharon said Wednesday.
"One of the things that draws me here is the city of Detroit because it see it as a fertile ground of change. I feel like the Detroit I'm getting to know is a city of survivors … going through extraordinarily hard time," Sharon said, in the wake of coronavirus and related economic hits.
"(Detroit) is a model of resilience and creativity in the face of hardship – and the art that is made here should reflect that spirit," Sharon says. That means Aretha Franklin as well as Derrick May (techno pioneer and innovator), he added.
The recipient of both a MacArthur Fellowship and a Foundation for Contemporary Arts grant in Theatre, Sharon is among the most in-demand and innovative names in opera today. In addition to making history as the first American invited to direct at Bayreuth, the first director entrusted with one of Meredith Monk's works, and the director of the first fully-staged opera in the Musikverein's 150-year history, Sharon is widely known for city-spanning operas staged in moving cars, radically collaborative bulwarks against historical revisionism, and immersive site-specific works with his Los Angeles company, The Industry. In addition to his appointment at MOT, Sharon will continue his role as Artistic Director of The Industry."
Wasserman said at Wednesday's virtual press conference that this third transformation at MOT will "bring great joy and affirmation to this city of boundless creativity."
"(This appointment) positions the company to proceed with confidence, strength and stability," Wasserman said. "Detroit will be the focal point of opera in the 21st century … creating art that will gain international attention conceived in Detroit."
Sharon has amassed an unconventional body of work that expands the operatic form. As founder and Artistic Director of The Industry in Los Angeles, Sharon conceived, directed, and produced the company's acclaimed world premieres of Sweet Land, Hopscotch, Invisible Cities, and Crescent City, as well as the "performance installations" In C at the Hammer Museum and Nimbus at Walt Disney Concert Hall.
The first American ever invited to direct at Bayreuth, Sharon distinguished himself with a boldly progressive Lohengrin in 2018, using subtle dramatic direction to completely overhaul the opera into a critique of entrenched power structures. From 2016-2019, Sharon was the first Artist-in-Residence at the Los Angeles Philharmonic, creating nine projects that included newly commissioned works, site-specific installations, and performances outside the hall. His residency culminated in a major revival of Meredith Monk's opera ATLAS, making him the first director Monk entrusted with a new production of her work.
Sharon is the recipient of the 2014 Götz Friedrich Prize in Germany for his production of John Adams's Doctor Atomic, originally produced at the Staatstheater Karlsruhe and later presented in Seville's Teatro de la Maestranza. He also directed a landmark production of John Cage's Song Books at the San Francisco Symphony and Carnegie Hall with Joan La Barbara, Meredith Monk, and Jessye Norman. His 2016 production of Peter Eötvös's Three Sisters at the Wiener Staatsoper led Opernwelt to call him "one of the most interesting arrivals on the musical landscape." His production of Cunning Little Vixen, originally produced at the Cleveland Orchestra, was the first fully-staged opera ever presented in Vienna's Musikverein in October 2017. In 2017, Sharon was honored with a MacArthur Fellowship and a Foundation for Contemporary Art grant for theater.
"Yuval shares the drive, vision, and charisma of our beloved founder, David DiChiera, who created an opera company in Detroit against all odds in 1971," said President and CEO Wayne S. Brown. "Now, as we embark on our 50th anniversary, we look forward to building upon DiChiera's vision and taking MOT to its next artistic level under Sharon. In the midst of a pandemic, converting a parking center into a performance venue (while social distancing can be observed) offers further evidence of the creativity that Sharon brings to the art form."
Davidson said Sharon's appointment as Artistic Director of MOT "could not come at a more opportune time."
"In the midst of this pandemic, when full use of the wonderful Detroit Opera House is not possible, Yuval is uniquely positioned to stage performances in non-traditional spaces," Davidson said in a statement. "This has the added benefit of making opera and dance more accessible to a wider Detroit community. Expanding upon MOT's nationally recognized history of equity and inclusion, Yuval will bring his dedication to including more diverse voices and perspectives to our productions. I am anxious to see us engage our artistic voice in more communal conversations under Yuval's leadership."
"Yuval Sharon is one of the most important producers and stage directors in opera today," Opera America President and CEO Marc Scorca said in a statement. "His work expands the boundaries of the art form and re-examines masterpieces from the inherited repertoire in ways that connect them to the world around us with new energy. Yuval's appointment as Artistic Director is wonderful for Detroit, for Michigan Opera Theatre and for all of American opera."
Michigan Opera Theatre, one of the nation's most vibrant nonprofit arts organizations, is committed to presenting opera and dance of the highest artistic caliber. Founded in 1971 by Dr. David DiChiera, the company's mission is to serve as a major cultural resource to the state of Michigan and the city of Detroit. The organization is led by President and CEO Wayne S. Brown, the Gary L. Wasserman Artistic Director Yuval Sharon and Chairman of the Board Ethan Davidson.