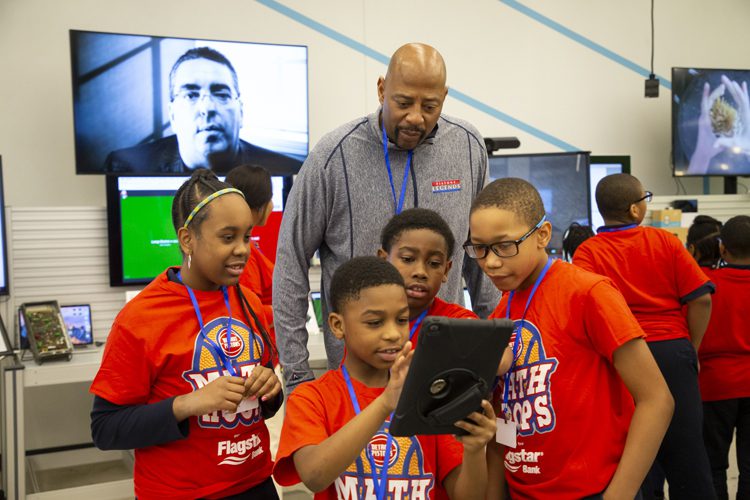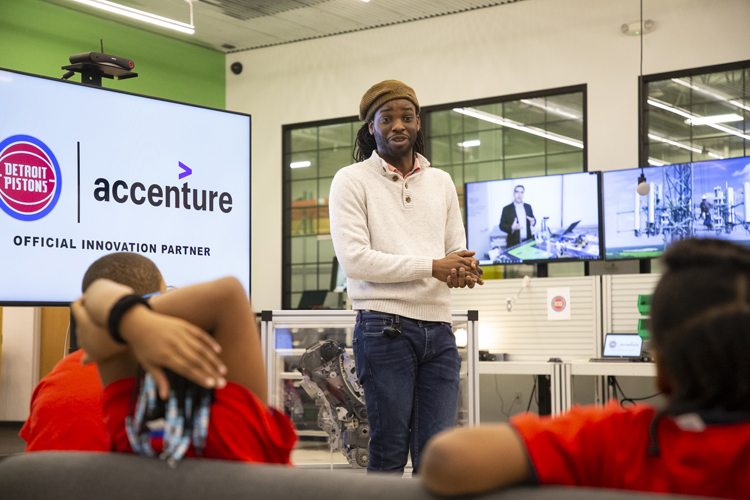 How do you get students thinking big about science, math and technology? You bring in one of the all-star members of the Detroit Pistons – someone students can certainly look up to as they get a STEM education at the same time.
Recently, local students participated in hands-on STEM learning at Accenture's Innovation Center in Livonia as part of the Detroit Pistons Math Hoops program, presented by Flagstar Bank. Pistons legend Earl Cureton joined students from Rutherford Winans Academy, including the winners of a Math Hoops mini-tournament held in Cleveland.
The STEM-themed field trip included a tour of the facility, demonstrations and a hands-on project. Accenture's Innovation Center in Livonia opened in June 2018 and was designed to explore, co-create, test and scale digital solutions that improve product development, engineering, manufacturing, customer experience and cybersecurity.
Earl Cureton, also known as The Twirl, plays center and power forward. At 6-feet, 9-inches tall, he is a larger-than-life mentor for students. Cureton serves as a community ambassador for the Detroit Pistons, a position he has held since 2013. This role includes leading Pistons organizational outreach and community partnership
Community minded
This is not the only education-forward event for the Detroit basketball team. Later in January, the Detroit Pistons will host a UNICEF Kid Power Challenge fitness clinic at MacDowell Preparatory Academy in Detroit. The school took first place in the Pistons Fit UNICEF Kid Power Challenge, which began in November. Pistons forward and UNICEF Supporter Markieff Morris, Pistons dancers and Pistons mascot Hooper will participate in the clinic, which will include various fitness activities, such as basketball drills, nutrition education activities from Henry Ford Health System and UNICEF Kid Power Up videos.
Five schools and nearly 600 metro Detroit students competed in an eight-week UNICEF Kid Power challenge. UNICEF Kid Power is a program of UNICEF USA which helps students discover how their everyday activities – like moving and learning – can make a difference in the world. The winning school was chosen based on the number of UNICEF Kid Power Up videos completed during that timeframe.
MacDowell Preparatory Academy successfully completed 261 Kid Power Up videos, unlocking 26 therapeutic food packets for severely malnourished children across the world. In total, the five participating schools completed 484 Kid Power Up videos unlocking 48 therapeutic food packets for children across the world. The competing schools logged 1,602 minutes of fitness activity throughout the challenge.