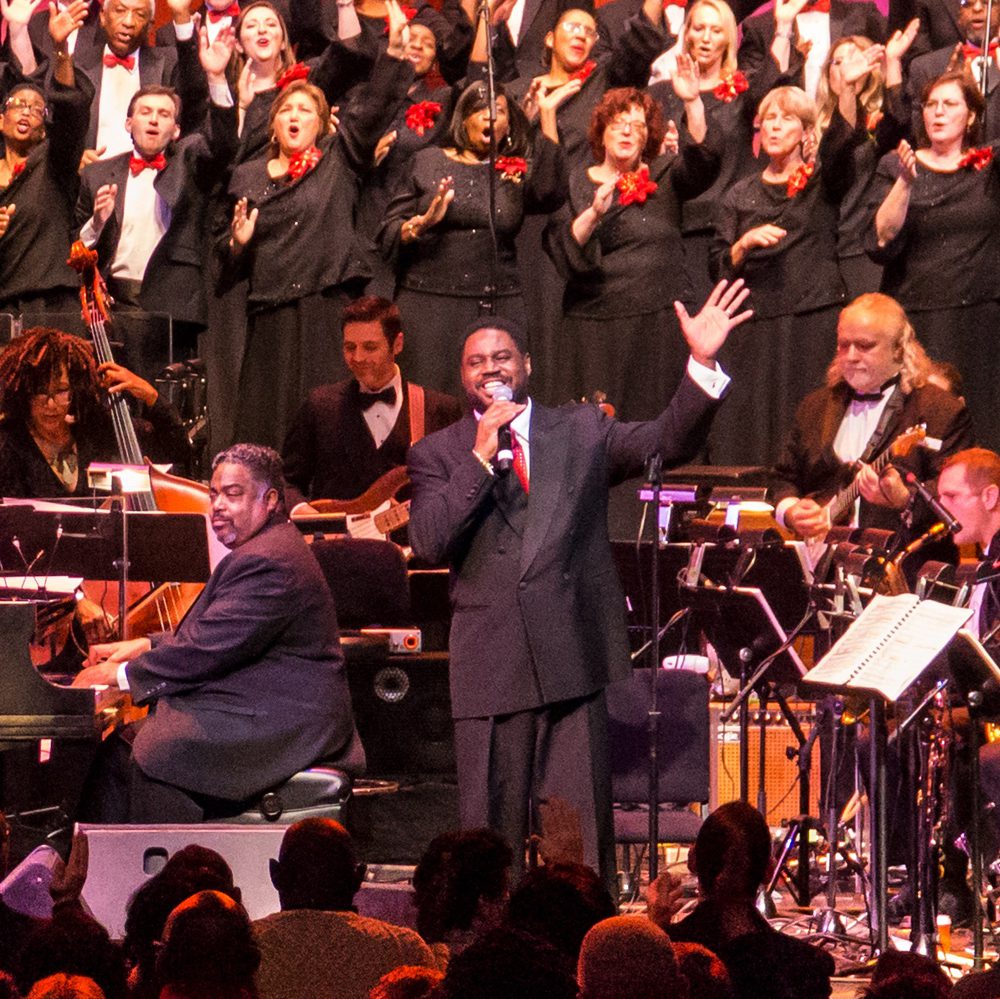 Bud Uhl has had an enviable career – he almost became a Lutheran minister, enlisted in the U.S. Air Force, worked for the U.S. Department of Justice and more.
But at 81, Uhl now holds the elite title as the oldest member of the Rackham Choir, the oldest choral organization of its kind in the city of Detroit. He has been singing with the choir since 2000, and he will complete his 16th annual "Too Hot to Handel" performance at the Detroit Opera House on Saturday, Dec. 16, in Detroit.
Uhl says "Too Hot to Handel" is a beloved holiday tradition that has inspired audiences to dance in the aisles of the venerated Opera House. The performance is a mix of jazz, gospel, blues, swing and a bit of classic set to Handel's classic "Messiah."
More than 120 singers and musicians participate in the show, including regulars such as tenor Rodrick Dixon, soprano Alfreda Burke and alto Karen Marie Richardson. The Michigan Opera Theatre Orchestra will join in as Rackham Choir conductor and Artistic Director Suzanne Mallare Acton sets the high-energy tone for the performance, said Uhl, who helps raise funds and organize donor events for the celebrated choir.
Since 1949, Rackham Choir has provided both classical and contemporary choral masterpieces of the highest artistic quality to audiences throughout Southeast Michigan. Under the leadership of critically acclaimed conductor Acton, the choir has expanded its rich tradition of musical performance. Acton also serves as Chorus Master for Michigan Opera Theatre and Director of the MOT Children's Chorus.
Uhl said he appreciates the title of "oldest member" of the Rackham Choir, but he prefers to think of himself as the most mature. He grew up singing – his grandfather was a Lutheran grade-school teacher who also played the organ.
"I don't remember a time when I didn't sing," Uhl said, describing a family tradition where each holiday the Christmas tree was kept behind closed doors until everyone sang a verse of their favorite Christmas song.
Uhl said his family always sang together, and that is one of the reasons he loves performing with the Rackham Choir. Having all of those voices mixing together reminds him of family sing-alongs around the piano.
"Music really is a universal language," said Uhl, a classical music buff who belonged to choirs throughout all his school years.
Uhl was singing with a Lutheran group in 2000 when an organizational change resulted in a friend suggesting he try out for the Rackham Choir instead. Participating in this choir has proven a great gift, Uhl said, and he truly appreciates the leadership behind the scenes as well.
He particularly enjoys working with Acton, who he describes as "indefatigable."
"She puts the Energizer Bunny to shame," Uhl said. "She's got so much energy, and she transfers it to the choir. She's the best I've ever seen; she has a gift. But she's so modest about it. … It's a great group to be in and I'm delighted to be still hanging in with all of these great young voices."
Uhl said "Too Hot to Handel" continues to be a favorite in part because of Acton and the singers involved. He called Dixon in particular a "mesmerizing" voice that takes the audience into a new world of music and song. He said the whole show will leave audience members impressed and uplifted.
In fact, just listening to Uhl describe the show makes you feel enthusiastic about it. Just a few weeks ago, he was talking to a couple at a Rochester-area restaurant about the upcoming performance when they got out a smartphone and ordered tickets for it right there and then.
"It's more than a concert; it's a happening," Uhl said. "The music fills you with joy and reaches your soul. … It's transformational."