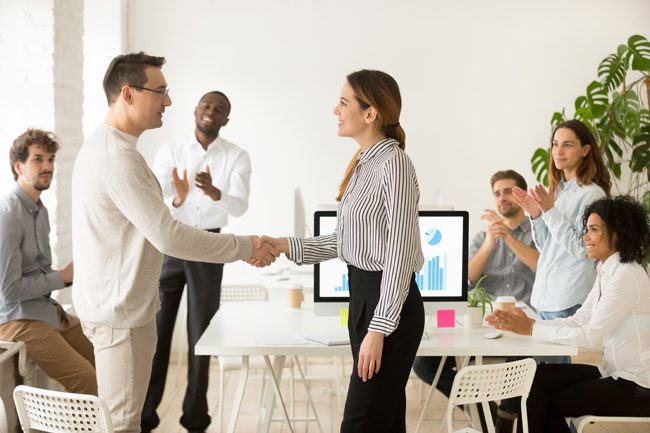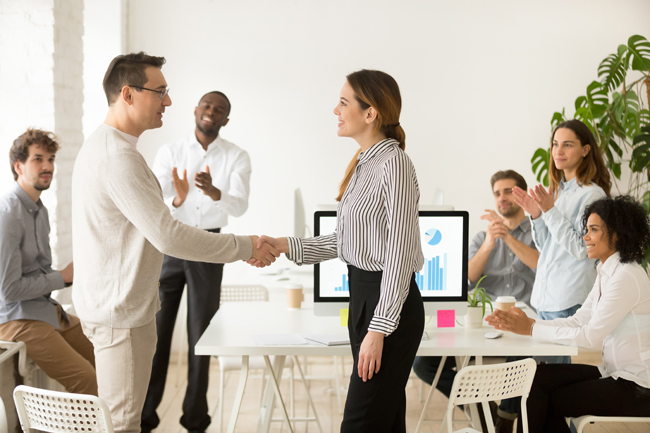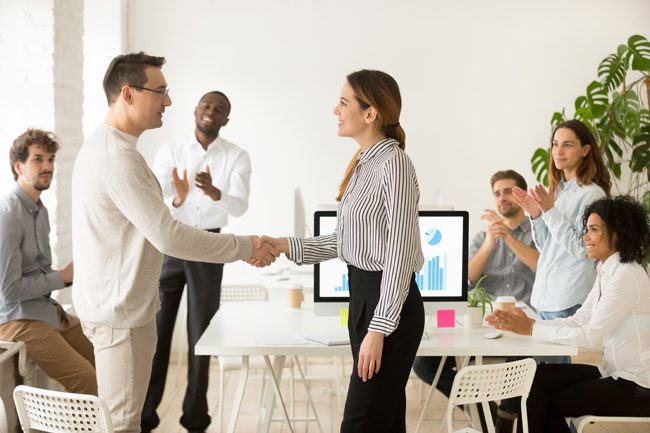 Sometimes, employees want the applause, the crowd to cheer for them and to be recognized during a companywide meeting. These extroverts enjoy having all eyes on them when they have done something significant for the company.
Sometimes, they just want a quiet acknowledgement of a job well done. Knowing the difference is the key to giving your employees the recognition they deserve as well as the recognition they want, said Janel Laravie, CEO and founder of Chacka Marketing, a 30-person digital-media agency.
"Recognition and individual empowerment are the key components of our culture," Laravie said. "Creating an amazing company culture is far more than offering a beer fridge and arcade games. Culture is about feelings – feelings driven by things like personal achievement and personal development. It's about how people feel when they're progressing as individuals inside and outside the office."
Chacka, a Tampa-based firm that specializes in paid search engine marketing, paid social advertising, programmatic display and direct response consulting services, believes in shouting out its core values and being proud of what it is doing as a company, Laravie said.
But those shoutouts – and they are literally shouted during weekly meetings when appropriate – are only done when the employee is open to them, she explained. In other words, if an employee is an introvert or prefers a simpler response to their accomplishments, Laravie has no issue with offering a private congratulations or a certificate of thanks done outside a big public meeting.
"You recognize people in the way that they want and need to be recognized," Laravie said.
Finding ways to include people of all personalities with a variety of rewards has become important to many companies, research shows. The Incentive Marketplace Estimate Research Study reported that more employers than ever are offering non-cash rewards aimed directly at building relationships, encouraging inclusion and knowledge-sharing, and promoting engagement.
For example, the 2018 Incentive Travel Industry Index powered by SITE Index, IRF Outlook and FICP saw a three-level leap in how organizations rank the importance of incentive travel in building relationships with employees; it is now the second most important reason for using such rewards.
At Chacka, the marketing agency had an employee where it never announced her promotion in a big meeting or in front of the crowd. That was done on purpose. "If we had announced it in front of everyone, it would have made her feel awkward." Laravie said.
On the other side, Chacka is more than willing to tell the world about an employee and his or her accomplishments. One of the things the agency likes to do is offer employees a chance to be thought leaders in the industry. To help, Chacka makes sure they have opportunities to write for the company blog, to be quoted in trade publications and to get their name out there on social media to share.
"It is an amazing confidence boost to an individual to see their name go up; social amplification and pride that exudes from that," Laravie said.
Confidence is important in the marketing industry because of how much interaction her employees have with clients and the public, Laravie said. It helps with client retention especially.
"(Employees) need to be consistent and confident telling a client what they need to be doing. It all goes hand in hand with creating a growth mindset within your company," Laravie said.
How does the marketing agency know who wanted a public spotlight and who would prefer to shine in their own way? Laravie said they do a lot of communicating directly with every individual who works at the firm. Also, the agency does personality assessments on everyone to understand what makes them tick.
So if an employee doesn't want to stand up at a companywide meeting and offer a suggestion, they are more than welcome to email it directly to Laravie, and she'll make the pitch before the crowd. It's a win-win, she said.
"We share things we're proud of in our shoutouts, and one of the people here who works within our health space said they feel like their work is changing the world," Laravie recalled. "That's an amazing feeling to come to work with every day."