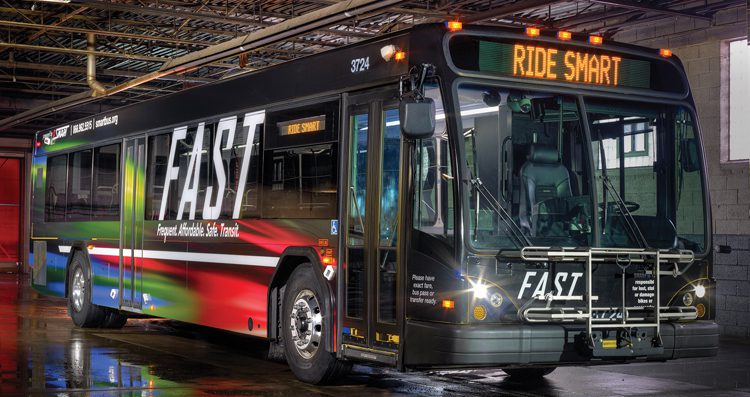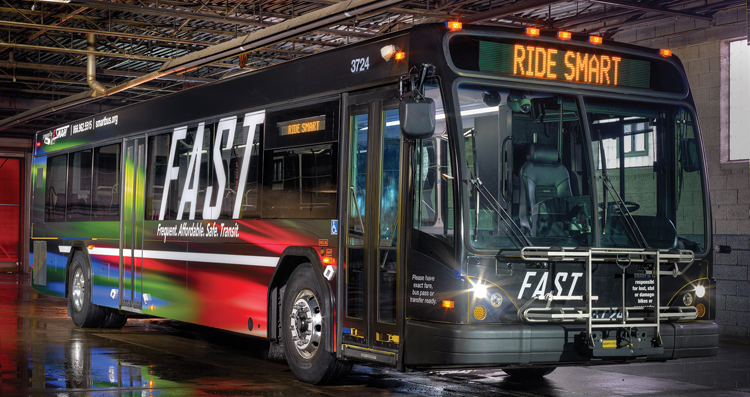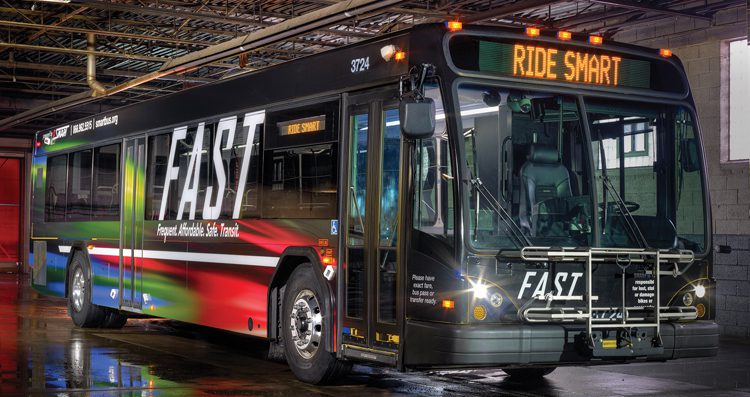 From an improved, no-fare route on a heavily traveled Grand Rapids street to complimentary bus passes for new hires to Detroit buses that travel to suburban job centers, major public transit systems in Michigan are going the extra mile to get people to and from work.
The bus system in Grand Rapids — The Rapid — and the systems that serve Detroit and its neighboring communities all have programs that make it easier, and sometimes cheaper, for work commuters. Employers can see benefits, too, including reduced parking lot and street congestion around their sites, routes that meet their work-shift needs and savings on payroll taxes.
In the Detroit area, more than 70% of people who use the Suburban Mobility Authority for Regional Transportation, or SMART, which serves Oakland, Macomb and Wayne counties, are doing so for work commutes, according to SMART. The system's buses travel to and from Detroit job centers and through many suburban communities, and Robert Cramer, SMART's deputy general manager, said the system has long recognized that many bus users are criss-crossing the region to get to their jobs
"It's always been one of the top factors," when routes are created or changed, Cramer said. "It's nothing new, the idea that there're a lot of people who have to get around the region to get to work."
FAST touting
On the average weekday, SMART buses are providing close to 30,000 rides.
SMART is touting the success of its new FAST routes, limited-stop service on three major thoroughfares — Gratiot, Michigan and Woodward avenues — that debuted in January 2018.
The FAST routes (the acronym stands for Frequent Affordable Safe Transit) travel through Detroit and stop at major destinations in the city and suburbs, such as the Detroit Zoo (on the Woodward route) both Metropolitan Airport terminals (on the Michigan Avenue route) and the new Amazon distribution center in Romulus (during peak hours, also on the Michigan Avenue route).
FAST's increased bus frequency and decreased stop frequency are designed for quicker commutes. FAST stops along the three corridors are roughly a mile apart, and riders can use local SMART service to get to those stops.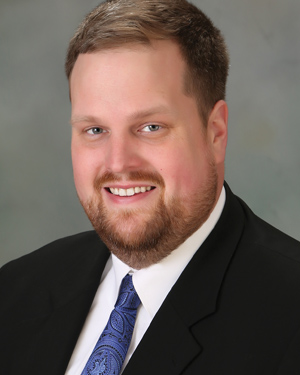 According to figures provided by SMART, the program boosted ridership (on both FAST and local buses) on all three corridors, with the Woodward corridor seeing the biggest jump — from 2,690 rides on the average weekday in August 2017 (before FAST was introduced) to 5,112 rides on the average weekday in August 2019. That's an increase of 90%.
The three routes served by FAST account for a large proportion of the 47-route SMART system's ridership. In August 2019, according to the system's statistics, there were an average of 14,334 total weekday rides on Woodward, Gratiot and Michigan avenues and 32,408 rides system-wide, meaning 44% of all weekday riders were traveling on those three routes.
FAST service was intended to enhance regional connectivity, Cramer said, crediting downtown Detroit's revival with some of its success. Had downtown not become a more popular destination in recent years, he said, FAST might not have seen the ridership it has.
"Ten years ago that probably would not have been a viable service, and I think the resurgence of the downtown area, especially with the new jobs downtown," has made success possible, he said.
Taking people where they need to go
In Grand Rapids, where The Rapid's ridership has nearly tripled since 2000, an improved Route 19, along heavily traveled Michigan Street, was announced in August.
Subsidized by the city and Spectrum Health, which has its flagship Butterworth Hospital on Michigan Street, the route is free for travelers during a three-year pilot program; route improvements include expanded hours of service and increased bus frequency — riders now see a bus every 10 minutes during peak hours.
In addition to Butterworth, major employers along the route include Grand Valley State University, Grand Rapids Community College and Michigan State University's College of Human Medicine. The improvements were a response to increased congestion on Michigan Street, which regularly sees more traffic than it can safely accommodate, and growth projections that forecast 15,000 employees in the corridor who will be arriving and leaving during peak hours, as well as 10,000 new residential units, all by 2035, according to a press release from The Rapid.
"We recognize that as the Grand Rapids community grows, it's vital for our city planning and transit systems to adapt to the changing needs of users, including city residents and downtown-area employees," said Mayor Rosalynn Bliss during a press event during which the improvements were announced.
The Rapid, which serves six communities in the Grand Rapids area, has an average weekday ridership of about 43,000, with 80% of riders using the system to get to and from their jobs, according to the system's website.
The Rapid in 2014 opened what it calls the state's first rapid-transit bus line, the 9.6-mile Silver Line, which connects the communities of Kentwood, Wyoming and Grand Rapids and serves the city's Medical Mile, a corridor of medical facilities, including Butterworth, and college health and science facilities. Average weekday ridership in the corridor increased by 37% between the launch of the Silver Line and December 2018, according to a press release from The Rapid.
Listening to employees and employers alike
Officials at the Detroit Department of Transportation say they're also attuned to the needs of employers and employees. A recent survey of 1,602 DDOT riders showed that 29% were using the system to get to and from work, said Jennifer Frye, a department spokeswoman. The system provides an average of 85,000 rides a day.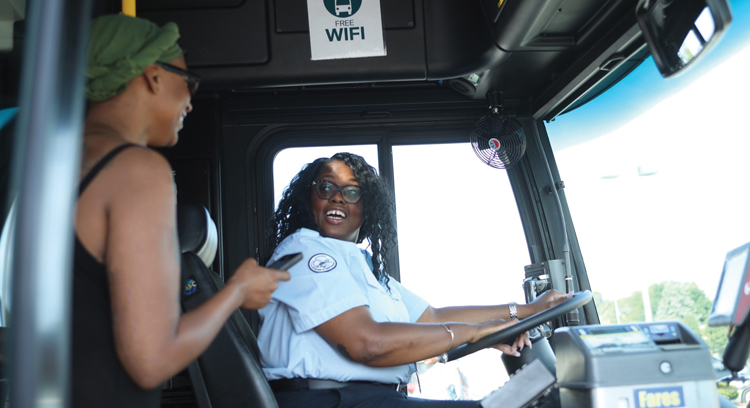 "DDOT regularly analyzes ridership data and geographical information that helps to create and adjust routes for major trip destinations," Frye wrote in an email. For example, she added, the system recently made changes to Route 38 to suit the needs of people who work in manufacturing on the city's east side. Route 38 is a key east-west DDOT route that travels between Detroit's east and west sides; some Route 38 buses travel into job and shopping centers in Redford Township and Livonia.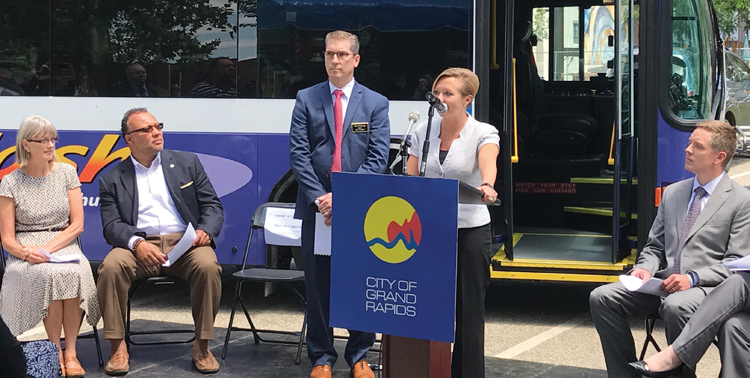 "We are continuously focused on improving service (and) that includes employee and employer transportation requirements," said Angelica Jones, the interim DDOT director, in response to an email.
Here are other examples of route accommodations, or special offers, made for work commuters and their employers:
• Riders of all public transit systems — and their employers — are eligible for federal tax breaks under an Internal Revenue Service plan that allows mass transit-users to set aside up to $255 a month in pre-tax money for their commutes. The fringe benefit can be managed internally by the employer or by a third-party vendor. Commuters save because the money is not taxed, and employers can also see a savings in Social Security and Medicare taxes for each participating employee.
• SMART recently made changes to its Route 200, which travels between the Fairlane Town Center in Dearborn and the cities of Wayne and Westland, to meet an employer's shift needs, said Beth Gibbons, SMART's manager of marketing, communications and education. Route modifications by SMART also get workers to and from the Amazon distribution centers in Romulus and Shelby Township.
• SMART's Get a Job, Get a Ride program is designed to help people get to and from new jobs. Anyone hired to a full-time, permanent job at a registered company is eligible for a free 31-day pass (a $66 value) for fixed-route SMART service. Nearly 2,600 employers are registered for the 26-year old program, and more than 400 passes have been issued so far this year, Gibbons said.
• SMART has three park-and-ride routes, averaging 688 rides per day, which allow morning commuters to downtown Detroit to park their vehicles at designated lots and hop on buses that head downtown via the freeways. Afternoon buses are outbound from Detroit to those same lots.