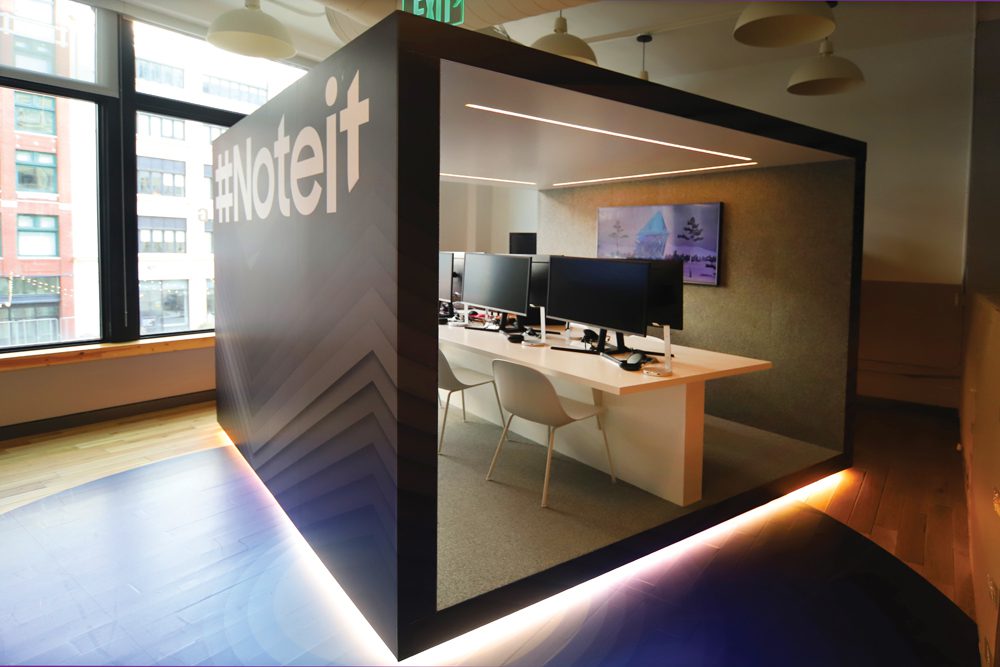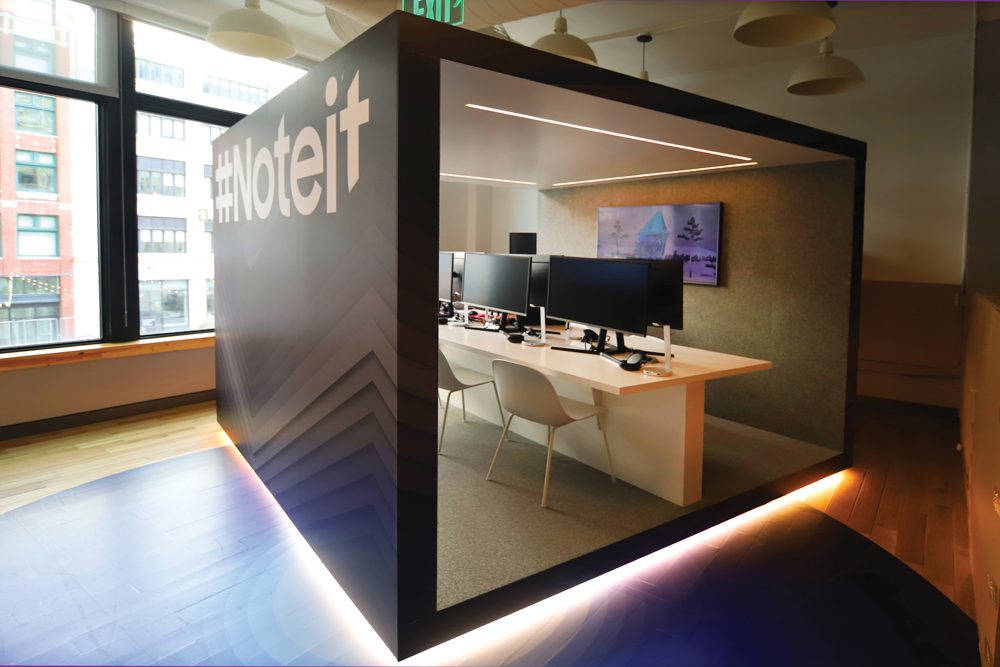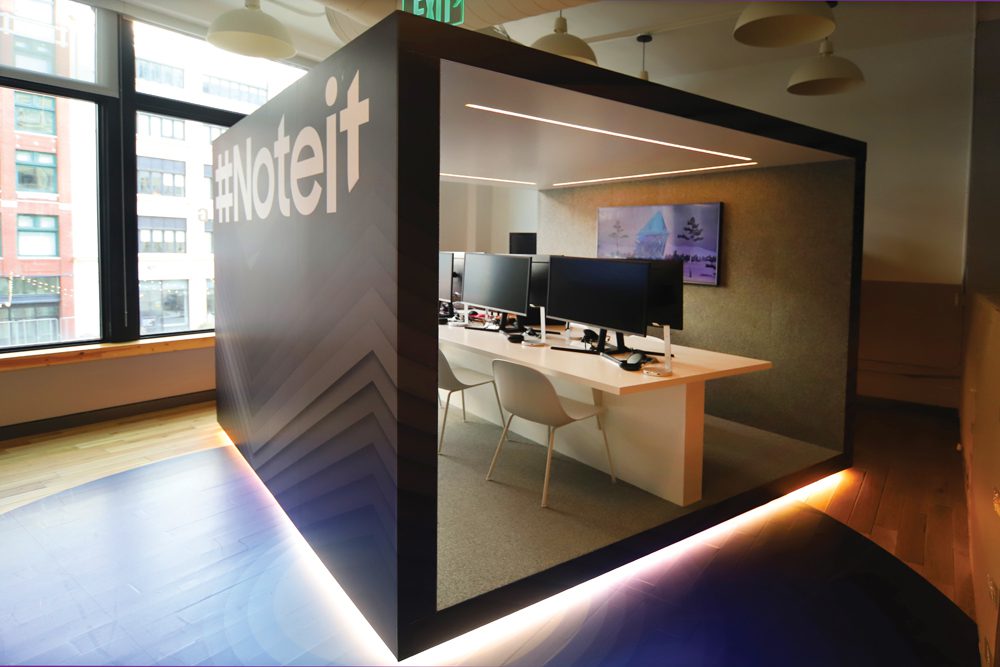 The solitary workstation with a steel desk, chairs with no armrests, accompanied by the buzz of an overhead fluorescent light while sequestered in a Berlin Wall-high cubicle, we can agree, is not the utopian office environment.
Yet many people have had some, if not all, those elements incorporated into their work experience during their employment history.
Suffice to say, those days are fading … fast.
The office landscape is evolving. The fortress of lined quadrants illuminated with harsh surgical beams has given way to open spaces, pastel-colored surroundings and soft light.
"People don't have a tendency to utilize their environment as a tool," said Katie Fuce-Hobohm, principal of Michigan-based interior design firm SPACE Inc. "I think more and more people are starting to understand that physical environment and — the Danish word is hygge — that the ideas of comfort and collaboration are welcomed in the workplace and changing the culture."
The manifestation of this belief is born out in Merchant's Row co-working spaces, which are offered at WeWork's two downtown Detroit locations. The global firm also leases office space on three floors at Campus Martius.
Seven floors in historic Merchant's Row feature glass-encased offices with wood-paneled floors and walls painted in soothing colors with contemporary music piped in throughout.
On even-numbered floors, there are full pantries stocked with coffee, draft beer (Bell's and Arbor's brewery are among the offerings) and water flavored from freshly cut fruit (the strawberry-lemon mix draws the most raves).
A dish with dog biscuits on the counter suggests pets are welcome as well. A nearby couch draws congregants from various businesses.
Empowerment Plan, PlanetM Landing Zone and Discovery Channel are among WeWork's tenants. Samsung opened a showroom, taking a cue from Apple's Genius Bar, that includes workstations for customers while they're waiting for service.
Spaces are available for individual startups to companies of 50 or more employees.
WeWork, which has 200 locations in 64 cities in 20 countries, is as much about forging relationships as it is about leasing space.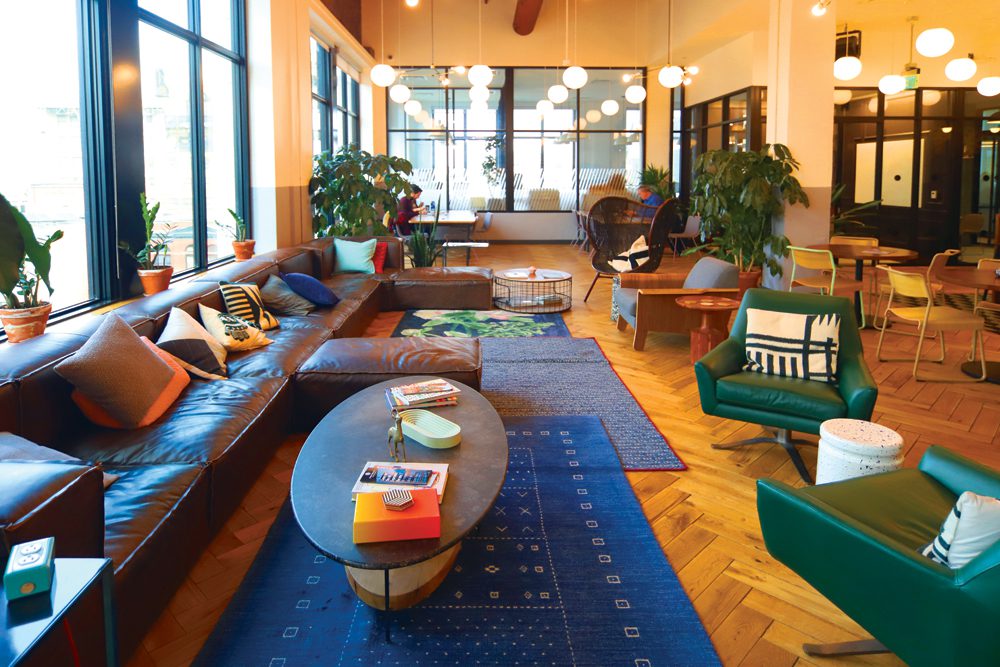 "The building is beautiful and we do create it in a way that ultimately feels like a home away from home, from the wood flooring to the plants to nice comfortable furniture," said Kyle Steiner, WeWork community director. "What brings it all together is that community.
"If you don't have the people who are connecting and the people who are learning from each other or creating new friendships or supporting each other or holding each other accountable, at the end of the day it's just a nice building."
And where else might a pair of guys, both named Moe but working on separate floors, be able to meet?
One is a photographer, the other a graphic designer, but the synergy doesn't end there: The graphic designer has also linked up with Ralph Walker, a web designer who also works in Merchant's Row.
"Once they start learning about what people are doing, there is a shared sense of support," WeWork's Steiner said. "So John might say to Sue or whomever, 'Hey, how's it going with you pitching the investors. What type of feedback are they giving you?' They might spend an hour talking about that feedback and how she can improve on it.
"So there's that support system, where it's not always going to be back-and-forth reciprocity type work, but just a general feeling of caring about the other person and wanting them to succeed because you see them all the time."
Community is but one factor shaping the dynamics between co-working and traditional office design, said Joseph White, director of Workplace Design Strategy & Management for office furniture maker Herman Miller. Hospitality, purpose and performance play vital roles, too, in office design.
Corporate workplaces are including community and hospitality — both pillars behind the co-working space movement — into their designs, White said. No matter the communal support, though, there is no substitute for "gettin' it done."
"When you look at purpose and performance, these are two concepts where the corporate workplace can have a significant advantage," said White, who has been in the design business for 12 years, the last 2-1⁄2 with Herman Miller.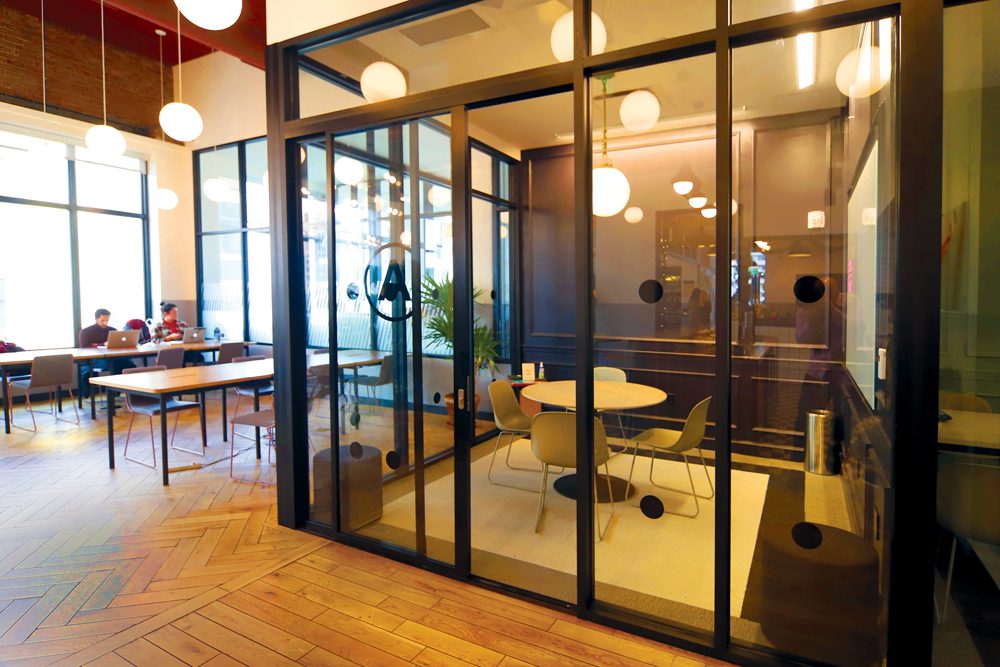 "With performance, when you look at things like ergonomics performance, technology tools, relating the completion of activities towards performance relative to business objectives, you know that's all within the wheelhouse of the traditional corporate environment and I do think we are starting to see co-working start to pay more attention to that, more than just 'aesthetics and cocktails at 3:30 on the lido deck,' actually starting to pay attention to the performance of workplace.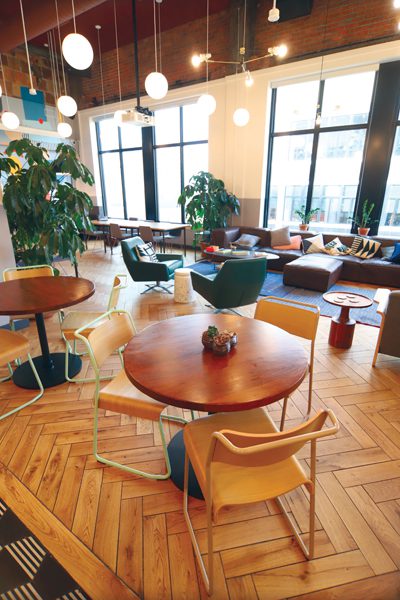 "Within a co-working space, you can get some purpose loosely defined around sustainable approaches to business, some particular aspect of maker community or some sort of loosely defined purpose that brings together these individuals from disparate backgrounds, but in the traditional corporate context, it's much easier to align people around a clearly defined common purpose that drives people's inner actions."
On the front line, Mary Anne Wisinski-Rosely from NAI Wisinski of West Michigan is seeing the trend tilting back toward a blend of private offices with open spaces. She specializes in the sale and leasing of office properties.
Her firm recently renovated its headquarters and reverted to a traditional setting with private offices with an open space for staff.
"I do see more private offices as of late, compared to a few years ago where the trend was to go all open," she said. "I think that workers are finding that it is not always beneficial to be in an open, collaborative environment. It goes back to the type of work that is being done."
As a practical matter, Wisinski suggests a glass wall can go a long to modernizing an existing office.
"Glass walls are often installed as they look more modern and allow more natural light and eye contact while still providing a sound barrier for privacy." She also recommends a new coat of paint and opening ceiling areas for renovating offices.
If co-working space is an undercurrent fueling office design trends, sustainability is the cresting wave.
On that front, SPACE Inc. pulled off an "upcycling" coup when helping accounting firm Yeo & Yeo move into its new Saginaw, Michigan office — where no furniture ended up in a landfill — while trimming 30-40 percent of the accounting firm's costs.
Yeo & Yeo bought the former 42,000-square-foot Davenport University site in April 2016, to move its accounting and medical billing divisions. The company looked at buying new office furniture for the facility until hearing a pitch from SPACE Inc., which has done upcycling or "anew" projects for seven years.
The process involves re-purposing existing furniture, which is painted and redecorated.
"If you didn't tell people, they wouldn't know," said Cathy Hammis, project manager for Yeo & Yeo. "We had six-foot or so high walls. They cut them. They were gray. Now they are cream. They painted and utilized some pieces we had and they added pieces. Unless somebody told you, you wouldn't know those pieces were from the existing (facility).
"It's a very fresh look, it's very clean. It doesn't look like it was just refurbished, like 'Oh that's my exact same thing, but it has a different color on it now.' We had fabric panels. Now we have fabric and kind of a vinyl graphic."
The recycling concept arose from a daunting mission handed to SPACE at its Washington D.C. office seven years ago.
The U.S. Department of Health and Human Services had to consolidate its five-building operation into one. All the furniture was going to get thrown out until SPACE designer Jessie Donahue stepped in with the idea of reusing it.
Donahue took a project that started out with a $10 million furniture price tag and brought it in at $4.8 million. Moreover, she re-utilized 93 percent of the department's existing assets with none going into a landfill.
"That's where it started and it has certainly evolved since that time," said SPACE's Fuce-Hobohm. "We're doing some interesting stuff."
With SPACE's expertise, Yeo & Yeo transformed the former college site into its own during the 18-month project. The school's library was converted into a cafe and a computer lab became a boardroom.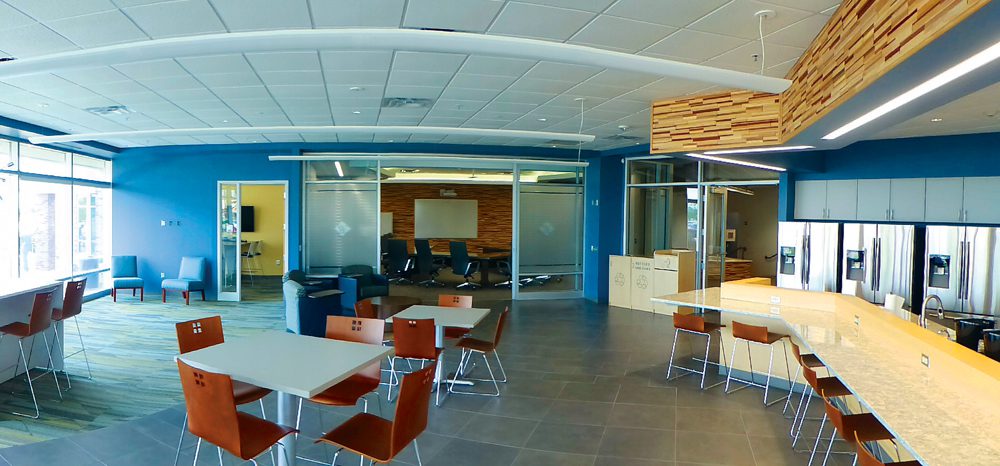 Administrative offices remained largely intact while the classroom areas were renovated and 12,000 square feet was added to the site. At Yeo & Yeo's previous location four miles away, accounting and medical billing were in separate units.
Yeo & Yeo underwent a renovation two years prior at its Ann Arbor, Michigan office, which included buying new workstations. By comparison, company officials liked the 50-percent savings SPACE was offering.
The reductions came in even lower after Yeo & Yeo added a storage piece, drawers and bookshelf.
"We (also) kind of threw them a curve ball in the middle of the planning," Hammis said. "In our medical billing, we were considering a merger with someone and we were going to need to add 20 people and so we said, 'How many exactly do you think would be the maximum we could put in this space if we had to redesign things a little bit?'
"We did some things differently in design there and added another piece."
Employees have taken to the new facility, Hammis said.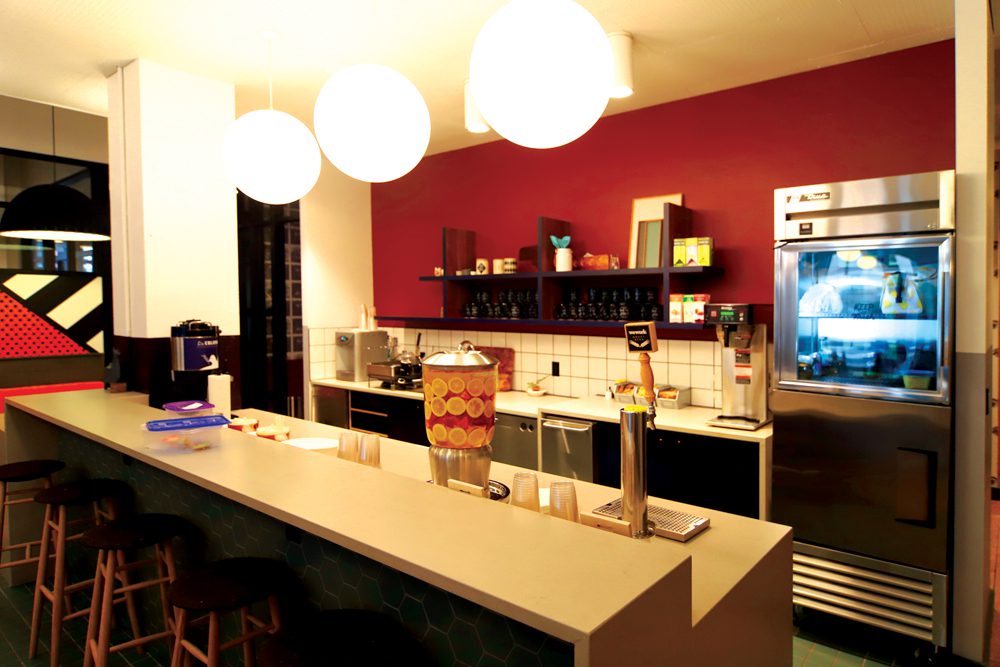 "We were trying to go for a more open concept," she said. "We had these six-foot high walls and we had these overhead bins. We were careful. We were going to be changing their privacy level, their comfort level. We were careful not to go too low with our walls, that they're still seated privately … and they still have that voice privacy, but when you stand up you can see across the whole space. We have it very open."
With its high-top tables, booth seating and open area, the cafe has become an alternative workspace for Yeo & Yeo employees.
"You can go by there any time of day and see people having a team meeting," Hammis said. "They bring their laptops and they converse. They have that 'choose our area' kind of space, as well as the lower wall that allows them to do that much easier right at that desk area.
"For some of them, it's very hard to go somewhere else. They need their three screens, their monitors. It's hard to pick that up and go, but when they can, they do choose the area that works best for what they are doing."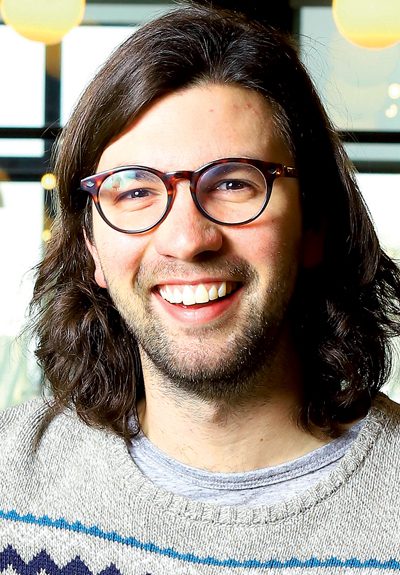 The most sustainable building is one companies currently occupy, Herman Miller's White said. Incremental adjustments often can be the best way to go.
"Each of those can be isolated and be updated incrementally, so that's how you make those incremental updates over time, which eventually builds this forward momentum," White said. "If you look at this setting and you update it and look at that setting and update it, you start to break this cycle of the monolithic redesign, this notion of building from the ground up, and you activate a mode of constant gradual evolution that grows and adapts in step with business or, better yet, as live workplace data becomes more and more a daily reality.
"As we can begin to turn on more live data streams within the workplace, we can understand which discrete aspects of that workplace need to be updated and when. So that kind of describes this new dynamic of looking at the workplace and how you would make updates. I got some updates on where you would start once you started looking at the workplace experience as a series of interconnected sequence of events."