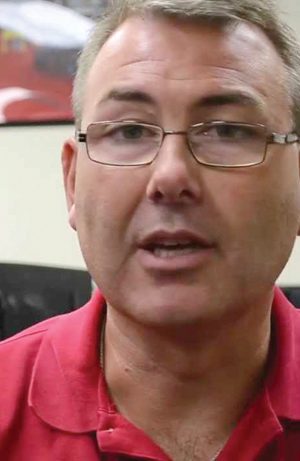 Foreign direct investment in African countries increased by 5 percent to US$50 billion in 2012. In contrast, global foreign direct investment that same year fell by 18 percent. The statistics are according to the United Nations Conference on Trade and Development in Geneva.
In recent years, a number of Sub-Saharan African countries have shown significant economic growth. Indeed, eight of the world's 15 fastest growing economies are in Africa. Many of these countries have made commitments to broad market-based reforms, according to the U.S. Department of Commerce. This has, in turn, attracted the attention of businesses from around the world, including China, Europe and, increasingly, the United States.
Many of these American businesses have historically focused their attention on large markets like South Africa, Nigeria, Ghana, Angola, and Kenya. In recent years, however, more of these American companies are showing interest in other smaller, emerging markets that show great promise, such as Côte d'Ivoire, Tanzania, Mozambique and Ethiopia. The department cites Mozambique, a non-oil-based economy, as an example of a country that has demonstrated significant growth in recent years and has benefited from economic reforms and large foreign investment projects. The southern African country ranks seventh on the International Monetary Fund's top 10 list of the world's fastest growing economies in 2014.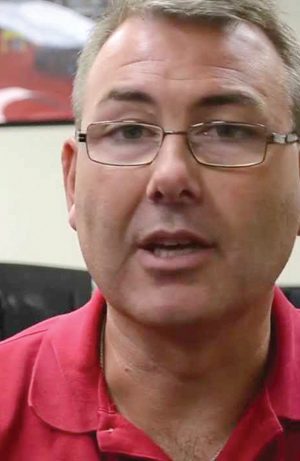 Mozambique possesses offshore natural gas resources, offering exciting opportunities for businesses in the U.S. energy sector. Mozambique is now building the regulatory framework that would attract foreign investors and offer a stable environment for LNG (liquified natural gas) production, which is expected to begin in less than four years.
The department calls developments in African markets such as Mozambique encouraging.
Although many of the business opportunities are in the natural resources sector, particularly in the petroleum industry, there are increasingly opportunities in transportation, telecommunication, information technology, health care, banking, education, logistics, entertainment and others. Department of Commerce officials say the middle class on this continent of one billion people will grow as the economy grows, creating more markets for the products and services of American companies.
"Africa is the next frontier in terms of exports for (our company)," says Yannick Greiner, international sales director of Rugged Liner, an Owosso, Mich.-based company that makes liners for trucks and trailers, that's been doing business in Africa since August 2013. Rugger Liner currently sells its products in Morocco, Algeria, Libya, Tunisia and Angola. It has done indirect sales in Gabon through a French oil distributor and is working on getting into Ghana.
Greiner says Rugged Liner, which currently exports its products to about 70 countries, expanded into Africa for two reasons other than its enormous growth potential:
"First, there are lots of pickup trucks in Africa," he says. "The second reason is because Africa is on the radar screen. Some of these African countries have developed very fast in last two years. Africa is also on the radar of U.S. government, which has been encouraging businesses to expand there."
U.S. Department of Commerce officials say they are doing their part to support the U.S. and African business communities. Late in 2014 the department expanded its number of locations in Sub-Saharan Africa from four countries to eight by adding new posts in Tanzania, Angola, Ethiopia and Mozambique and it already maintains a presence in South Africa, Nigeria, Kenya and Ghana.
Education expands
It's not just businesses that are trying to get in on this African boom. In recent years, several colleges and universities in the United States and Europe have established campuses in Africa. They are hoping to replicate the same kind of success they've enjoyed in Europe, Asia and the Middle East in the past few decades.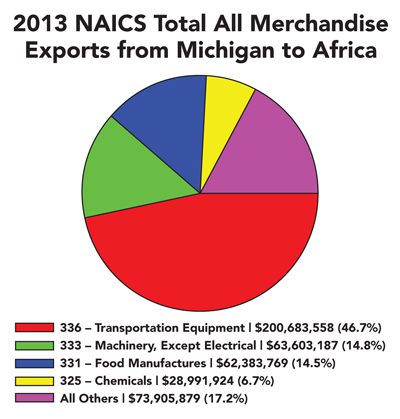 Within the past two years, Webster University, a 100-year-old St. Louis-based institution with campuses around the world, opened a campus in Accra, the Ghanaian capital. In fall 2012, Carnegie Mellon University, a highly regarded Pittsburgh institution, set up a new campus in Kigali, Rwanda. The campus offers graduate degrees in information technology and computer science and electrical engineering. Milan's Università Cattolica del Sacro Cuore launched an M.B.A. program in Nairobi, Kenya in 2011 and expanded to Accra, Ghana in 2013. Regent University, a Christian university in Virginia Beach, Virginia has offered a 14-week entrepreneurship training program for small and aspiring business owners for the past four years. Eight years ago, Duke University established Duke Corporate Education, a wholly owned subsidiary, in South Africa to provide corporate and development training for clients. The company now does business in 17 African countries.
Africa does indeed appear to be on the verge of economic prosperity. But this seemingly bright future that looms comes with the promise of opportunities and lots of challenges. Much of the African continent is still weak in infrastructure — bad roads, inadequate electricity and water supply, and health care facilities that are primitive at best.
Still, many businesses around the world recognize that the African market is the great new frontier in commerce and growth opportunities and that by ignoring the continent they do so at their own peril.
"There is great potential and possibility" in Africa, said Kohl Crecelius, founder of Costa Mesa, Calif.-based KK International, a fashion and apparel company that's been doing business in northern Uganda for seven years. "I would encourage people to go. Too often, Africa has this stigma and perception that people are not capable. I don't think that's the issue. The bigger issue is giving it a try. You can't do it blindly. You have to do it in a smart way."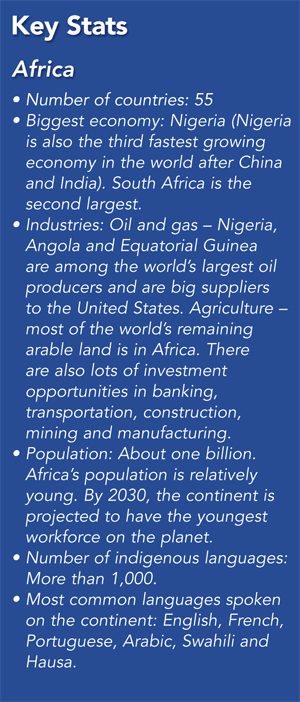 A road map for doing business
Here are some tips from experts for doing business on the African continent:
Use the U.S. government as a resource: The Department of Commerce suggested tapping into the resources of the U.S. government to identify opportunities and take advantage of them early. The department also suggests having at least two back-up plans in case your original plan falls through. In addition, invest significantly in building relationships and learning the local culture and etiquette so as to more effectively communicate with indigenous business partners and government officials.
Do your homework on health matters: This may sound mundane, but health care facilities in most parts of Africa are under-equipped and in many cases shabby. Top government officials and the upper middle class often travel to countries like the United States, the United Kingdom, Germany and Saudi Arabia for even basic medical examinations. Have a plan to manage your health or a strategy to head off any potential problems.
"We had an executive director who went out to install stoves in a refugee camp in South Sudan in schools run by the World Food Program," said Adam Creighton of Portland, Ore.-based In-Stove, a company that makes stoves for non-governmental agencies that are distributed on the African continent. "He came back from that trip in August 2013 with malaria. Be sure you've done homework on vaccines in the region and be sure you have consulted a travel doctor about travel plans to Africa."
When possible, leverage the credibility of United Nations agencies: The United Nations and its affiliated agencies are held in high regard in many African countries. Many large cities on the continent, such as Abuja, Lagos, Dakar and Nairobi have U.N. agencies located there and they are often great resources.
"The U.N. can be most helpful in these countries," said Barry Kulick, senior vice president-Africa for Aora-Solar, a multinational company with its head office in Israel. He says these agencies can be great allies for a business that is looking to do business in one of these countries and aligns its interests with that of a credible organization. "If you can get them on the side and have them attend meetings with you that can be very helpful. In many cases in Africa if the government is presented with a project, once they walk in and someone from U.N. is with them they know it's clean. It gives you tremendous credibility. Find out if the U.N. has a position on what you're trying to sell. Then approach them and try to get them to walk in with you to the meeting."
He also suggests trying to develop relationships with organizations such as the African Union, an organization made up of the country's 55 countries, and the Economic Community of West African States, a regional group of more than a dozen countries, including Nigeria, the continent's largest economy.
Don't be so risk averse: "Don't sit around and worry about their profit projections," said Kulick. "You shouldn't worry about profit projections; you should worry about how much you will lose. Tax benefits only relate to business if you make a profit. They don't relate to business if you lose your money. Focus on benefits that derive from doing business there. If you open a factory, tax benefits don't apply until you start making money. Look for benefits derived as a result of the fact that you're spending money there. Some people come in thinking they will make a million dollars by digging a hole in the ground."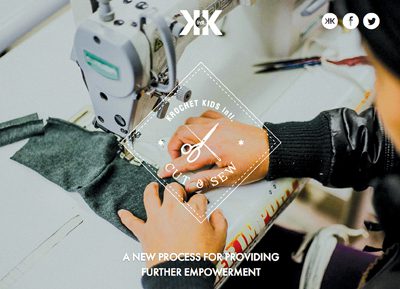 Hire an African: In-Stove's Creighton suggests tapping into the large pool of highly educated African immigrants here or on the continent and using their services as employees or consultants. "It doesn't matter if they are here in the United States or abroad. Ideally you want an African from the market you're looking at to be on your team," Creighton said. "Otherwise you will be spending a lot trying to figure out what people can bring to your team. They will usually work for a very reasonable rate. At our factory in Nigeria half of our staff at the factory had bachelor's degrees in engineering. There are lots of Africans in the United States who would be glad to work for your company. If they have been able to get here you want them on your team. They can help navigate the market and leverage contacts."
Prepare for eventualities: Despite the significant economic progress in recent years, issues of security, political instability, uncertainty and logistics issues still dog the continent. Crecelius of KK International (the "KK" is short for Krochet Kids) says when his company first started operating in Uganda they faced logistical challenges of shipping materials.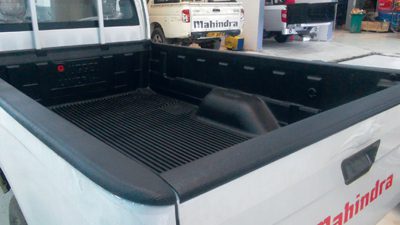 "We had to figure out how to ship materials out there and ship finished products to the U.S. Originally we were shipping carry-on bags (and) checked luggage with friends back and forth," he said. "We didn't set up shop in northern Uganda because it was easy. We set up shop because we wanted to make an impact."
Network with professionals in Africa: "This may sound patronizing to C-suite executives. There are people that have been in that sector longer than you," Creighton said. "Try to connect with professionals in your sector in Africa. Ask if you can Skype for 10 minutes and if they are willing to share lessons they have learned. Africans can be so warm and so welcoming. The way they do business is so personal. Long before the business plan is brought out, they want to have a conversation first.
Do more listening than talking. Do your homework: At the very least, read the Wikipedia entry on the country. Then go into market sector analysis for your country. And use social networking. "Linkedin is very big," said Creighton. "You can connect quickly and intimately with very significant players. Newsletters are very important. Get people's email addresses and keep them informed of what you're doing." Creighton mentions a specific example of action he took. "I wanted to connect with someone at the World Health Organization (WHO) who might be interested in technology in East Africa so I used Linkedin to find WHO professionals in Kenya. I found someone in Kenya and contacted him. It moved quickly. I told him what I was trying to do and he shared my information with his colleague. It all happened very quickly. We're now in discussions to distribute our product through a supplier in East Africa. It all happened as a result of a connection made in Kenya through this WHO individual."
Be patient: Doing business in Africa is not for the faint of heart.
"The biggest challenge is regulations," says Greiner. "Algeria is very complicated. You have to produce a lot of documentation up front. You have to do so much paper work. It's very time consuming and it costs money. There's not an ease of doing business there. Our distributors are great, but there's a lot of constraint coming from the government. The second is regulations at customs. The amount of paperwork and red tape you have to overcome is enormous. In Angola, every time you do an order you have to get a certificate from an Angolan government agency and that certificate needs to be provided to the distributor to clear the goods at customs. On top of the regular documentation, you have to provide additional documentation when shipping products to Africa, especially Angola. It's time consuming and it has costs. These are things you don't have to worry with when doing business in Europe, Mexico or Brazil. There's a lot of red tape."