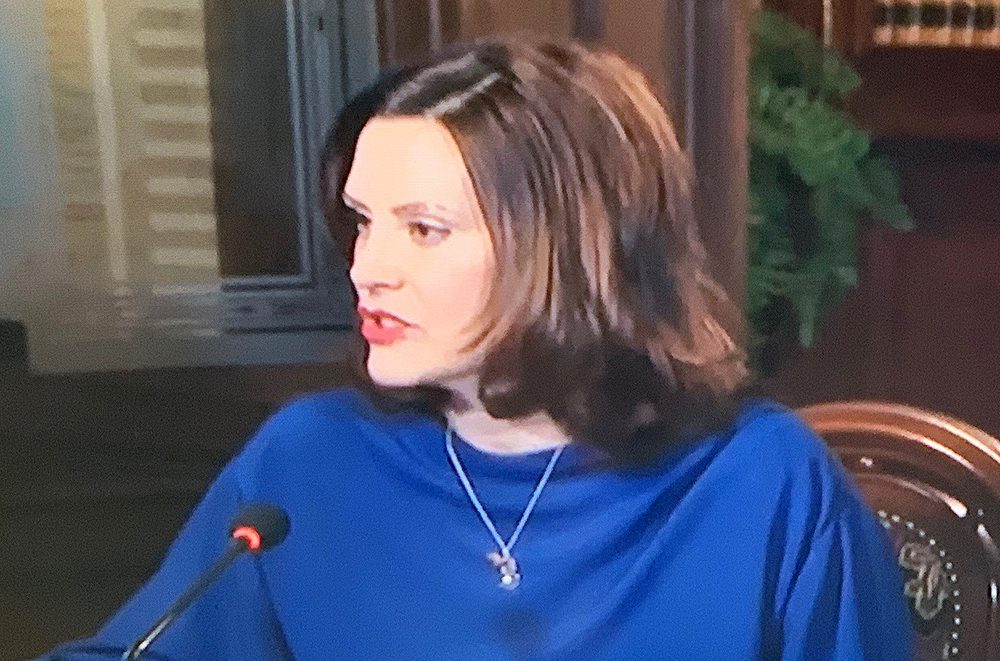 Over the weekend, President Donald Trump announced he was extending the federal guidelines for social distancing, which were originally scheduled to end early this week, until April 30.
In a press conference Monday, Michigan Gov. Gretchen Whitmer declined to do the same (her original stay-at-home order is through April 13), but indicated it was likely the state would follow suit.
She indicated details of that action, including how it would affect students who've been out of school for weeks, could be announced at a press conference later in the week.
"The president's actions are warranted by the science and I was pleased to see that. We are continually evaluating information and data as we know it. I would anticipate we will need to have an expansion … I'm not prepared to announce one in this moment, but we are looking very seriously about what our plan is going to be to meet the educational needs of our students."
Whitmer also announced she will veto several line items in the state budget as Michigan commits another $150 million to fight the spread of COVID-19. As of 3 p.m. Sunday, the state had seen 5,486 cases and experienced 132 deaths.
"We know this number is going to continue to go up," Whitmer said. "Despite our aggressive efforts, this is to be expected. We will not see the benefit of these aggressive efforts for a little while."
To help fight the virus, Whitmer said, she signed two supplemental budgets that reprioritize funding to slow the spread of COVID-19. The supplemental, she said, was negotiated in good faith … and key priorities from both sides were included.
More: State grant helps Oakland County create stabilization fund to help small business
More: Auto show cancelled; FEMA picks TCF Center as COVID-19 field hospital
More: 'Doing well by doing good' unites business owners helping each other during COVID-19
Whitmer said because of the "incredible toll COVID-19 has taken on our health, our families and our economy," it was important she veto a number of line items to save tax dollars.
"The world has changed since those negotiations, and we must react and change along with it," Whitmer said. "It's too early to determine the exact impact on state revenues, and knowing there is the potential for a significant loss in state revenue, now is not the time to sign a bill for supplemental funding for anything other than dollars that can be utilized to help our COVID-19 response."
Whitmer said the state had already spent some $80 million to secure:
More than 20 million masks
More than 2,000 ventilators
Nearly 9 million ounces of hand sanitizer
More than 255,000 boxes of gloves
More than 2,000 beds
210,000 testing kits
3,000 thermometers
185,000 face shields
22,000 cartons of disinfecting wipes
Other measures said she has taken include:
Signed an agreement between Michigan and the U.S. Department of Labor to implement pandemic unemployment assistance and compensation programs to grant benefits to workers who do not already qualify for unemployment benefits, such as self-employed workers, 1099 independent contractors and low-wage workers who can no longer work because of the pandemic. The move also expands benefits by $600 a week and extends benefits from 26 to 39 weeks.
Sending a letter to Defense Secretary Mark Esper requesting the Department of Defense direct FEMA to support Michigan's request to use the Michigan National Guard for humanitarian purposes and to use the Army Corps of Engineers to construct temporary hospitals.
She said the state received a shipment of 112,000 N95 masks from the national stockpile, with another 8,000 on the way.
"This is good news, but we still need more," she said. "One hospital will go through 10,000 of these masks in a day. This is helpful, but we have a much greater need."
Signed executive orders extending state and city tax filing deadlines to July 2020.
Signed executive directives temporarily restricting discretionary spending and suspending hiring, creating of new positions, filling vacant positions, transfers and promotions within the executive branch.
The MDHHS has launched a volunteer website – www.michigan.gov/fightcovid19 — where trained medical professionals can register to assist hospitals in fighting COVID-19. Other residents can also learn about opportunities to help at that site, she said.
"We expect a great need for additional medical support in the coming days," Whitmer said. "We've seen an incredible amount of strength and courage of Michiganders during this hard time of uncertainty."