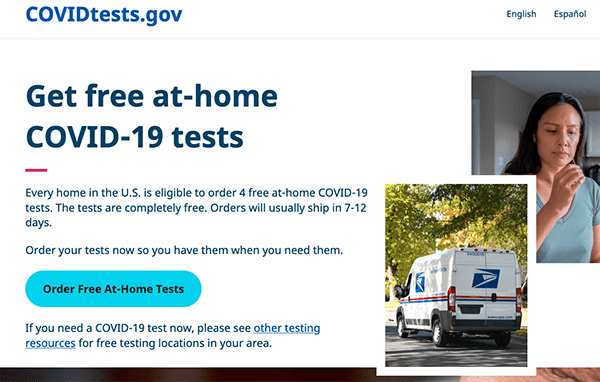 The federal government's website to deliver COVID-19 tests to homes around the country went live this week, opening the door to U.S. residents being able to order free at-home tests.
The website — COVIDtests.gov — was up-and-running Tuesday (a day earlier than originally planned), and provides residents the opportunity to order a set of four at-home tests. The tests are rapid antigen tests, not PCR tests, that can be taken anywhere. Information on the website points out the tests provide results in a half-hour and do not require any lab drop-off.
In a statement released by the White House, officials called testing "an important tool" to help mitigate the spread of COVID-19. Public health experts and the Centers for Disease Control and Prevention recommend that Americans use at-home tests if they begin to have symptoms, at least five days after coming in close contact with someone who has COVID-19, or are gathering indoors with a group of people who are at risk of severe disease or unvaccinated.
A Corp! Magazine staffer completed the ordering process on the website in just a few seconds. According to the fact sheet, tests will typically ship within 7-12 days of ordering.
In addition to the ordering process, the COVIDtests.gov website also:
Offers instructions on when to take an at-home test, what the results mean and a link to the CDC's guidance on things like quarantining.
Encourages people to get up to date with their vaccinations and provides the vaccines.gov link to find a vaccine or booster site; to wear a well-fitting mask when gathering indoors, and to maintain 6 feet of distance between people.
Includes a link to thousands of free antigen and PCR testing sites across the country by state on the U.S. Department of Health and Human Services website.
"The program is intended to really ensure that people have at-home rapid tests available in the weeks ahead," said a senior administration official, according to Yahoo! "And as we have said, this is just one more program on top of a number of programs that we have been putting in place."
The White House also announced the administration is shipping some 400 million free non-surgical N95 face masks to sites around the country as part of its effort to fight the omicron COVID-19 variant causing the latest spike in cases.
Americans will be able to pick up their masks at one of "tens of thousands" of pharmacies, thousands of community centers and other locations across the country beginning late next week, the White House said in a statement.
The move comes as the rise in omicron COVID-19 cases has overwhelmed hospitals across the country, leading to mounting criticism over Biden's ability to contain the pandemic. Recent polls have found more Americans disapprove of the president's handling of the pandemic than approve, undercutting a onetime strength for Biden.
The White House expects the program to be fully up and running by early February.
Individuals will be limited to three masks per person to ensure broad access to the program, which called it the "largest deployment of protective equipment in U.S. history."