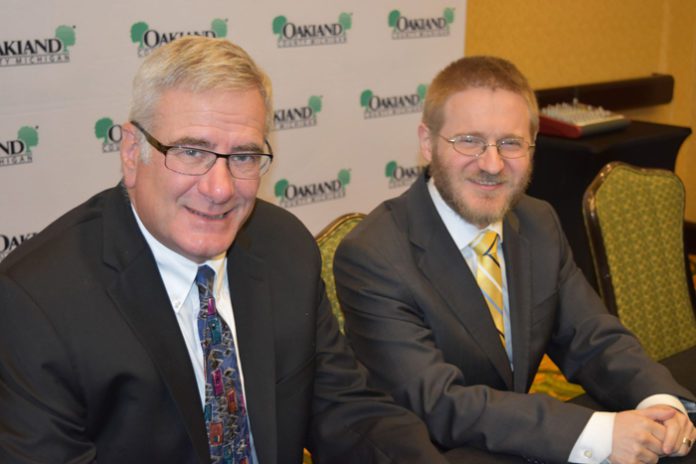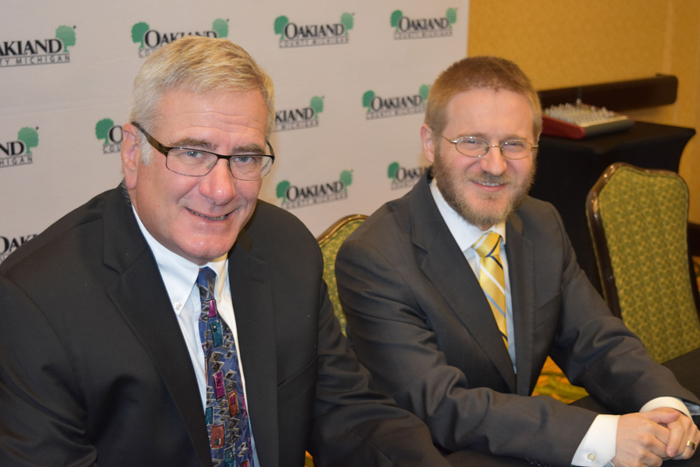 There have been some reports that the booming U.S. economy is headed for a downturn in the next couple of years, but Dr. Timothy Meyer isn't buying it, at least through 2021.
And he's got some backing for his optimism.
Meyer was responding to the annual economic forecast for Oakland County done by University of Michigan ecomomists, who say job growth for the next three years is forecast to average 1.9 percent per year, an average of more than 42,000 jobs through 2020.
"The (forecast) results were solid and the local economy is projected to remain in a very positive direction, barring any unforeseen circumstances," said Meyer, Oakland County's deputy executive for economic development and community affairs. "Any tangible sense of an economic recession is not projected through 2021, which is different than what is popularly reported."
In their annual forecast of the Oakland County economy, Gabriel Ehrlich, director of the U-M Research Seminar in Quantitative Economics, and colleague Don Grimes predict that the county will add about 12,200 jobs this year, 14,000 next year and 15,800 in 2020.
"Notably, growth has continued recently even with slight declines in Detroit Three vehicle sales in each of the past two years," Ehrlich said. "Oakland's recent growth reflects an economy that continues to diversify, a highly educated labor force and policy initiatives focused on future growth sectors."
Oakland's unemployment rate of 3.5 percent last year was well below the U.S. mark of 4.4 percent, and is forecast to drop to 3.4 percent this year, to 2.9 percent in 2019 and to 2.6 percent in 2020. The unemployment rate in 2020 would equal the lowest annual rate ever recorded in the county.
With a population of 1.25 million, Oakland County is tied for ninth place (with Fairfield, Conn.) on a prosperity ranking when compared with 37 other counties of similar size across the nation.
Meyer called the results "exceptional news," and said they show the economic development programs initiated under the leadership of Oakland County Executive L. Brooks Patterson "continue to pay dividends."
"For instance, the Emerging Sectors program (Patterson) initiated over 10 years ago to grow and diversify the economy has now surpassed $5 billion in business investment," Meyer said. "Furthermore, the report shows the job growth for Oakland County continues to diversify, as this program intended, to move towards a more resilient and stable economy."
According to Ehrlich and Grimes, employment in higher-wage industries (average annual wages of $75,000 or more) will increase by 5.9 percent (nearly 14,000 jobs) in Oakland County over the next three years. Jobs in middle-wage industries, paying from $35,000 to $74,999, are expected to grow by 6 percent (more than 19,000). Together, these wage tiers make up more than 80 percent of the net new jobs created in the county through 2020.
"We forecast job growth in Oakland County to skew toward the better-compensated end of the wage scale, consistent with the trend in the current recovery period to date," Grimes said.
The largest job gains forecast through 2020 are in private-service sector industries such as professional and business services, health services, and leisure and hospitality. While manufacturing saw a boost in the past two years, adding 4,807 jobs, the forecast shows slower growth in the next three years.
In particular, motor vehicle manufacturing, which led the early stages of the economic recovery in 2011 and 2012 before slowing and then adding a surprising 1,611 jobs in 2017, will see few new jobs over the next three years.
Manufacturing employment outside of transportation equipment has tended to grow more rapidly. While employment growth in other manufacturing industries averaged 3.4 percent from 2012-2017, the forecast indicates that job creation in those industries slows in the next three years to an average 1.1 percent a year.
Meyer believes the report bodes well for the county's future.
"If we continue to follow the same economic development programs, and continue to follow prudent fiscal practices in government spending and management to maintain our AAA bond rating, we will continue to see the basis for our economy grow and the quality of life to reach even higher levels."