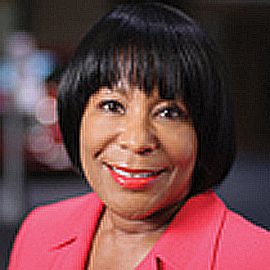 By Karen Dybis
July/August 2013
Ask Vivian R. Pickard about an average day at the General Motors Foundation, and your question will be greeted with a knowing smile.
"Every day is a different day here. We never know what will happen from 9 in the morning to 6 in the evening because things change hourly," laughs Pickard, who has headed this non-profit organization since December 2010.
For example, in the hours after massive tornadoes ripped through Oklahoma in May, the Foundation began the process of helping those affected. Within two hours of coming into the office the morning after the first storm, there was a team assigned to the relief efforts, permission granted to gift $50,000 from the Foundation and a donation of a 2013 Chevrolet Silverado full-size pickup for its partner, Forgotten Harvest, to help carry down thousands of dollars in food donations.
Pickard sees it as just another day in the office. Those who know her understand that without her commitment to her longtime employer, her knowledge of the not-for-profit world, her devotion to volunteerism and her unwavering optimism for solving problems -" big or small -" that the GM Foundation would not be as efficient and effective as it is.
"This is the only place where I have worked in my career. That means General Motors has been pretty good to me. But I think I've been pretty good to General Motors," Pickard laughs. "Truly, I've had great supporters within my company for the work that I've done.
"I could never have imagined having the opportunity I have right now. From the time I was 10 years of age, my parents made sure we had a commitment as a family to make a difference in our community. We all had to do things for the community and for others. It was part of my DNA and that of my family. So I never imagined I'd have a position where I can do things that help make a difference," Pickard adds.
Granted, Pickard cannot take credit for all the Foundation has done since its inception in 1976. And it is not in her personality to seek or claim the work done by those before her. But it is through her tenure that the GM Foundation has taken on some of its largest challenges and made its biggest donations. And it is her enthusiasm for partnering with other groups and civic organizations that have benefitted so many that come in contact with her and her work.
"Vivian has the ability to listen and focus in on the core actions that can transform a situation or initiative. Her commitment, passion, insight and drive to improve Michigan and Detroit are unsurpassed," says Terry Barclay, president and CEO of Inforum and Inforum Center for Leadership.
Inforum is the leading professional organization focused on creating strategic connections and accelerating careers for women throughout Michigan and the Midwest. Inforum has offices in Detroit and Grand Rapids with operations in Kalamazoo, Lansing and Saginaw. Pickard is the immediate past chair of the organization.
"But what many people don't know about her is that she has the biggest heart in town," Barclay added. "Time and time again I have seen her be quick to speak up in support of others and seek to deflect attention away from herself and on to their achievements and contributions. She does this behind closed doors where no one sees it happening, and no one will know they have her to thank."
Although she is humble to a fault, Pickard is a true example of someone whose deeds speak as loudly as anything she says. After all, this is a woman who considers these poignant words of Walt Disney to be among the most important she knows: "The way to get started is to quit talking and begin doing."
"It's so great to have her on our board. She's the kind of person who goes the extra yard," says Tony Michaels, president of Detroit-based The Parade Company, where Pickard serves as a board member. "There's a passion for whatever she does at all times. And it's the kind of passion that is contagious. Her care for her organization, her work and her volunteer efforts is huge, and that is what makes the projects she works on successful."
Diversity and 'the new GM'
The Foundation's reputation also is bolstered by Pickard's role as president in that she is one of many diverse leaders helping run "the new GM," as some describe it. As an African-American woman, Pickard says she seeks to serve as a mentor to anyone who knocks on her door. In fact, she jokes that her assistant sometimes says she may go broke by taking so many different people out to lunch. Those noontime conversations are essential to Pickard's desire to give back, to mentor new leaders and to honor the employer that has provided so much for her and her family.
Talk to Pickard's friends and coworkers, and they'll agree that GM is lucky to have her as much as she says she is to have her job. In truth, it is an ideal match between employee and employer. The Detroit-based company has had a longstanding commitment to having a diverse workforce, both in terms of gender and minority status.
"In 1968, GM was the first automotive company to establish a supplier diversity program. Ever since, our commitment to diversity has grown with supplier and dealer development programs for women and minority dealer development programs, to name a few key initiatives. Today, we have more high-ranking women executives than most other Fortune 500 companies. I am proud to work for a company that leads by example in these areas," Pickard says.
Case in point: General Motors Corp. was the first auto company to have a woman head one of its major operating regions when Maureen Kempston Darkes assumed the role of president, GM Latin America, Africa and Middle East in 2002. GM is the first company to have a woman lead global product development when Mary Barra assumed this role in February 2011. And GM is the first-"and only-"auto company to have an African American, Ed Welburn, lead its Global Design Team.
It may seem strange to some that the business community as a whole needs to outline its commitment to diversity with a kind of scorecard. Those leaders who have rightly earned their positions through hard work and loyalty to their companies readily admit that they don't want to be the poster child for multiculturalism or any other kind of -"ism. Yet statistics and studies show there are still so many discrepancies in terms of gender and racial equality that businesses must care about who they hire, how they train their workers and the kind of opportunities they provide.
On the positive side, Michigan has a strong base of female entrepreneurs. The state has an estimated 246,700 (114,400 in Detroit) women-owned firms, employing 243,900 (120,300 in Detroit) and attributing to roughly $31 billion ($15 billion in Detroit), according to the third annual State of Women-Owned Businesses Report, commissioned by American Express OPEN, a comprehensive report released this spring analyzing the 1997, 2002, and 2007 data from the U.S. Census Bureau's quinquennial business census, the Survey of Business Owners.
Women continue to make gains in small-business generation, but there is still room for improvement as female entrepreneurs gain traction in Michigan and the nation.
Nationally, the number of women-owned businesses has increased 59 percent since 1997. Michigan is ranked 43rd (33.6 percent) in growth of number of firms over the past 16 years and 49th (16.3 percent) in growth of firm revenue between 1997 and 2013. Detroit is ranked 21st (18.8 percent) in growth of number of firms over the past 16 years and 25th (3.5 percent) in growth of firm revenue between 1997 and 2013.
GM Foundation builds communities
Pickard is both president of the GM Foundation and director of Corporate Relations. The General Motors Foundation is dedicated to giving back to communities across the country. Over the past decade, the Foundation has donated more than $315 million in grants to support nonprofit organizations within the areas of Education, Health and Human Services, Environment and Energy and Community Development. (As a side note, GM has not contributed to the Foundation since 2001; it has publically noted that in recent years given the context of its overall financial health.)
"We have responsibility for making decision for the charitable giving in terms of developing a strategy for all of our giving in the United States," Pickard says. "Not only are we using the grants in terms of how they can benefit the community but also how we can utilize our people resources in terms of the support we can give our communities."
So when it comes to health, the Foundation makes donations to fight cancer, diabetes and heart disease. For instance, it gave $400,000 in February for the second straight year to support cancer research at the Barbara Ann Karmanos Cancer Institute. Environmental support includes sponsoring programs for students, honoring educators and recycling programs. Within the community-development arena, a near-and-dear recipient to Pickard is Habitat for Humanity International, which the Foundation gave a $1 million donation in January to support neighborhood revitalization in 12 U.S. cities, including Detroit and Lansing.
The GM Foundation donated $400,000 to the Barbara Ann Karmanos Cancer Institute in January 2012, bringing to nearly $6 million the foundation's support over the past 15 years. This year, the Foundation gave another $400,000. Pictured, left to right, are: GM Health and Welfare Programs Director Jeffrey Johnson, Karmanos Cancer Institute Senior Vice Presiden Nick Karmanos, Karmanos President and CEO Dr. Gerold Bepler, GM Senior Vice President of Global Product Development Mary Barra, and her husband Tony Barra, president of Filament Consulting.
Photo courtesy John F. Martin for the GM Foundation
The "Help 4 Oklahoma" project with Forgotten Harvest is just one of many donations the Foundation makes to troubled geographic areas. Since 2004, the GM Foundation has provided more than $7 million to global disaster-relief efforts. The Foundation is also a member of the American Red Cross Disaster Responder Program to ensure that the Red Cross has funds on hand to provide immediate relief when disaster strikes.
Over the past few years, the Foundation has particularly focused on investments in education that support the next generation of leaders and innovators, particularly in the fields of science, technology, engineering and math (STEM). Beyond supporting the education of our nation's youth from pre-school to college through initiatives like the Buick Achievers Scholarship Program, the Foundation also gives students hands-on experiences that further their environmental studies and cultural experiences within their communities. In addition, the Foundation has a 15-year partnership with Safe Kids Worldwide to provide programs that lead to safe habits both inside and outside of cars.
Another program that Pickard supervises is the Foundation's Plant City Grant Program. This program, which centers on GM's commitment to its local communities, has given $2 million in grants to nonprofits in plant cities to enrich the lives of its neighbors across the country. Nearly 200 organizations in 45 plant cities where GM employees work and live are affected annually. For example, the Warren Symphony Orchestra received a $5,000 grant last year from the GM Foundation, allowing the orchestra to rebuilt its concert series and perform publically.
General Motors Foundation President and GM Director of Corporate Relations Vivian Pickard presents Habitat for Humanity International Senior Vice President, U.S. & Canada Programs, Larry Gluth with a check for $1 million at the 2013 Washington Auto Show in Washington, D.C. The money will support neighborhood revitalization in 12 U.S. cities through new construction, home repair, and weather-proofing efforts.
Photo Mark Finkenstaedt for the GM Foundation
"The communities that our employees and their families call home are important to the General Motors Foundation," Pickard says. "The grants that we provide benefit education, community centers, cultural organizations and many other important areas of focus that strengthen and improve these communities."
Like with children, Pickard doesn't play favorites when it comes to the Foundation's donations. There are so many other projects Pickard can outline, particularly those that help the city of Detroit, Metro Detroit charities and non-profit organizations as well as students across Southeast Michigan. There was the $2 million to renovate and reopen Detroit's Lasky Recreation Center and improve the Joseph Walker Williams Recreation Center.
But she is particularly proud of the work being done to help students excel in school, especially within the company's headquarters in the city of Detroit. In 2011, the Foundation gave $27.1 million to the United Way for Southeastern Michigan with another $6 million coming from GM employees directly. It was the Foundation's largest grant in its history.
This United Way grant helped form the "Network of Excellence" within seven Metro Detroit high schools, including Central Collegiate High School and Henry Ford High School in Detroit, East Detroit High in Eastpointe, Harper Woods High School, Hamtramck High School, River Rouge High School and Madison High School in Madison Heights.
"We really call these schools OUR schools. We provided the financial resources, but we also provided the people resources," Pickard says. "If there's anything we have that we can donate to those schools, we do it. We are making a difference. The commitment to our employees to mentor and make a difference is remarkable. When we get to the point where we can say every student in those seven schools are doing the best they can with what they have, that will our biggest success."
The goal is to improve graduation rates within these schools by 50 to 80 percent over the five years of the program. It also serves as a way for GM employees to serve as mentors within these same schools. This engages the company in education, bolsters its commitment to STEM within Michigan and serves as a way to remind parents, students and the broader world that nothing is as important as education in terms of our collective achievement, Pickard says.
Vivian R. Pickard, one of 10 children, believes firmly in mentorship and giving back.
Photo by Rosh Sillars
This program fulfills several of Pickard's beliefs. Sure, you can give money. But you also have to put your time and talent into the mix. Not only does the Foundation firmly believe in Detroit-area students, but GM executives ranging from GM North America President Mark Reuss to Vice President for Global Vehicle Engineering John Calabrese are believers, Pickard brags. She calls them both champions and advocates for those schools.
"We know the impact that it has on our Detroit community. But it has an impact on our country as a whole," Pickard says. "We looked for opportunities where we could really make a difference, and education was one of the most important."
The Foundation gave $2.5 million to a program in which Detroit's Focus: HOPE helps underprivileged students who are pursuing an engineering education. Another was the 100 Buick Achievers scholarships worth up to $25,000 and another 200 worth up to $2,000 to students throughout the country. Many of these award-winning students are the first in their families to attend college. Launched in 2011, the program champions the next generation of STEM students placing a strong focus on women, minorities and students known for giving back to their communities.
Earlier this year, the Foundation sponsored the Detroit stop of the NBC News' "Education Nation On-The-Road" tour. Education Nation was a tour that hoped to create a thoughtful, well-informed dialogue with policymakers, thought leaders, educators, parents and the public, in pursuit of the shared goal of providing every American with an opportunity to achieve the best education in the world.
Other significant donations have gone to Detroit's cultural gems. One notable grant went to the Detroit Symphony Orchestra, which received a $250,000 grant from the Foundation to fund its trip to Carnegie Hall in May. This was the first time the DSO has played this legendary hall in 17 years. The DSO performed twice during the prestigious "Spring for Music" festival, which showcased five symphony orchestras from across North America.
The GM Foundation has a long-standing history of supporting the DSO and community arts programs. Over the past decade, the Foundation has donated nearly $1.5 million to the DSO to help bring world-class music to the Detroit community and support the musicians who share a passion for the city. The Foundation's support of Detroit-based nonprofits and cultural institutions over the past decade totals nearly $21.5 million.
Commitment to making a difference
Pickard's story starts in Sturgis, Miss., where she was born and raised in a family of 10 children. The family eventually moved to Flint, and Pickard stayed in Michigan for her education. She received a Bachelor of Science degree from Ferris State University and a Master of Science from Central Michigan University.
She joined General Motors in 1978, working in both administrative and management positions within the Finance, Human Resources and Public Policy departments. But she readily admits she is amazed that her career had led her to this point.
General Motors President North America Mark Reuss, left to right, Detroit Mayor Dave Bing, Forgotten Harvest CDO Russ Russell and Detroit Recreation Dept. Interim Director Lori Cunningham look on while GM Foundation President Vivian Pickard addresses the gathering at a ribbon cutting ceremony to mark the grand re-opening of Lasky Recreation Center in Detroit. The center now offers a myriad of activities, and a safe place for Detroit youth and families to be active, play and learn. The renovation was made possible by a $2 million grant from the GM Foundation in 2010.
Photo: Jeffrey Sauger for General Motors
"I have always worked hard ever since the day I walked into General Motors. Many of the decisions in my career were actually made for me. So maybe individuals saw things in me that I didn't see in myself," Pickard says. "Even the position I'm currently in, there was an officer within General Motors who had watched me in my career. He wanted to revise the team and asked me to help make some decisions in corporate relations. So that is how I ended up part of the department."
"I've had tremendous mentors at General Motors. I try to give back and mentor other women because I've been so fortunate to have had that throughout my career," Pickard says. "I sincerely feel it is my responsibility, even if it is just to sit down, listen and offer any advice I can. If we can't make time during the week, I'll do it on a Saturday or a Sunday. But we all have to eat lunch, so I try to do it then. My admin jokes I'm going to go broke, buying all these people lunch."
It also speaks to her connections within General Motors and beyond. Friends say Pickard knows most of Metro Detroit and the rest of GM. Pickard scoffs at the idea that she has such a deep network, but she does admit, "I have antennas literally all over the country. It helps me do my job."
Still, Pickard says she is not afraid to say, "No," to a request and she is a great delegator. So she tries to find activities she enjoys and makes an impact on the community. To that end, Pickard also serves on the board for the Washington, D.C. Martin Luther King, Jr. National Memorial, Inforum, Detroit Regional Chamber Foundation, The Parade Company, New Detroit The Coalition, Michigan Women's Foundation, Council of Michigan Foundations and the Barbara Ann Karmanos Cancer Institute among others.
"General Motors is a company that is sincerely committed to making a difference in our communities. And our commitment starts at the top," Pickard says. "I'm not just staying this because I work for General Motors, but you can see the difference we are making. Our commitment as a company to give back to our communities speaks for itself."