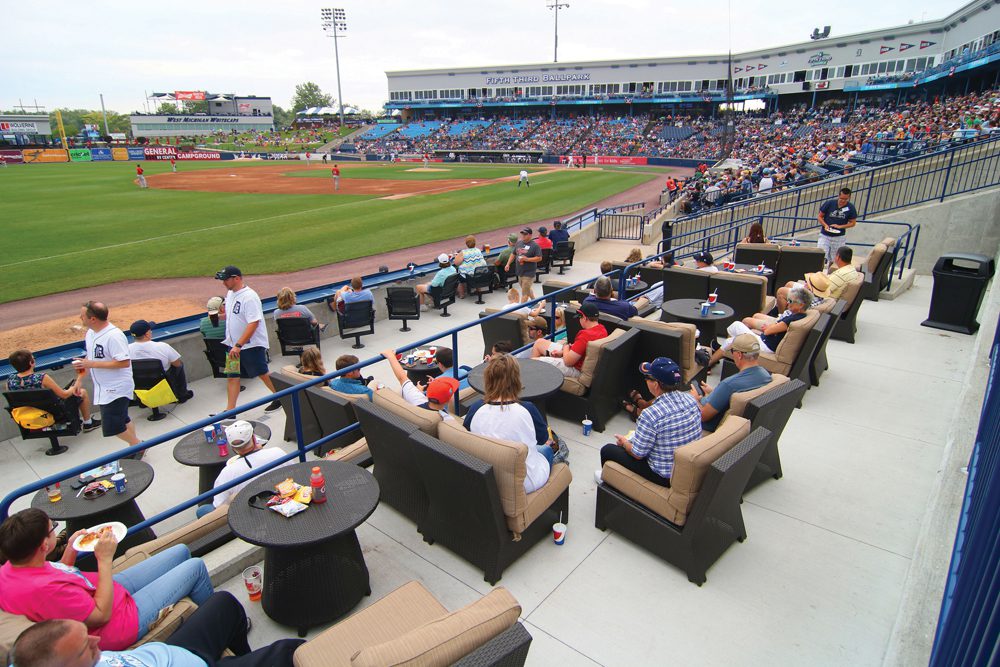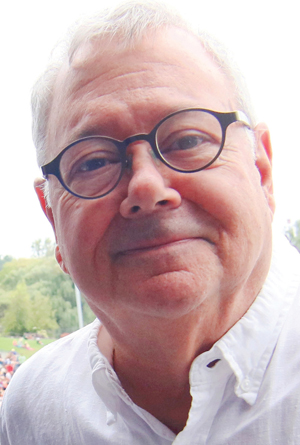 In a nation where uniform opinion on any subject is rare, if not unheard of, it should come as no surprise that even a topic as seemingly benign as the economic benefit of minor league sports teams on a community will have at least two sets of opinion.
It's a subject that is almost intuitive at one level: finance the building of a stadium at least in part with tax dollars and the economic benefit to the community will inevitably follow.
But academics like Dr. Nola Agha, an associate professor of sport management at the University of San Francisco, are skeptical or at least careful to quantify what benefits are likely to accrue from the presence of a minor league team.
"At the most basic level, people are spending what they earn from what they do," says Agha, who is also a sports economics consultant and author of several papers on the subject. "They aren't spending more than they have."
The concept is referred to as "substitution spending" and Agha says it's the counterpoint to a minor league team or proponent for public spending, related to bringing that team into a community (typically concerned with a publicly financed stadium project).
"Teams claim that they'll be bringing in hundreds of new visitors to watch a game and that may be partially true, depending on where they were before a move, but that's not the case in Michigan," said Agha.
Certainly, there is a significant body of academic research available that supports the contention that "new money" is elusive when it comes to a project that involves substantial investment from the public purse.
And then there's the Lansing Lugnuts, a "single-A" baseball affiliate of the Toronto Blue Jays that plays in the Midwest League.
As is the case with other "affiliated" clubs (there are a total of 160 in the entire Major League network), the Jays are responsible for player salaries, with the Lugnuts paying rent at the Cooley Law School Stadium, a facility that is owned by the City of Lansing and managed by the Lansing Entertainment & Public Facilities Authority (LEPFA).
It's clear from speaking with Scott Keith, president of the LEPFA, that the baseball club has brought a majority of the $12.9 million in economic benefit the stadium generated in the fiscal year that ended June 2016.

Tim Daman, president and CEO of the Lansing Regional Chamber, echoed that sentiment.
"We have seen about $200 million in investment in the 17 seasons of baseball downtown," he said, referring to the "Stadium District" that was created in 2006 and which has been a catalyst for mixed-use residential, restaurant and entertainment activity.
"Without the stadium here, the revitalization of downtown Lansing would likely not have occurred."
Nick Grueser, general manager of the Lansing Lugnuts, said the stadium lease arrangement with LEPFA involves minimum payments that are tied to revenue generated by the club.
But it's arguably the catalytic effect the team has had on the area that has served to redefine an area of the city that was considered unsafe.
"The vision was to build a ballpark and everything would come around it," said Grueser. "And that's what happened. It revitalized downtown."
One of the most prominent features was a public-private partnership involving the city, the Gillespie Group and the Lugnuts, that included 84 rental apartments built up against the ballpark itself.
Now fully occupied, the four-story Outfield Loft development includes city ownership (the first floor), with the developer owning the top three floors.
The cost of the apartment development was $11 million, with another $2.5 million spent on improvements to the stadium, including a new restaurant, banquet facility, picnic terrace, updated scoreboards, seats and locker rooms.
Financing of the project involved a $2.5 million equity investment by the Michigan Economic Development Corp.
About an hour's drive west of the Lugnuts' home is another example (or exception to the academics' rule of "no economic benefit"), this one involving the West Michigan Whitecaps baseball team, another single-A team that plays in the same league.
While there was no public investment in the team, which is affiliated with the Detroit Tigers, it wasn't for lack of trying, said Lew Chamberlin, who along with Denny Baxter, owns and operates the Whitecaps.
Chamberlin, a lawyer by training who ended up working in the family's steel fabrication business before it was sold in 1985, had met Baxter, an accountant from Muskegon, when each discovered they were not alone in their passion for bringing baseball back to Grand Rapids.
Each had read a Grand Rapids Press newspaper story by the late Corky Meinecke that pondered in print why baseball could thrive in places like Toledo and Evansville, but not in Grand Rapids.
"That story convinced me not to give up, but to give Denny a call," said Chamberlin. "Our visions were totally aligned and we decided to throw our talents together, such as they were, to give it a try."
It took eight years before the pair was successful, most of that involving the pursuit of various options for financing a stadium, which their future team obviously needed.
"We came to realize over time that the community had other priorities for their tax dollars," said Chamberlin.
Eventually, Chamberlin, who was part of a task force to look at a "grand vision" that would involve having a downtown arena and convention center, came to a joint conclusion with Baxter that financing their own stadium was ultimately the way to go.
"It was made clear that we weren't going to get public funding for the baseball stadium and we figured it was just as good to own your house as to rent it."
Raising money from private investors, the Chamberlin-Baxter group borrowed against the equity they had raised to build the Whitecaps home, which is located in Comstock Park, Mich., just outside Grand Rapids.
Unfettered by financial ties to the municipality, the Whitecaps remain a solidly free enterprise in their operating philosophy, even after a January 2014 fire caused by a faulty space heater in one of the stadium's suites took out half of the first-base side of the ballpark.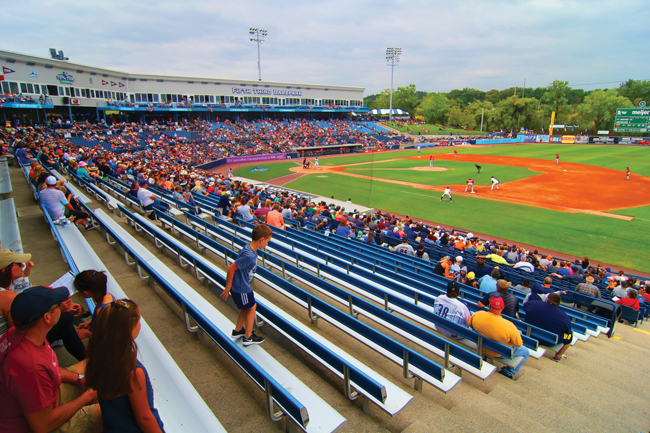 "We were back in business three months later, in time for the home opener," recalls Chamberlin.
Aside from that drama and what Chamberlin playfully calls "good old-fashioned screaming and begging" with the Tigers, with whom the Whitecaps have been affiliated since 1997 (they were an Oakland Athletics affiliate from 1994 to 1996), the operation is like any other small business.
"We pay property taxes like anybody else and we have a $4 million payroll," he said, pointing out that the Whitecaps have a $12 million budget, most of which is spent in West Michigan.
"Those dollars get into the community and multiply," he adds.
Regarding the lack of public investment in the enterprise, Chamberlin says it was "the best decision I never made for myself."
Two hours north and east of Comstock Park is Midland, where the Great Lakes Loons, also a single-A team (affiliated with the Los Angeles Dodgers), play out of the Dow Diamond, a $33.5 million stadium that opened in 2007.
Both the team and the stadium are owned by the Michigan Baseball Foundation, a nonprofit headed by Bill Stavropoulos, a former CEO of Dow Chemical.
Dow purchased naming rights to the field and donated the land, which was occupied by its former headquarters building.
Scott Litle, general manager of the Loons, says a study done in 2010 by Northwood University, also based in Midland, estimated the annual economic impact of the team to be about $23 million.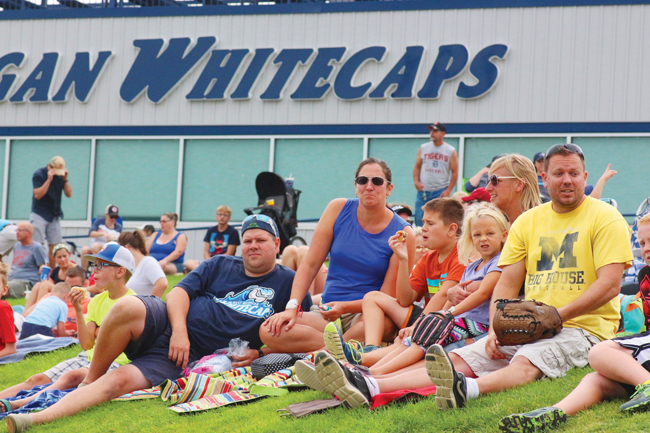 Added together, the Loons, the stadium and a radio station (ESPN 100.9 FM) have a combined annual payroll of $2.1 million, with 32 full-time and 250 game-day staff.
The Michigan Baseball Foundation, which received initial funding from several local philanthropic organizations, says it spends $2.9 million locally and an estimated 2,000 hotel room nights are linked to the 70 games the Loons play, as well as events hosted at Dow Diamond.
Most recently, those events included the 2017 Midwest League All-Star Game, with festivities held over two days, June 19-20.
The bigger picture, at least for West Michigan, comes from the West Michigan Sports Commission (WMSC), which said it hosted 80 youth and amateur sports events, attracting nearly 155,000 athletes and visitors and $46 million in visitor spending in 2016.
"When we opened our doors 10 years ago, we couldn't have fathomed the pivotal role sports tourism would play in West Michigan, both in strengthening our economy and quality of life," said the organization's president, Mike Guswiler.
One of the venues represented by the WMSC, the Art Van Sports Complex near Rockford, recorded $5 million in direct visitor spending in 2016.
Other notable activities included the Meijer State Games of Michigan, which had competitions in 62 sports, drawing 10,367 athletes and $3.5 million in direct visitor spending.
Yet even with these examples and the people of Midland, Lansing and the Grand Rapids area effusing about the benefits of their respective minor league franchises, people like Rodney Fort, a professor of sports management at University of Michigan, aren't convinced that the math works out in favor of a public investment in something like a stadium.
That said, Fort does acknowledge that there may be other factors in play.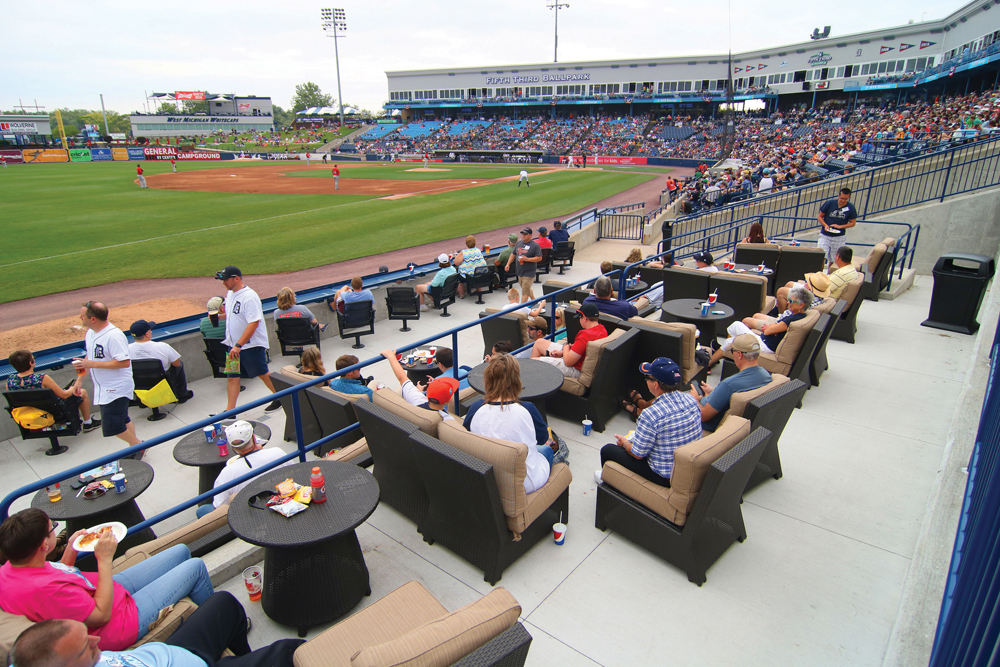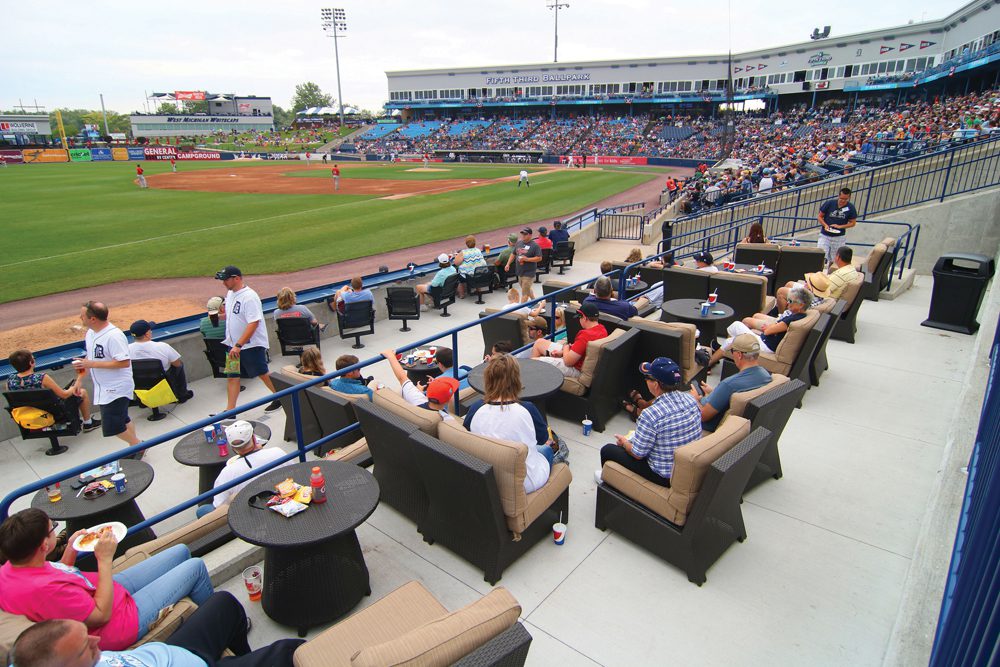 "If I'm thinking about locating a business, it's likely to be in a place where the consumption of amenities is greater, and that could be related to sports as much as anything else," he says. "Sometimes when you're thinking about where to go, it isn't all based on economic return in dollars and cents, but economic return in terms of quality of life."
Still, Nola Agha of the University of San Francisco points to research (including her own) that suggests the economic impact of minor league baseball teams may be greater for those affiliated with major league teams, which would be consistent with the Whitecaps, Loons and Lugnuts, the three teams in Michigan.
In one of her papers, ("Economic Impact of Stadiums and Teams"), Agha referred to an AA stadium (one level higher than the teams in Michigan): "It is hard to conceive that an AA stadium . . . could possibly generate enough economic activity to create a measurable effect in the scope of a larger regional economy."
She also wrote that the ability to effectively utilize the venue for activities that drive economic activity by drawing visitors from outside the local economy may produce positive stadium effects.
"When minor league ballparks are said to be built as community assets that host everything from high school marching band contests to minor league games, perhaps these are the markets where this holds true."
Mike Price, executive director of the Greater Lansing Sports Authority, is also coordinator of Pure Michigan Sports, an all-volunteer collaboration among several communities: Ann Arbor, Battle Creek, Detroit, Flint, Grand Rapids, Kalamazoo, Lansing, Livingston County, Mt. Pleasant, Saginaw/Bay City/Midland, Traverse City, Holland and Muskegon.
The organization leverages the Pure Michigan brand in partnership with Travel Michigan.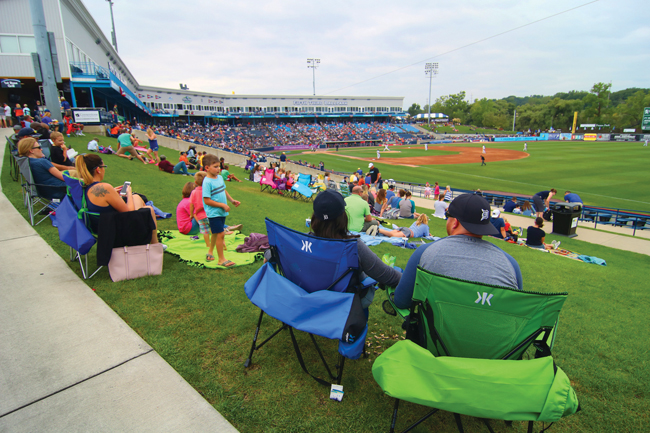 Price contends that the economic impact of minor league sports includes the money that those involved in various sports spend in the community, including restaurants and attractions, as well as fuel and shopping.
"More anecdotally, we know as a group that we're able to bring back events to the state when we travel to trade shows," he said.
In Lansing, as just one example, Price says the number of events has grown from 40 a year to 105 events in the last 10 years. In 2016, some 70,000 athletes participated in those events, with 310,000 spectators.
Price said competition with other communities is an important consideration and one that Lansing is keen to deliver.
"We hope to create the best experience possible, to create memories and to encourage people to come back if they've enjoyed themselves."
Regarding the investment of tax dollars, Price said most of the funding comes from the local tourism organization, using dollars that are generated through hotel stays.
"We're actually generating tax that generates economic impact," he said.
Lew Chamberlin of the West Michigan Whitecaps says the direct or indirect impact of minor league teams like his may be more nuanced than some may believe at first glance.
"I don't think any of these situations are so black and white," he adds. "There are a lot of quality of life benefits that need to be factored in, including programs for kids and other ways that teams like ours benefit the community."