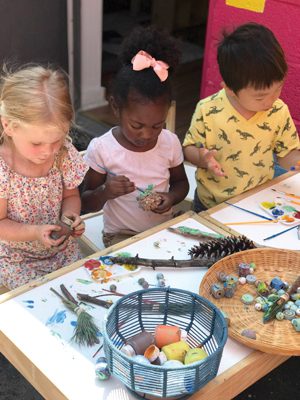 Oakland County Executive David Coulter believes providing access to affordable child care is a key component not only to the mental health of Michigan residents, but also to the recovery of a state that might finally be seeing a light at the end of the pandemic tunnel.
So it wasn't a surprise to see Coulter supporting Michigan Gov. Gretchen Whitmer's proposal to invest $1.4 billion in federal child care funding to expand access to high-quality child care, make it more affordable and support child care professionals as part of her administration's Economic Jumpstart Plan.
"Expanding access to affordable and reliable childcare is such a critical need, not only for the peace of mind of our parents and well-being of our children, but to the economy of the state and county as well," Coulter said.. "And, quite simply, it's the right thing to do."
Whitmer announced the plan Monday, pointing out the plan helps people go back to work and support their families while giving them the peace of mind to know that their children are safe and learning.
In announcing the plan, Whitmer said all families "deserve access to quality child care that meets their needs."
"The investments I've announced today will make child care more attainable and affordable for Michigan families," Whitmer said. "My plan will support Michigan child care businesses and honor child care professionals by providing more financial support and security to providers. I've pledged my support for early educators and this approach will deliver that support."
The two rounds of stimulus funding passed through the Coronavirus Response and Relief Supplemental Appropriations Act and the American Rescue Plan Act allows for expanded investment above the $241.5 million Michigan receives annually in federal Child Development and Care program dollars specifically for child care.
Lt. Gov. Garlin Gilchrist called the access to affordable, available, reliable and safe child care "transformative for Michigan's economy."
"Under (the plan) we have a one-time injection of six times the amount of resources that we receive in a typical year for child care," Gilchrist said. "This historic investment would change the lives of families across our state for the better. When we invest into our child care system, we're allowing for parents to work and be even more productive and providing an environment that children can thrive in."
Investment highlights include:
Increase income eligibility from 150% of the federal poverty level (FPL), $39,300 annually for a family of four, to 200% or $53,000 annually for a family of four from August 1, 2021 – September 30, 2023, making low or no-cost child care available to an estimated 150,000 more children. Thereafter, income eligibility permanently increases to 160% FPL, $41,920 annually for a family of four.
Increase access to the child care subsidy for student parents enrolled in Michigan Reconnect and Futures for Frontliners for a 12-month period. Individual student parents will leave the program per the exit requirements.
Support for early educators
Offer premium pay for child care professionals with stipends paid quarterly from July 2021 – September 2022.
Maintain mental health supports provided by infant and early childhood mental health consultants for children enrolled in child care.
Stabilize child care businesses
Raise child care subsidy rates by 20% for providers to move closer to the market rate for child care.
Provide business stimulus grants to all child care providers to help them remain open and serving Michigan families.
Expand access to child care
Provide grants to new and expanding sites in communities without adequate child care (10% of the ARPA stabilization grants is proposed to be set aside for this purpose).
Nicole Hamp, Early Childhood Liaison for the Michigan Chapter of the AAP, called early childhood a "critical time" for rapid brain growth and development.
"Pediatricians cannot emphasize enough the importance of the nurturing, engaging, safe and stable environments that early childcare programs provide for young children," Hamp said. "(the plan) to invest in our children and early childhood education is a huge step forward for our state."
"Child care is the backbone of our nation's economy and sets up Michigan children for successful futures," said Sue Tolley-Graf, Executive Director of Troy Babes in Toyland. "The importance of early childhood educators cannot be overstated."