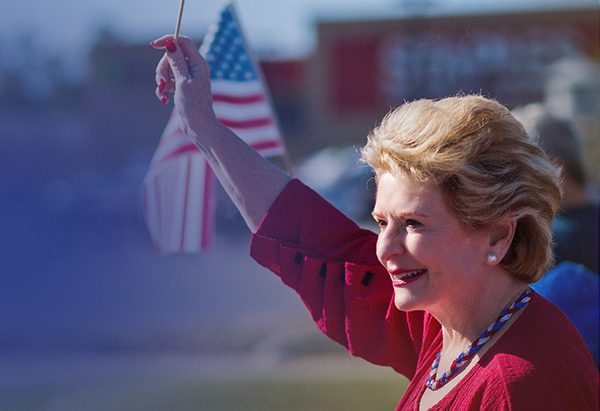 The first woman from Michigan ever elected to the U.S. Senate announced she won't seek another term when her current stint ends in January 2025.
U.S. Sen. Debbie Stabenow, whose legislative career started with her election to the Ingham County Commission in 1974, issued a statement Thursday saying she will not seek re-election in 2024.
"Inspired by a new generation of leaders, I have decided to pass the torch in the U.S. Senate," the Lansing Democrat said. "I am announcing today that I will not seek re-election and will leave the U.S. Senate at the end of my term on January 3, 2025."
In her statement, Stabenow said the final two years of her term will be "focused on continuing … important work to improve the lives of Michiganders." Her focus will be on leading the passage of the next five-year Farm Bill, "which determines our nation's food and agriculture policies."
Her departure will end a career that started with that Ingham County Commission, where she became the youngest and first woman to chair that board. When she ran for the state Legislature in 1978, she said, there were only eight women in the State House and none in the Senate. This year, she said, there are 44 women serving in the House and 15 in the Senate.
While she said she's proud to be the first woman to achieve a number of milestones, it's more important to her that the trail has been blazed for more.
"I have always believed it's not enough to be the 'first' unless there is a 'second' and a 'third,'" she said. "Women hold the top three statewide elected offices, and we have the first female Majority Leader in the State Senate.
"Under the cloud of unprecedented threats to our democracy and our basic freedoms, a record-breaking number of people voted last year in Michigan," she added. "I am 'Made in Michigan.' My work is deeply rooted in my love of our wonderful state. Whether protecting our Great Lakes, transforming mental health services, or ensuring our state can continue to make things and grow things to be competitive in our world economy, I am proud that my accomplishments have made a difference in people's lives and created a strong foundation for a healthy and prosperous future for our state."
At the end of her term, Stabenow said she will "begin a new chapter" in her life, which includes "continuing to serve" the state outside elected office and "spending precious time" with her 96-year-old mother.
"I am so grateful for the trust the people of Michigan have placed in me," Stabenow said. "I am also deeply grateful to my incredible staff, who are the best team in the United States Senate. They continue to set the highest standards for service in Michigan and across our country."