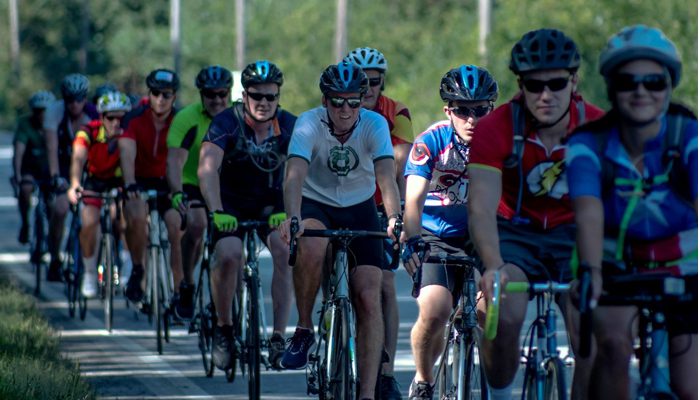 Riding a bike is great for body and soul – it is a form of exercise that many people enjoy because they are outdoors and seeing the world from a different point of view. But it also is a way for a company and its team members to bond in a real way, as well.
At ARCO/Murray, the annual Bike Ride for the Kids event has proven to link people at the company and in the community as well, said Ally Syperek, Senior Marketing Director for the firm.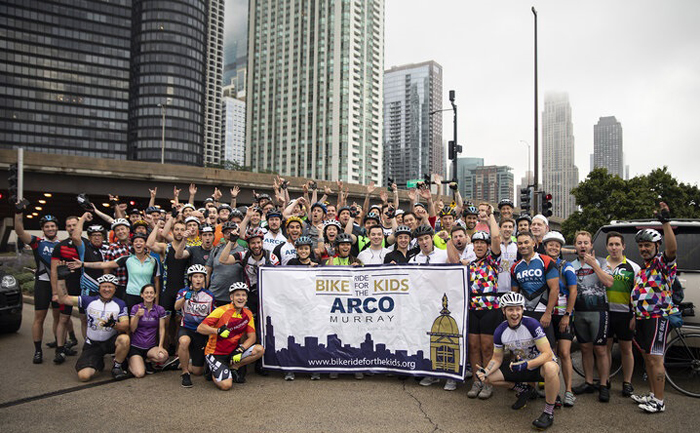 ARCO/Murray is a single source national design and construction firm specializing in commercial construction and real estate needs for Fortune 500 companies and individual businesses. From planning to execution, ARCO/Murray's team uses the most advanced design-build methodology to deliver the very best client experience, Syperek said.
It's a great way to create teamwork from the CEO to the intern. According to the UnitedHealth Group's Health and Volunteering Study, about 64% of employees who volunteer say that doing these kinds of good deeds with their work colleagues "strengthened their relationships," the study stated.
Educational success
The annual Bike Ride for the Kids event — or BRFTK — is an annual 100-mile bike ride from downtown Chicago to South Bend, Ind., the home of Notre Dame University. Participants include ARCO associates and their friends and families, clients, vendors and other partners.
"Bike Ride for the Kids started in 2008, when a handful of us decided to ride bicycles from Chicago to the opening Notre Dame football game to raise money for the kids of South Bend," Syperek said. "Many of the founding riders received their undergraduate degrees from the university and they attribute so much of their success to their education. The mission has since evolved to support STEM in our direct communities, including the Greater Chicago area."
The mission is to encourage young individuals to pursue education and career opportunities in the science, technology, engineering and math fields, Syperek said. The funds raised by Bike Ride for the Kids support FIRST Lego teams in the places where ARCO/Murray employees live and work.
FIRST (For Inspiration and Recognition of Science and Technology) was founded in 1989 to inspire young peoples' interest and participation in science and technology. In the FIRST Lego League (FLL), students design, build and program a LEGO MINDSTORMS robot to perform autonomous missions on an obstacle course.
Alums in action
"ARCO has a sizable number of Notre Dame alumni, but participation in the event has been embraced across the company regardless of alma mater and cycling skill level," Syperek said. "The majority of our associates participate either by riding or volunteering at one of the various water stops along the route. Many of us bring our friends and family, making for a fun day supporting a great cause."
After the race, ARCO hosts a welcome party where team members have the opportunity to meet some of the teams from the FIRST Lego League. This creates another opportunity to hang out, meet people and feel part of the community.
This grassroots event has grown from five riders in 2008 to more than 100 in 2019. Supporting one team of 10-15 kids can range from $1,000-$5,000, Syperek said, and in 2019 ARCO/Murray surpassed its goal and raised more than $95,000.
"We're so proud that our associates are just as passionate about this cause, 12 years on," Syperek said.
Syperek added that ARCO/Murray has a deep-rooted culture of giving, going back to its founders Dick Arnoldy and Jeff Cook, who ingrained the idea that the success of the company has been possible only because of the communities it are a part of, the people it has hired and their educational foundations.
"They established the three pillars of giving that we still follow to this day," Syperek said.
These pillars – associates, education and community – are achieved by matching 100% of donations made by associates and providing one week of paid leave each year to volunteer their time and talents; partnering with existing programs that reinforce critical STEM education for future generations; and giving back to the communities that team members live and work by sponsoring local charitable initiatives.