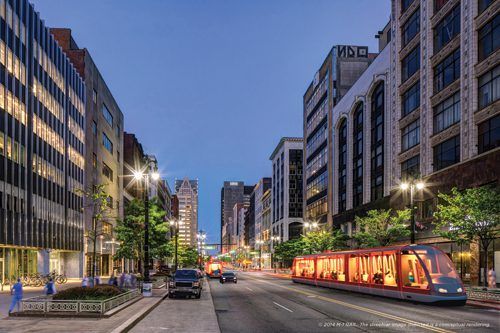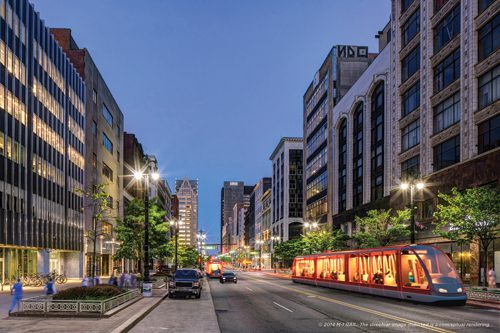 Detroit has seen its share of great cars. In a couple years, it will get some really long ones.
Six, 60-foot cars, driver operated, will be traveling 3.3 miles up and 3.3 miles back, stopping at 20 different points on Woodward. Designed to be pedestrian friendly and part of the fabric of downtown, they will flow at 7-10 minute intervals, sharing the road with traffic and cyclists and allowing people to jump off and jump on. Different people, different backgrounds coming together.
M-1 Rail on Woodward from downtown to New Center is becoming a reality as it broke ground July 28 and is expected to be complete in 2016. About 700 construction jobs are forecast over the period.
The M1-Rail is in a way a "look back to future," said Matt Cullen, referencing the city's history with street cars. Cullen is CEO of M-1 Rail and a longtime business leader in metro Detroit. The city and region was considered a leader in municipal transportation in the 1920s, he said, with 910 street cars and routes going all the way to Port Huron. The last street car on the Woodward line was shut down in 1956, leaving only some bare rails in some spots on Woodward as a reminder.
Cullen, along with Paul Childs and Sommer Woods from M-1 Rail, held a mid-July press briefing in their Woodward office geared to help educate and get the message out about the project, the construction process and activity over the next two years, and related retail development and community interaction. "We are looking for your help," Cullen said. "There will be a tremendous amount of construction and activity going on in that time."
60 years later we are returning to our roots
"Many of you have written about this," Cullen told reporters, "but we are probably the only major urban area in the country that does not have any effective form of mass transit. And yet we are probably one of the areas and one of the cities in the country that have the most significant need for it. That is why we are excited to be bringing it back. Back to the future, if you will."
Cullen said the streetcar feel was popular because it is a pedestrian enhancement and it connects people with the city in a different way. Level platforms, room for bikes, ADA compliant and plenty of access are part of the design. M-1 Rail is meant as a connector for downtown, Midtown, the Amtrak station, and New Center and it starts to tie in the area north of Grand Boulevard.
Cullen added: "If you want a commuter system that is coming in at high speeds from the suburbs, that is a light rail project. Over time, like other municipal areas, hopefully we will have something like that."

More than $100 million has been raised philanthropically to build and operate this system. Cullen stressed that these are donations to help this project going forward, and that there is no possibility of or intention of any economic benefit going back to the funders. "This is going to be one for the history books," Cullen said, quoting former U.S. Secretary of Transportation Ray LaHood's comments about the money raised. "The contributions of the business community in Detroit are unparalleled really relative to the amount of resources that they devote to our community," Cullen said.
The project is expected to inspire economic development in the form of 10,000 new housing units, and 5 million square feet of new commercial space within a 10-year period on the Woodward corridor. More than $3 billion in development is expected within the next 10 years. (This isn't even taking into account Olympia Development's mega Sports and Entertainment District on Woodward. Whew!)
Connections
Communication is all about connections. We applaud the M-1 Rail's effort to get everyone on the same page with their July media briefing on the project's construction timetable. We are all in this together, so it is of great importance to be clear and connected. More information can be found at m-1rail.com.
And just like the connections the briefing sought as goals, M-1 Rail's role is all about transporting and connecting people with each other, the city, places of worship, jobs, medical facilities, education, entertainment , family, the riverfront … the list goes on and on. This is why the project has such great potential for this unconnected and segregated region.
"Much, much like the riverfront, it brings people together. You will have people of different socio-economic classes, interacting on a daily basis and that is very healthy for our community as well," Cullen said.
The metro Detroit region could certainly use some racial and socio-economic health.
This project will link people to the People Mover, to crosstown buses, to Amtrak. And with Amtrak, it will allow for people to travel or commute by rail to downtown. Light rail works and is successful where there is high density and that is why the project started where it is, and then you build out from there, Cullen explained. "It starts to knit the region together."
And just as importantly, it may demonstrate to the region how mass transit of this nature can be impactful on hopefully a larger scale.
The elephant in the room
We have heard this all before in a way. The Detroit People Mover's original intent in the 1980s was to be the downtown link of a metro area-wide light rail system. Short story: Politics and funding obstacles and snafus scaled it back. The downtown loop was projected to transport up to 15 million people yearly. It moved about 2 million people in 2008, according to reports.
Today's downtown is a different reality. It's vibrant. Actual people are walking around on the streets. You have to wait in line at some restaurants! The investments by Mike Ilitch and company, Compuware, Dan Gilbert, Blue Cross Blue Shield, the automakers, artists, musicians and many more have made it a bustling tech hub and fertile ground of innovation and entrepreneurship. And it keeps developing. In 2017, with the new mega Sports and Entertainment District up and running and M-1 Rail shuttling riders back and forth, Woodward will be, well, back to the future.
"I think it will be transformative," Cullen concluded.
We certainly hope so.