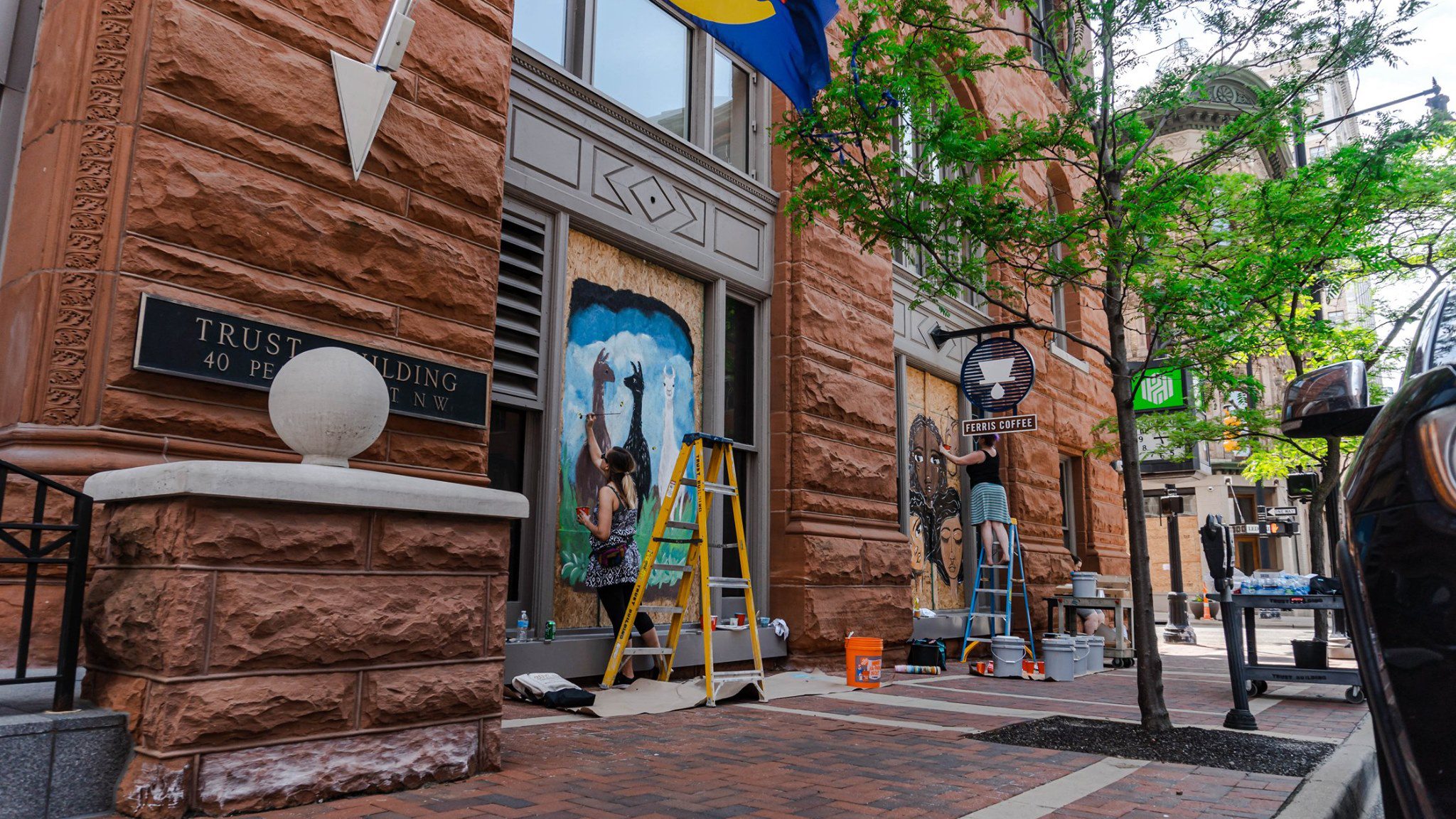 As communities grapple with issues surrounding racial justice, Michigan cities, government officials and business owners are working on plans and projects that hope to inspire a more equal world going forward.
Over the past three weeks, cities including Detroit, Lansing and Grand Rapids have experienced large, in-person protests over the deaths of African Americans at the hands of police. Nationwide, cities have had nightly protests since the May 25 passing of George Floyd, an unarmed Black man who died when a former Minneapolis police officer knelt on his neck for more than eight minutes.
While there are no easy answers, activists, nonprofit organizers and business leaders say they are committed to taking action against racism, police brutality and injustice. In addition to making public statements, some groups are coming forward to create art projects, mentorship programs and job opportunities as a way to build trust, find common ground and develop economic equality across Michigan and around the United States.
Tough conversations
Detroit has worked with residents and protesters alike to ensure people's safety while also taking their concerns into account. But this moment cannot be "business as usual," said Shuna Hayward, vice president of programs at Connect Detroit, a Detroit-based nonprofit organization that helps Detroit-area nonprofit groups and government work together to solve local problems, especially through its youth-employment programs.
As a mother of two, Hayward said she has experienced the fear and pain associated with not only her own experiences as a Black woman but as a parent raising children in a world struggling with racism, racial injustice and inequality. These issues are particularly troubling for young people, who are talking and acting on their desire for change, for protest as well as looking for ways to contribute.
One of the things Detroit Connect has done for its partners and young people is hold online meetings to talk, to listen and to offer support around these big questions of racial justice. Having an outlet for feelings and facts has been important, and people came away from the online meeting with new understanding as well as ways to help.
"We had a training previously scheduled, so we shifted the topic," Hayward said. "It was a safe space and a necessary conversation. … We got great positive feedback and it was constructive because we came to it from a place of love. We did the work upfront to establish the intention and the tone."
Detroit Connect also allows business leaders to set up summer work programs for youth directly for this season or in the future, giving company owners and managers a real way to get involved, Hayward said. They also take donations to help with its work, allowing other companies who may have the space to add more youth training and job experiences. These are just a few ways business owners and workers can contribute to making things better, Hayward said, in addition to coming together for those hard conversations and work around economic, educational and cultural disparities that result in horrors such as the death of George Floyd.
Working collaboratively
In Grand Rapids, city officials and the community are working together to rebuild both physically and emotionally after a May 30 protest turned into a violent night where people broke windows, set fires and damaged property throughout the downtown area. Since that night, groups have work together to repair storefronts, clean up the streets and find ways to come together, officials said.
One example is the downtown mural project created with CWD Real Estate Investment and its partners, which include local artist collaborative, Lions and Rabbits. From May 30 when the destruction began to the morning of May 31, 16 of CWD Real Estate's 18 downtown properties received damage. Managing Partner Sam Cummings said those causing the damage broke more than 100 windows across its properties and tenants had their inventories "wiped out" by looting.
When Cummings arrived on the scene around 5:30 a.m. the morning of May 31, he described the landscape around downtown Grand Rapids as "horrifying."
"I never thought I would see that in my hometown. I wept. I was angry. … The core of our community was decimated," Cummings said.
But people started arriving – waves of volunteers who offered to help clean up graffiti, put storefronts back together and board up broke windows, Cummings said. Four contractors reached out to them with trucks and guys ready to work. Restaurants opened their doors and fed volunteers. Cummings called it "a thing of beauty."
That Monday, Cummings said CWD Real Estate learned it could take up to eight weeks to replace all of the glass in the windows that were broken. Rather than leave the bare plywood over the windows, the firm reached out to Lions and Rabbits, which mobilized local artists who painted murals on the raw wood. The resulting art is inspiring and beautiful, Cummings said.
Moreover, he and other business leaders have come together on Zoom calls and in meetings to create something else that's new – a youth workforce development program that hopes to hire as many as 1,000 high-school and college-age teens and young people in a new employment program. Something good has come out of something that could have left Grand Rapids devastated, Cummings said.
"Are we perfect? No. But I firmly believe there is nothing that this community cannot handle when we set our minds to it. The things I have seen us accomplish around here are pretty amazing," Cummings said. "This may not be the easiest party we've ever attended or the easiest initiative, but I have absolute confidence that if anybody can do it west Michigan and do it. We're going to be better for it."