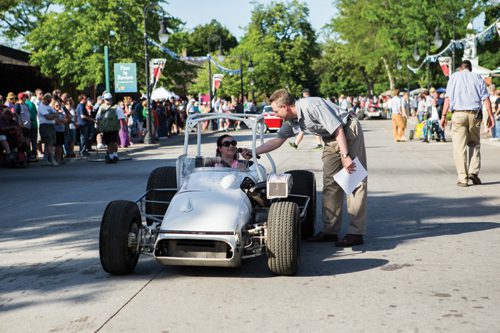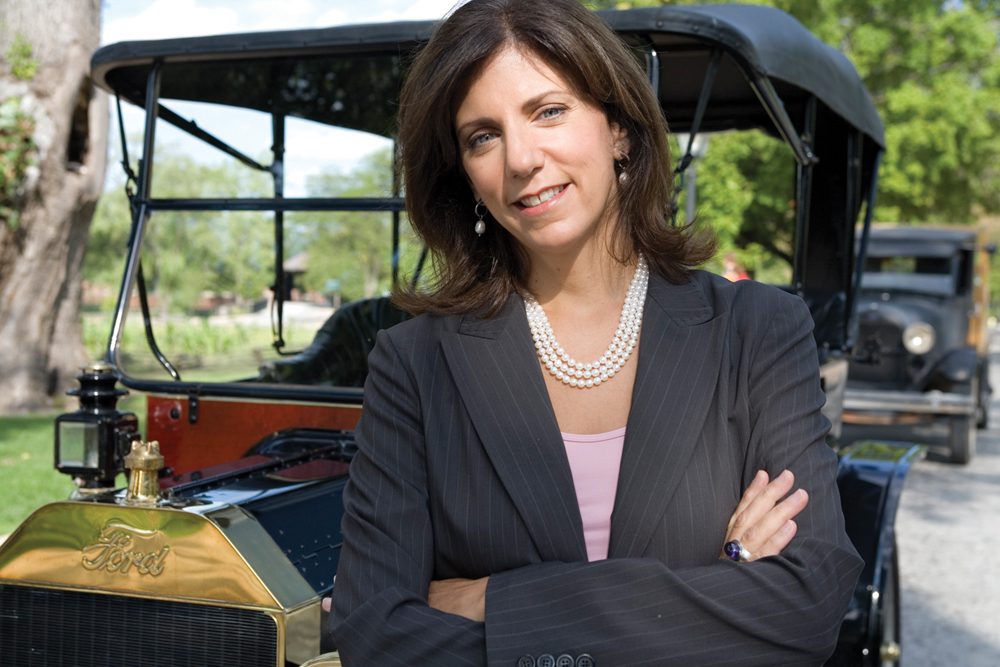 When you spend time with Patricia Mooradian, the wildly enthusiastic president of The Henry Ford (THF), you begin to discover that she is the logical choice to head the combination of history museum, working historic village, academic research center and active truck assembly line that comprise the Dearborn institution.
For the past few years THF has placed renewed emphasis on getting the message out that innovation is a key component of America's DNA.
To better understand how THF views innovation, Mooradian is asked to define it. "Innovation is a radical way of doing something differently or thinking differently. You can be innovative, but not inventing something. For us, talking about innovation encompasses invention and many other things. It's a mindset. I believe you can have social innovation – what Rosa Parks did to spark the Civil Rights movement. You can have innovation in systems and processes – you can run something differently and change a whole business paradigm because you were an innovative entrepreneurial thinker.
Invention and innovation: Maker Faire from Dearborn to D.C.
THF has excited and wowed visitors with Maker Faire, a wacky and mainly outdoor extravaganza that is somewhat more invention than innovation.
This year the White House joined what is called the "maker movement," with President Barack Obama hosting the first White House Maker Faire for the next generation of innovators in mid-June.
During his remarks to the young makers, he centered out two sisters, Camille and Genevieve Beatty, 14 and 12 respectively, and co-founders of Beatty Robotics. Genevieve does the wiring, Camille machines the metal.
Obama quoted the Beatty Robotics website: "Who needs a paper route when you can start a robotics company?  That's a pretty good motto."
The president also said a lesson the sisters have learned – If you can imagine it, then you can do it – whatever it is – "is a pretty good motto for America."
Henry Ford: Educator and maker
Mooradian says Henry Ford, the pioneer automaker who started the institution now known as THF in 1929, was keenly aware of his role in changing the world. "He rooted us in collecting America's most influential and iconic stories of innovation.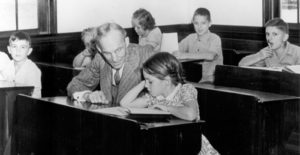 "He was also aware of his role in changing the world as we knew it," she says, referring to Ford's role as a teacher.
"He had a strong desire to share with students how progress in America is made. He was collecting a lot of the things that represented progress so that you could see how progress happened. Students could put their hands on them and see how it-started-with-this and now-we're-at-that so they could better understand how that progress has changed the American landscape."
Mooradian continues the tradition
In nine years as president of THF, Mooradian has made innovative changes to the components of the organization, believing organizations like the one she leads have an obligation to help communities understand the ideas of innovation. "We have a role to play in educating the community at large. We also have a responsibility to tell the stories we tell about innovation and progress, not just from the past but also from today."
To help tell those stories, Mooradian has assembled a stable of innovators, some from the past century but the majority are still actively involved as people who are making a difference in the world.
The interviews, including those with Microsoft co-founder Bill Gates, Intel co-founder Gordon Moore and others – are recorded and available online at OnInnovation.org.
Also interviewed are Elon Musk, the innovator behind Tesla Motors and SpaceX, Mitchell Baker, chair of the Mozilla Foundation and the Firefox browser, and Dean Kamen of Segway and FIRST Robotics.
And while MacArthur Fellow Will Allen, a pioneer in urban agriculture, is featured, Mooradian and her troops are still working on getting the founders of Google included.
But why not tell the stories of innovation through the innovations themselves?
Mooradian says the idea is that ordinary people can go to OnInnovation.org and see the stories of people who have or are still making a difference and be inspired to do the same.
"If we can encourage people to reach their potential and have the skills necessary to become a 21st century learner – imagination, creativity, collaboration and teamwork – that's where I think the future lies."
Failure is often an integral part of innovation
Sometimes you can be too close to a project, fussing over a tree and ignoring the forest. "Often, if you're innovating," says Mooradian, "you don't know if it's going to be a success or not a success. Buckminster Fuller designed the Dymaxion House, which was ultimately considered a commercial failure – but what it did was lead him to inventing the geodesic dome, which is still used in architecture today."
Thomas Edison is famously remembered for saying how he often learned more than a thousand ways not to do something, a principle with which Mooradian agrees.
"Failure is a big part of innovation and we want to make sure that especially our young museum goers and learners can see that innovation doesn't just happen overnight. A lot of the kids today hear about the success of Facebook and Google and think it was just an overnight sensation. They learn in school about all the things that have been invented but they don't learn about the pathways to those inventions. It's that pathway where a lot of innovation takes place and that's what we're interested in."
From auto racing to technology to Martha Stewart's "domestic science," Mooradian points to examples of innovation that are happening everywhere.
"It's important for us to talk about it, to educate about it and to help people see the context of it – to see the kind of perseverance and risk-taking, the failing that is required to be successful."
The Model T fills multiple roles
The pathway Henry Ford took to get to his Model T resulted in many innovations. His first vehicle, the Quadricycle, was innovative in the way it used many off-the-shelf parts, particularly from bicycles.
But his innovations were not limited to manufacturing.
One, the revolutionary $5 per day wage, opened up a market for the cars those employees were building.
Matt Anderson, curator of transportation at THF, calls the Model T the "mother of all transportation innovation."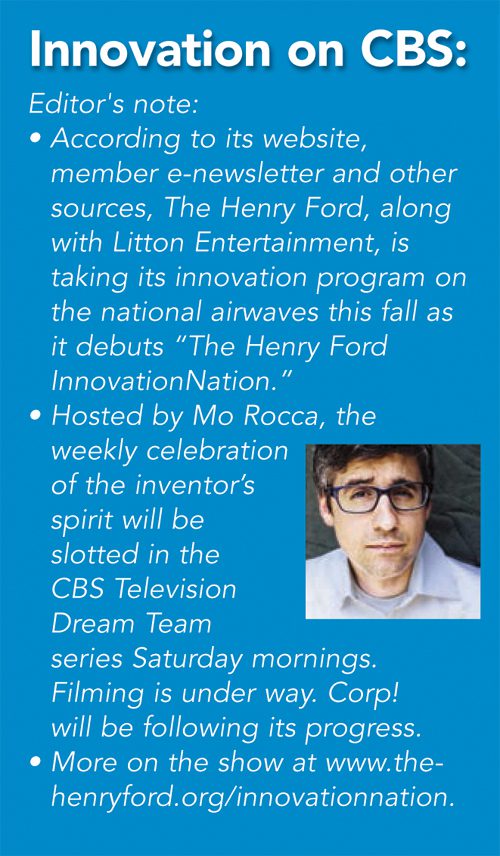 "No matter what happens in the next 100 years, no other car is going to be able to top that. It could only happen once. A car that could put everybody behind the wheel. Mr. Ford's perfection of the assembly line, his introduction of the $5 day, they're all tied to the Model T."
Teaching innovation
Of the 26 million examples of innovation, invention or cultural importance at THF, only a few, such as an early McDonald's Drive-in sign (with only millions sold), Elijah McCoy's automatic lubricator for steam engines (yes, it's "the real McCoy") and Edison's early Menlo Park laboratory, are on public display at the Henry Ford Museum, Greenfield Village and the Benson Ford Research Center.
Most are not.
But the organization is in the process of digitizing the entire collection, or at least as many as it can.
Chief Learning Officer Paula Gangopadhyay, who says she has
physically seen only hundreds of the millions of examples of innovation,
has seen thousands online.
About 26,000 examples so far have been catalogued digitally.
"What I have learned is the amazing stories of innovators," says Gangopadhyay. "Not just those who became famous but ordinary people who demonstrated their persistence and learned from failure."
It is, she says, a journey of discovery.
"When you're peeling off the layers behind the story of an artifact you find out what innovation is, what are some of the traits that you need to be innovative, what are some of the processes that people have used – that's what I've learned, and connected to what I'm passionate about."
That would be education for the chief learning officer. "The timing is right. It's now."
Can education be a part of innovation? Can the idea of innovation be taught?
"Absolutely! Innovation can be taught – BUT – you have to change how you teach. You cannot be the sage on the stage; you have to be the facilitator of learning. If you want to teach innovation it has to be done in an innovative manner, not the traditional one. There has to be a lot of dialogue, a lot of give-and-take."
While she says that about school kids, Gangopadhyay says it's also true in the workplace today. "People are looking for that 'divergent thinker,' versus convergent thinking."
Innovation 101
Gangopadhyay has since put together a broad curriculum she calls Innovation 101. "Now that we have this tool people say 'we understand now what you said back then.'"
When she talks to teachers Gangopadhyay asks them to try "unlearning" what they know about the process of traditional teaching.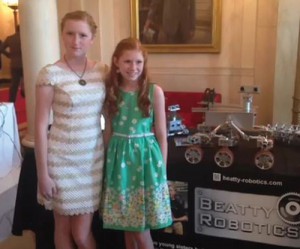 What about the traditional teacher education programs? How do you get them to adapt so that their students can teach in a different way?
Gagopadhyay says during a recent trip to the Washington, D.C. office of the National Association of Manufacturers, she received a warm reception—and a question.
"They asked if I had spoken to universities – and I hadn't gotten there yet. (I realize) if I want to be a catalyst, I have to start teaching the teachers as they're getting prepared."
Another challenge is helping teachers fit teaching innovation, and the freedom to do so, in with the current requirements of the national core curriculum.
"When we started, and created OnInnovation we had teachers saying to us 'this is wonderful, but I have 10,000 standards to meet during the day. How do I fit it into my curriculum?'"
Gangopadhyay now has former teachers on staff who are able to help integrate those 10,000 standards their colleagues have to meet in the classroom.
"We sat down and looked at all the subject areas – STEM [Science Technology Engineering and Math], social studies, education technology, 21st century skills – and we generated [innovation education] connections to all those subject areas."
"Even though we're aligning everything we do to the curriculum, I think The Henry Ford has reclaimed the role of catalyst because we're also advocating for what's missing in the curriculum. That's room for creativity in the culture of innovation. Allow curiosity, allow kids to ask questions."
Girls and STEM
Recognizing that so many of the nation's past innovators have been men, how are girls encouraged operate outside their comfort zone?
"The approach we take is teaching STEM and innovation. In our minds innovation is not just about product innovation, it's about ideas and movements, something to which girls relate. That's why we decode the larger-than-life lives of the successful innovators we have on our website. We make them real people who have failed, who didn't push boundaries at first."
Lyn St. James, now a retired Indy car driver and winner of several racing championships, is one example.
"She didn't want to play the piano," says Gangopadhyay. "She wanted to go race with her guy friends. Her family supported that."
"The other way we do it is we try to decode what STEM stands for. People think about science and scientists and think 'I don't want to do that.' There is science, but there's also technology – information technology and communication – we broaden their horizons."
'STREAM'
What about adding an A for arts into the STEM thinking? Gangopadhyay says that's a good start, but advocates adding yet another letter.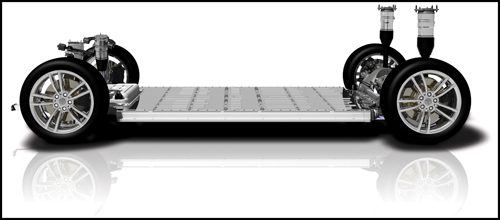 "It should really be STREAM, to include reading, and include the whole idea of problem solving. Being true to my institution, I say it should be STREAM H-squared, the H-squared for History and Humanities."
Gangopadhyay says people are catching on to the importance of context, which is what history brings to the table.
As evidence of the success of what she's doing to bring innovation into the curriculum, Gangopadhyay has recently received two awards – from science teachers! – the 2014 Michigan Informal Educator of the Year from the Michigan Science Teachers Association and 2014 Faraday Science Communicator Award from the National Science Teachers Association.
Innovation 101 goes beyond the schoolhouse
Innovation 101 is the start, but definitely not the end of a process, says Gangopadhyay.
An unintended consequence is that it is also exciting adults, one route being a five-hour professional development workshop where teachers get the skills they need to spread the word on innovation to adult learners.
"We're working with professors from Georgia Tech, Carnegie Mellon, Princeton and Stanford to develop a framework for entrepreneurism that will be infused in the engineering schools."
Gangopadhyay's vision is that there will be an Innovation 102 and 103. "I would like to have a module for every grade level so that they're building up. We see education as P-20 – pre-kindergarten through college graduation." To broaden her reach beyond the physical campus of THF, she's thinking online training, MOOCs (Massive Online Open Classes) and "anything and everything that's available."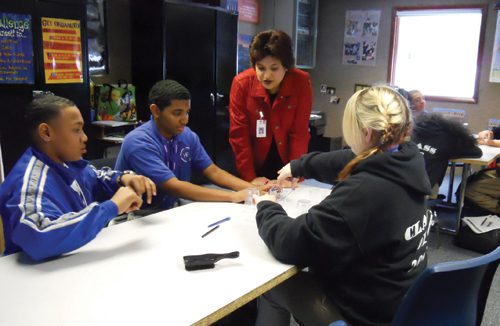 Gangopadhyay was invited to the Clinton Global Initiative last year to make the case for a national commitment to action. She was successful. "It's called Igniting A Learning Revolution Through Innovation. We'll be training and empowering 5,000 teachers in the next five years who'll be teaching innovation using our curricula and inspire 125,000 kids across the nation. By inspiring these teachers we hope to have a real impact in the national education sector."
Chelsea Clinton, vice-chair of the Clinton Global Initiative, also recognizes the need for girls to get an early start in STEM, or even Gangopadhyay's STREAM H-squared – and for their teachers to learn to teach in a different way.
"Research is saying that teachers call on girls less than they call on boys in math and science classes…which sends an invisible but insidious message their opinions aren't as valued as boys," says Clinton. All the more reason for Gangopadhyay's Innovation101 and the Learning Revolution to spread across the country.
Innovation in transportation – a key concern for The Henry Ford
Back in the transportation sector, curator Anderson says that innovation can take many forms and sometimes requires "un-innovating."
"At the Rouge Plant, Ford was building everything from growing trees [for the wood body frames then in use] to the soybeans used in the steering wheels, to the final assembly. Today all automakers rely on outside suppliers because you can't afford to build that kind of infrastructure anymore."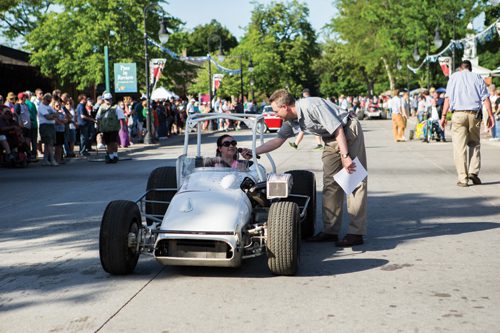 Anderson points out that innovation doesn't always have to be at the scale of the slap-on-the-forehead "Aha!" variety. He talks about the Edison 2, the winner of the Progressive Insurance Automotive X Prize, which provided $5 million to the team that could build a vehicle capable of carrying four people and getting the equivalent of 100 miles per gallon.
"Unlike other competitors who based their cars on electric motors, thinking battery power was an easy way to get some energy efficiency, the makers of the Edison 2 stuck with the traditional gasoline engine. They used design and lightweight materials to reduce the weight to get more out of that gallon of gas." That was four years ago and today's automakers are bringing much of that learning, in small innovative steps, to the cars of tomorrow.
Asked where he thinks the next innovation in transportation – besides the Edison 2 – will come from, Anderson says "the Google autonomous car program, because of Google's 'bottomless pit of money' as well as "their ability to integrate the many intelligent systems necessary to make the car safe on today's highways."
On the other hand, an eight-person startup called Cruise is in the process of doing media demonstration drives of its $10,000 add-on kit for Audi vehicles it says will begin hitting the market in early 2015, with plans for other auto brands after that.
Anderson thinks that a much smaller firm than Google [but perhaps larger than Cruise] might be able to develop an alternative fuel source. "If someone could come up with a fuel source that could use our existing delivery infrastructure, that would be the sweet spot."
One of OnInnovation Innovators, Elon Musk, is betting that universal fuel source will be small electric battery packs – and it's a $4 billion to $5 billion bet. He is convinced that his is the right path for the automotive future. One of his original partners in the battery venture decided to hedge their bets and wanted to invest, along with General Motors Corp. and others, on hydrogen fuel cells. They have now bowed out of the battery partnership. Musk said in a recent conference call with reporters, "I really don't think fuel cells are a viable path."
Anderson believes the future will include self-driving vehicles. "I have to believe the autonomous car, no matter what its fuel system, is coming at some point. That's not to say that everybody is going to have one or even want one, but I can imagine the Post Office jumping on it as a delivery vehicle."
"Innovation just keeps on giving."