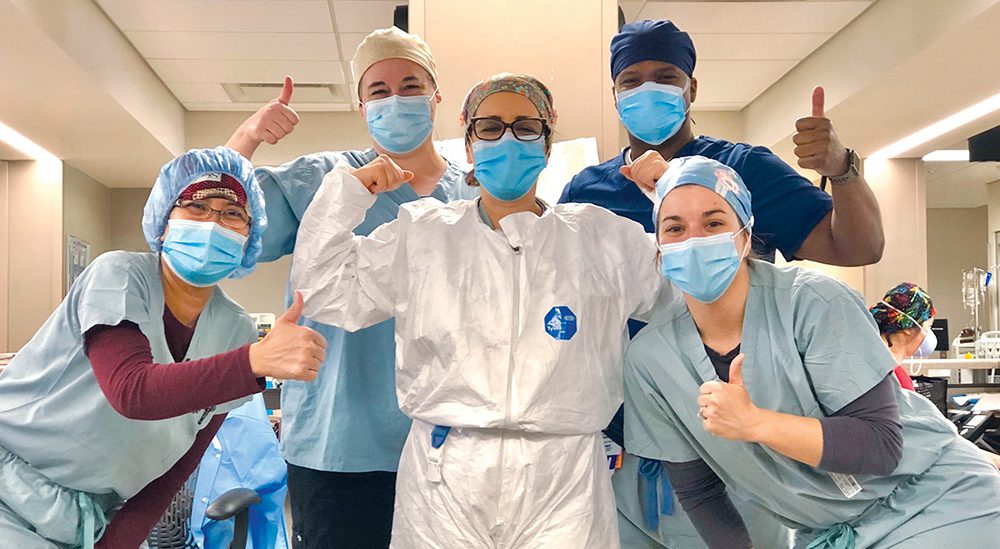 Everyday heroes come in all shapes and sizes, from all walks of life, from every area of industry.
They really shine, though, in times of crisis. And there hasn't been a time of crisis like the COVID-19 pandemic in a lifetime.
When heroes were needed, all manner of everyday people stood up and became just that — heroes.
There are scores of stories about heroic action during this pandemic, too many to count and certainly too many to print.
Corp! Magazine outlines as many accomplishments as we can and, as always, throws out a shout-out to heroes we couldn't document.
McLaren Health Care
As a major healthcare provider in Michigan, Grand Blanc-based McLaren Health Care, a system that includes 14 hospitals, ambulatory surgery centers, imaging centers, and a 490-member employed primary and specialty care physician network, was always going to be involved in treating the spread of coronavirus in the COVID-19 crisis.
So McLaren, with more than 20,200 employees and 90,300 network providers throughout Michigan and Indiana, started getting ready before its team saw its first COVID patient.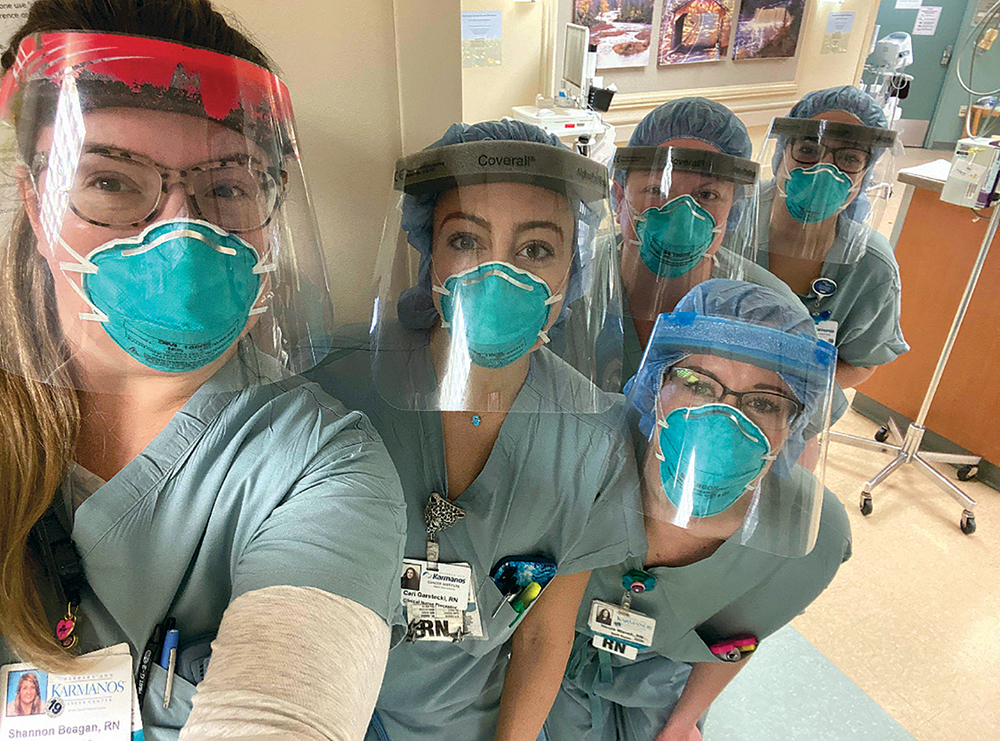 McLaren secured appropriate personal protective equipment (PPE), began screening patients and employees for symptoms, put visitor restrictions in place, prepared intensive care units, and equipped dedicated units for COVID-19 treatment to be ready for a potential surge of cases.
"Since the onset of the coronavirus in Michigan, McLaren's front-line health care workers have heroically and compassionately cared for patients inflicted with the virus, while still continuing to care for patients battling cancer, cardiovascular disease, strokes, traumatic injuries, and hundreds of other conditions," said Philip Incarnati, McLaren's president and CEO. "Our physicians, nurses, and other members of our care team remain resilient and dedicated to doing what's best for our community now and into the future."
Among its actions to help fight COVID-19, McLaren:
Implemented some new guidelines in protocols, practices and services.
Created a multidisciplinary task force to oversee and coordinate the health system's response to the pandemic.
McLaren's corporate laboratory services established new virus testing capabilities and locations to significantly expand the ability to identify those infected with the virus and direct them to appropriate levels of care.
Expanded screening and treatment capacity, using McLaren Now telehealth technology to provide virtual visits between patients and physicians.
Visitor restrictions were put in place at their hospitals and additional safety measures have been implemented in accordance with CDC guidelines and standards.
In early May, McLaren began safely resuming time-sensitive care in its hospital and ambulatory clinics and, recently, have opened up services and facilities to serve expanded patient needs.
"In health care, our new normal will include closely monitoring the prevalence of coronavirus in our community and continuing to adhere to the safety guidelines and personal protective equipment standards that have kept our patients and workers safe throughout the onset of this pandemic," Incarnati said.
Henry Ford Health System
Like health systems in other hard-hit areas of the country as COVID-19 spread, Henry Ford Health System — a healthcare provider for more than a century — was challenged to keep pace with the evolving demands of the pandemic.
The availability of testing supplies and personal protective equipment, for example, meant Henry Ford had to make quick decisions that balanced the health and safety of patients and its own team members.
A not-for-profit corporation comprised of six hospitals, a health plan and 250-plus health care facilities, including medical centers, walk-in and urgent care centers, pharmacies, eye care facilities and other health care retail services, President/CEO Wright Lassiter III called the outpouring of support from the community "amazing and moving."
"Led by a dedicated workforce, prudent planning and execution, creative thinking, community support and luck, we have weathered this unprecedented situation," Lassiter said. "We are ready for what the new normal brings."
As Henry Ford focused on diagnosing and treating COVID-19 patients, educating the community about this new virus, and leading research studies in search for a cure or preventative, the team "never stopped caring for patients with other critical health needs," Lassiter said.
Video visits soared to 10,000 a week as patients embraced the option for interacting with their doctor or specialist from the comfort of their home. Henry Ford also continued to perform life-saving surgeries.
"Throughout this situation, our coordinated response has been guided by the safety and well-being of our patients and team members," Lassiter said. "That core principle is now at the forefront of our re-emergence, as we move to resume a full slate of services across all locations in the coming weeks.
"We are so proud of our team members, who have demonstrated extraordinary courage, spirit, resiliency and compassion, caring for patients under trying circumstances," he added.
Lassiter said Henry Ford takes "very seriously our role as the trusted health care partner in the communities we serve."
"We believe in having a strong presence in the community and view our community partnerships as integral to improving the health and well-being of our patients and their families that we serve," he said. "We believe our role in the community goes beyond providing health care. We believe in investing in the communities we serve through strategic initiatives, neighborhood events and innovative programming. That support for the community is a fabric of who we are as an organization."
Detroit Medical Center
Many businesses were forced by circumstance (Michigan's stay-at-home order during the coronavirus crisis) to shift the focus of their operations, while others did so willingly.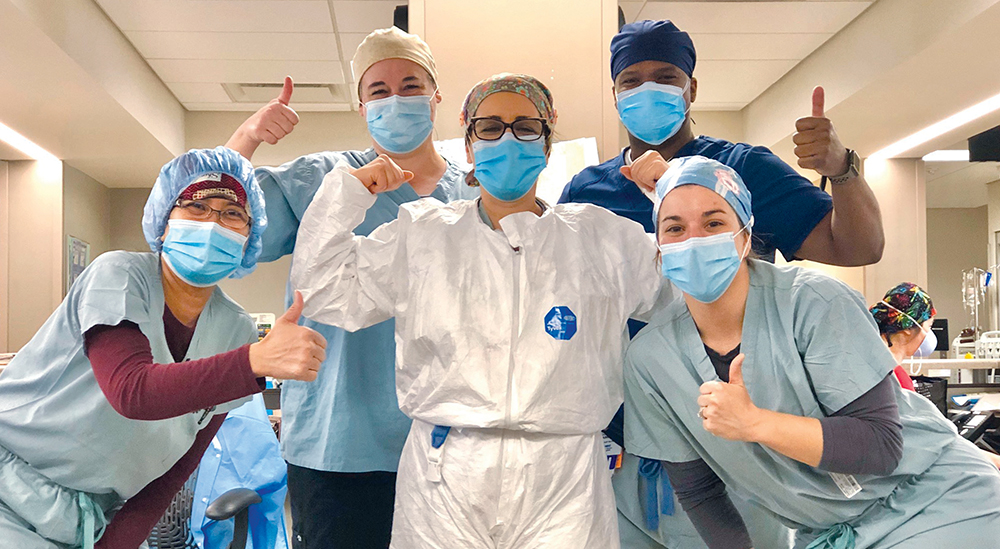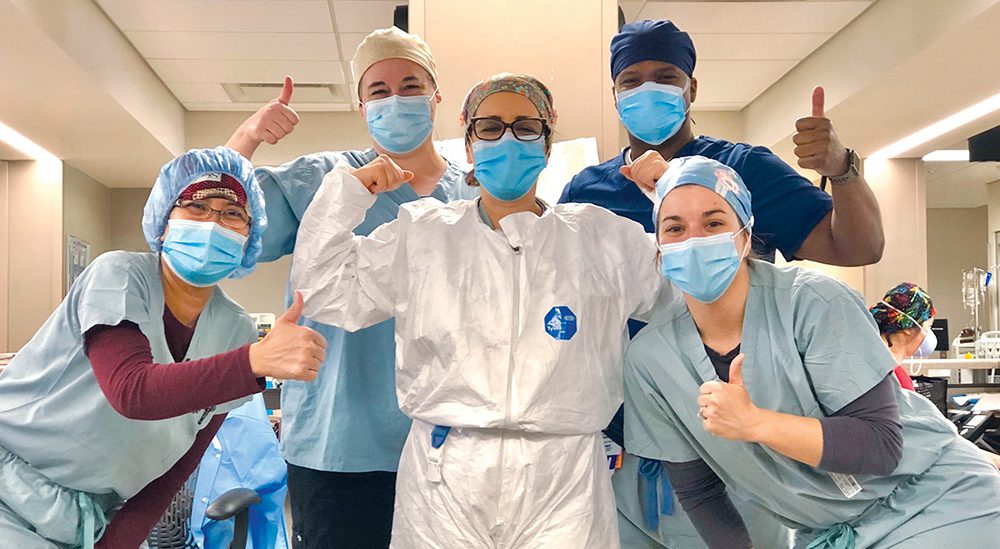 The Detroit Medical Center, which has been treating patients since the Civil War, had to make so such shift. During the COVID-19 pandemic, ts medical professionals have basically done what they say they do best: Treat patients.
"We routinely treat infectious diseases at our hospitals and we have strong infection control policies, procedures, and systems in place to screen and treat patients," said DMC CEO Audrey Gregory. "Our hospital has taken the appropriate steps, and we have trained professionals and the necessary equipment to react accordingly."
The DMC, organized in 1985 as an affiliation among Harper University Hospital, Grace Hospital, Hutzel Women's Hospital and Children's Hospital of Michigan, has more than 2,000 licensed beds and 3,000 affiliated physicians.
As COVID-19 continued to spread, the Detroit Medical Center:
Made the safety of patients and staff a top priority.
Joined a coalition led by the Detroit Association of Black Organizations (DABO) to offer free testing of the novel COVID-19 virus to Detroiters. This move was part of the effort to help battle the spread of the coronavirus, DMC officials said.
Began offering an online COVID-19 assessment and a Telehealth service to help provide patients guidance and help to determine risk related to COVID-19.
The DMC provides everything from emergency services and heart care to weight loss surgery, orthopedics, advanced stroke treatment and more.
Gregory pointed out the DMC "has been caring" for Detroiters and their loved ones for more than 150 years, which is why the DMC was motivated to continue serving during the pandemic, as well.
"This is our home too," Gregory said. "Caring, nurturing and helping heal our friends and neighbors is our passion and our duty, and we're honored to have the opportunity to serve. (Detroiters have) come to trust the DMC to be there, to care for you, and to take care of the ones you love, the same as you would treat your own family."
Bronson Healthcare Group
The Bronson Healthcare system serves patients and families throughout southwest Michigan and northern Indiana.
According to Bronson's website, the group offers a full range of services from primary care to advanced critical care, with the goal of providing patients "the right care, at the right time, in the right place."
The locally owned and governed group, with a workforce of 8,500 that makes it one of the area's largest employers, has an annual outreach and charitable care amounts of nearly $90 million in community benefits.
Bronson physicians and staff are nationally recognized for many exceptional achievements in quality, safety and service.
MidMichigan Health
MidMichigan Health is a non-profit health system headquartered in Midland, Mich., affiliated with Michigan Medicine, the health care division of the University of Michigan.
MidMichigan Health provides urgent care and physician services in a 23-county region with medical centers in Midland, Alpena, Alma, Clare, Gladwin, Mt. Pleasant and West Branch. In addition to its medical centers, MidMichigan has a strong commitment to medical education. MidMichigan Physicians Group provides urgent care and medical offices in more than 30 specialties and subspecialties including cardiology, hematology/ oncology, orthopedics, vascular surgery, family medicine and more.
MidMichigan's more than 8,700 team members provided more than $90 million in community benefits in fiscal year 2019.
Munson Healthcare
Traverse City-based Munson Healthcare is northern Michigan's largest health care system, with a team of medical experts nine award-winning community hospitals, and related organizations serving people in 30 counties.
Most of the region's 540,000 residents have access to sophisticated diagnostic technology such as 3D tomography, advanced cancer and heart treatments, and the latest robotic technology, stereotactic radiosurgery, and non-invasive surgical procedures.
Patients in northern Michigan also benefit from Munson Healthcare's collaborative partnerships with major health care systems, including Mayo Clinic, Michigan Medicine, Spectrum Health, and Mary Free Bed Rehabilitation Hospital.
Sparrow Health
Sparrow has two Lansing campuses, and several community hospitals: Sparrow Clinton Hospital in St. Johns, Sparrow Ionia Hospital in Ionia, and Sparrow Carson Hospital in Carson City. The health system has dozens of satellite care centers.
Sparrow also offers the Michigan Athletic Club, a 276,000-square-foot facility voted one of the country's top health clubs. Sparrow's primary focus is on the health, safety and welfare of the communities it serves.
As the region's only Level 1 Trauma Center, Sparrow is on the highest alert about coronavirus and is taking every action to be prepared around the clock to meet the area's critical care needs.
Trinity Health
Trinity Health is one of the largest multi-institutional Catholic health care delivery systems in the nation, serving diverse communities that include more than 30 million people across 22 states. Trinity Health includes 92 hospitals, as well as 106 continuing care locations that include PACE programs, senior living facilities, and home care and hospice services. Its continuing care programs provide nearly 2 million visits annually.
Based in Livonia, Mich., and with annual operating revenues of $19.3 billion and assets of $27 billion, the organization returns $1.2 billion to its communities annually in the form of charity care and other community benefit programs. Many of Trinity's ministries are taking a phased approach to resume procedures and surgeries to provide care to patients.