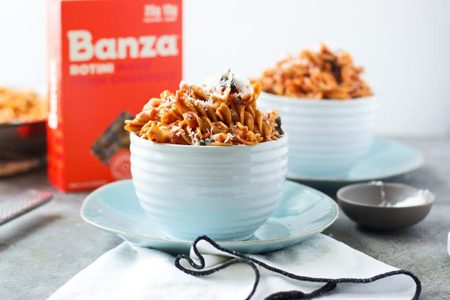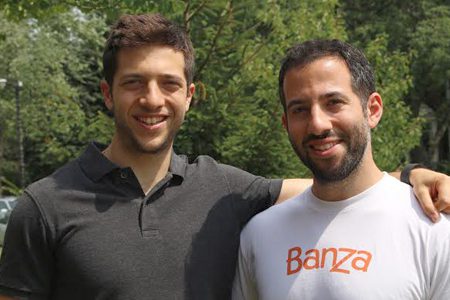 Many 20-somethings aspire to be millionaires, dreaming of hitting it big—perhaps in a lottery or through an unexpected windfall.
Brian Rudolph, 25, has done what seems like the impossible: His company, which makes a unique gluten-free pasta called Banza, has raised about $1.9 million since he and his brother Scott founded the company in 2014. By Millennial or any standards, that is an impressive accomplishment.
Not too shabby for a Detroit-based startup company that has earned accolades from a bevy of groups, including a "30 Under 30" nod from Inc. magazine in June, a $500,000 check from winning Accelerate Michigan's Innovation Competition and a position on a reality television show.
Rudolph admits the early success has taken him somewhat by surprise, but in a good way. The Venture for American fellow wanted to create a pasta that he himself could eat—he is gluten sensitive and an admitted health nut. But he also wanted a product that allowed people of all dietary lifestyles to not only enjoy the flavor but know they're doing all they can to take care of themselves. A serving of Banza's pasta has seven grams of fiber and 13 grams of protein; those are said to be better stats than some widely known protein bars.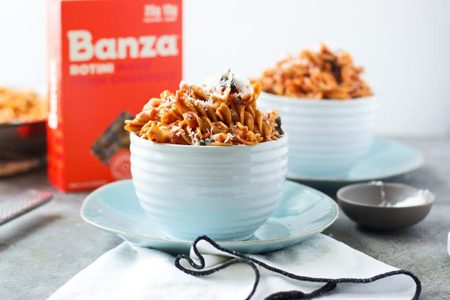 The ultimate goal, Rudolph says, is to get Banza in the hands of every U.S. household and to build its brand to the point where it has the kind of name recognition achieved by Chobani, a "game changer" which turned the Greek yogurt industry on its head.
Now with a staff of eight, Banza has boosted its production thanks to early investments, including $1.3 million in crowdfunding it received in March. The product is now in about 1,700 stores across the country, including Meijer and Jewel-Osco. Its next step? Double or triple its capacity by 2017, Rudolph says.
We asked Rudolph about his goals for the company and some of the lessons learned so far:
Q: What was the biggest surprise when you started Banza?
A: I remember being blown away by how supportive the food community is here in Michigan. Everyone from Marshall Rader, co-founder of the Gluten Free Bar, to Dave Zilko, president of Garden Fresh Salsa. These are busy people fighting to grow their own businesses, yet they made themselves available to provide mentorship and guidance back when I didn't even know what an MCB or sell sheet was. (Editor's note: MCB stands for Manufacturer's Charge Back).
Q: What has been the largest challenge to date and how did you overcome it?
A: Chickpea pasta is really hard to make! I started experimenting in my kitchen because pasta and chickpeas are two of my favorite foods. Then we started making it at scale. Turns out there's a reason no one had made a pasta from chickpeas before us. We spent countless nights and early mornings at the plant trying to make it work. A big motivator for us has always been an incredible support system of family and friends.
Q: What is the best part of starting a business, especially a food product?
A: We have the opportunity to meet our consumers on a regular basis – in grocery stores, at farmer's markets, face-to-face. It's incredibly fulfilling to watch people interact with your product in the most tangible way – tasting it. We take the real-time feedback we've gotten from our customers to continually improve on our products.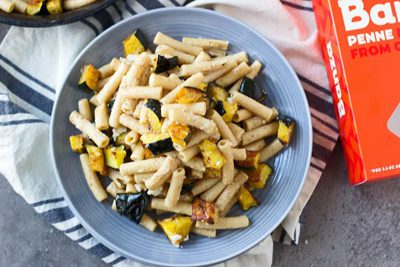 Q: What's next for your company?
A: For now, we're focusing on extensions in the realm of pasta—different shapes, flavors etc. But our overall mission is to take the foods that people love and make them better, by using more nutritious ingredients. Whether it's cereal or tortilla chips—we're looking at staple foods —and the "pastabilities" are endless!
Q: Have any celebrities or famous folks used the product? In other words, what was your reaction to seeing the public use your product and share its stories with you?
A: There are a few professional football teams eating Banza. [TV personality] Robin Roberts has shown her support on Good Morning America. But really, it's every individual Banza story that's equally meaningful. Our goal, as we grow, is to make Banza as accessible as possible, so we can all take steps towards eating better. When someone tells me they switched over from traditional pasta to Banza—that's what motivates me.