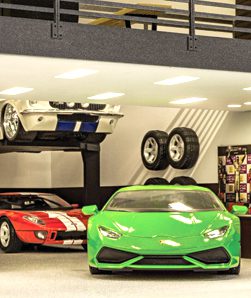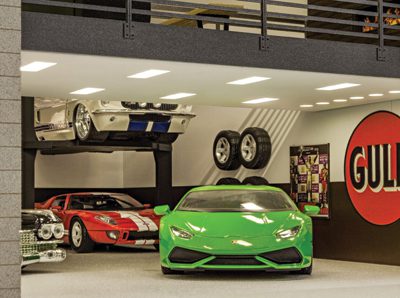 When the idea of what could be described as a "condo for cars" comes up in conversation with any number of auto enthusiasts, the questions begin.
Brad Oleshansky, a native of Birmingham who grew up working on cars with his Dad, has heard them all.
But the big one was one he asked himself, having earlier in his career headed to Los Angeles where he worked as an entertainment lawyer before heading home, the main reason being this is where he wanted to raise his kids.
"How can we create an environment for enthusiasts and the auto industry, the people who have a passion for cars?"
Oddly enough, the question had already been answered – just not in Metro Detroit.
In Minneapolis, in Denver, in Los Angeles and elsewhere, the private garage concept is taking off, generating headlines and interest from enthusiasts prepared to plunk down significant bucks to give their prize automotive possessions a place deserving of their value.
When Oleshansky began thinking about the concept that seemed to be more than a natural for Metro Detroit – with more than three times the number of car collectors and enthusiasts than Los Angeles – it seemed just a matter of time and circumstance before the idea would take hold.
This wasn't an immediately actionable concept, with Oleshansky having moved back to the area from Los Angeles in 2004.
"I saw this massive car scene," says Oleshansky, who was running a marketing services company. But he was also thinking. A lot.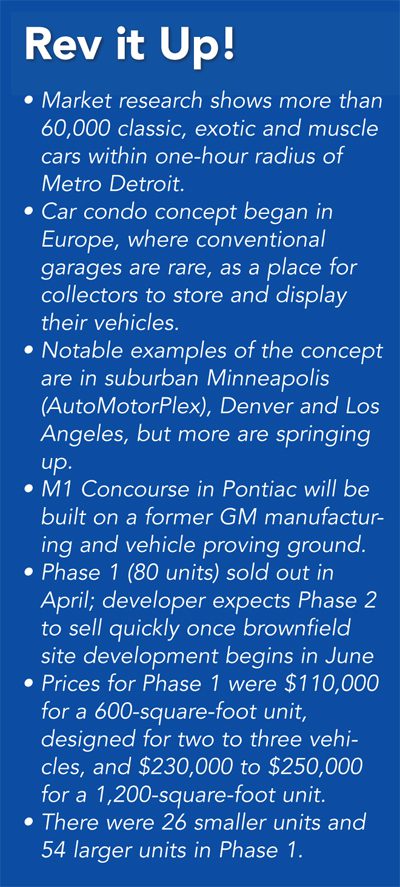 "I was always fascinated by the fact that you've got the largest car scene in the world here in Metro Detroit and no one's figured out how to monetize it, organize it, create a destination where people can really go and enjoy it."
And what about the Woodward Dream Cruise, one of the largest single-day car events in the world?
"It's completely disorganized," quipped Oleshansky in outlining his plans to one group gathered to hear about M1 Concourse.
"It's fun, but it's just not a cohesive event."
More to the point (and here's Oleshansky's marketing brain kicking in), there's a lack of real opportunity for automakers and other retailers to actively engage with their customers.
"They participate in the Dream Cruise because they have to, but they really can't engage with customers in the way they'd like to," he added.
Oleshansky's subsequent research lead him to the "car condo" concept, which one would think was an obvious idea for Metro Detroit, but until now has been overlooked.
First proposed in 2013, M1 Concourse is now in full development mode.
By April, Oleshansky and his team had already sold out the first phase of 80 units, with construction expected to start this summer and an opening a year later.
But first a little background.
Fans at all levels
The story of how M1 Concourse came to be may have you shaking your head – perhaps in a good way – over government bureaucracy and how things sometimes come together in ways you might not expect.
M1 Concourse is on an 87-acre triangle-shaped piece of property, once home to the General Motors Corp. Validation Facility, and prior to that the Pontiac West Assembly Plant before becoming part of the automaker's bankruptcy proceedings.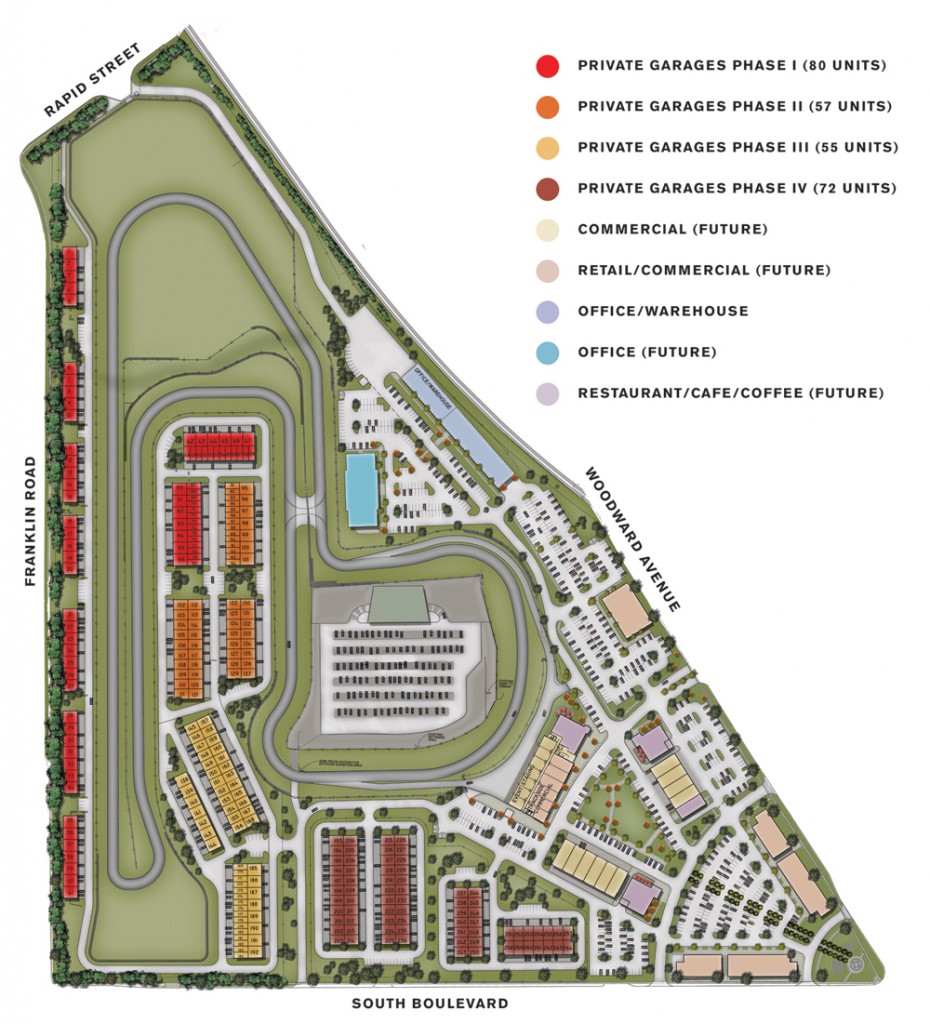 As such, it wasn't being actively marketed, but it was available – to the right buyer.
"We actually couldn't just buy it," says Oleshansky. "We had to pitch the Department of Justice with the idea."
That process, while daunting at first, turned out to be as simple as explaining what M1 Concourse would be. And what it wouldn't.
"We told them, 'this isn't a studio. It's not a casino. It's a car project on a car site in a car town,'" said Oleshansky.
And the government loved it.
And, oh by the way, Oleshansky's proposal includes building a 1.5-mile performance track.
What Oleshansky thought was that that initial "sure thing" would soon be mired in bureaucratic red tape once the team set out to get the necessary approvals from the city of Pontiac.
Fortunately, Lou Schimmel, who was the municipality's emergency manager at the time, was "very creative," said Oleshansky, who said he looked at the project as one that would drive traffic into downtown Pontiac.
"They saw this as a gateway project," Oleshansky said of city officials, who quickly gave their blessing to the idea.
From there, the idea began to take shape, with architects, engineers, Oakland County and the city all taking part in putting together a package and plan that has more than captured the attention and excitement of auto enthusiasts.
It's got them writing checks.
Those 80 first phase slots sold for a minimum $110,000 and up to $250,000, and it's clear that at least some of the owners had a part in convincing friends, neighbors and work associates into coming along.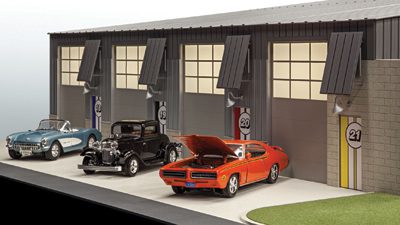 Oleshansky's plans for M1 Concourse are bound to keep those with grease and oil running through their veins spending at least a good portion – and perhaps a disproportionate amount of their time – enjoying it all.
Especially noteworthy is that planned 1.5-mile performance track, not a "race" course as Oleshansky is quick to point out, but a physical opportunity to put a vehicle through several hairpin turns and even a one-third mile straightaway, which may actually keep public roadways a little safer in a tongue-in-cheek kind of way.
Developers are also working closely with at least one national restaurant chain and have plans to build out the entire facility with the kind of auto magnet features bound to sustain even more interest as second and third phases fill out in the months and years to come.
Oleshansky says having a group of "founding owners" is bound to help in that process as people begin imagining the possibilities M1 Concourse will help realize.
"We know this is the next big thing when it comes to showcasing the excitement that automotive enthusiasts in this area already have and want to express," he said.
Building a car community
The evolution of the concept worldwide may have begun in Europe, where home garages are rare.
"If you have a nice vehicle, you don't really have a place for it, and that idea sparked the idea there," said Oleshansky.
What typically happened then was the idea of "community" being built around the storage of the vehicles.
"They don't just become storage facilities, they become communities of people with the same interests and passion, a place for people to enjoy their hobby of collecting and showing cars," he said. "That's the case whether you have one car or 50 cars. It's a place where you can be with other people with the same interest."

The garages, then, become more than storage spaces.
"They become a place to conduct business, to network, a place to work on a car," said Oleshansky.
That concept began taking off in the U.S., with the largest project at the moment being in Minneapolis, where the AutoMotorPlex has sold 150 "car condos" in the past three years.
So here's where the math from a market standpoint becomes interesting.
Minneapolis has 4,000 classic, exotic and muscle cars.
Detroit has some 62,000 comparable vehicles within an hour's drive.
"It's way more than anywhere," says Oleshansky. "Even Los Angeles, which people think has a lot but it's not even close—there's about 13,000 classic, exotic and muscle cars there."
Once he'd done his research, Oleshansky began looking for a property that would be suitable.
And that's where the roadblocks appeared.
"I quickly discovered that there's no property that was zoned or a city that would want this, especially on Woodward where I wanted to be," he said.
That includes Royal Oak, which Oleshansky says has almost the opposite attitude.
"They don't really like cars," he said. "They try to push cars out, which is kind of funny."
Even Detroit, where there was interest in the project, didn't work out from the standpoint of location.
"We couldn't find a property that was big enough," said Oleshansky, who said he was banging his head, having a strong idea but no place to put it.
And that's when the tide turned.
"We heard about the property that seemed like it would work," he recalls, referring to the location that ultimately would become M1 Concourse.
But there wasn't what you'd call a lot of positive vibes going in.
"All my friends who are in real estate told me 'you'll never win this bid, you've never done real estate before,'" he adds.
Clearly, they were wrong.
"You can have 87 acres of concrete in Pontiac. Congratulations," Oleshansky recalls the government's response.
Under the deal, the M1 Concourse team had about 18 months to do its due diligence on the deal.
As part of the conversations Oleshansky had with automakers, the idea of not just car condos, but the possible use of the performance track Oleshansky will build kept coming up.
It turns out that the existing proving tracks used by automakers throughout the region are not at all suitable for the entertainment of customers and clients. The idea of having a track as part of the M1 Concourse development was just what they were looking for.
"The track became a viable opportunity," says Oleshansky.
Prices for the sold-out Phase 1 were $110,000 for a 600-square-foot unit, designed for two to three vehicles, and $230,000 to $250,000 for a 1,200-square-foot unit.
There were 26 smaller units and 54 larger units in the first phase.
Oleshansky expects Phase 2 units to be snapped up quickly once the clearing and construction operation begins this June.
"There are a number of people who have expressed a strong interest but are waiting for the work to begin," he says.
In the meantime, M1 Concourse has letters of intent on some 25,000 square feet of commercial space, including a 10,000-square-foot performance shop that would serve as a place for car repairs, maintenance and performance upgrades, and a 15,000-square-foot space that will be occupied by an undisclosed auto supply business.
The 25,000 square feet will come out of the renovation of the only building still on the site.
There are also plans for a trackside building, which would be occupied by an office and commercial tenant, taking between 30,000 and 50,000 square feet.
Oleshansky is also working to firm up an agreement from a restaurant operator, also undisclosed at this point.
It is clear that excitement for the M1 Concourse project continues to build.
"I'm getting more pumped by the day," says Oleshansky. "That excitement will grow, especially as we get closer to the construction starting."