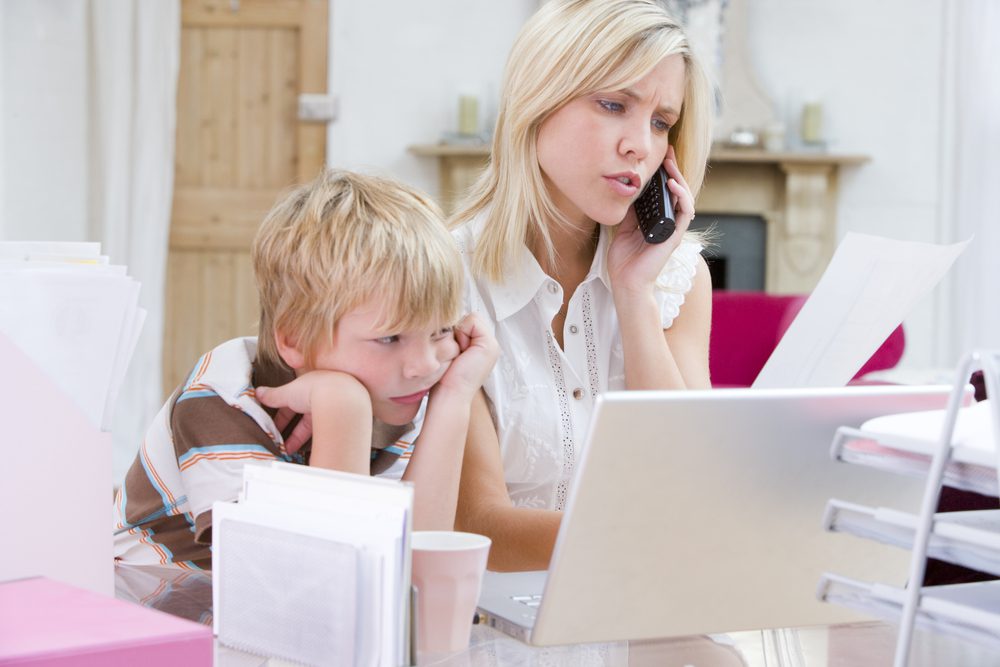 As the coronavirus pandemic rages on, employers and their staffers are still trying to figure out how to navigate working life in the COVID-19 era.
Now schools have restarted – after being closed since mid-March – and those same workers are becoming homebound teachers to students who have to work their way through decisions made by their individual school districts about what learning is going to look like.
School districts have had to come up with back-to-school plans that range from 100% in-person learning to 100% virtual learning to a host of hybrid schooling options. The situation has created a variety of challenges for parents who are employees and parents who have school-aged children.
In many cases, day care centers are closed, depriving families of at least one support option. Past support systems, which frequently included family members, may now be compromised by their risk status for exposure to COVID-19.
And there's the general feeling of (being) overwhelmed for parents who are balancing the responsibilities of being a full-time employee and virtually schooling their children.
It's got employers considering a lot of different options, from flexible work schedules to family leave. In an effort to help with the pivot, MichBusiness, the Best & Brightest Companies, the National Association for Business Resources and Corp! brought in four experts for a national town hall that featured 136 participants interested in "Navigating the Next Pivot: Employer Best Practices for Working from Home and Virtual Schooling."
Experts on the panel included:

Dr. Pauline Furman, executive director of The Center for Individual & Family Counseling in Southfield, Mich. Furman, who has been in private practice for 29 years, provides emergency psychological first aid services to a variety of businesses, companies, schools and organizations.
Jess Marble, benefits communication leader for Care@Work by Care.com. She's responsible for driving enrollment and utilization of benefits across their global network of partners. She leads conversations on the care economy, the impact care has on businesses and families and millennial expectations of empoyers.
Dr. Kristin Moody, a coach, consultant, educator and empathy scholar for Evolve Network. Her areas of focus include empathetic engagement and leadership, diversity and inclusion and values-based culture. She also teachers leadership at Morehouse College. She's previously taught for the University of Southern California Rossier School of Education, UCLA, and in New York City public schools.
Steven Rotman, the chief human resources officer for Karyopharm Therapeutics, a Massachusetts-based oncology-focused pharmaceutical company. Rotman has more than 20 years' experience in the HR field, spanning industries including healthcare, software and professional services.
The panel offered its expertise on a variety of topics during the 90-minute town hall.
Q. Clients are expressing feelings like guilt, maybe for feeling like they're not an adequate parent because they're working from home, or they're not an effective employee because they're engaged with their kids' education. What are you hearing?
Furman: I'm hearing a tremendous amount of anxiety surrounding those (feelings). Individuals who are now forced to be teachers while they are also being forced to work from home and being unavailable to manage both of those things successfully creates significant stress and guilt. They're struggling with creating schedules, bedtimes, meal planning and deadlines … the struggle is very real surrounding what families are being forced to do, and it is unprecedented. We don't have a playbook … the idea is to recognize there are some things you'll need to do while you're attempting to manage all of this at the same time.
It is crucial that the family has a schedule. As fall approaches, looking at what schools are doing, be it hybrid, being educated fully at home or in the classroom, parents will still need a schedule basically identifying every hour of the day.
More: U.S. Department of Labor Provides Guidance on the Families First Coronavirus Response Act
More: GM, Honda Reach Deal for North American Alliance
More: Questions Remain as Payroll Tax Holiday Goes Into Effect
It's important to listen to the children. They also have fears, they've heard the news and they may have some anxiety about returning to school. Having the opportunity to have one-on-one time with each child to listen carefully to what they're experiencing … anxiety can create physical pain, as well.
Moody: One of the things parents and caregivers who have school-age children can do in the home is try to create some sort of predictability in a time when there's not going to be a lot of predictability. I live in Georgia, we were some of the first students to go back to school, so some of what our students and families are having to navigate is promises of in-person schools that immediately changed to virtual or hybrid because of infection rates. Schools are trying their best to keep families safe, and that means they can't make any guarantees about what the schedule is going to look like at school.
We can make some guarantees about what the schedule can look like at home. Some of those structures we can create at home so there is predictability are some of the ways we can create some of the patterns we need so our students can be successful.
Marble: We are seeing a crazy demand right now for services to help with tutoring, and families need help finding their community, so creating a tutoring pod, a learning pod or a nanny share for kids who may not be in school yet. It takes a community … and it has to be a safe community because of COVID.
The other solution companies are looking for is back-up care. At those times when your regular caregiver isn't available, somebody has to step in. Having a nanny come to the home to care for for a child while you're working either out of the home or from home is extremely helpful.
Rotman: From day one we were leveraging our relationship with a lot of our vendors, our health insurance providers from Care.com, from community organizations and put together a weekly announcement with 10-20 different opportunities for employee health and wellness, for virtual Zumba classes, virtual yoga, we have kids' arts and crafts. Finding different ways to help parents find ways to keep kids busy and learn. We're all in this together, we understand what's happening, and we all get connected.
Q. How can parents support their child's emotional well-being and maintain their own well-being?
Furman: The first thing for the parent to do is take good care of themselves. Self-care is crucial, having time to relax, having time to know they don't have anything to do at this moment will make them a better parent. They'll be more able to tune in and connect and deal with stress the child may be experiencing when they have taken good care of themselves.
The idea is to take a look at those things that are out of character you might be doing … be consciously aware of what is out of your norm that is creating stress for yourself or others.
Moody: When it comes to organizations meeting the needs of their employees, we have to start out by finding out what employees need. Given how unprecedented it is, we really need to begin with empathy for our employees. No team is going to need the same thing in one organization as a team in another organization.
The one thing I've heard is organizations that plan to do the very same structure of support they heard another organization had planned, and I know that does not work. We need to be able to go to the people that work in our organization and find out what they need. We need to find out who our employees trust, the organizations they want to go to, what kind of activities those are that they enjoy. It really starts with empathy.
Rotman: There is this assumption that everything right now has to revolve around parents with small children. Certainly that is probably the group largest in need, but it's not the only group. There are people dealing with their own health issues, there are people dealing with elder care issues, with family members let go from their jobs and the financial and emotional impact of that. There are so many other things being impacted. Certainly child care is the largest, but it's not the only one.
Marble: Weeks before COVID-19 shut everything down, we surveyed parents, and then we surveyed them just before school started to open up: 62% of parents agree benefits are disproportionately focused on newborns, and not enough on parents of older children or those with adult loved ones; 71% of employees feel their job performance has suffered because of caring for an adult loved one. We know senior care is this silent, brewing problem for employees; 73% have to make changes at work; 66% are dealing with productivity issues, and 85% of them of all ages with all care needs would value care benefits now more than ever before.
Q. There can oftentimes be a stigma around mental health within the workplace, a stigma around even asking for help. Do the employees of organizations that offer EAPs actually utilize that service, and how do you know if people are getting through to the resources?
Rotman: Historically, low single digits of employees actually access EAPs. They're such wonderful resources … there is a stigma around it. Certainly people don't access them as much as we'd like them to. We tried a couple of different approaches to give people access to mental health services – advertising some of the telehealth options, and some of the easy ways to get you and your family access to all types of care. We're trying to provide as many outlets as possible because people don't often reach out directly to an EAP or a direct service, but they go in other roundabout ways. There's certainly a long way to go there still, in my opinion.
People think to seek out mental health services you have to be in some extreme state or on the brink, or in an emergent situation. Of course, the opposite is true. I think the more we can do to destigmatize that and let people know if you can catch it at a 4 instead of letting it get to a 10 it can be much more help not only to you but to your family members. I think the problem is people search out when it's such an extreme situation instead of when they see the warning signs. I think that's where the conversation needs to go.
Furman: If there was conversation about the stigma, it might help diminish the folks who are choosing not to participate. People are still very concerned about seeking help. If you sought the assistance, you would discover how beneficial it could be. Right now, during this pandemic, with the need being so great for individuals who are stressing a lot … it is a struggle. It is difficult for so many individuals and families to deal with.
Marble: Another helpful tool is to find a senior leader or representative in the company who has used it and can advocate for it. If there is somebody who is truly passionate about the work they did with this program and can share their story … storytelling resonates so much more than fliers and emails.
Q. We live in a world where many children are living in single-parent homes. How can single parents who are working remotely and teaching their kids virtually thrive in this environment mentally?
Furman: The stress level is tremendous. What is needed is you have to have a schedule, you have to be organized. It is identifying a timeframe for everything, a designated space for those children to learn, to pay attention to the child because anxiety and depression runs very high. Parents need to be organized. It has to be a routine that is consistent, you can't veer away from it, it must be a plan of action that everybody in the household knows that this is what we're doing today. If you are disorganized, your stress level will rise through the roof.
Life has changed, and we have to adapt … for the benefit of the parent and the child.
Moody: From the employer/organizational perspective, this is a place where organizations can really start to put their money where their mouth is. This is one of those places where single parents or homes that have one caregiver may need more support from their employers. If we're an organization that's willing to put services in place to help parents or help caregivers navigate these circumstances … one-parent caregiver households are potentially going to need different services than households who have more than one.
Q. Workers who are essential workers have to be at work, and they need some way for their kids to be schooled. What are some of the resources for them?
Furman: I have a number of patients who work in the healthcare field who have children. They're working very long hours in the hospitals, and they're struggling because they haven't had the support they need. Trying to find a friend or family member to prepare meals, to look at homework, to monitor their child during the day has been very, very challenging. They have needed resources they hadn't needed in the past … their hours are longer, they're afraid to come home because they're concerned about COVID-19, so the struggle is real. The support that can be offered for them is crucial, realizing their struggle is different.
Marble: One of the most inspiring observations I've had is seeing our client base grow to truly represent the American workforce. We are providing care benefits to baristas and doctors, and manfucaturers and corporate employees. Be an advocate for care, if you're an employee ask for those resources. If employees or multiple employees come to HR leaders and say, "This is a problem and we need a solution for it," they're more likely to truly hear through the noise they've been surrounded by.
Rotman: People coming to you directly is much more helpful, but you need to enable that conversation, as well, and make sure they know they can approach you.
Q. What advice can you give HR leaders, and practitioners at all levels for that matter, who are now engaged in a lot of conversations around parenting and other topics that are traditionally personal issues?
Rotman: The conversation has certainly changed; all topics either start or end with something about this new world we live in. In the business world in general, when someone comes to you with a problem, your gut (instinct) is, OK there's a problem and we need to solve it. Oftentimes in HR that's not the case. Sometimes you just need to hear people out and support them, and right now it's even more so. There isn't an answer for a lot of the issues people are having today. The conversations I've had are, "Is this really a work-related issue, or are things just piling up." Sometimes you have to step back and look at the whole picture. We're all dealing with things we're not dealing with.