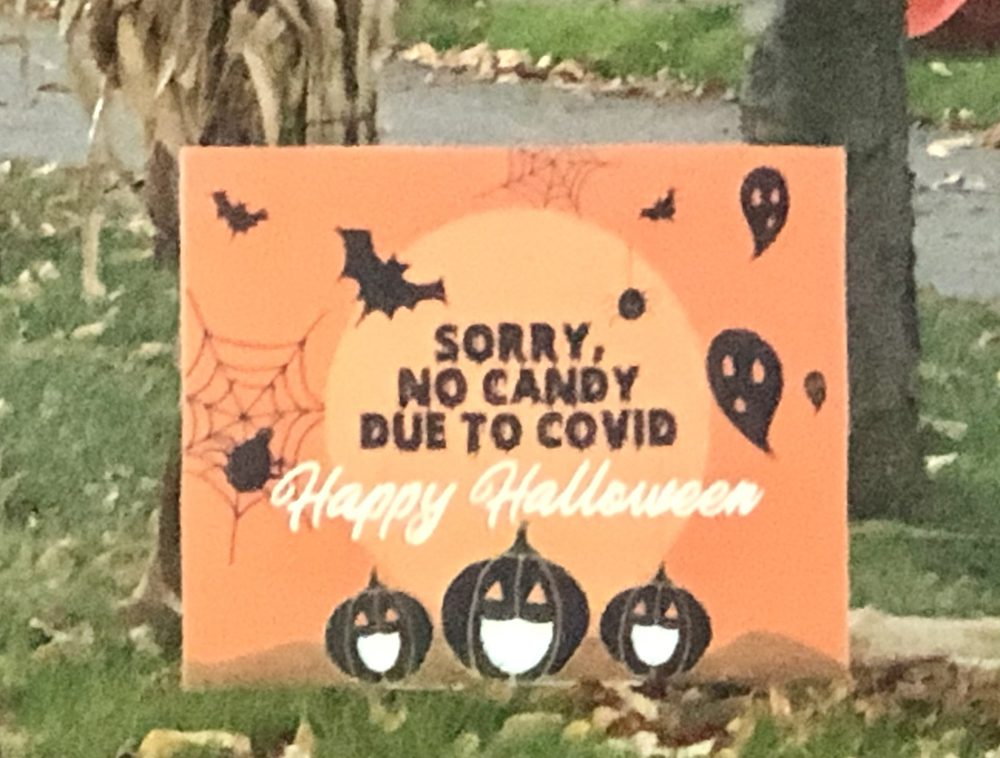 Retailers from big-box stores to independent Mom-and-Pop shops are hoping that Halloween gives consumers a reason to decorate their homes, buy costumes and still purchase tons of candy despite changes in the way the holiday is likely to be celebrated in 2020.
However, because of coronavirus and related issues, stores are likely to see slower sales and fewer customers as cities and neighborhoods scale back on Halloween events and trick-or-treating occasions. As a result, retailers are likely to add more online advertising campaigns, in-store sales and related promotions to try to make up the difference, experts say.
What does help is that September proved better than expected for retailers. It was the fourth straight month of year-over-year retail sales gains, according to trade group National Retail Federation, which tracks monthly sales as well as makes holiday-sales predictions.
The U.S. Census Bureau said overall retail sales in September were up 1.9% seasonally adjusted from August and up 5.4% year-over-year. That was more than triple the 0.6% month-over-month increase and almost double the 2.8% year-over-year increase in August. Sales have been up both month-over-month and year-over-year each month since June following record monthly drops this spring.
"Consumers continue to prove their resilience and strength through this pandemic. Retailers and consumers are adapting to the current environment, embracing shopping in different ways and focusing on specific categories," NRF President and CEO Matthew Shay said in a statement.
"We're optimistic about the prospects for a strong holiday season, as people want something to look forward to and bring joy to their lives," Shay said. "While it's been a challenging year for everyone, there's been an enormous amount of innovation within the retail industry and retailers have demonstrated that we can keep the economy open and operating safely."
Happy holidays?
In previous years, Halloween has provided a sizable push for stores across Michigan and the rest of the nation. Whether the store is a specialty retailer that only offers costumes and accessories or a place that brings in Halloween-themed items for October, the retail industry depends on October sales to help push them into the black before Black Friday.
Black Friday traditionally is one of the biggest days in the retail-selling year. It happens on the day after Thanksgiving, kicking off the holiday shopping season and puts store revenues "in the black" or positive territory. This year, that optimism is challenged by consumers feeling wary of going door-to-door or out in public given the viral nature of the pandemic.
Last year, more than 170 million Americans were expected to celebrate Halloween in a big way, according to the NRF, with about a third of $9.1 billion in sales going to candy. About 70% of those partaking in the biggest candy holiday of the year said they would offer the goods to trick-or-treaters, the NRF found in a survey of 7,400 consumers.
This year, the NRF survey found more than 148 million U.S. adults plan to participate in Halloween-related activities. Among those celebrants, safe at-home activities ranked highest: 53% plan to decorate their homes, 46% plan to carve a pumpkin and 18% will dress up their pet. RetailMeNot, a consumer website that finds coupon codes and related savings, also found that 80% say their plans are changing due to the pandemic, but they "are still looking for ways to have some fun and create some normalcy," experts said.
Plus, according to the Halloween and Costume Association – yes, that's a real trade group – this year's Halloween event falls at the perfect moment. Not only does Halloween 2020 fall on a Saturday, it also happens to be a full moon and daylight savings time. In addition to all this mystical magic, trick-or-treating will also occur during a blue moon this year, the second full moon of October, the Association said.
Retail sales
Consumers are proving resilient, and they want to celebrate, both the NRF and Halloween and Consumers Association said. They believe the holiday will be a good preview of what shoppers are feeling going into the rest of 2020.
"Retail sales are continuing to build on the momentum we've seen through the summer and have been boosted by an improving labor market, a rebound in consumer confidence and elevated savings," NRF Chief Economist Jack Kleinhenz said in a statement.
"A significant number of people remain unemployed, but more are going back to work and that makes them confident about spending. September retail sales reflect the support of government measures and elevated savings that is being spent now that consumers are shopping again," Kleinhenz said. "With less spending on personal services such as travel and entertainment outside the home, some of that money is shifting to retail cash registers. All in all, these numbers and other economic data show the nation's economy remains on its recovery path."
Spooky times
Many Metro Detroit locations are still having some in-person events, special sales and virtual get-togethers to help consumers use those costumes and find a reason to eat all of that candy they have purchased.
For example, the recently reopened Redford Theatre is welcoming theater goers back to its beautiful and historic auditorium with the Halloween classic Young Frankenstein. To help the theater re-open after the long shutdown, tickets are $10 each for this movie, which will be shown only once. Admission includes the wonderful sounds of the Barton Theatre Pipe Organ.
In St. Clair Shores, toy retailer Whistlestop is advertising its Melissa and Doug role-play sets that can be Halloween costumes on the big day as well as playtime clothing for other moments. The ad includes pictures of kids as chefs and other fun jobs.
The Arab-American National Museum in Dearborn is having an English-Arabic Storytime online. Its guest storyteller Linda Samarah will give kids of all ages an exciting and spooky English-Arabic Storytime from the comfort of their home! Children ages 2-6 and their parents are invited to join Linda who will read 5 Little Pumpkins in both languages.
The city of Detroit also issued a long update on how it is advising residents to spend the Halloween event – mostly at home. The Health Department has drafted guidance for families and business owners — sourced from the governor's executive orders and the Centers for Disease Control and Prevention — and a list of safe alternatives for residents to enjoy Halloween this year. The goal is to ensure revelers have fun with their health and safety in mind, officials said.
"Detroiters have done a great job following safety protocols and keeping our city among the lowest infection rates in Michigan," Mayor Mike Duggan said in a statement. "Community activities like Halloween present opportunities for spread, so the Health Department has laid out some very sensible guidelines for families to follow to keep our children safe this year."
For businesses who are hosting a Halloween event, rules included that most mirror COVID-19 guidelines currently in place for keeping patrons safe at bars, restaurants and nightclubs. A business can host an outdoor gathering. Capacity is limited to 30 people per 1,000 square feet up to a maximum of 1,000. If you're a business and want to host a gathering indoors, capacity is limited to 200 people per 1,000 square feet with a maximum of 500.