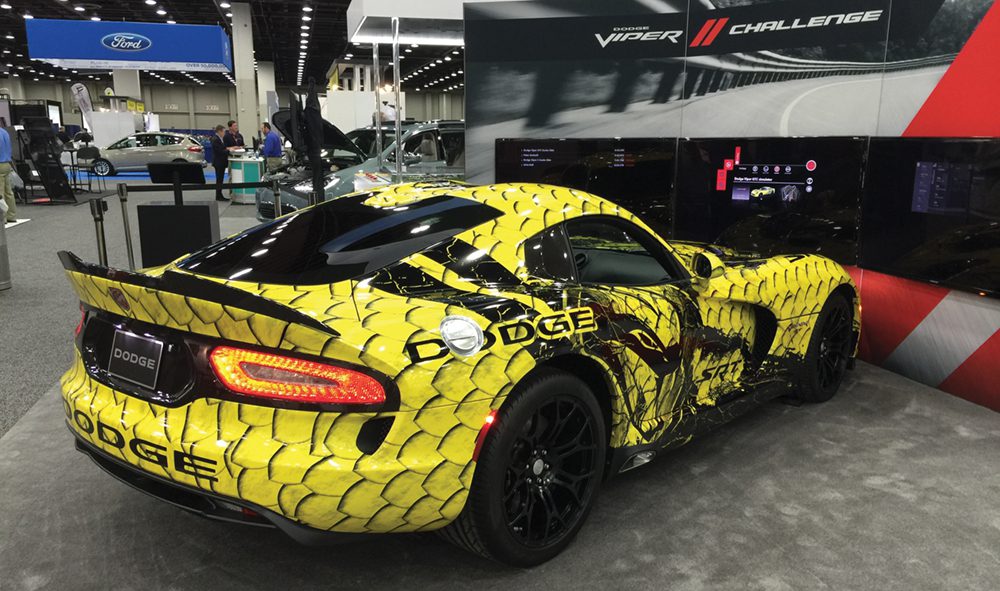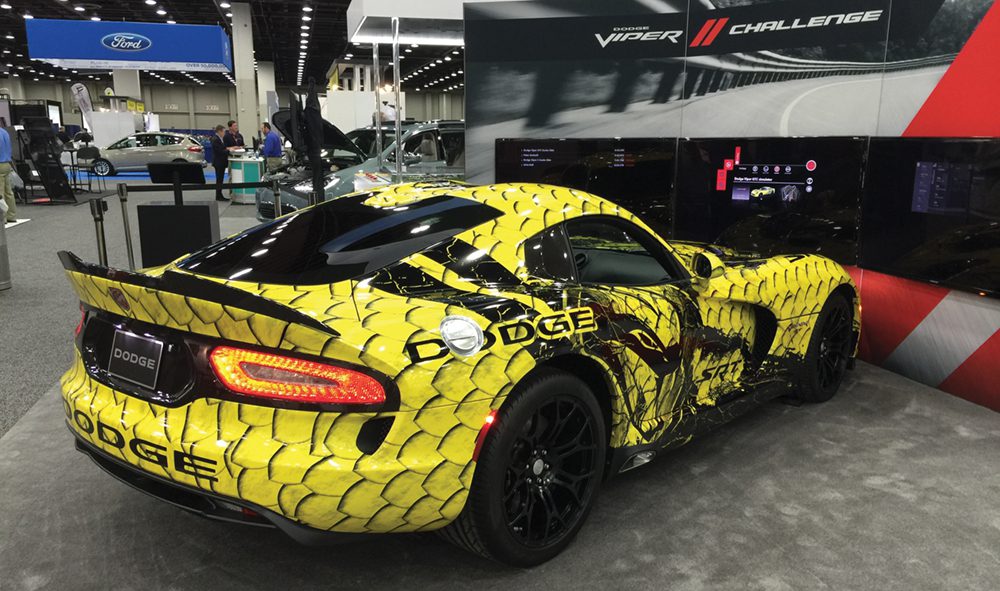 When some 800,000 visitors to the North American International Auto Show visit Detroit's Cobo Center in January every year, it's at a time of the year set aside for the 50 percent of people (depending on any one of numerous industry surveys) who plan to make a new purchase in the next year.
But just two months later, that same Cobo Center will have been cleared out of the automaker displays to make room for an exposition of professionals who are already working on what auto show visitors will see in the years ahead—possibly four to five years or more in the future.
The April 12-14 session is for members of the Society of Automotive Engineers and its World Congress and Exhibition, a trade show that offers more than a hint of what's to come from the people responsible for every feature, gadget and performance enhancement that consumers will one day demand on their vehicles.
The engineers who walk the halls of Cobo will also use the information they gather—or hear from dozens of technical briefings—to figure out how to meet various government regulations.
One of the most significant areas where automakers have their collective work cut out for them relates to fuel economy, the imposition of standards that the U.S. federal government dictates for a manufacturer's "average" fleet—the Corporate Average Fuel Economy or CAFE.
Established by Congress and administered by the National Highway Traffic Administration, the CAFE standard is intended to be "the maximum feasible level" given consideration for technological feasibility, economic practicality, effect of other standards on fuel economy, and the need of the nation to conserve energy.
The CAFE standard for passenger cars produced beginning in 2025 has been set at 60 miles per gallon, a number that has risen steadily since the standard was first introduced for model year 1978 (when automakers at first balked at reaching the first CAFE standard of 18 miles per gallon for passenger cars).
So the work of the engineering community continues.
With weight reduction being one of the primary (if not the primary) ways for engineers to improve fuel economy—where the basics of physics come into play—those responsible for meeting those fuel economy standards are constantly on the look-out for ounces of difference in components, as well as the structural pieces that go into a vehicle.
It's one reason Ford Motor Co. switched from steel to aluminum for its landmark F-150 truck—the estimated 700 pounds per vehicle in weight it would save.
But engineers know all too well that changes in design often come with trade-offs – in performance, in cost of components, in manufacturing and in after-sales service, which is why it's not uncommon for one question to lead to three or four others in quick succession.
The SAE Congress is yet another opportunity for those questions to be asked. And answered.
The World Congress, an annual event seen to be a "must" for professionals responsible for how our vehicles operate, is also an opportunity for companies focused on the technologies to make their case in a face-to-face environment.
Those conversations, coupled with video displays and cutaway models of equipment a company hopes will capture the imagination of engineers or executives (many of them also with a technical background), take place throughout the World Congress, with business cards exchanged, promises of follow-up meetings, and brochures—many on flash drives—taken away for further evaluation.
FEV and 48 volt technology
One of the companies represented at April's conference was FEV, a German-headquartered firm that was founded by Franz Pischinger, an academic from the Technical University of Aachen who headed the school's Institute for Advanced Thermodynamics.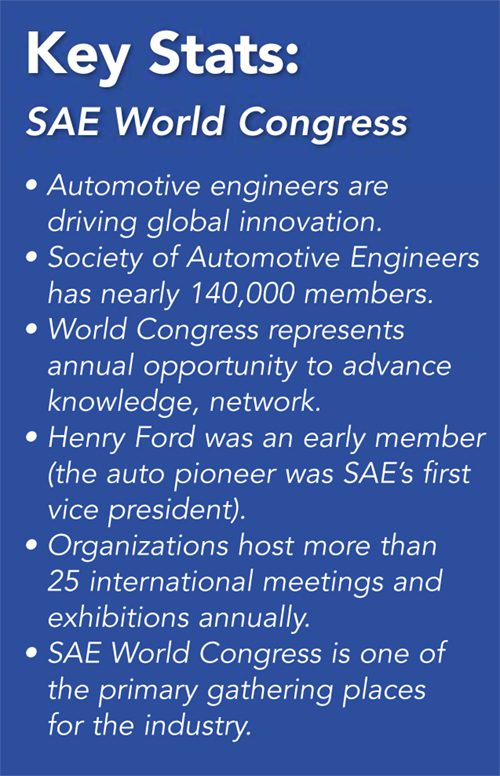 Since its start in 1978, FEV has grown its business, designing and developing internal combustion engines, and, in more recent days, electric and alternative vehicle drive systems, as well as ways to advance energy technology. The company is also a major supplier of advanced testing and instrumentation products and services to some of the world's largest automakers.
At SAE World Congress, FEV was touting at least two advanced designs it hopes will attract automakers.
One is a system that addresses an issue that may not (yet) be a problem in a world where fuel-sipping features such as "start-stop" (an engine turns off at a traffic light or in heavy traffic and restarts when the driver pushes the accelerator pedal) come into play.
Now imagine a scenario in which a driver is inching along a freeway (not an uncommon occurrence in many of the nation's busiest cities). The air conditioning is running full blast. The driver is listening to the radio and may even have a feature that is giving a gentle massage or soothing heat, all of which require power.
That's a big drain on a vehicle's conventional electrical system. It may, in fact, be inadequate, which in an engineer's world is an unacceptable proposition.
In FEV's world, a system that adds 48-volt technology to the mix offers additional flexibility (and capacity) for a vehicle to handle not only those features, but more, including actually driving the wheels for a time. That's an idea that seems to make a lot of sense in situations where the vehicle is inching along the roadway or even, FEV engineers point out, going downhill on a freeway where gravity becomes "free energy" that can save precious fuel.
At the World Congress, Stephan Tarnutzer, FEV North America's vice president of electronics, was one of those engineers—in his case, an electrical engineer—who acknowledged how systems like 48-volt may take time to gain widespread acceptance.
One reason for that may be the crossing of a cultural gap.
In Europe, for example, start-stop systems are increasingly commonplace, one reason being the benefit that offsets typically higher fuel costs.
But in North America, a perceived "lag" (anything more than one quarter of a second is considered "noticeable" by the consumer) could be considered an issue.
It's there that the 48-volt system, which would offer near-instantaneous response to the drive wheels, might be the key to seeing the technology gain widespread adoption.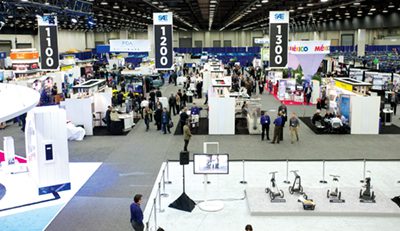 In effect, those kinds of "will they notice?" and "what's the benefit?" discussions will continue to take place.
In the meantime, FEV engineers are demonstrating the capabilities of their 48-volt systems on full-scale vehicles like a Mercedes-Benz AMG45, although the vehicle was not physically present at the SAE World Congress.
Still, FEV is touting improvements of up to 15 percent in fuel economy from the 48-volt system.
The company was also displaying another area that it hopes will interest engineers from current and potential customers.
It comes in the form of a 3-cylinder engine "prototype" that combines various technologies FEV has developed that automakers could incorporate into future vehicles.
FEV sees such projects as a kind of "innovation incubator" that gives engineers the ability to develop new ideas that would address engine issues that might not even be on the radar.
"We leverage our expertise in all vehicle sub-systems, whether working with existing technology or entirely new developments," noted Tarnutzer.
If nothing else, the FEV display serves as a conversation starter, or perhaps one that gives people like Tarnutzer the opportunity to continue a more in-depth discussion with engineers and executives who will ultimately have its technology find a home in one of any number of engine projects being developed on a worldwide scale.
Technical sessions abound
Beyond those show floor displays, SAE World Congress includes a panoply of technical sessions, any one of which would appeal to engineers focused on a particular specialty.
In the "body/chassis/safety/structure" category, one example included a 90-minute session on "Human Factors in Driving and Automotive Telematics," focusing on how the increasing amount of in-vehicle technology may impact a driver.
It would come as no surprise to see "electronics" as having its own section, one where topics like cyber-security, how connectivity and automation can affect the use of energy in a vehicle, and autonomous vehicle control systems were featured in various sessions.
Any talk of vehicles and the performance expected from various systems will naturally carry over to the topic of emissions, the environment and sustainability, which include issues related to government regulations, but also a public appetite for having vehicles that embrace the environment.
Understandably, those issues gave way to sessions such as "Vehicle Electrification Strategies for Sustainability," a discussion about the practical implications that naturally must be addressed for vehicles to "charge and go" in a world that has yet to create the infrastructure needed.
Even a topic related to "Integrated Design & Manufacturing" (another broad category of sessions) has the potential to be key to driving change.
In this case, a technical discussion (with its own expert panel) included the topic of preparing for delivering knowledge transfer through augmented reality.
Heady, yes, but inevitable in a world where wearable hardware and head-mounted displays move from "thought" to "reality" (or at least augmented reality), with the world's automotive engineers determined to at least catch up, if not lead the way.
Even the issue of what materials will be used in the vehicles of tomorrow—or decades from now—is part of an ongoing discussion at conferences like SAE World Congress.
Take, for example, a session that describes "Advances in Lightweight Materials" or one that takes on "Modeling and Simulation Technology for Composite Materials" as hints of what automotive engineers and the companies and suppliers to those firms have up their sleeves.
The vehicles on the road today are clearly highly complex pieces of machinery, but they're becoming even more complex, a trend that most certainly will continue to drive innovation for decades to come.
We've come to expect it. Demand it.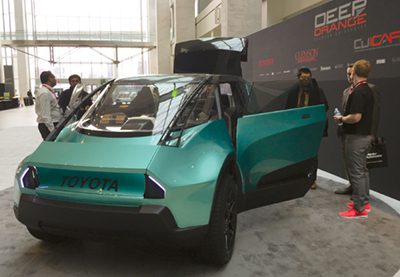 But the automotive engineers that will make all those changes possible require industry support, coming in the form of specialty suppliers, innovators at companies like FEV and others, all linked to global supply chains that keep advancing, even as we think we've seen enough to keep us satisfied.
Clearly, we won't be satisfied and the people responsible for taking the next steps in the evolution of mobility not only know it but also expect it. And that drives even more levels of innovation.
SAE World Congress is also a key networking opportunity, as well as a place where job seekers make the connections that will drive their own careers. A series of career development sections is included at the SAE World Congress.
Beyond that, the SAE World Congress is a gathering that appeals not only to the engineers who specialize, but also for the management teams that take a broad view of the industry (or at least their slice of it), a key reason for the popularity of several management programs that took place.
Among them were discussions that at least give us a glimpse of what the current (and perhaps immediate next) generation of engineers are thinking about as they take us down this road of change. This year's SAE World Congress sessions included:
The Future of Mobility and Transportation in the 21st Century
Recognizing that "most of us will not be here in 100 years," questions about how the future of mobility will unfold was part of a two-hour panel discussion lead by Charles Freese, general director of global fuel cell activities at General Motors Corp. Panelists included Justin Ward, general manager of powertrain systems controls at Toyota in North America; Mike Ableson, vice president of strategy and global portfolio planning at GM; and Lawrence Burns, an independent business adviser.
Why It's Likely There Will be an Electrified Vehicle in Your Future
Any doubters still out there? Not in this group, where organizers acknowledge the reality of stringent federal emissions requirements as driving the trend toward electric vehicle development across a spectrum that includes battery electrics, hydrogen-based fuel cell vehicles, and so-called "mild to full" hybrids. Lead by Joel Maguire, director of electrification and trends at BorgWarner Inc., the session included panelists Jackie Birdsall, executive engineer at Toyota North America; Kevin Layden, director of electrified programs and engineering at Ford; Larry Nitz, executive director at GM; and Yasuyuki Sando, chief engineer at Honda's research and development unit.
The Global Emission Standards Experiment
Organizers of this session make the point that over the next 10 years, emissions standards for fuel economy are likely to squeeze the industry like never before, "forcing adoption of new technology." At the same time, each market has relatively unique criteria for compliance. Is it possible, then, to harmonize standards, bringing global technology portfolios to the point where they can be developed and deployed to meet unique competitive and compliance targets across geographic boundaries? The session was lead by Paul Whitaker, powertrain technical director at AVL Powertrain Engineering Inc., panelists included David Garrett, director of global vehicle emission compliance at GM; Frank Zhao, professor at Tsinghua University; John DeCicco, research professor at University of Michigan; and Rick Gezelle, national manager at Toyota North America.
The Coming Onslaught of New Transmission Technology
Anyone driving for more than a few years will remember the day when the choices were simple: stick or automatic. Today's emissions standards are driving even more choice when it comes to transmission technologies, to the point where advanced transmissions include their own key trends and challenges. Phrases like "planetary automatics" may sound foreign, but not to specialists in this area. A session on the issue was lead by Jeff Lux, vice president of transmission powertrain at Fiat Chrysler Automobiles, with panelists that included Yutaka Fujimoto, director of powertrain at Nissan Technical Center North America; Charles Gray, director of transmission and drivetrain engineering at Ford; Shin Sasaki, managing officer, powertrain development division at Aisin Seiki Co. Ltd.; John Juriga, director of powertrain for Hyundai America Technical Center; and Shinji Morihiro, corporate vice president of sales at Jatco Ltd.
Controlling Digital Exhaust: Cyber Risk and Security in the Age of Autonomous and Connected Vehicles
Pointing out that in an increasingly connected world, the possibility of cyber threats might rear its ugly head into the world of autos, a group lead by Joe Kwederis, principal with Deloitte & Touche LLP, tackled the issue. Panelists included Roger Berg, vice president of DENSO International America Inc.; and Derek Lewis, manager, electronic systems at Toyota Technical Center.
Are Functions and Software Becoming More Important than Hardware in Vehicle Electronics Engineering?
The question may be more than rhetorical in nature, given that integration is taking on a whole new meaning with the emergence of much higher levels of vehicle electronics. Attendees were asked how they can learn from the past through adoption of new methods and technologies. Tarnutzer, the FEV executive quoted earlier, headed a panel that included Michael Groene, director of global software engineering at Delphi Automotive; Sherif Marakby, director of electrical and electronic systems engineering at Ford; and Scott Morrison, manager of advanced electrical architecture at GM.