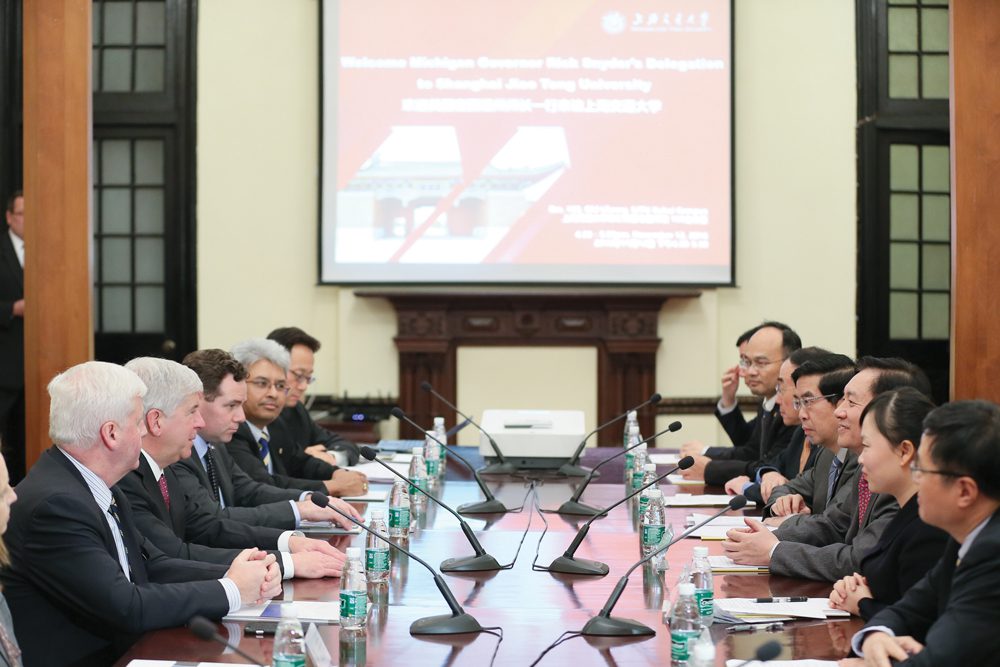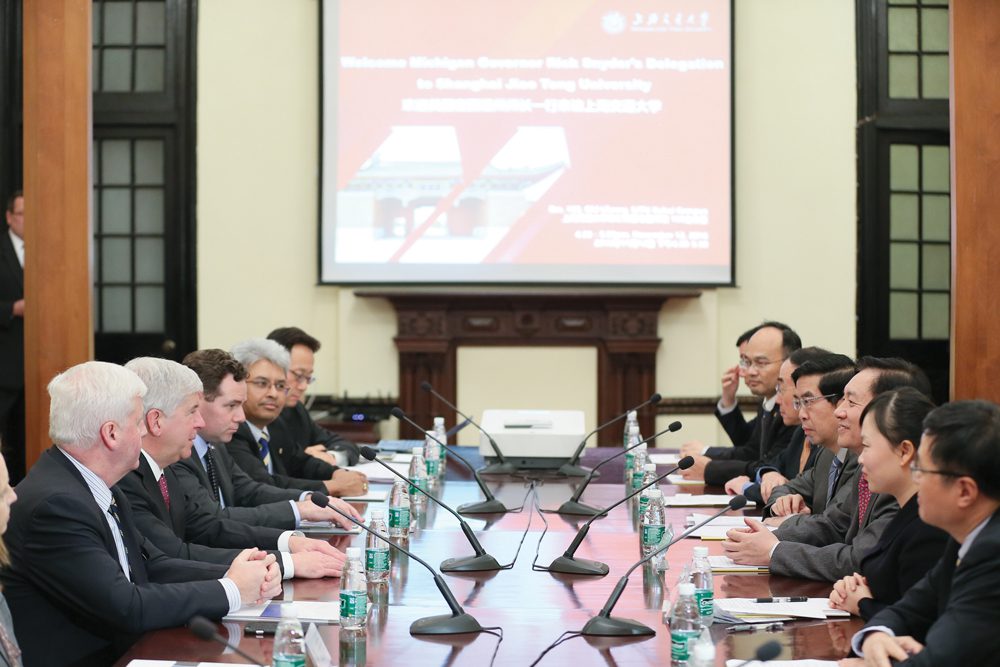 When it comes to looking for opportunities beyond the borders of their own jurisdiction, companies and governments across the U.S. aren't being put off by some who might be focused solely on a single market strategy.
Indeed, it would appear that some states are even more determined to sell their wares to new markets. And with trade being very much a two-way street, that means, almost by definition, reciprocal benefits to those who are potential markets for U.S. goods.
in the U.S., Michigan is certainly one market where opportunities are being explored, judging from the reaction to a recent trade mission to China by Gov. Rick Snyder, his sixth since taking office.
The aim of the November mission was to facilitate Michigan businesses that want to work with China, as well as promote Chinese investment and tourism in Michigan, but it promises to create more jobs in Michigan and help advance the development of autonomous and interconnected automobiles.
"We have built strong relationships in China since our first mission in 2011," Snyder said in a statement. "We are excited to continue telling the Michigan comeback story and making the case that there is no better place in North America for Chinese companies to expand and create jobs than in Michigan. As Chinese travelers are now going all over the world and the United States more, this is a great opportunity to tell people about Pure Michigan tourism."
Snyder visited the cities of Shanghai, Hangzhou, Chongqing, Shenzhen, Guangzhou, Beijing and Nanchang, according to his office. He visited companies, met with business leaders and senior government officials, and participated in several events sponsored by the University of Michigan.
"The governor is committed to strengthening Michigan's relationship with China and countries all over the world," Ari B. Adler, Snyder's director of communications, told Corp! magazine. "Since his first mission to Asia in 2011, Michigan has received nearly $650 million in new business investment from China, for a total of 23 projects that created 3,541 jobs."
Accompanying the governor was an investment mission led by the Michigan Economic Development Corporation (MEDC) with 11 Michigan companies looking to meet prospective business partners, distributors and buyers. The Michigan Department of Agriculture and Rural Development led a group of seven Michigan companies on Michigan's first food and agriculture trade mission to China. Detroit Mayor Mike Duggan also brought a delegation to promote Detroit, marking the first time the governor and a mayor promoted Michigan together during an international trade mission.
Automotive sector
On the first full day of the mission, the MEDC and Shanghai International Automobile City signed a memorandum of understanding (MOU) to help the Chinese automotive industry establish a Michigan presence and increase innovation, entrepreneurship, testing and research, especially with regard to the development of interconnected autonomous vehicles.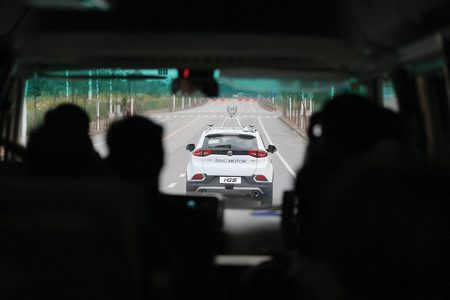 "Michigan and China are in unique positions as we each pursue business and opportunities in the interconnected autonomous vehicle space," Snyder said in a statement. "This memorandum of understanding is an important accomplishment that builds on our mutual commitment to strengthen our friendship and further promote the automotive industry in Michigan and China."
The University of Michigan and Shanghai Jiao Tong University announced a new automotive executive development program beginning in 2017. A joint project of the University of Michigan Stephen M. Ross School of Business and the University of Michigan-Shanghai Jiao Tong University Joint Institute, the international program will take participants to see the Shanghai Auto Show, tour Michigan automotive companies, and explore technological advances in Palo Alto, Calif. Some of the automotive industry challenges studied will include intelligent and autonomous vehicles, connected vehicles, clean energy and environmental issues, intelligent and advanced manufacturing, big data analytics and artificial intelligence, and intelligent transportation networks.
Snyder also introduced "Planet M," Michigan's initiative to study and advance research in transportation and mobility issues, positioning Michigan as the global leader in autonomous vehicle technology.
"Michigan has always been the automotive industry leader, and as the transportation industry evolves, our state's influence will continue to shape the way the world moves," Snyder said. "With Planet M, we're putting our strengths on display for a global audience to see and learn about."
Continuing development of autonomous and connected vehicles will be central to this effort.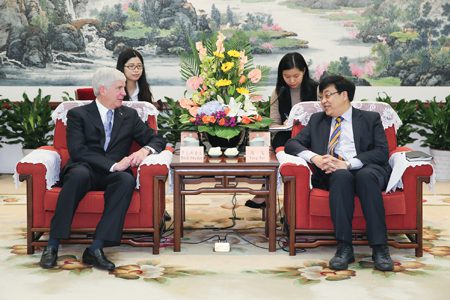 "Regarding autonomous vehicles, Michigan is quickly becoming the global leader as the place where the world will test and refine driverless technology," Adler told Corp!. "As research related to autonomous and connected vehicles expands around the world, Gov. Snyder believes the state can tap into the relationships he has been building to show business leaders everywhere that they need to be doing their work in Michigan."
Joint Ventures
According to the governor's office, the companies on the investment mission participated in customized matchmaking events with prospective partners, distributors, and buyers in each region, and received briefings about doing business in China. These companies included producers of custom test systems and equipment, chemical specialties, and machine verification and diagnostics systems; manufacturers of plastic injection molding and tooling, plastic molds and die cast dies, and coil anodizing; and providers of international logistics services and marketing, advertising and communications.
Snyder witnessed and celebrated two Michigan companies signing joint ventures with Chinese companies during the trip—Gage Products Co., a Ferndale-based supplier of chemical-related products and processes, and Muskegon's Lorin Industries, a leader in coil anodizing since 1943.
"These joint ventures are great examples of how the strength of the auto industry, both in Michigan and the Chongqing region, can create smart business opportunities and partners.

We are proud of these two Michigan companies, Gage Products and Lorin Industries, for their continued growth and success in expanding into international markets," Snyder said. "Michigan is committed to economic partnership with Chongqing, not only in the auto sector, but in other industries as well."
Agriculture
Alongside the connections forged by the automotive industry leaders, Michigan Department of Agriculture and Rural Development (MDARD) and seven Michigan food growers and producers also explored the opportunities for Michigan agriculture in China, especially in the southern China region. Mission members met with potential buyers and toured retail stores to better understand the opportunities stemming from China's growing middle class and increasing demand for unique, safe and high quality food products—in particular, dried fruits, new wines and craft brews.
"I can tell you that there are 20 million people living in Shenzhen, but until you actually see it, you really can't understand the enormity of the market," MDARD Director Jamie Clover Adams said. "It's hard to understand it until you see all the shoppers packed into the stores and all the people dining in the restaurants. To me, that alone is incredibly valuable."
According to Adams, China's middle class will account for 45 percent of the global population by 2020, and Michigan's food and agriculture companies are ready to meet those needs. In 2014, Michigan food and agriculture exports to China exceeded $62 million.
Participants in this first agriculture mission included companies that offer products with cherries, fruit juices, frozen fruits, dried fruits, nuts, tea and microbrews.
"We're going to continue to get Michigan companies 'export ready,' and do what we can to ensure that we're doing everything in our power to facilitate growth and job opportunities for Michigan's food and agriculture companies," Adams said. "We would like to lead another trip next year, because I really think there are some emerging opportunities for other Michigan companies. Michigan wineries, if they have the capacity, have something unique to offer the Chinese consumer. So, I'd like to see more of them. I also think there is a real opportunity for snack food companies there, too."
MDARD also helps Michigan food and agriculture companies interested in exploring export opportunities by conducting international trade seminars in Michigan and bringing international buyers missions to Michigan.
Tourism
Snyder and Duggan met with about 50 travel journalists to showcase Michigan and Detroit as a destination for tourism.
"We are telling the Pure Michigan story, highlighting the diversity of our state – a state blessed with abundant natural beauty, authentic destinations, unique experiences, and friendly people," Snyder said in a statement. "In addition, Detroit's comeback has made the city highly attractive to investors around the world. In our conversations with the media here, we are finding they continue to be impressed by Detroit's revival and all that Michigan has to offer."
Michigan Travel and Tourism Vice President Dave Lorenz outlined various ways in which Michigan works with tour operators, travel media and other industry partners to raise the profile of Michigan as a vacation destination for Chinese travelers.
"Last year, Michigan had the largest growth of international travelers of any state in the nation, with China now the third largest inbound market into Michigan," Lorenz said. "As we continue to build relationships with China's travel industry, there is great interest from Chinese travelers in visiting both Michigan's vibrant urban areas, including Detroit and Grand Rapids, and our vast natural resources."
New Jobs and New Americans
As Snyder reaches out to China and other countries to promote Michigan as a potential business partner and tourism destination—with an eye to creating more jobs in Michigan—his administration has also been supporting the new immigrants that settle in Michigan.
In 2016, the Michigan Office for New Americans (MONA), created by the governor to help new immigrants get started in Michigan, granted more than $200,000 to organizations providing innovative adult English as a Second Language (ESL) programs that focus on vocational English that help qualified individuals who are otherwise ready to work, bridging the gap in vocabulary required for professional licenses and higher education. MONA, one of 20 organizations nationally to be selected by the White House to attend the first White House National Skills and Credentialing Institute (NSCI) for skilled immigrants, also brought on 57 new job seekers and successfully placed more than 30 individuals into new jobs through its Michigan International Talent Solutions (MITS) program.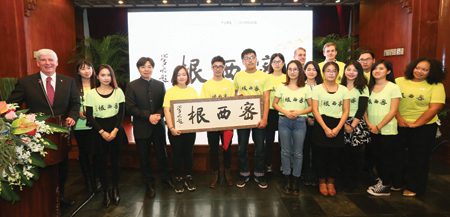 "MONA, in collaboration with the Michigan Asian Pacific American Affairs Commission (MAPAAC) and several state agencies focusing on talent and economic development, will continue to create opportunities for Asian American entrepreneurs to establish and grow their businesses here," MONA Director Bing Goei told Corp!. "MONA's efforts will continue to play a role in the state's economic comeback, where under Gov. Snyder's leadership, Michigan has established a business environment that has resulted in the creation of nearly 500,000 new private sector jobs."
Looking forward
Despite President-elect Donald Trump's rhetoric regarding China, Snyder's staff remain optimistic that Michigan's relationship with China will continue to strengthen and grow.
"Michigan's future relationship with China should grow stronger as the governor and other state officials continue to meet with Chinese government, business, and community leaders," Adler told Corp!. "Regarding President-Elect Trump, the governor has said that there are different issues to be discussed at different levels of government, but that he is focused on how to address issues at the state level, primarily by building and growing relationships."
This feeling was echoed by Bing Goei at MONA. "MONA will continue to focus its efforts of supporting new Americans wanting to contribute to the growth and enrichment of life for their families and the lives of all Michiganders."
According to the governor's office, China is Michigan's third largest trading partner, after Canada and Mexico, with the state exporting $4.2 billion of manufactured goods to China in 2013, a 54.5 percent increase since 2011. In the same year, Michigan imported $7.6 billion of goods from China.
This mission was the Snyder administration's sixth to China. However, Snyder or Lt. Gov. Brian Calley have also led missions to Japan, South Korea, Canada, Germany, Italy, the Netherlands, Brazil, Mexico, Israel, Chile, Colombia, Switzerland, Ireland and Great Britain.