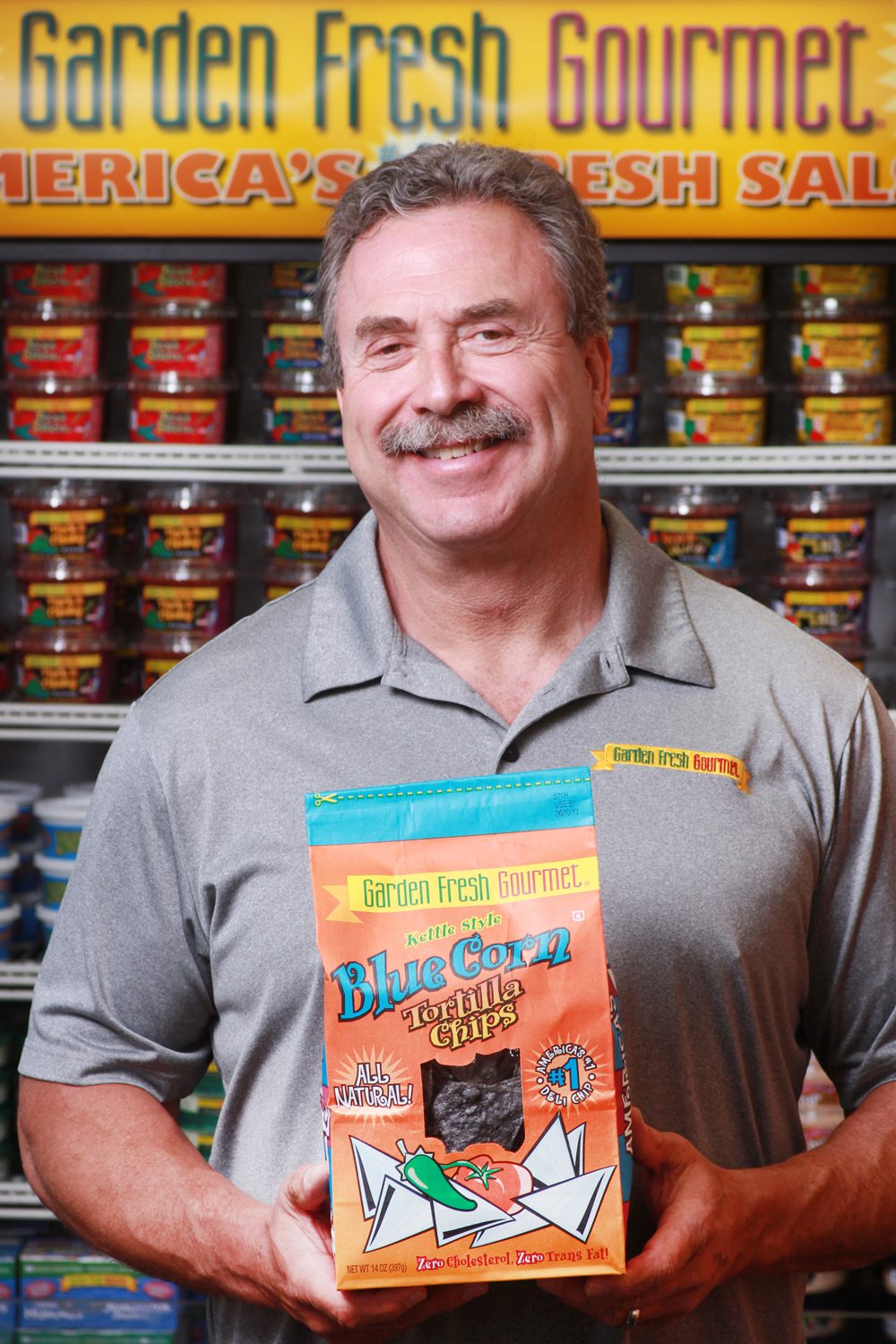 From a 5-gallon bucket in the back of a Ferndale diner to a $231 million sale to Campbell Soup Co., Garden Fresh Gourmet Inc. has taken its focus on freshness to the bank.
The Wall Street Journal reported this week that Campbell Soup Co. has reached a deal to buy Garden Fresh Gourmet.
"Today is an exciting day for the Garden Fresh Gourmet family," Founder, President and CEO Jack Aronson said on the company's website June 9. "I am thrilled to share with you the news that we will be part of Campbell Soup Company. It's a great family and we are in good company joining brands like Bolthouse Farms. We will continue to be the brand that you fell in love with — our dedication to quality, innovation and our core values will remain the same."
Campbell, according the Journal, has seen stalled sales growth on its mainstays of soups and V8 juices and hopes to revitalize its retail offerings. The acquisition is expected to close in late June.
Garden Fresh Gourmet has grown from its pail of salsa to $100 million in annual sales in its 17 years as a company. Aronson and Director of Research and Development George Vutetakis took the company to No. 1 in salsa in the U.S. and Canada with breakthrough production methods using high pressure processing machines (HPP) that dramatically extend the shelf life of their dips, salsas and hummus products.
The HPP systems, the only two in Michigan in 2013, allow what might be a two-week product to stay fresh without using preservatives, additives or flavor-inhibiting heat pasteurization for up to five weeks.
The company, with about 430 workers, is expected to continue to run out of its Ferndale headquarters. Freshness and quality will stay a high focus.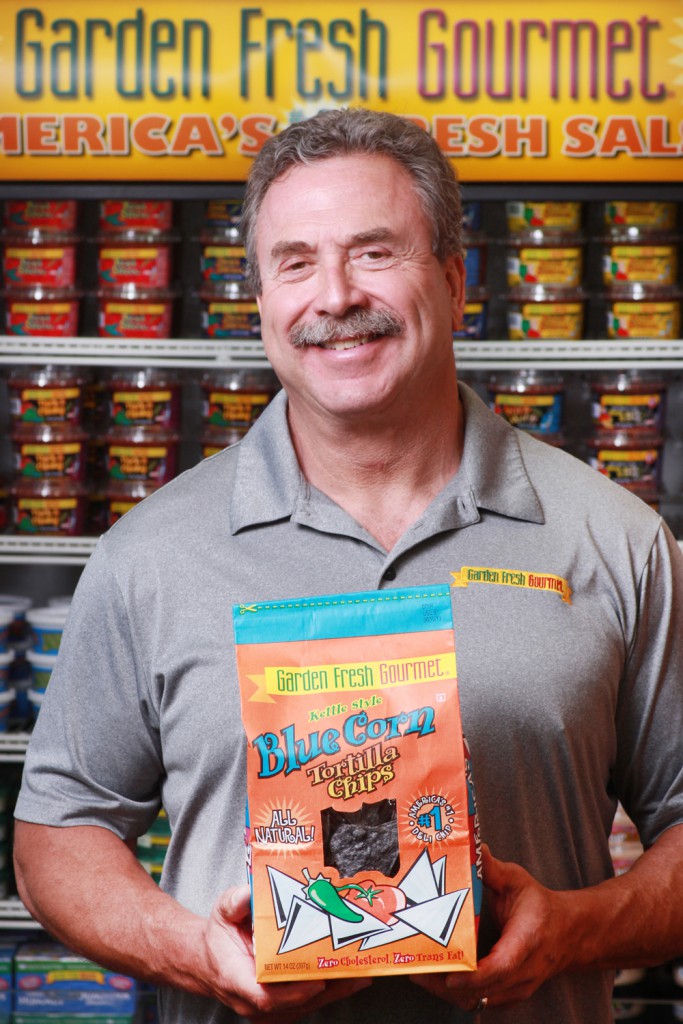 "I chose Campbell because they share our commitment to crafting authentic, great tasting products using high quality ingredients," Aronson said. "By tapping into each other's strengths we will be able to bring more of your favorite Garden Fresh Gourmet products to more locations, nationwide."
At one time, Aronson considered offers to sell the business to the likes of Pepsi and Nestle. In a 2013 Corp! magazine article, Aronson said he wouldn't take their calls anymore and that Garden Fresh will be the Aronson family's baby forever. They said then that they were not for sale and didn't want to hear an offer.
"Back then, we were growing so fast, it felt like such a chore. It was a little frustrating. The growth was astronomical. To go from selling 20 pints a week to a $100 million company – it's very difficult. We built as we went. But we grew so fast we were always chasing the infrastructure," Aronson said.
Garden Fresh Gourmet's facilities include its headquarters in Ferndale, where its salsa and hummus are created, a test kitchen just a few blocks away, and a chip plant in Grand Rapids, where the corn is mashed in traditional ways using volcanic rock. They also have a dip-processing plant in Inkster, and a distribution center in Taylor.
Dave Zilko, the company's president in 2013 and now vice chairman and partner, had this to say about Aronson in the Corp! article:
Aronson is a guy with no college degree. He didn't attend Le Cordon Bleu or any other cooking school. He is a graduate of Ferndale High School and a largely self-taught chef. Yet here's a man whose palate is so refined, so well-honed that he can smell preservatives coming off a bag of store-bought bread. He can tell when the onions or other ingredients in his hallmark salsa have sat too long.
"He's figured out here in Ferndale how to ship 1 million units of product each week. He doesn't get enough credit for that."
Where it all began
It was back at the Clubhouse BBQ restaurant, a simple brick building with green awnings at 8 Mile and Woodward. There, Aronson and his wife Annette made their first batch of salsa, mixing it up just as they liked it. It had fresh onions, tomatoes, garlic and plenty of cilantro. He served it with home-made chips, and something in the universe clicked. People loved the salsa and began asking for more. He later opened a salsa store in Royal Oak, the Hot Zone, where Jim Hiller of Hiller's Market tried his wares for the first time.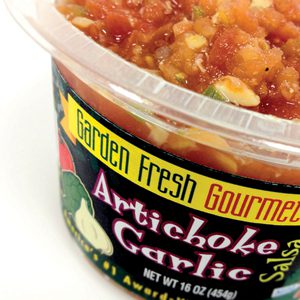 One order followed another as local grocers picked up Garden Fresh for their shelves. Aronson lists their names with reverence: Jim Hiller, Nino Salvaggio, Tom Violante, Rocky Russo. These grocers encouraged Aronson, told him what was working and what they wanted in their stores. Russo, for example, urged Aronson to bag up his chips and sell those as well. At Nino Salvaggio's, the salsa demonstration wowed them so much that they called Aronson back in from the parking lot where he was on his way home to place an order.
"The salsa was supplemental back then. It was to help pay the restaurant's electric bill," Aronson says. "I was told that an all-natural salsa wouldn't get out of the state. That people wouldn't buy a salsa from someone in Michigan. … I just thought I would end up a regional player."
Once the salsa picked up a distribution company to partner with, Garden Fresh quickly grew from being sold in 80 stores to more than 2,000 locations. That is when Aronson said he realized he would be able to make a living from this business. He had five kids to feed and a restaurant that wasn't going gangbusters. So he threw himself entirely into the food-manufacturing business, adding a hummus company and chip plant along the way. And he always kept his feet firmly planted in Ferndale, the city he loved.
"They have been so supportive in our growth. There's a great sense of pride for Annette and I to do this in our hometown," Aronson said. "We were told you couldn't become the largest manufacturer (of salsa) in the world right here in Ferndale. But they made it happen. The city helped us get our first, then our second and then our third building here."
Aronson got his first taste of cooking as a child, learning the best recipes from his mother and her best friend. When he was still in high school, he started working at a local cafeteria. There, the women on staff took him on as a project, feeding him and showing him the basics of good food. Aronson said his love of food has been a blessing and a curse because he's been on a diet ever since he was in the third grade.
His palate also has played into Garden Fresh's success. Because he abhors preservatives, he has always strived for fresh, all-natural food. There have been times when he has tried to automate or change his salsa-making methods. For example, he once tried to ditch the bucket the salsas are mixed in for huge, 50-gallon tanks in order to reduce the costs of processing. That failed because Aronson felt the food sat too long, and that long exposure to air affected the flavors. Another time, he decided that peeling and processing all of the onions by hand was too expensive. Aronson found someone who could provide onions ready to use – but those flavors also negatively affected how the salsa came out.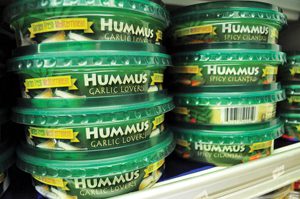 Right time, right product
It just so happened that the rest of the country jumped on the fresh, all-natural bandwagon at about the same time. That is part of the reason why Garden Fresh has the No. 1 fresh salsa in the United States and Canada, dominating its market and then some. The company also has the No.1 tortilla chip in the deli aisle. And its hummus is No. 3, but it also has the potential to take over its category soon enough. And, chances are if you buy a private-label fresh salsa or hummus, you're eating Garden Fresh because the company dominates there as well.
"My biggest success in our company is that I've been fortunate enough to make what the American public likes," Aronson said in the 2013 Corp! article. "That's how 'Jack's Special' got started. I would make the salsa and then set some aside for myself. I'd triple the cilantro because that was a flavor that I liked. Cilantro is a love/hate thing. Some people adore its taste; others think it tastes like soap. But 'Jack's Special' is now a huge seller for us."
He ended up in the dip business for basically the same reason. Aronson didn't like what was on the market, and he knew he could deliver something tastier.
"We roast our own chick peas. I bought roasters when we bought (Basha) basically for its hummus plant. I went to the Middle East and learned the traditional method for making hummus there. That's why ours is so creamy compared with the others on the market," Aronson said. "We did the same thing with the chips. We knew we didn't want to make them with corn flour and water like everyone else. We have volcanic stones to crush the corn, which is the traditional way to do it. Those stones have to be honed by hand, and we have two employees on staff that takes care of them."
Are these methods more expensive? Does it make the processing of his foods more complicated than they really need to be? You betcha. But Aronson knows that is why his foods are leaders in their categories, why other companies want to buy his and why customers are so loyal.
"We really have a lot of pride. We have a brand promise to our customers and we take that very, very seriously. We want them to buy a product that they know will be terrific," Aronson said. "We've won more than 500 foods of excellent awards, nationally and internationally. There's the reason. I always wanted to be the best salsa out there. I never tried to be the biggest; the consumer did that."
Managing Editor Richard Blanchard contributed to this article. Corp! magazine profiled the success of Garden Fresh Gourmet in June 2013.