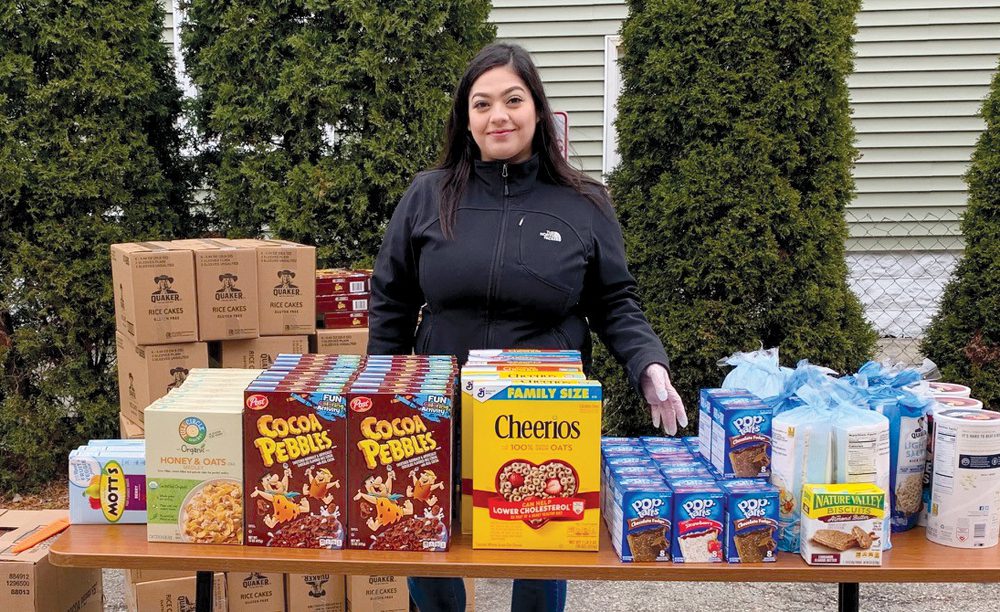 Everyday heroes come in all shapes and sizes, from all walks of life, from every area of industry.
They really shine, though, in times of crisis. And there hasn't been a time of crisis like the COVID-19 pandemic in a lifetime.
When heroes were needed, all manner of everyday people stood up and became just that — heroes.
There are scores of stories about heroic action during this pandemic, too many to count and certainly too many to print.
Corp! Magazine honors as many accomplishments as we can and, as always, throws out a shout-out to heroes we couldn't document.
The Right Place
The Right Place Inc., West Michigan's leading economic development organization, is no stranger to difficult circumstances.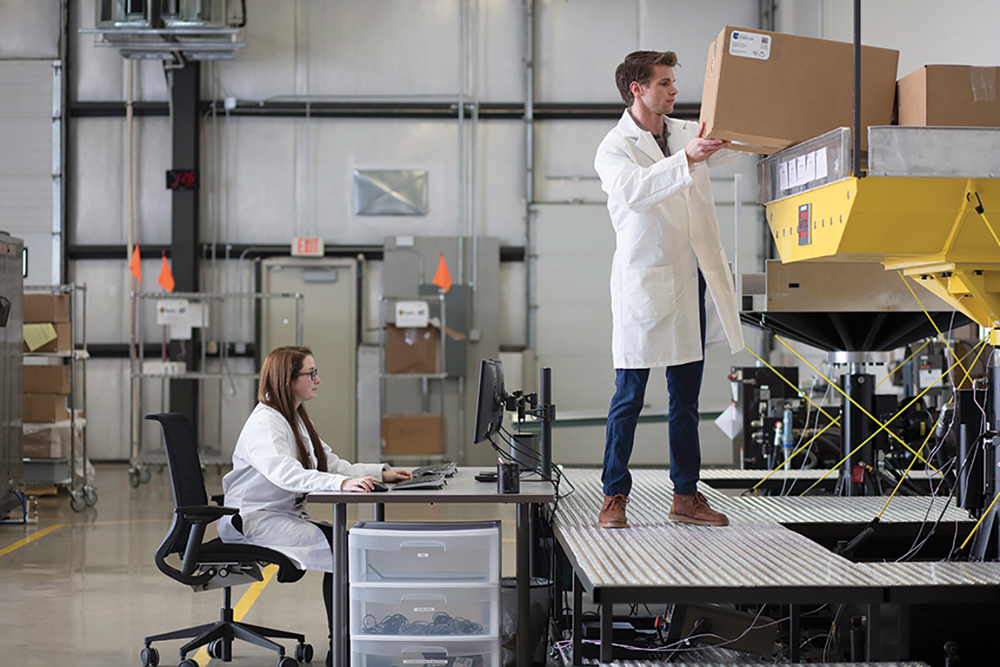 It was, after all, born 35 years ago during another time of crisis, when unemployment stood at 17% in Michigan. So it shouldn't come as a surprise that Grand Rapids-based The Right Place, offering comprehensive business assistance services to growing companies, should become a key player during the COVID-19 crisis.
"Assisting businesses through challenging times is in our organization's DNA and we continue to be here for our West Michigan companies and employees," said Birgit Klohs, President and CEO of The Right Place. "We have identified hundreds of West Michigan manufacturers who have the capabilities to fill the needs of our healthcare industry by producing everything from facemasks and gowns to hand sanitizer and goggles. Our team is actively connecting these companies with organizations in need of these crucial supplies."
As the COVID-19 pandemic continues to impact the way business is done, the team at The Right Place continues adapting to meet the community's needs. Over a period of several weeks, TRP has made countless connections between local manufacturers and healthcare systems, facilitating donations of supplies, assisting companies with transitioning to manufacturing PPE, and even identifying a company that could produce COVID-19 nasal swabs.
"Our daily economic development work does not look the same as it did months ago, because the challenges facing our community are very different," Klohs said. "The relationships and expertise our team has cultivated over decades of experience is being put to use connecting our first responders and frontline healthcare workers with critically needed PPE."
Klohs acknowledged the "path ahead is unknown," and said West Michigan businesses are "beginning to tackle the challenge" of how to reopen and keep team members safe. The Right Place recently launched a new section on its website focused on reopening playbooks, and several companies have already submitted plans. The playbooks can be found at www.rightplace.org/for-local-business/cv19-restart-playbooks.

Said Klohs: "While this looks different for every company, there are many things we can learn from one another."
DTE Energy
DTE Energy has been supplying the energy needs in the area since its founding as the City of Detroit Gas Co. in 1849. In 1886, the Edison Illuminating Co. of Detroit began serving its first customers. A series of name changes brought DTE to life.
What hasn't changed? Its mission. DTE is now a Detroit-based diversified energy company whose operating units include an electric company serving 2.2 million customers in southeast Michigan and a natural gas company serving 1.3 million customers.
The focus — serving its customers — hasn't changed since the COVID-19 crisis hit and safety remains the company's top priority.
"Our focus remains on serving customers and communities with essential energy, especially during these trying times," said President/CEO Jerry Norcia. "Since the outbreak of the pandemic, we've continually refined our safety processes and protocols as new information emerges about the virus."
Since the pandemic hit, DTE has:
Encouraged residential and business customers to reach out if they are unable to pay their bills due to the pandemic and adapted Energy Assistance programs to meet the needs of low-income customers.
About 60% of DTE employees have been working from home very effectively, which has enabled DTE to focus health and safety efforts on coworkers in plant and field operations.
Daily health screenings, restructuring work to enable social distancing and deep cleaning, acquiring specialized PPE and conducting enhanced cleaning.
In response to "listening sessions," DTE created initiatives to respond to COVID-19 and "its devastating impact on the community," Norcia said.
The DTE Foundation delivered two million KN95 masks to medical personnel and first responders, and delivered 6,000 PPE kits with masks, gloves and hand sanitizer to small businesses in Detroit, so they can safely restart.
The Foundation also donated $10 million to 300 non-profits across Michigan focused on basic human services and small businesses.
To close the digital divide in Detroit, DTE led the $23 million Connected Futures initiative to deliver a tablet with internet access to all 51,000 students in the Detroit Public Schools Community District.
DTE also led a coalition of government, nonprofit and corporate partners in Detroit Means Business, a website with technical assistance, guidebooks and more for small businesses.
Norcia called DTE's commitment to keeping people safe "the foundation of our service."
"That's why we were among the first companies to suspend all non-essential field work and direct more than 6,000 of our employees to work from home. We took both actions before the state's first stay-at-home order," he said. "We have continued to dedicate our time, money and resources during this pandemic because we know that we are stronger when we work together. When we work with communities to address the critical needs that employees, customers and communities have, amazing results come to life."
SFL Companies
SFL Companies specializes in shipping fresh produce and refrigerated goods, though its diverse portfolio is comprised of many facets, from dry food goods, paper products, automotive parts, packing and building materials, to floral products.
So it naturally made sense that, when the COVID-19 crisis hit, SFL Companies would put its expertise to work to help.
"As supplies have dwindled amid COVID-19, the demand for food banks has skyrocketed and supply distribution is at an all-time high," said Royce Neubauer, president and CEO of SFL Companies. "Feeding America regularly ships donation loads to local food banks and has continued to do so throughout COVID-19. SFL wanted to make a positive impact during this challenging time with COVID-19, and donated their freight services to Feeding America for a local food bank shipment."
The 9-year-old company and its 28 employees have remained committed to ensuring that the COVID-19 outbreak will not alter the timeliness or quality of the freight management services and business partnership the firm continues to provide, and our technology "allows us to have this flexibility," Neubauer said.
SFL has a significant investment in its cutting-edge technology that has allowed employees to effectively provide freight management services remotely, creating remote working guidelines for each freight management team to help ensure customers' expectations are met.
SFL is "confident" that working remotely from home and utilizing phone calls, conference calls, and online collaboration in lieu of in-person meetings will result in a continuation of the "excellent freight management services their customers have grown accustomed to.
"SFL values our relationships with our business partners and we are certain that, working together, we will overcome the COVID-19 challenge and be better for it," Neubauer said.
It hasn't been easy.
"The biggest challenge for our company has been keeping the office spirit alive while working from home," Neubauer said. "To make sure we keep that spirit and communication open, we have put together multiple virtual happy hours and even a virtual team-building scavenger hunt event. Although we are not in the office, we have still been able to see and have fun with our team through video chats."
Industrial Sewing And Innovation Center
Detroit-based Industrial Sewing and Innovation Center, a national resource for those committed to positive impact through responsible production of high-quality garments, with solutions centered around people, education, talent force development and cutting-edge technology, was set to open its contract and learning factory April 13, producing domestic apparel for three national companies.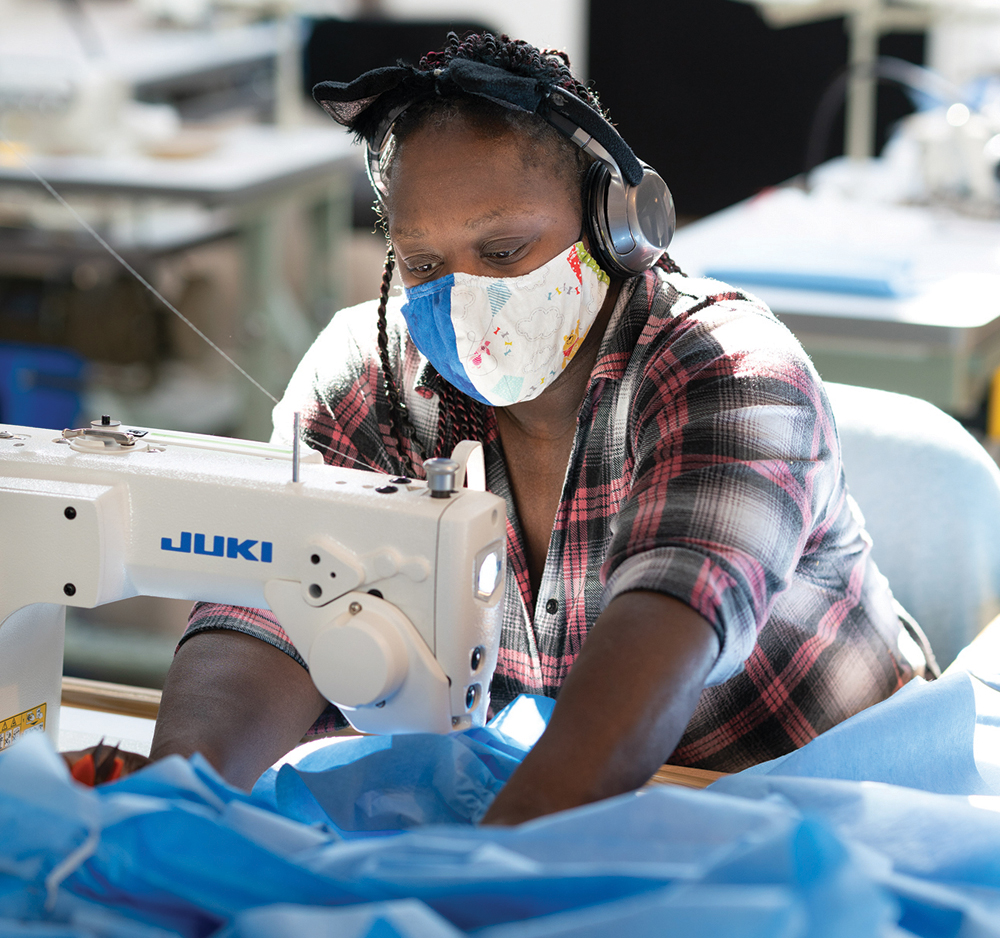 Then, COVID-19 came calling.
When the pandemic hit, construction on the factory (located above Carhartt's midtown Detroit retail location) was halted. ISAIC quickly shifted to produce PPE and the completion was deemed essential construction.
Now, with its partner manufacturing sites, ISAIC has produced 100,000 isolation gowns and began mass-producing protective masks, with the ability to make a million masks per month.
To get it done, ISAIC centralized one of the area's most substantial responses in the production of PPE by creating a regional initiative where the company served as the coordinator for multiple manufacturing partners. ISAIC handles material procurement, standardized product specifications, inventory, distribution and coordination of delivery.
"By coordinating this effort, we were not only able to help remedy the lack of PPE for healthcare workers, but we also support local businesses and helped them keep their workers employed," said ISAIC CEO Jen Guarino. "Sourcing the proper materials was very challenging, but we worked with local hospitals to identify what material would be appropriate and worked through our national network to find it.
"At its core, ISAIC is about empowering people through training and apprenticeships and helping them toward future career paths," Guarino added. "During the shift, we were motivated to help protect our frontline workers who needed PPE."
Community Housing Network
Community Housing Network opened its doors in 2001 with funding from Oakland Community Health Network. At that time, the organization was charged with providing property management for housing for people with disabilities, creation of a Housing Resource Center, and development of additional affordable housing opportunities for people with disabilities.
CHN's flagship service, the Housing Resource Center, now receives more than 20,000 calls per year — each call representing someone looking for assistance, with the staff working to connect people to vital programs and services to prevent them from becoming homeless or to help them with their housing needs.
The scope of CHN's Housing Development programs has grown, as well, with more than 744 units developed since 2001 and more than $122.3 million in funding leveraged.
Then came the coronavirus. As a result of COVID-19 in Michigan, CHN amended its service delivery practices to ensure the health and safety of the participants without the interruption of services. Mitigation strategies identified by the governor and the CDC continued to guide CHN's efforts and as a result CHN continues to take preventative steps to reduce the possibility of COVID-19 exposure, help reduce the spread, and keep its communities safe.
"Nothing is more important than the health and safety of those we serve and our staff," said Mark Craig, President & CEO of CHN. "Imagine having to 'stay in place' or 'wash your hands' without a place to stay or sink to call your own. Though unimaginable for many, that is exactly what many individuals and families in our community faced during COVID-19."
While a moratorium on foreclosures and evictions was a much needed step at this time, Craig said CHN "knows that there will be a need for funding to pay rent for months or years, going forward" for those currently experiencing homelessness or those that were formerly homeless and assisted into housing with short term rental subsidies that are expiring.
"Others that have not yet been homeless, but are living paycheck to paycheck, will be at great risk of losing their housing in the near term, with people off work and incomes dropping," Craig said. "CHN is committed to providing homes for people in need, through proven strategies of homeless prevention, housing assistance and development, community education and referral, advocacy and additional services."
Jarvis Property Restoration
Jarvis Property Restoration, founded in 1979, is a full-service fire, smoke, wind, and water repair and restoration company with offices located in Michigan and Florida.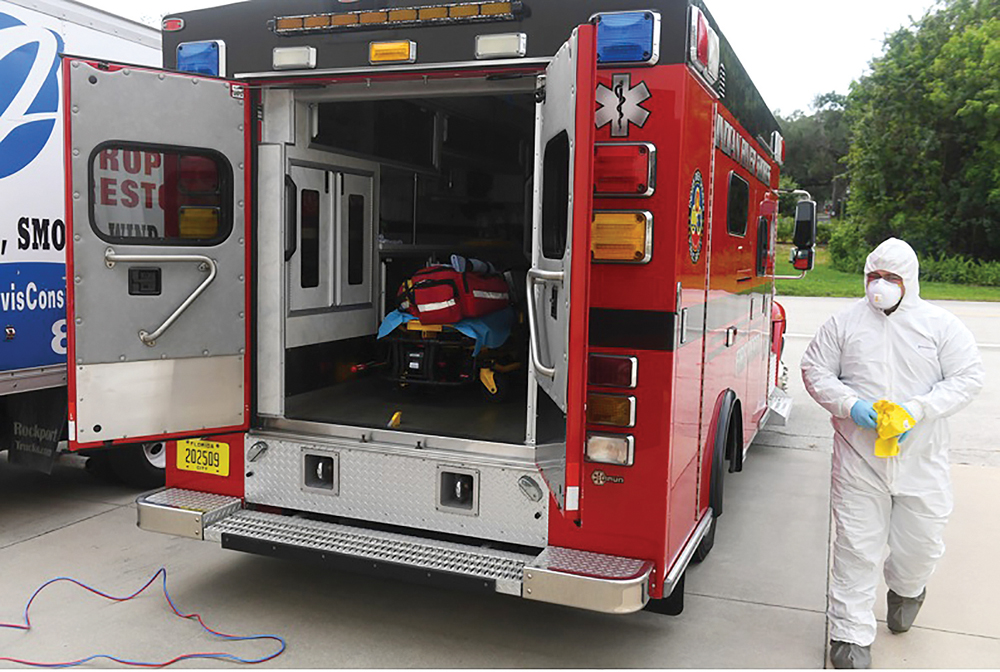 The company is used to assisting property owners of all sizes to recover from unexpected disasters and storm damage. Now, after dealing with COVID-19-related damage, it can add "disease" to its repertoire.
Jarvis, a disaster cleanup contractor specializing in biohazard cleanup services, helps commercial property managers, hospitals, manufacturing facilities and municipalities with decontamination of airborne pathogens.
While Jarvis has always been trained in biohazard clean-up, its primary focus has been restoration services due to fire, smoke, wind and water damage.
"The Covid-19 crisis allowed us to utilize our skilled training to assist so many businesses in this time of uncertainty," said vice president Matt Jarvis, "allowing them and their employees to feel safer while restoring their business to the new normal."
During the COVID-19 crisis, Jarvis has launched campaigns to support other first responders with its rolling billboard (semi-truck) moving throughout Metro Detroit and by offering free cleaning of first responders' personal vehicles all across the state. The company continues to offer repetitive cleaning to many large hospitals, police stations and fire departments across the state.
"The biggest challenges we have faced are trying to help as many people as possible during the COVID crisis, the spring storm season, along with historical flooding in the Midland and surrounding areas," Jarvis said. "Helping people in need is our mission 24/7, 365 days a year. It's just what we do."
Lear Corporation
Since being founded in 1917, Lear Corporation has become a global automotive technology leader in seating and E-Systems, with a diverse team of employees in 39 countries being driven by a commitment to innovation, operational excellence, and sustainability.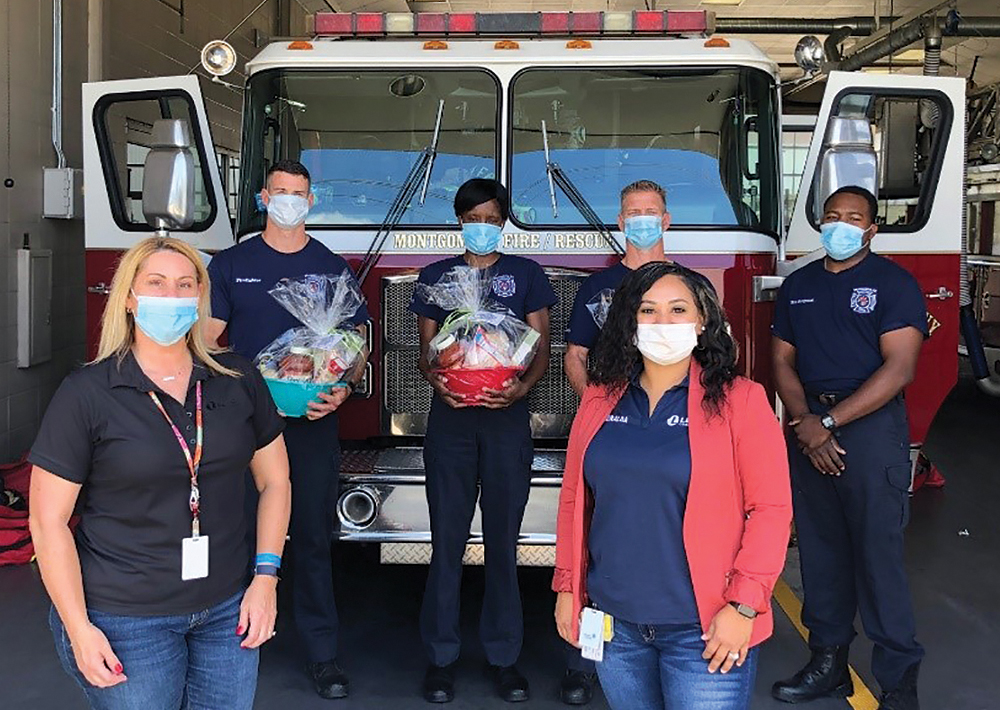 Lear, headquartered in Southfield, Mich., serves every major automaker in the world and ranks #166 on the Fortune 500 list. Company officials point out that the health and safety of its employees has always been the focus at Lear. With the spread of the COVID-19 crisis, they say, that commitment has become even more urgent.
Since the global COVID-19 pandemic began, the Lear team has added production lines at several facilities to produce millions of face masks and thousands of protective face shields, with donations going to first responders and employees in communities where Lear employees live and work.
Lear also published its 80-plus-page Safe Work Playbook, containing health and safety protocols and guidelines, as a free resource for anyone to download from Lear.com.
"Thousands of hours were dedicated by Lear team members to create this playbook, which was originally developed to prepare for a safe restart at facilities that had been closed during the pandemic," said Ray Scott, Lear's president and CEO. "Since being published, the playbook has been downloaded 30,000 times by all types of businesses — from restaurants to furniture makers — and we're glad to have had a positive impact by sharing our resources."
Back in February, Lear's Mocksville, N.C., facility designed a face mask in response to a shortage of personal protective equipment in China. Lear then added production capacity for masks in less than 72 hours. In its facilities across four continents, Lear teams have produced more than 3 million face masks.
Lear has donated thousands of face masks to its global communities, masks that are being utilized by first responders and are used daily in its own facilities by Lear employees.
Lear's team in Mocksville, N.C., has designed and developed full-face shield visors, which are now in production and being used to help support the health and safety of Lear employees and communities. Lear sites around the world have also made donations of medical supplies, personal protective equipment, ventilators and even groceries to their local communities.
"When the global pandemic began, we knew that there was no off-the-shelf manual regarding how best to deal with it. That's the reason for creating the Safe Work Playbook," Scott said. "Lear has always been dedicated to improving the communities where we live and work — whether it's through donations or providing community support."
Perrigo Company
As organizations struggled to meet increased demand for charitable relief during the COVID-19 pandemic, Grand Rapids-based Perrigo Company donated more than 160,000 toothbrushes to Camp Fire West Michigan, The StoreHouse of Community Resources and Kids Food Basket.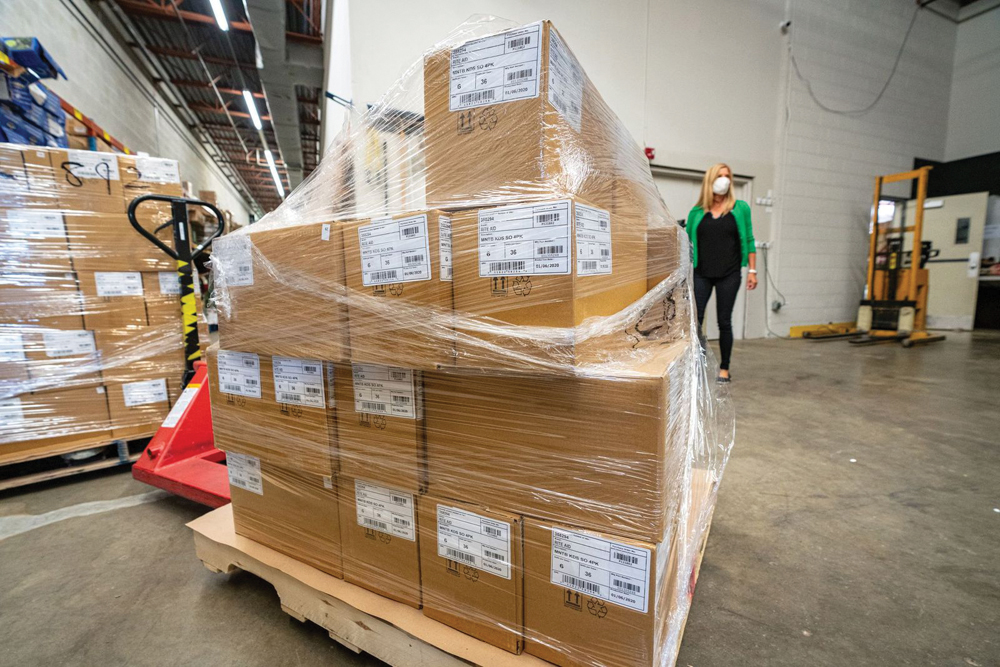 The donation, which is valued at approximately $150,000, is intended to provide healthy oral care tools to those who have limited access to new toothbrushes or are not performing routine brushing, as a result of pandemic shopping challenges.
The American Dental Association (ADA) recommends toothbrushes and accompanying devices be changed at a minimum of every 90 days, and especially after illness. Unfortunately, not every household in West Michigan has the ability to replace their oral care equipment as often as recommended.
"Our research has shown consumers are seeking comfort in controlling what they can during this uncertain time," said Greg McCormick, Senior Vice President of Global Innovation and Technology at Perrigo Oral Care. "Consumers are doing everything they can to ensure the health and wellness of loved ones. We want to mitigate any barrier our community has to the access of clean, fresh oral care products, while supporting the organizations working with local families in need."
The donation aligns with Perrigo's global mission to "make lives better by bringing Quality, Affordable Self-Care Products that consumers trust everywhere they are sold." As each nonprofit distributes the free toothbrushes through their various programming, Perrigo hopes the toothbrushes will encourage individual oral health during COVID-19.
"The StoreHouse of Community Resources supports local nonprofits through the distribution of new, durable goods. Toothbrush donations, such as this, allows those charitable organizations to focus their limited resources on promoting stability and independence for at-risk communities," said Jessica Johns, Co-founder and Executive Director of The StoreHouse of Community Resources.
For optimal health, it is recommended to replace a brush head at the beginning of an illness and at the end. This will decrease the likelihood of reinfection and spread throughout a household.
"At Camp Fire West Michigan 4C, we work with childcare providers and families across the region," said Chana Edmond-Verley, CEO of Camp Fire West Michigan 4C. "This kind gift not only gives families working hard to make ends meet an added peace of mind, but it also opens the door
for conversations to educate and reinforce oral care, something we all know is critical to the overall health and wellbeing of family members."
Perrigo also recommends having additional brush heads available at home for last minute replacements.
"It is because of partnerships like Perrigo, Kids' Food Basket is able to help thousands of children and their families during this COVID-19 crisis. Your support feeds hope for the future — and it's needed now more than ever," said Bridget Clark Whitney, President and Founding CEO of Kids' Food Basket. "When things seem the worst, we have the opportunity to be our best. Having healthy food is a right, not a privilege for every child. We have believed this all along and, in this time of pandemic, we're feeling it deeply."
Flagstar Bank
Flagstar Bancorp, a $26.8 billion savings and loan holding company headquartered in Troy, Mich., has provided commercial, small business, and consumer banking services through 160 branches in Michigan, Indiana, California, Wisconsin and Ohio.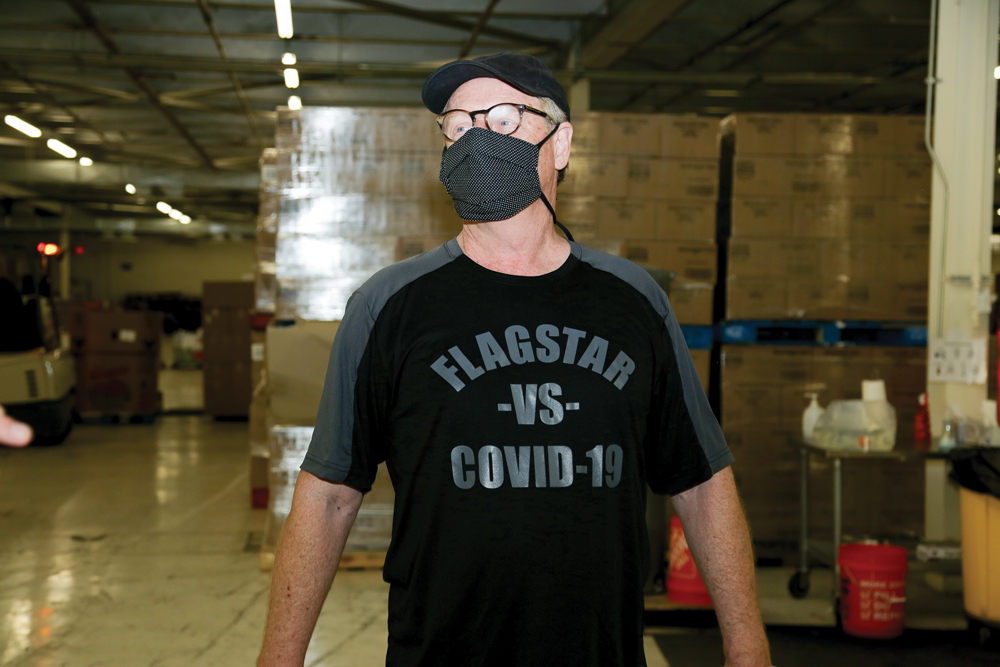 It also provides home loans through a wholesale network of brokers and correspondents in all 50 states, as well as 87 retail locations in 28 states, representing the combined retail branches of Flagstar and its Opes Advisors mortgage division.
So, company officials point out, it should come as no surprise that Flagstar, a leading national originator and servicer of mortgage and other consumer loans, handling payments and record keeping for $225 billion of loans, would be a player during the COVID-19 crisis.
Flagstar transitioned to a majority work-from-home model, gave essential staffers additional money for working in offices, began requiring social distancing and face masks in all its facilities and intensified cleaning and sanitation services.
Among its COVID-19 initiatives, Flagstar:
Shifted the focus of the majority of Flagstar Foundation and community reinvestment contributions to support COVID-19 initiatives, including a small business emergency relief fund for people impacted by COVID-19 in low- to moderate-income areas.
Provided financial support for a Pontiac cut and sew business to convert to face mask production. Flagstar then donated the face masks to a local hospital and police and fire departments in Detroit, Pontiac, Flint, Highland Park, Inkster and Ecorse.
Participated in the SBA's Payroll Protection Program, funding over 4,000 loans, reaching out to minority and women-owned businesses, churches and nonprofits to help them access the program.
Provided impromptu PPP webinars to assist small businesses with the PPP application, helping with documentation to ensure complete and accurate applications were submitted, thus improving the likelihood of approval.
Funded the Pontiac Restaurant Brigade, a program to deliver food from select Pontiac restaurants to local hospital workers.
Contributed $670,000 to 45 nonprofits in its footprint to support COVID-19 causes.
Established a fund to provide grants to employees experiencing hardship due to COVID-19. To date, employees have raised $45,000 (versus a goal of $5,000) toward grants for their co-workers. Funding is augmented by the Flagstar Foundation.
"We've been involved and invested in our communities since 1987, and we stayed involved and invested through the housing-led crisis of 2008, which hit companies with large mortgage operations like Flagstar particularly hard," said Allesandro DiNello, Flagstar's president and CEO. "As a company that provides an essential service, we have people on the front lines every day, so we haven't stopped looking for solutions. Metro Detroit is where our headquarters is, and always has been, located. We have to be part of the solution."
Detroit Phoenix Center
Detroit Phoenix Center is a high-impact nonprofit organization, formed in 2016 by Courtney Smith, that responds to the needs of underserved and street-connected youth and families in Detroit.
The center — with three employees, two interns, one full-time Public Ally and "tons of volunteers" — supports young people, ages 13-24, through direct services, including a daily drop-in center for young adults (showers, washer/dryer, food pantry, computer lab, day beds, hygiene products, life skills classes etc.), Afterschool Enrichment Program for teens, Youth Action Board, Emergency Crisis Support and the Blair Memorial Scholarship Program.
Since the COVID-19 crisis began, there's been no shortage of young people for the DPC to help. The Detroit Phoenix Center has shifted its focus to "meet the holistic, emergent and immediate needs of children, youth and families" financially compromised due to the COVID-19 crisis.
"Detroit Phoenix Center is motivated to be actively a part of the solution, because there are young lives attached to our mission being fulfilled," said DPC CEO Courtney Smith. "Poverty and predators don't pause during a pandemic, so neither do we. In fact, we have a greater responsibility to care for our community in times of crisis."
Detroit Phoenix Center has supported the fight against COVID-19 in the following ways:
Packaged and delivered over 1,500 care packages with gift cards, groceries, PPE gear, hand sanitizer, hygiene products & essential household goods to youth & families in need.
Purchased and distributed laptops, tablets and internet routers to bridge the digital divide for youth and young adults to complete school work or apply for jobs or public aid.
Provided emergency rental assistance, cell phone bill support, hotel vouchers, and transportation assistance to youth and families in need.
Conducted weekly wellness checks and mental health support from a licensed counselor for youth members in their program.
Facilitated more than 100 hours of virtual educational and life skills programming, including a Homework Help Line.
Conducted virtual case management and coaching to youth and families in need.
"The community we serve has been disproportionately affected by COVID-19 due to social, economic and systemic inequalities," Smith said. "As a result, we are needed now more than ever before. We have to make sure that youth are not forgotten about during the rapidly changing nature of our climate. We are committed to providing life sustaining services that meet the needs of our community."
Front Line Appreciation Group
With coronavirus spreading across Michigan, six women, led by Monica Toomey, were just looking for a way to help.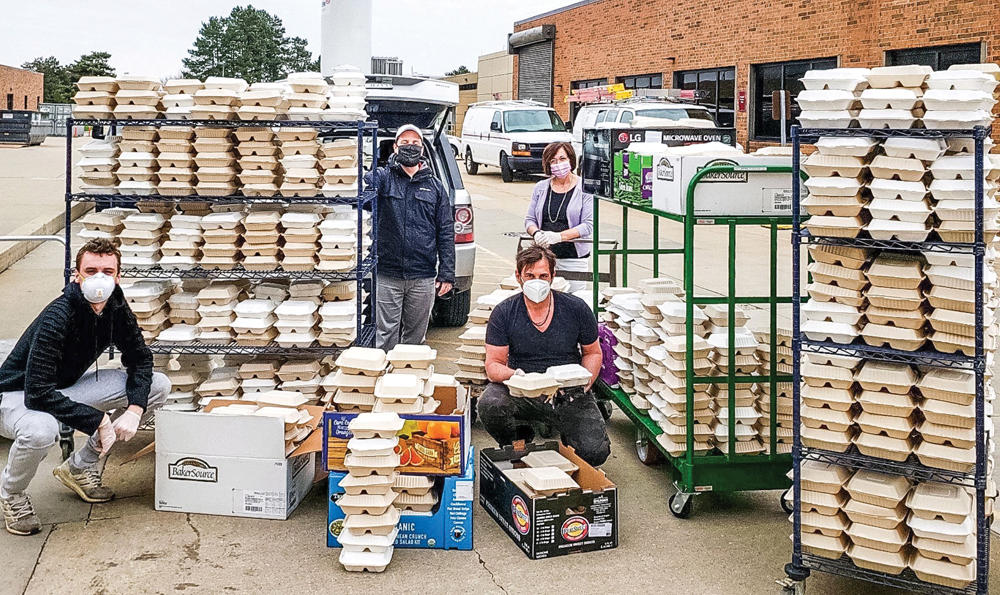 The women, with Toomey as the co-founder, formed Front Line Appreciation Group (FLAG) of Metro Detroit, which provides meals to front-line hospital workers from locally-owned restaurants in the metro Detroit area. FLAG's mission is threefold: offering support and meals to the front-line medical staff, to help restaurants stay in business and to provide a way for people to help without leaving their homes.
In fewer than six weeks, founders said, it had become the largest of more than 100 other FLAG groups formed across the country.
"We serve as a positive light amid much uncertainty — a place to connect, lift each other up and to bring hope when so many of us need it," Toomey said. "The program is simple and effective. We collect donations of any amount and then pool that money together to purchase meals from locally owned restaurants that then deliver the meals to local hospitals treating patients with COVID-19.
"It might seem like just food, but it also sends such an important message to them: that we are thinking of them, we are so grateful, and that we are all in this together," she added. The numbers speak to the group's success. In six weeks, FLAG has:
Raised $350,000
Delivered 40,000 meals
Partnered with 94 locally owned restaurants
Served 43 area hospitals
Gained 23,000 Facebook followers
The group's desire is simple: let hospital workers know they're in someone's thoughts and help restaurant owners as much as possible.
"This is a passion project," Toomey said. "The need is great and ongoing. Without money, there are no meals. There is more to do. Restaurants are still struggling, hospital workers continue to work long hours. Their need is great and it's ongoing; so we'll keep going."
Michigan Economic Development Corporation
The Michigan Economic Development Corporation has been investing in the state's economic development and growth for 21 years and has invested in every single county in the state.
When the coronavirus began its march across the state, the MEDC, formed in 1999 through an agreement between the Michigan Strategic Fund and 58 participating local economic development corporations, knew it was going to have to invest even more.
When Gov. Gretchen Whitmer declared a state of emergency March 10, CEO Mark Burton said the MEDC "moved swiftly to provide vital economic support" to businesses, entrepreneurs, workers and communities throughout all 83 counties of the state, while "enabling Michigan's Arsenal of Innovation to support the frontlines in the fight against COVID-19."
As the economic development arm of the state, Burton pointed out, the MEDC has pivoted to focus on providing "much-needed economic support and relief to small businesses, early-stage startups and entrepreneurs, communities and workers in all corners of our state."
Among its efforts, the MEDC:
Developed a portal designed to support the personal protective equipment (PPE) needs of Michigan businesses as they start the process of re-opening.
To help to drive the "Arsenal of Innovation" in the state, 12 small businesses and nonprofits around Michigan were also awarded a total of $1 million through the Pure Michigan Business Connect COVID-19 Emergency Access and Retooling Grants program.
More than 2,500 Michigan small businesses received a total of $10 million in grants through the Michigan Small Business Relief Program. These grants resulted in the retention of at least 10,689 jobs for Michigan workers and leveraged an additional $3.185 million in matching dollars through local economic development and foundation partners.
MI State Trade Expansion Program — In response to COVID-19, the MI-STEP program has increased the cap amount for certain activities to help support companies going global with their business, making it more favorable to participate in export activities.
Michigan Entrepreneur Resilience Fund — In partnership with Michigan Women Forward, this $1.5 million fund will help entrepreneurs and small businesses negatively impacted by COVID-19 to recover from the outbreak, as well as assist them in meeting increased demands in support of COVID-19 response efforts.
"We recognize that even in the midst of this global pandemic, the support our organization provides for creating economic opportunities throughout the state will be more vital than ever, as we work to recover over the coming weeks, months and years," Burton said. "The impact our organization has already had over the past 12 weeks in retaining jobs, helping businesses keep their doors open and supporting local communities inspires us to continue doing all we can to help grow businesses and resilient, diverse and vibrant communities, long after this crisis has concluded."
Divdat Kiosk Network
The folks at DivDat Kiosk Network believe as many as 20% of Detroiters don't have credit cards or checking accounts. In an era when going into payment centers could lead to exposure to COVID-19, DivDat decided to use technology to drive social change by freeing people from predatory "convenience fees" and other costs of making bill payments.
"We are helping people make remote payments through free web and mobile applications," said DivDat President Jason Bierkle. "During this pandemic, we are helping people access essential bill payments in a safe, free and convenient manner."
DivDat created a web-based donation site (https://cod.divdatkiosknetwork.com/COVID19) for the City of Detroit and worked with the City Treasury team to help with its new mandate from Mayor Mike Duggan that personnel are not allowed to take cash for services.
DivDat is configuring technology solutions so self-service kiosks can be used for accepting payments and deploying web and mobile technology for all city departments. The company has also issued social media videos on how to make payments at kiosks — 75 in metro Detroit — without having to touch them at all.
"We are collecting millions of dollars for city departments, helping the city with cash-flow to pay employees and personnel during the pandemic," Bierkle said.
The biggest challenge for DivDat has been performing high-technology integrations remotely, so people and government entities can conduct business while offices were closed.
"We are a solutions company committed to "Leveling the Paying Field" so people do not have to pay so-called convenience fees to pay their important bills," Bierkle said.
Motor City Mitten Mission
There are many organizations around metro Detroit putting their efforts toward helping the homeless and needy, but most seem to focus on people already living in a shelter.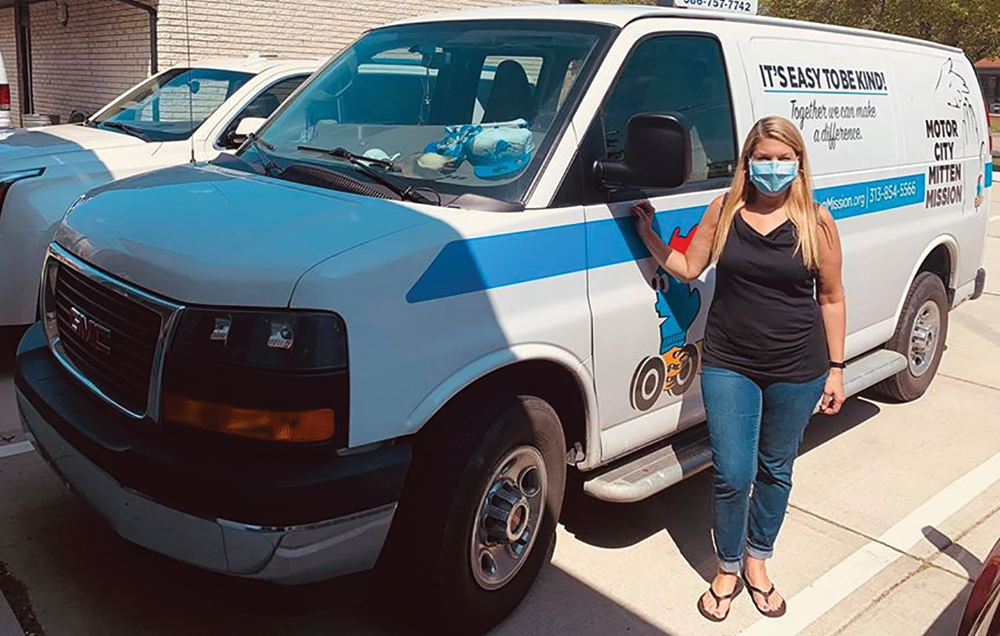 The folks at Motor City Mitten Mission, a St. Clair Shores nonprofit founded in September 2018, knows there are those who are not so fortunate, hundreds of individuals and families living off the grid in hidden areas throughout the city, by the waters, in their cars, under bridges, or in fields.
Motor City Mitten understood the traditional service model of "available during office hours" was not effective and that needs can and should be met as they arise in real time. MCMM does that 24/7, 365 days a year.
It isn't always easy.
"With the explosion of needs since COVID, our biggest challenge is to find available shelter space for those still living on the streets," said MCMM executive director Gail Marlow. "We additionally struggle with having enough discretionary cash and in-kind donations to meet the needs we are presented with each night that we conduct outreach services to the homeless in Detroit and the Metro area."
Motor City Mitten's mission consists of three primary programs: outreach, traditional services and its "Mats & Pillows" project. That's where they use recycled plastic bags to crochet mats and pillows to distribute to the homeless.
"They are ideal for harsh Michigan weather and provide a barrier between the ground and the body to help retain body heat while sleeping," Marlow explained.
So far, MCMM has served approximately 6,400 individuals of the homeless on the streets and provided 218 motel nights for 53 people, including 23 children and four senior citizens.
"If this population isn't part of the solution to combat the virus, that could equate to thousands of people carrying or spreading it," Marlow said.
On a recent Sunday night, MCMM distributed and delivered over 236 individual meals, as well as groceries, diapers, clothing, hygiene items, masks, hand sanitizer, tents, hand warmers, and tons of blankets to a variety of people that included the unsheltered homeless, the homeless living in motels, and housebound families and individuals.
"Every 'victory' we experience keeps us motivated, whether during an example such as this or getting just one individual or family off the streets," Marlow said.
Chinese Association Of West Michigan
When it's members first heard about the coronavirus outbreak in China in January, the Chinese Association of West Michigan, formed in 1979 to share Chinese heritage and traditions throughout the West Michigan region, felt like some caution had to be exercised.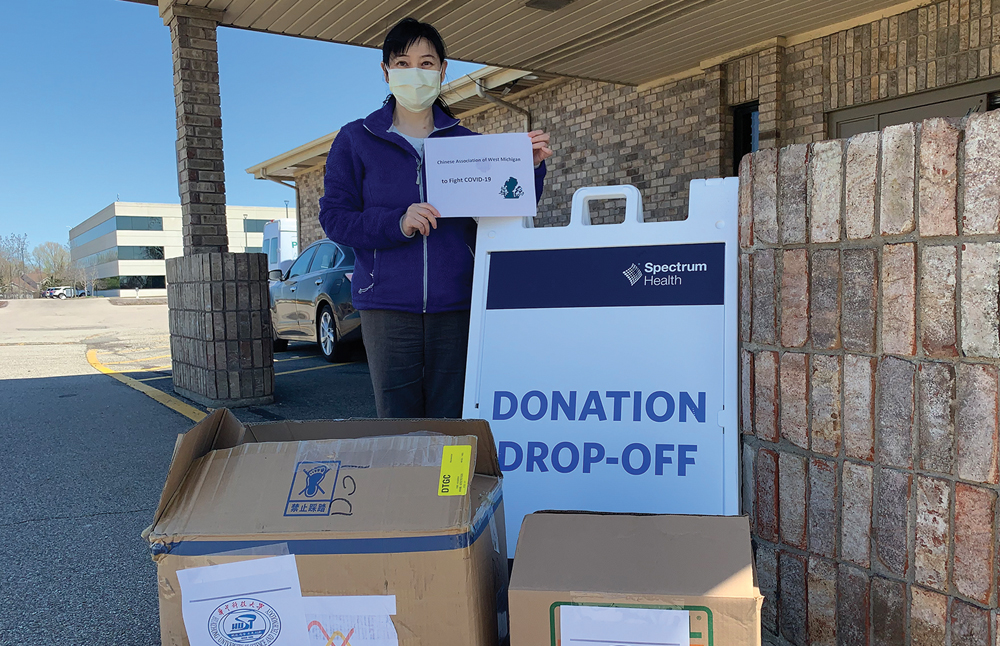 The first thing the group did was cancel one of its three annual events, the Chinese New Year celebration. Then, when the virus hit Michigan, the group began worrying not only about infection among its members, but the potential overwhelming of local hospital systems.
CAWM took two actions. First, it joined the Michigan Chinese American Coalition (MCAC) to help medical professionals battle the pandemic on the frontlines, raising more than $30,000 to purchase personal protective equipment and donate free meals.
The group delivered the majority of the PPE to West Michigan hospitals, but more recently, extended PPE donations to other frontline responders and community organizations.
Secondly, the group expanded its online presence to Facebook, to help members connect and to share their message with the broader community (find the CAWM Facebook page at Chinese Association of West Michigan).
From March 20 to May 21, CAWM:
Donated 13,466 PPEs and 35 bottles of sanitizer to 26 public organizations (including hospitals, urgent care centers, nursing homes and retirement centers, early childcare centers, fire departments, Kent county administrators, and Asian community associations), 24 small businesses, and 17 individual healthcare workers.
Joined the "Food of Love" campaign organized by the United Chinese Americans (UCA) and delivered 200 free hot meals (provided by Cafe Boba and supported by WMAAA) to 4 local hospital ICU/ER sites, along with hand-made "thank you" cards from 50 children in the community.
The biggest challenge, according to CAWM officials, was getting CDC-approved, high-quality PPE in time to protect frontline responders. The group worked closely with MCAC and suppliers in China, ensuring quality, and overcame logistics obstacles to get much needed N95 masks shipped to the U.S.
"This is a global pandemic and we're all in this together," said CAWM President Shuqiao "Sue" Chen. "Protecting first responders is key to protect everyone. We need to help each other stop the spread of the virus. Our goal is to fight the pandemic with love and care for fellow Americans in the community."
Ferris State University
Like colleges all over the state, faculty, students and staff at Big Rapids-based Ferris State University were going about the task of delivering and earning an education from the university's 190 programs, through eight degree-granting academic colleges.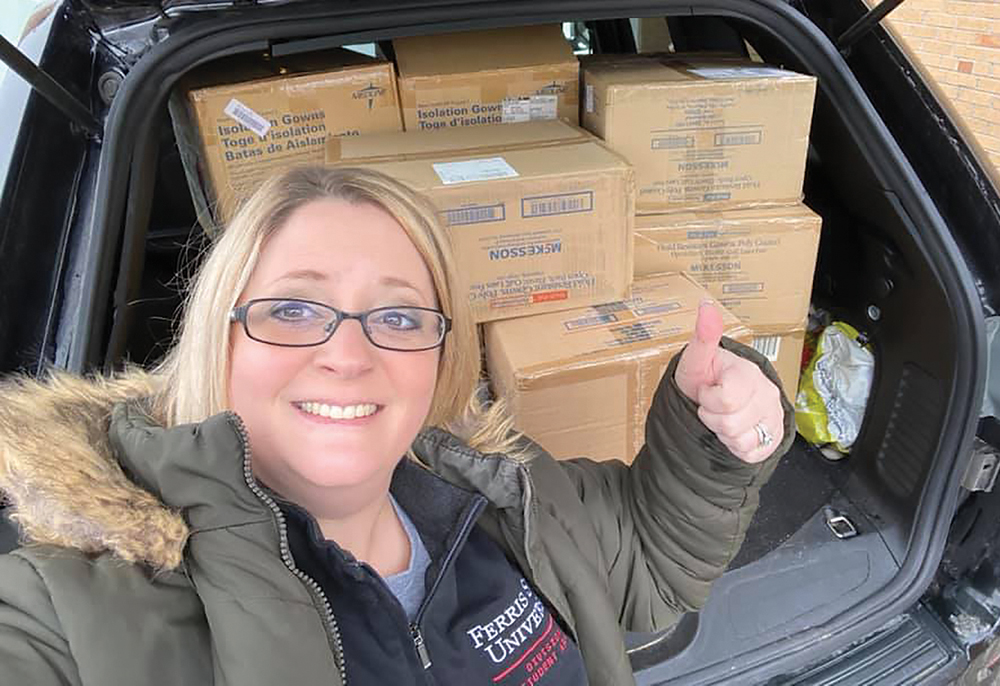 When the coronavirus pandemic hit Michigan and Gov. Gretchen Whitmer issued her Stay Home, Stay Safe executive order, that kind of learning came to a halt and Ferris, like other schools, made the pivot to a virtual education program.
The faculty moved to remote delivery of instruction after returning from spring recess. In this, the university's eLearning team of instructional design consultants, technologists and trainers have provided virtual support to both faculty and students, to support them in this new way of teaching and learning.
To help students learn, many have transformed student support to virtual, but personal approaches. The housing staff told students still in residence halls they needed to move home for fear a positive COVID-19 case could spread. The staff also transitioned to working remotely from home.
As COVID continued to spread, Ferris State:
Assembled a volunteer COVID-19 Community Response Team, composed of faculty and staff from across Ferris State University and Kendall College of Art and Design.
Faculty and students collaborated with peers at the Van Andel Institute, Michigan State University, Henry Ford Health System and the Spectrum Health research office to assess more than 3,500 articles detailing research on the coronavirus.
Faculty and staff, in collaboration with Operation Face Shield, made face shields for the medical community and reached out to local health care providers to assess needs; faculty and staff donated PPE supplies to local health care agencies.
Created the Student Hardship fund in an effort to help students experiencing financial hardship due to COVID-19.
The school is currently planning the return to campus of some 1,400 faculty and staff and between 3,000 and 4,000 students for the fall semester.
"At Ferris, we strive to live out our core values of collaboration, diversity, ethical community, excellence, learning and opportunity," FSU President David Eisler said. "These tenets guide our actions and, throughout this pandemic, our students, faculty and staff have truly lived out these core values every day in the way they are helping their colleagues and communities."
Detroit Police Athletic League
For more than 50 years, the Detroit Police Athletic League has worked to create safe and supportive places for kids — PAL impacts the lives of more than 15,000 kids each year — to play, building character in young people through athletic, academic, and leadership development programs.
Since the COVID-19 crisis hit Michigan, and with stringent stay-at-home orders in place, the league's outdoor sports programming has come to a halt. So, PAL pivoted in an effort to stay in touch with the thousands of young athletes and their families.
During COVID-19, PAL has:
Focused on outreach and become a virtual hub for reaching Detroit kids and families with vital information.
Launched a Six Degrees of Separation Campaign, where coaches committed to reaching out to participant families by phone to check on them and to make sure they have all of the resources they need during this time.
Shifted to a virtual platform, with athletic directors hosting at-home virtual athletic instruction and workouts.
"Our PAL families have needed us now more than ever," said PAL CEO Robert Jamerson. "PAL has pivoted to make sure we continue to stay in touch with our thousands of young athletes and their families, many who simply won't have options like many of us will have to stay informed, healthy and, if sick, get care."
Like the rest of the world, Jamerson said, PAL has had to "hunker down and shut down," which has resulted in operating off of a tight budget. All athletic leagues have been shut down, so there is no revenue from registration fees. Event space has been shut down, eliminating those revenues. PAL's major fundraiser of the year, The PAL Awards, has had to be postponed, along with other fundraisers PAL is a beneficiary of. This has left PAL with limited funds to operate off of when the community needs them the most.
Still, Jamerson pointed out, the health and wellness of its youth, families, and mentors is Detroit PAL's "most urgent priority."
"We are all experiencing unprecedented challenges and seeking ways to serve a greater purpose," Jamerson said. "Our youth and their families need us more than ever and Detroit PAL remains steadfast to our mission of helping youth find their greatness."
Michigan Chinese American Coalition
Many companies and organizations have shifted their missions as a result of the coronavirus.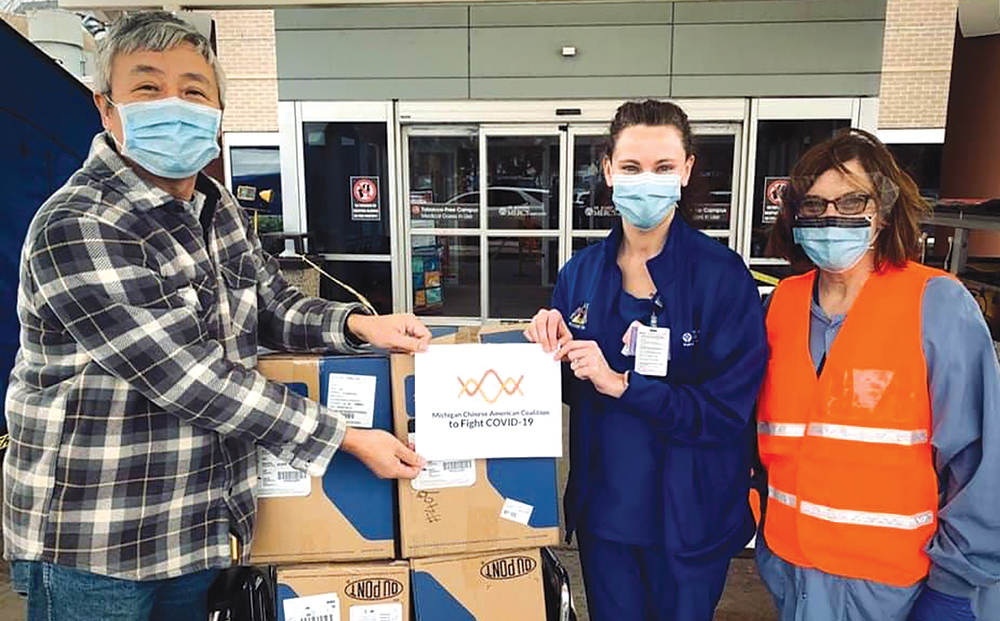 The Michigan Chinese American Coalition was formed back on Jan. 23, specifically to fight it. The MCAC is led by a group of Chinese American Michigan residents, with an aim of donating various PPEs to fight COVID-19.
The group's original goal was to help people in China, especially in Wuhan, to fight the virus. When the situation improved overseas in March, the group — it has more than 1,600 donors and over 300 volunteers — shifted its focus to Michigan.
And the group is helping. As of May 10, the Michigan Chinese American Coalition had donated $255,400, more than 350,000 masks, more than 10,000 protective coveralls, over 1,500 hand soaps, and more than 4,000 safety goggles to more than 75 local Michigan hospitals and clinics in an effort to keep medical workers safe.
For the MCAC, knowledge turned out to be power.
"As Chinese, we learned a lot from what happened in China," MCAC Founder Joe Miao said. ""We understand how important it is to protect frontline workers with PPEs."
Catholic Charities West Michigan
Catholic Charities West Michigan has programs that feed the hungry, counsel those who struggle and build strong families throughout West Michigan.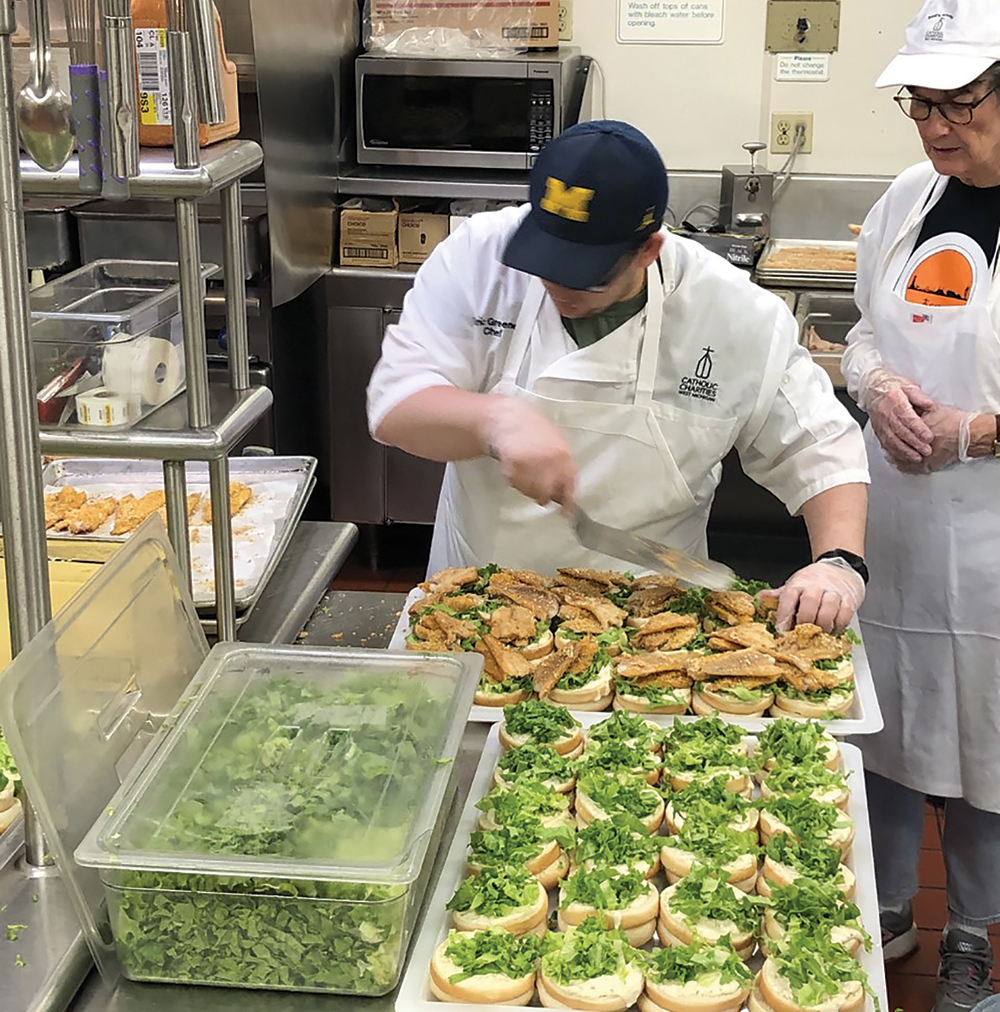 The Grand Rapids-based organization serves its neighbors in need through physical resources like food and baby items in its God's Kitchen programs, and serves them emotionally through counseling and group therapy.
And the COVID-19 crisis has only brought those programs into even sharper focus, the group says. All of CCWM's programs have continued to operate since the beginning of the pandemic in early March. Counseling, child welfare, and family preservation programs have switched to Telehealth services.
CCWM has continued to provide free meals every day at the God's Kitchen site in Grand Rapids, but have switched the delivery method to to-go meals instead of the dining room. CCWM has also continued to provide free groceries at their Muskegon Food Pantry, but have adapted to a drive-thru pickup, instead of a shopping experience.
"We have … continued to provide essential services for the most vulnerable populations in our communities during this time of need," said Chris Slater, CCWM's CEO. "Many of our patrons and clients rely on free food and baby items, like diapers and wipes, from Catholic Charities. They also rely on our counseling services to keep on the straight and narrow path toward recovery from addiction or to maintain their mental health."
The biggest challenge for CCWM, Slater said, has "simply been adapting our programs to continue to serve our clients." CCWM was forced to restructure how they perform counseling and went completely virtual, purchasing new Telehealth technology to meet the need.
They also had to rethink how to provide food to the hungry and homeless, in a way that is "safest for our patrons and our staff/volunteers," Slater explained.
"In the spirit of our Catholic tradition, our mission is to lead our diverse communities with hope and compassion, by offering innovative, collaborative programs," he said. "During this time of need, our team of highly trained employees, dedicated volunteers and generous community work to deliver the highest quality social services."
Homedics
For more than 30 years, Michigan-based HoMedics, a home healthcare expert with more than 200 global employees, has been dedicated to creating products and experiences that help consumers live healthier lives.
And, like many companies have since March, the company is shifting its global supply chain and bringing its health and wellness knowledge to bear in the fight against COVID-19.
Among its efforts, HoMedics has:
Worked to speed production and expedite shipping of all goods, fast-tracking supply to ensure arrival as fast as possible to support healthcare workers.
Donated thousands of N95 face masks to the state of Michigan and is currently donating thousands more across the state.
Shifted its know-how and its global supply chain to assist in the fight against COVID-19 with millions of face masks being produced for hospitals, senior care facilities and other health care providers across the region.
Donated its sanitization products to the West Bloomfield Police Department, first responders, and other local agencies.
"We've got over 30 years of experience helping people with wellness products they can use for pain relief and relaxation," HoMedics CEO Alon Kaufman said. "We've cultivated a sense of community that leaves everyone we touch better off than where they started. Today, consumers fully embrace the important moments in life with help from HoMedics."
Ann Arbor Art Center
Since 1909, the Ann Arbor Art Center, the third-oldest arts organization in Michigan, has been a "contemporary forum for the visual arts through education, exploration, collaboration, and exhibition, and to engage minds, expand perspectives and inspire growth in students of all ages, teachers, artists, and the community."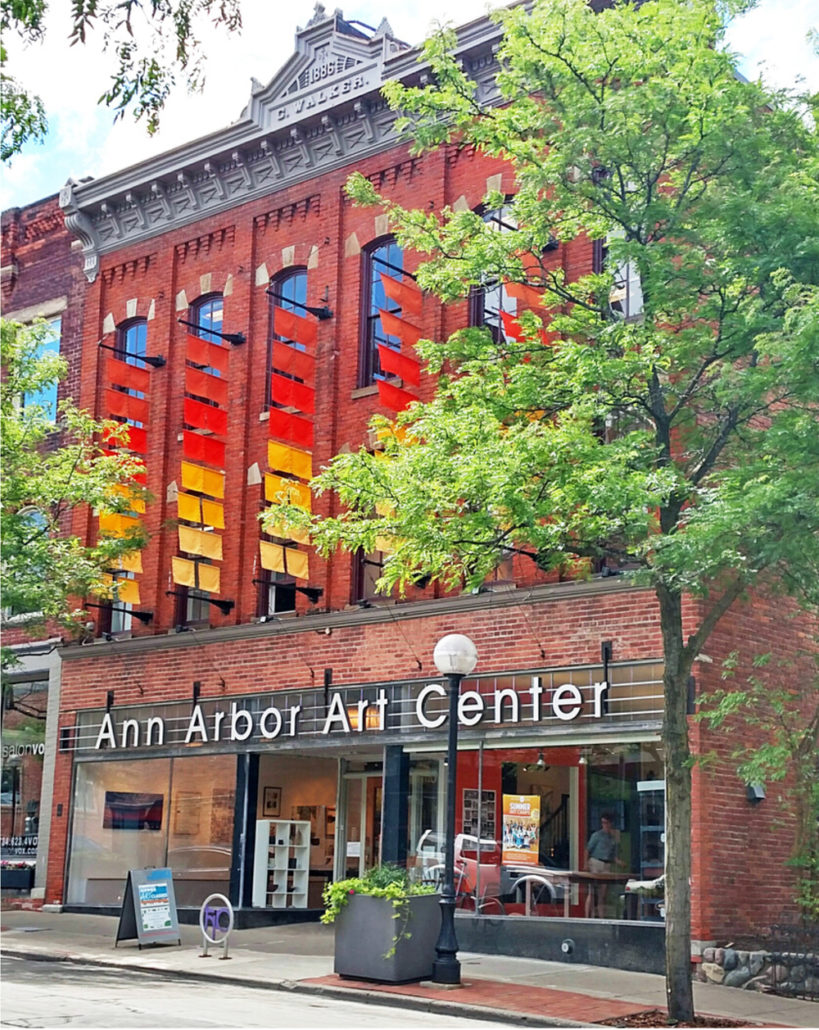 The center delivers on its mission through innovative programming, thought-provoking exhibitions, a gallery shop offering locally-made artworks, and a variety of hands-on learning opportunities for a full range of students.
That mission has been tougher to deliver on during the COVID-19 crisis, with spring term youth and adult classes being canceled. But, being quick to creatively respond, the education team developed a new Art Resources webpage with project ideas, activities, and weekly challenges to engage everyone while safely sheltered-in-place. They also produced free "take-a-break & make" videos that feature fun and easy projects using materials commonly found around the home and that are appropriate for all ages.
The center also fully launched ArtBox, which officials call a "unique a way to engage minds, young and old, through acts of creativity, during this time of unrest." ArtBox is just what you might expect, "art supplies and projects in a box." Supplies can be used independently by a child, together as a household project, or through virtual instruction with their art teacher.
Since the launch of ArtBox in April, the center has partnered with local organizations throughout southeast Michigan to distribute ArtBoxes to over 600 individuals and families who are without access to basic art supplies. Partners have included Community Action Network, Ozone House, Big Brothers Big Sisters Washtenaw County, Peace Neighborhood, Heidelberg Arts Leadership Academy in Wayne County, and others.
The center continues to experience supply chain issues associated with the art supplies needed to produce ArtBoxes. Art supply manufacturers have been closed and are just now re-opening. Additionally, managing the receipt of materials, production, and delivery of ArtBoxes while being sheltered-in-place and closed for business has presented unique challenges to overcome.
But staffers remain undaunted.
"You cannot 'cancel creativity' and we are here to serve," said Marie Klopf, president/CEO of the Ann Arbor Art Center. "It is a privilege and an honor to be a source of hope and joy for so many people while they remain safely sheltered-in-place. Parents of youth art students are eager and look to the Art Center to find unique ways to engage their children through creative activities while they are busy working from home. We are thrilled to partner with them to fulfill this wish."
Say Detroit
The nonprofit SAY Detroit — founded in 2006 by author and philanthropist Mitch Albom in an effort to improve the lives of Detroit's neediest citizens — exists to give a hand up to those who stumble, to lift them to a better life. SAY Detroit and its umbrella of programs and projects was established to help through shelter, food, medical care, volunteer efforts and education.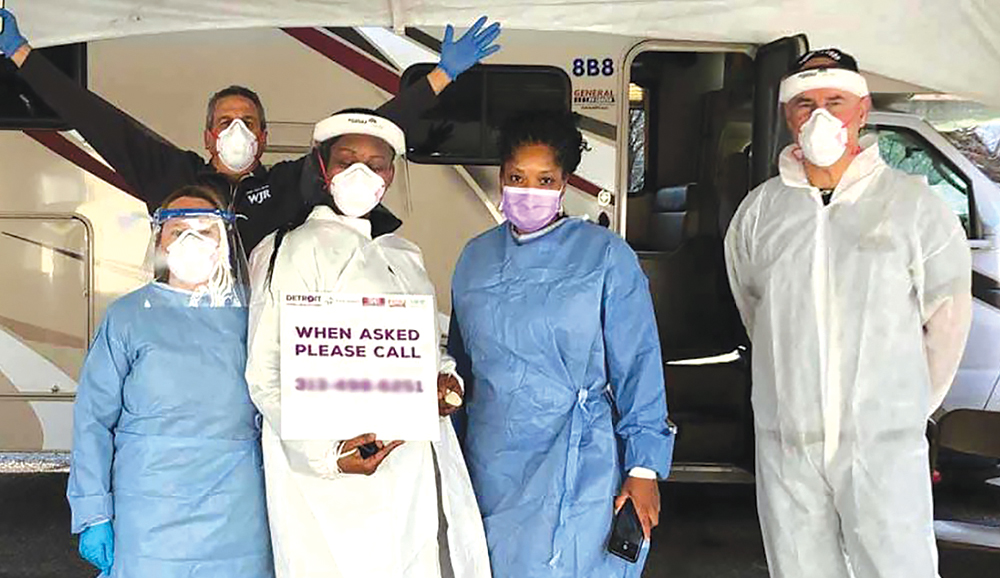 Its programs include Working Homes/ Working Families, the SAY Detroit Family Health Clinic, the SAY Play Center at Lipke Park, and A Time to Help.
Now it's helping in the age of the coronavirus. In response to the impact that the COVID-19 outbreak is having on the greater Detroit community, SAY Detroit has launched the "Detroit Beats COVID-19!'' initiative to spearhead efforts for immediate and impactful actions to protect and support some of the most vulnerable populations — seniors, first responders, children and the homeless.
In April, SAY Detroit launched a mobile testing site at its health clinic, testing upwards of 300 citizens a week. The nonprofit also delivers 1,200 meals a week to families of children who are members of SAY Play, an academic enrichment center in northeast Detroit. SAY Detroit has also provided funding support for a quarantine center for the homeless at the Detroit Rescue Mission Ministries, in addition to partnering with an organization to assist with food insecurity among Detroit seniors and adults living with disabilities, and providing support for a grassroots organization of volunteer sewers to craft masks for first-responders.
"When we help one another, our entire city is better for it," said SAY Detroit's Joann Barnas. "That drives SAY Detroit and its mission."
Lighthouse
The mission at Lighthouse — founded in 2019 when South Oakland Shelter and Lighthouse of Oakland County merged to provide a stronger response to poverty — is to address the immediate needs of people in crisis, provide long-term housing and economic solutions for households served, and create systems change largely by addressing affordable housing gaps throughout Oakland County.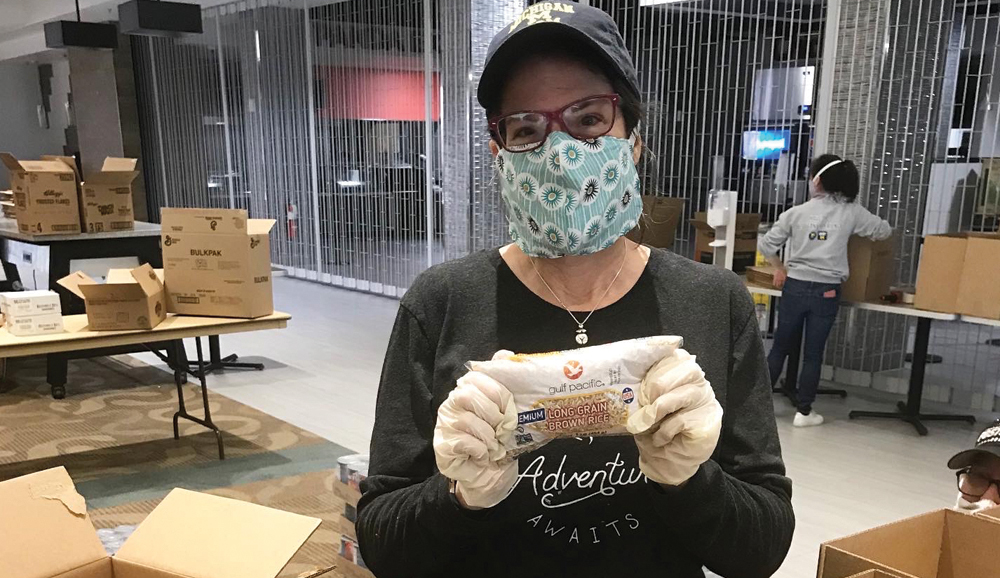 With a combined 81 years of serving people experiencing crisis and over 10,400 volunteers supporting its work annually, Lighthouse continues to serve men, women, and children living in poverty and at-risk of, experiencing, or recovering from homelessness.
Last year, Lighthouse served 9,400 individuals in 3,000 households with over 69,800 days of food through food pantries, assisted 61 individuals in 18 households with preventing their utilities from being shut-off, assisted 395 individuals (66% of them children) who were experiencing homelessness in securing and/or maintaining housing, prevented 75 individuals in 31 households from becoming homeless, and housed 193 individuals in their PATH transitional housing program.
Lighthouse also helped families throughout Oakland County celebrate the holidays by providing over 1,400 Thanksgiving food baskets, serving 541 families and 1,312 children through Adopt-a-Family, and helping 32 seniors in 29 households through an Adopt-a-Senior holiday program.
The COVID-19 crisis hit Michigan in March and, for months, Lighthouse has been adapting to provide emergency shelter and food to neighbors in need during a global pandemic. As Michigan's "stay at home" order continues, dedicated Oakland County nonprofits are rising up and working together to increase services to those most in need.
Lighthouse has significantly expanded its emergency food distribution by working with other community organizations in Oakland County, currently serving thousands of individuals each week between three distribution sites and home deliveries. Additionally, Lighthouse and HOPE Adult Shelter have been working together to provide emergency shelter to an increased number of clients at local motels to ensure the safety of clients and staff. They are currently providing safe shelter to over 100% more clients than normal.
Among its biggest challenges, officials said, Lighthouse has had to get creative to find effective ways to serve more individuals than ever before, when it is unsafe to have staff, volunteers, and clients interacting in person. They have enacted safety guidelines for the organization and put policies into place to ensure all of the work they do can be done "no-contact."
"Lighthouse is always working on behalf of our most vulnerable neighbors and we understand that during these uncertain times, the need has significantly grown and more and more families are struggling," said Ryan Hertz, Lighthouse president and CEO. "We have been working hard to ensure that we can be there for these families and individuals and help keep food on their tables and give them a safe place to shelter."
Care Resources Pace
Care Resources PACE is a Grand Rapids-based community-based program for people age 55 or older, that promotes healthy, independent living and helps prevent nursing home placement. Their program currently serves those in Kent County, as well as five zip codes in Ottawa County.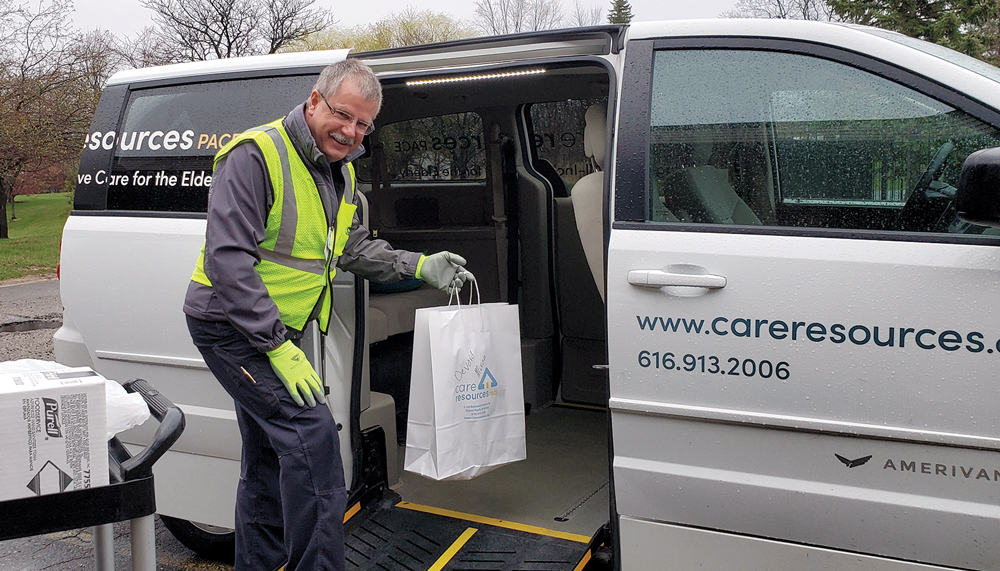 A Medicare/Medicaid program, Care Resources offers an 11-discipline model of care to participants.
But, like many other businesses, delivering those services has been made more difficult by the COVID-19 crisis. Under Michigan's stay-at-home orders, Care Resources couldn't open its Day Center, so they developed a more home-based approach to taking care of participants.
Care Resources staffers are bringing meals and goody-bags (that contain crafts and puzzles) and are providing weekly calls to participants to help with social isolation. Staffers are doing virtual visits as necessary and, when medically necessary, will bring the participant into the clinic to see the team of Health Care Providers.
Care Resources PACE is also increasing communication and socialization through Facebook, posting an exercise video and a craft, and various other communications. Efforts have even included a drive-by parade to let participants know that "we are still here for them and miss them dearly," officials said.
Asked what motivates Care Resources PACE to be part of the solution, the company's answer was easy: their participants.
"Our participants are among the most vulnerable population and keeping them safe is our top priority," intake/outreach supervisor Veronica Horsley-Pettigrew said. "We are constantly coming up with new ideas of how to help with social isolation and being able to care for them in new ways. We all have learned a lot in this journey and I'm sure will continue to learn, but when you work as a team for the greater good of your participants, the motivation continues."
The Heat And Warmth Fund
The Heat and Warmth Fund, an independent 501(c)(3) non-profit organization, distributes assistance to vulnerable Michigan residents through 39 agency partners and a series of annual mobile processing events, and continues to see the number of households that need utility assistance grow each year.
Last year THAW distributed more than $15 million in utility assistance to nearly 18,000 Michigan households. Since its inception in 1985, THAW has distributed over $190 million in assistance to more than 256,000 Michigan households.
As the COVID-19 crisis continued to spread, THAW continued with its regular programming to support Michigan families, while recognizing that frontline workers are putting themselves at risk and offering a message of support.
Among its COVID-19 efforts, THAW:
Launched a dedicated utility relief program for essential workers that began on April 22, 2020. In just a short window, essential workers have been reaching out for support, showing there "was an absolute need," THAW officials sad.
Started its Front Line Energy Program to help those individuals and families by providing utility assistance. Essential workers across the state of Michigan with household incomes up to 250% of the Federal Poverty Level guidelines may qualify for up to $500 in utility assistance per household.
"While many of these workers make too much to qualify for traditional assistance programs, such as the Michigan Energy Assistance Program, they may not earn enough to bridge the gap between their monthly income and the basic cost of living," said Raina Baker, THAW's marketing and communications manager.
The biggest challenge for THAW, Baker said, has been not being able to support clients in person. "With everything being virtual, we're working on creative ways to stay connected and let clients, donors, and our community know that we are still working and doing the best we can to support Michiganders," she said.
There's a lot of uncertainty around this crisis but one thing is for sure, Baker said, "we are stronger working together than apart."
"This is an opportunity to take our work of compassion a step further and honor the service and humanity of essential workers," Baker said. "Now, more than ever, residents need organizations to be rooted in community and to support them by providing resources. The last thing we want people who are helping to keep Michigan going to worry about is utility bills. That's why we're stepping in to help."
MessageMakers
For more than 42 years, Lansing-based MessageMakers has delivered marketing and communications services for a diverse clientele nationally and in more than 38 international markets. MessageMakers designs, develops and produces programs that bring corporate, brand and organization messages to life.
In the age of COVID-19, both MessageMakers and their clients have been forced to reevaluate nearly every aspect of their video and event production. In response, the MessageMakers team quickly pivoted its resources to focus on live streaming, remote production and creative contingency planning.
In doing so, MessageMakers has:
Offered free webinars to help others understand and begin to use live video and remote production to safely engage their communities.
Supported existing clients like Gud Marketing with helping the Michigan Census to continue their message of Being Counted, due to its extreme importance in funding for local communities and essential services.
Turned their homes into mini-studios to help local clients get PPE to market and helped another client set up an audio recording studio made out of pillows so that their CEO could offer words of encouragement to Michigan's farmers.
Worked with MSU's Department of Supply Chain Management to bring their graduate seminars online and then helped their undergrads celebrate graduation with a remotely produced commencement video.
When COVID-19 hit, MessageMakers' video and event production took a direct hit and the company had to quickly figure out ways to still do that remotely from their homes.
"As the world has shifted around us and demanded social distance, we all have felt very grateful to be in a position to help keep our clients and communities connected, safe and strong," COO Tina Miller said. "We celebrate their victories like they are our own and, as simple as it sounds, we want to help.
"We stay motivated as a team with weekly virtual get-togethers to share our personal and professional good news. We incorporated supporting local businesses with our virtual team gatherings. From Zoom pizza parties using e-gift cards to Google Hangout coffee breaks with local coffee grounds and an MM mug being sent to each, and using local gift cards as a reward for our virtual Bingo and Scavenger Hunts."
Fleece & Thank You
While pursuing a career in soccer in Australia, Nicholas Kristock met a 4-year-old girl named Sophie who was battling neuroblastoma. Instead of playing and meeting new friends, Sophie was traveling back and forth to the hospital to battle the cancer.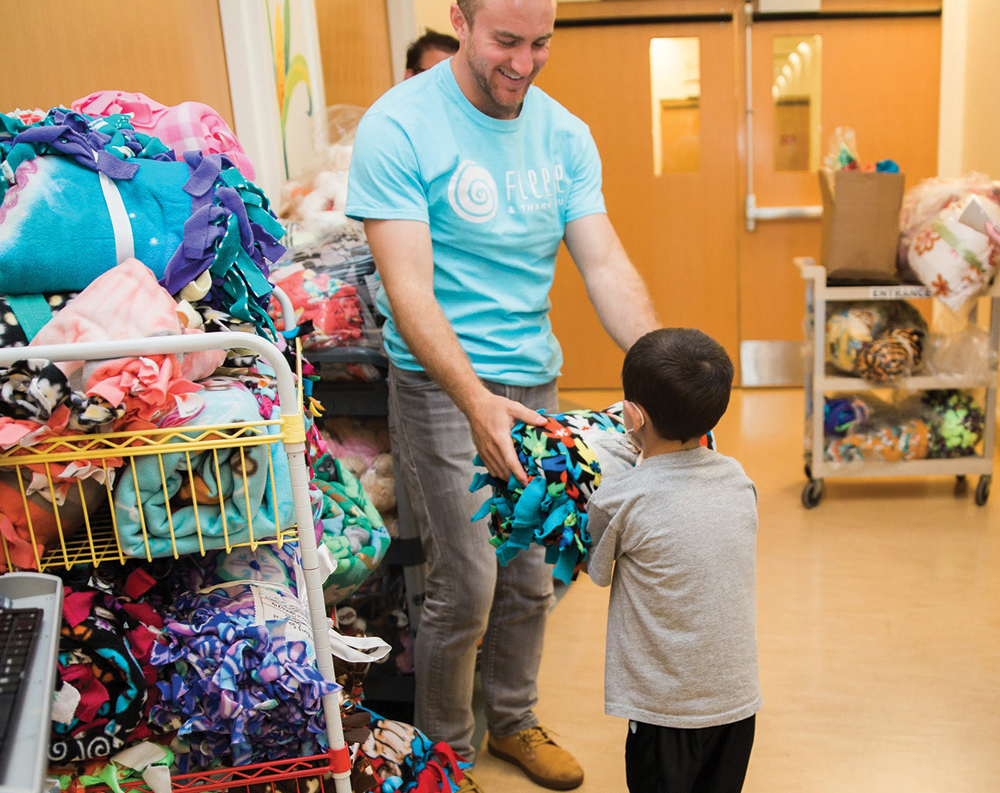 Working daily with kids like Sophie weighed heavy on Kristock's heart and, in 2015, he founded Fleece & Thank You, a Michigan-based nonprofit dedicated to providing connection, comfort and hope to children facing illness and the families supporting them.
Fleece's signature program is its blanket-making event, 400 of which they host every year to help achieve the goal of making 30,000 fleece blankets, one blanket for every child in Michigan who goes into the hospital for inpatient treatments.
Because of the COVID-19 pandemic, Fleece & Thank You has made two noteworthy shifts in its model. First, it repurposed its video technology to be able to send video messages of support to healthcare workers across the country. Second, Fleece increased its sanitation standards and just finished a successful fundraising round for hospital-grade washing and drying machines.
"By repurposing our video technology, we have given the community the ability to connect digitally with healthcare workers battling this on the frontlines," Kristock said. "We have seen tremendous support from this idea, initially started by Brooke Sines."
As it is with many businesses, Fleece's biggest challenge has been not being able to gather in large groups, which most of its events were.
"We have become known as the large volunteer event charity and we are working on redefining ourselves during this time of change," Kristock said. "We have seen initial success in pivoting to our virtual models of shipping kits to homes and groups to be made in their own safe places and shipped back to us, to go through a quality control process."
Christensen Law
The folks at Christensen Law, a Southfield-based personal injury law firm specializing in helping victims of automobile and truck accidents, not only got into the spirit of helping during the COVID-19 crisis, but they sparked competitive involvement from another firm that resulted in frontline workers at local hospitals having food to eat.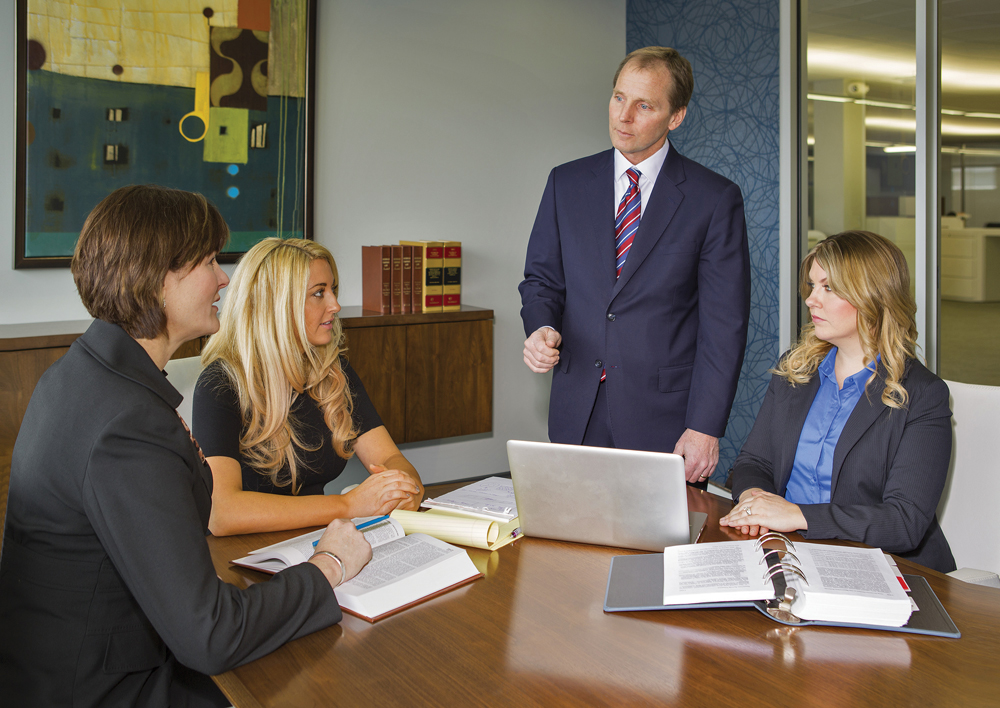 Christensen, which represents people who have been harmed in car, truck, motorcycle, bicycle, boat and pedestrian accidents, took on a pair of initiatives as the coronavirus spread.
First, Christensen donated 300 lunches from local Michigan food providers to frontline workers at Beaumont Health in Royal Oak. Founder Dave Christensen followed that effort by challenging another firm, Sam Ball and her team at Disability Attorneys of Michigan, to follow the example.
Ball's firm responded by donating meals to St. John Macomb Hospital and the Warren Police Department, and then challenged Joe Suhre at Suhre & Associations to take up the challenge.
Meanwhile, Christensen managing partner Sarah Stempky-Kime, a parent of three young children, spent hours researching and putting together a guide of resources for Michigan families, including educational activities for children, health and wellness resources, dining options, government assistance and much more.
Christensen then provided this useful guide on its website and through its social media sites to families across the state.
The big challenge for Christensen and its 17-member staff has been doing most of it virtually.
"Our team has strong personal relationships with our clients, so we miss the face to face interaction with them," founder David Christensen said.
"We also have continued to let people know that if they have a potential personal injury case, they can reach out to us with their questions.
"Since our founding, we have actively supported many causes through organizations that serve the disabled, student athletes and more," Christensen added. "We are the originator of the Safe Ride Home program, which has provided reimbursements for rideshares or taxis to hundreds of Metro Detroit drivers on some of the biggest bar nights of the year."
Focus: Hope
Detroit-based Focus: Hope was founded in 1968 to unite the community at a critical time.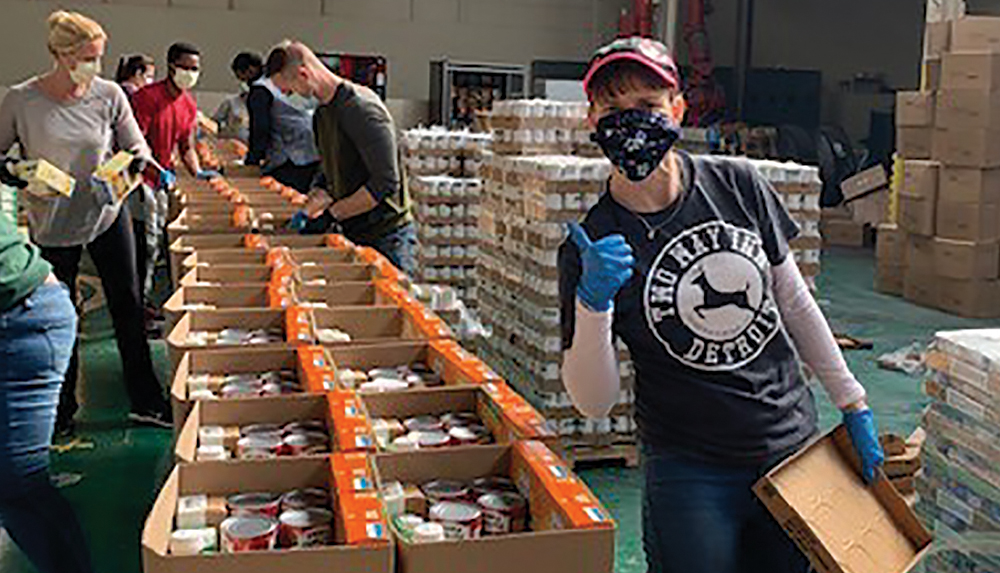 More than half-a-century later, it gets the chance to do it again.
Focus: HOPE, a nationally renowned civil and human rights organization, was founded by Father William Cunningham and Eleanor Josaitis and provides an intergenerational, holistic mix of services to disrupt the effects of racism, poverty and other forms of social injustice in southeast Michigan.
The core programming supporting its mission consists of Early Learning, Youth Development, Workforce Development, and Food for Seniors initiatives, all supported by an overarching focus on Advocacy, Equity, and Community Empowerment. Focus: HOPE is honored to support over 42,000 Southeast Michigan residents each month across all program areas.
Focus: HOPE programming has evolved due to the crisis, but it's still serving more than 42,000 community members every month.
The Food for Seniors program has shifted to a contactless pickup system — staff place food boxes directly into seniors' cars. They're also making more home deliveries, so seniors can stay safe at home.
Early learning students are receiving virtual home visits to make sure they and their families are getting the support they need (including food and diapers), and teachers are sharing educational content students can work on at home.
Workforce development training has moved online too. Some classes have been able to transition to fully online instruction and all students have access to e-learning resources and virtual support.
Other Focus: HOPE initiatives include manufacturing face shields and masks through its 3D printing capabilities; distributing cash payments to support local families' economic stability; equipping IT graduates to assist companies adjusting to remote work; and assisting community members navigating the unemployment process.
"Focus: HOPE is committed to using our assets and abilities to support our community's current needs," said CEO Portia Roberson.
Salvation Army Farmington Hills Corps Community Center
The Salvation Army Farmington Hills Corps Community Center, part of the international Salvation Army church, is a social service organization whose mission it is to meet human needs in Jesus' name without discrimination.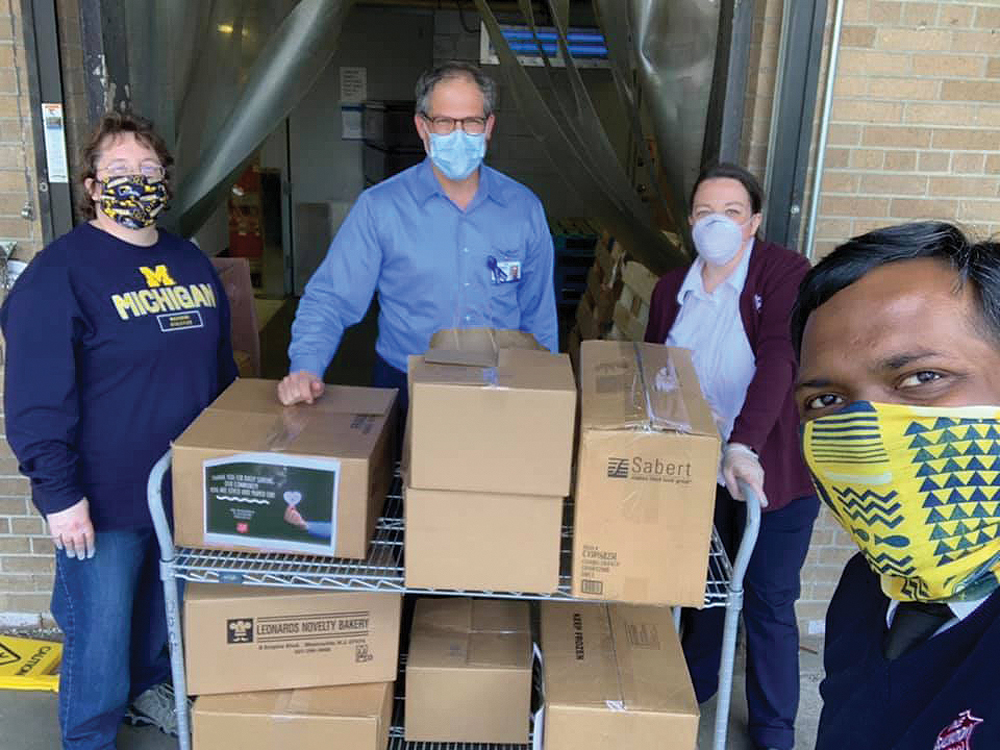 The center accomplishes that mission in Farmington Hills in a variety of ways, including a food pantry, utility and rental assistance, and youth programming/scouting programs. The center also hosts a monthly senior luncheon to engage local seniors and a monthly multicultural event for the community, as well.
So it comes as no surprise that the center would shift its COVID-19 focus by serving people affected by the crisis. The center started a drive-through food pantry and a weekly drive-through grab-and-go dinner. They also distributed over 1,500 food boxes, which lasts one week for a family of four, and put together activity boxes for youth to have productive games and activities to do throughout the week.
"People have lost jobs and they are struggling to meet the needs of their families," said Anil Kumar, the center's pastor.
As part of its COVID-19 response, the Salvation Army Farmington Hills Corps Community Center delivered 250 individually packed dinners to Beaumont Hospital in Farmington Hills. The hospital staff were served chili, baked potato soup, and salad.
"Staff and volunteers wanted to make sure to thank the hospital staff for serving the community daily," Kumar said. "It is a blessing to have served the heroes of Beaumont Hospital who have been working hard during this pandemic."
The biggest challenge for the center has been finding resources for young people. The center isn't currently accepting used supplies because of coronavirus, forcing them to only buy new supplies. Of course, the center needs more financial support to meet these needs right now.
Additionally, working with six staff to serve an entire community is difficult.
"Our mission statement motivates us," Kumar said. "In this time of social distancing, we want to provide hope and comfort to our neighbors. Just as we are helping people through difficult financial times, we are here to alleviate isolation and despair as well. We are here to meet the needs of the community and to be a beacon of light."
Project Healthy Community
Project Healthy Community is a health and wellness nonprofit with the bold mission of promoting the well-being of persons of all ages within communities in need.
And in the age of the coronavirus, West Bloomfield-based Project Healthy Community, with two full-time and 10 contracted employees, is responding to the COVID-19 pandemic by focusing its efforts on the following core programs:
• An expanded Mobile Food Pantry, serving seniors and families with children.
• Unique pantry providing personal hygiene and household supplies (H2 Pack)
• An SOS Fund for families in financial crisis at PHC partner schools.
• PHC's Family Wellness Center, providing care for community members at no cost.
• A 2,500-square-foot urban garden at the NWAC to supplement their food programs.
In an eight-week period, PHC distributed food and supplies to over 2,000 families, committed to disbursing $40,000 in SOS emergent funds to families at partner schools and, most likely, will extend the support and funding. PHC's H2 packs will supplement its monthly food program for 300 families for at least the next six months and PHC will be supplementing this same H2 pack at the food pantry of partner organizations Temple Israel in West Bloomfield and Harford Memorial Baptist Church in Northwest Detroit.
PHC will also be launching it at partner schools Renaissance High, MacDowell Prep Academy, Schulze and Pasteur.
PHC put together a "very successful fundraising campaign" and continue to promote what they are doing to build more financial support.
"Spreading the word of who we are is always difficult," said Karen Rubenfire, PHC's chief operating officer. "Our stories are so moving and newsworthy. We have the respect and trust of the community that we serve. We knew we had the tools and resources to move quickly with this "Detroit Crisis" and had to be that vehicle, the driving force to help those in need."
The Hispanic Center of Western Michigan
Since the outbreak of the coronavirus in Michigan, the Hispanic Center of Western Michigan likes to say it has "not changed course, just location," having moved its services digitally.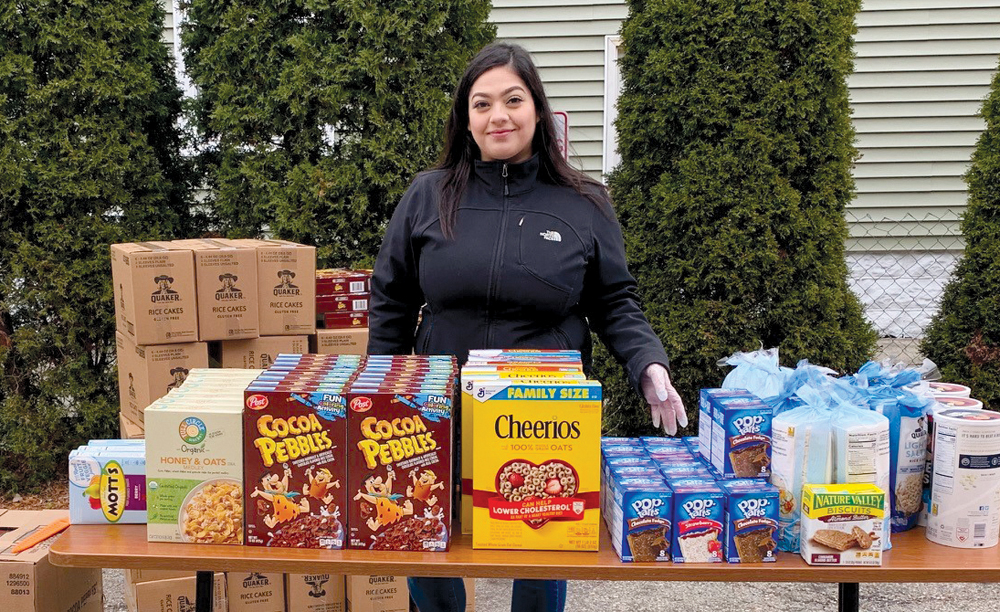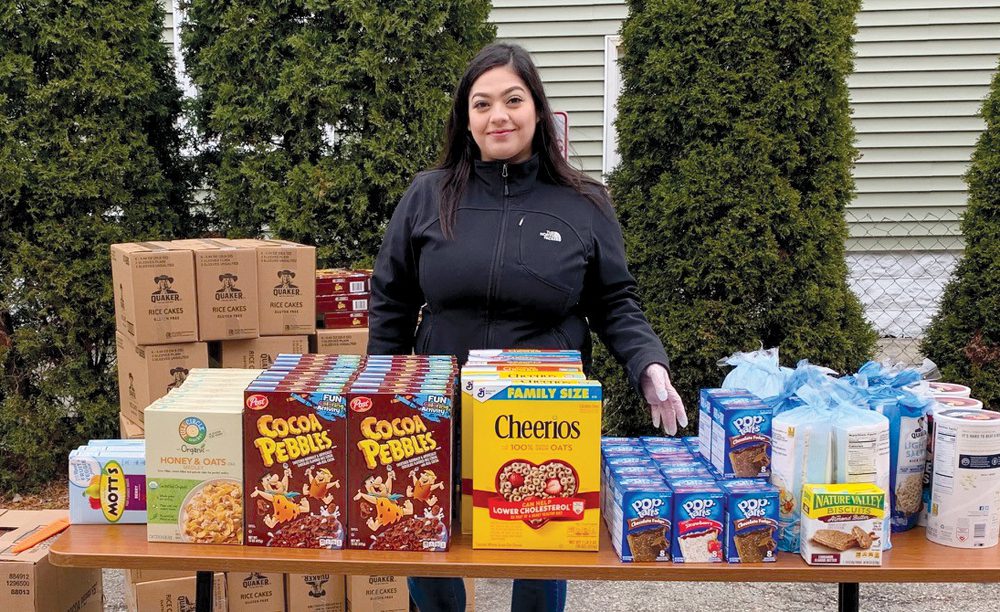 Located in the heart of Roosevelt Park, the largest Latino neighborhood in Grand Rapids, the Hispanic Center directly serves more than 10,000 individuals annually. The center doesn't limit itself to Grand Rapids, but seeks to address the needs of Latinos in West Michigan.
During the COVID-19 crisis, center officials say they've seen the needs of the community grow with unemployment, lack of nutritional stability, lack of health care and housing instability. The center has been able to provide thousands of families with nutritional support during this unprecedented time, most currently by providing 25-pound food support boxes to community members four days a week.
The center has opened its doors to all communities and has worked to make sure there is language accessibility for all. The Language Services department has done "an amazing job" in communicating the needs of monolingual communities of Kent County, officials said, and assisting with translation of documents and interpretation of videos and PSAs for the communities at large.
The center has also been highly engaged in the efforts of La Lucha Fund. As the COVID-19 crisis began to unfold, activists across the country began to organize to support vulnerable members of their communities. Many groups, including the Grand Rapids Area Mutual Aid Network (GRAMAN) and Movimiento Cosecha, rapidly created processes for the collection and distribution of cash assistance to individuals, relying on the power of neighbors supporting neighbors to meet needs as they arose.
In Grand Rapids, leaders of the Hispanic Center of Western Michigan, the Latino Community Coalition, the Latina Network of West Michigan, the West Michigan Hispanic Chamber of Commerce, and the West Michigan Latino Network (which together form LatinxGR) immediately began conversations about how to ensure that the needs of members of the undocumented community, who do not qualify for unemployment, CARES Act stimulus checks, or other government support, were not forgotten.
"Each day, as we distribute food, hear the needs of persons, or engage in the work of resource navigation, we see that the supports are not enough for all of the persons that seek support," said Adnoris Torres, the center's executive director. "This makes the work that much more engaging, while at the same time causing us a great deal of daily heartache.
"We walk alongside individuals, break down barriers that keep them and their families from having access to community resources and needs such as health, food, transportation, and shelter," Torres added. "We assist our community clients with navigating processes and systems to find and acquire the support needed to become self-sufficient, independent, and become an active member of the community. We do this because we want our community to thrive and grow."
Downtown Boxing Gym
At the start of 2020, Downtown Boxing Gym, founded in 2007 as a free, after-school academic and athletic program serving 150 boys and girls, ages 8-18, was poised for unprecedented growth. The nonprofit is in its fifth year of a five-year plan to expand and serve 250 students.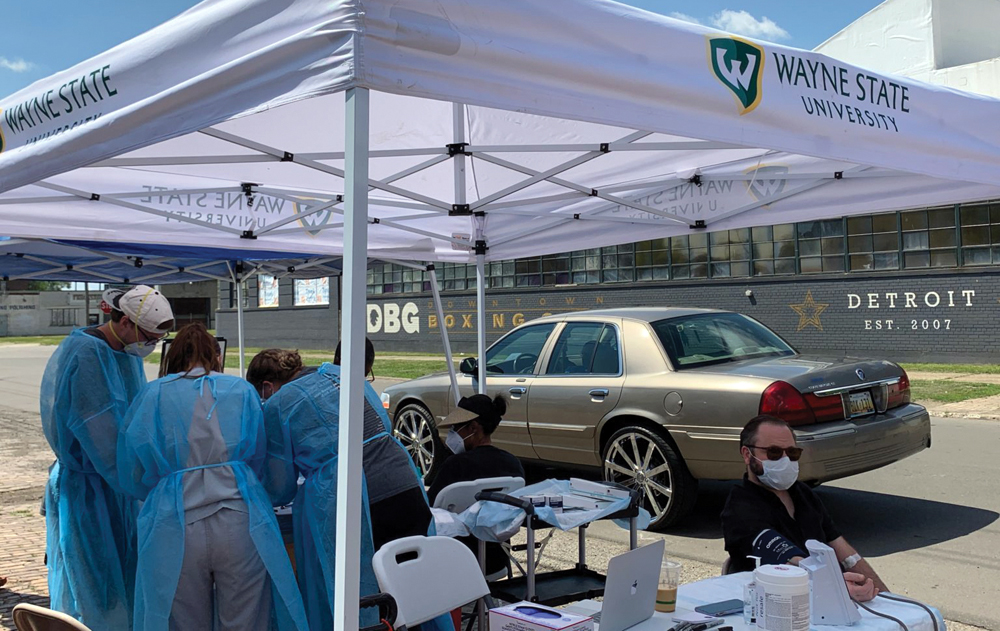 Enter COVID-19 and a dizzying domino-effect of school closings, job losses, economic turmoil, and the need for social distancing, emergency food, and online learning, with no advance warning and no time to plan.
"Many of our donors have fallen on hard times because of the pandemic … they no longer have the ability to support us the way they normally would," said DBG's Executive Director Jessica Hauser.
As donations started dropping, the community's needs and DBG's expenses immediately increased. Many of the gym's families were already on the verge of barely making ends meet before COVID-19. Parents started getting layoff notices. There was a sudden need for emergency food and paper goods and cleaning supplies and academic packets and laptops and internet access for the students. So, DBG did what any good fighter would do: pivot and keep on swinging.
"We have to continue the work we started," founder Khali Sweeney said. "We started out educating the kids in our community, making sure they have a safe place to go, food, and all the things that they need. Just because it's a crisis, that doesn't mean we stop doing what we have to do — the need is still there. DBG is always about what we can do to help the people around us."
Not only did DBG not "stop," the boxing gym moved its entire academic and athletic program online within a matter of days, providing daily tutoring and workouts for students via Zoom. DBG also immediately put its drivers and fleet of vans to work supporting entire families and the larger community.
Each week, six DBG vans that would normally transport students now carry care packages, hygiene products, cleaning supplies, academic resources and athletic equipment to 81 different homes and more than 350 individuals. In addition, DBG has partnered with United Way for Southeastern Michigan to deliver thousands of gallons of hand sanitizer and tens of thousands of masks to nonprofit organizations across SE Michigan. The vans are also delivering food and supplies to homebound seniors across Wayne County.
Getting it done has brought many challenges, Sweeney said, including:
Converting a 100% in-person program into a 100% virtual program almost overnight.
Determining the needs of students, families and the larger community and then working out the logistics of sourcing, gathering, packing and delivering food and supplies each week, while also taking all of the necessary health and safety precautions needed to keep drivers, staff members and volunteers safe.
Launching an emergency fundraising campaign to meet the increased needs of students, families and the community in real time, while meeting those needs (which it was not possible to budget for or anticipate ahead of time).
Nurturing students and future leaders and ensuring they do not fall behind in their schoolwork while school is suddenly not in session for more than half a year.
"DBG is not just about itself; the Downtown Boxing Gym is always about what we can do to help the people around us," Sweeney said. "We are all one community. At DBG, we train kids for life. Every successful child becomes a productive member of society. That is all the motivation we need."
TusStar Ann Arbor
TusStar, an incubator and early-stage investment firm started from Tsinghua University in Beijing, was born to fulfill the function of growing promising technology companies and is the core part of Tsinghua University Science Park. TusStar Ann Arbor not only helps innovative companies go to the Chinese market, but also helps Chinese high tech firms to go overseas.
That liaison started paying off in a different way once the coronavirus made its way to Michigan. In the beginning, TusStar President Frank Ni said he "was shocked by" the news every day, how bad the situation in Wuhan hospitals was, and how contagious the virus was.
Ni volunteered to help the Michigan Chinese American Coalition procure PPEs, such as N95 masks and coveralls, to send to Chinese hospitals. Then in March, the situation changed dramatically in the U.S. Ni found one nano-technology firm, Neatrition, that developed a new type of N95 mask that features a bacteriostatic and superior droplet repelling top surface. Ni decided to play as the initial importer for the product in the U.S. market.
The product includes KN95 masks and anti-fog glass cloths. For every 10 masks TusStar one market sold, one mask was donated to Henry Ford Hospital. TusStar also donated 200 anti-fog glass cloths to the hospital, since the cloths has been very useful to keep goggles from fog in Wuhan.
"The innovation is beyond the borders of countries and I highly appreciate the collaborative atmosphere in the Ann Arbor startup community," Ni said. "In the pandemic, I do think we Americans should be more humble and open. There is quite some lesson can be learned from other countries, such as wearing masks. I am always optimistic and try to find business opportunities in a turmoil environment."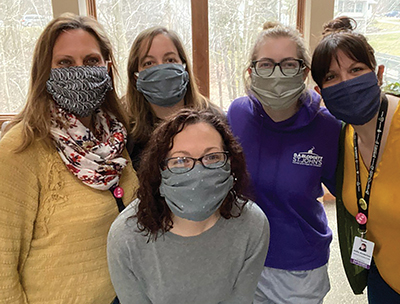 D.A. Blodgett – St. John's
Last year, D.A. Blodgett – St. John's, a Grand Rapids-based nonprofit agency providing comprehensive services to children and families, served 11,436 kids and families, the majority in Kent County.
Blodgett-St. John's services include foster care, adoption, family preservation, and children's residential treatment, helping children and empowering families by providing safety, advocacy, and support.
"We envision a future where there is a safe, nurturing home for every child, and a supportive community for every family," said President/CEO Jim Paparella.
Obviously, that got tougher to do during the COVID-19 crisis. Since D.A. Blodgett-St. John's resident services staff are essential and on the front lines working with vulnerable youth, they had to continue their work making sure the kids who live on the residential campus were safe, healthy, and getting the therapeutic and clinical support that they need.

Blodgett-St. John's foster care and adoption workers have stayed connected with their children and families, as well. They're making an effort to keep children connected with their biological or adoptive families by hosting visits over Zoom, FaceTime, or TeleHealth. As needed and when urgent, staffers continue to visit homes and engage children and families.

Blodgett-St. John's Family Preservation Services division is utilizing new technology to stay connected, and provide services. They are checking in with families more frequently, and coordinating with other providers in the community to ensure their needs are being met.
"We've been lucky enough to receive support from so many wonderful people in our community during this difficult time, so that we can continue providing services for those who need it most, now more than ever," Pararella said.
It hasn't been easy, especially considering the financial impact of the pandemic.
One of the "biggest challenges that our organization has faced" is the financial impact of having to cancel, reschedule, or reformat many annual fundraising events, Paparell said. D.A. Blodgett-St. John's had to reschedule its Bowl for Kids event, and its Derby Day Charity Euchre Tournament, and is reformatting upcoming events.
Paparella said D.A. Blodgett-St. John's anticipates at least a $100,000 donation shortfall because of the changes. The money raised at these events helps provide the essential services the nonprofit provides to kids and families.
"The children we serve are our future," Paparella said. "We must do everything we can to make sure they are safe, valued, and feel that they belong. That's why we continue providing services during this pandemic. The children and families that we serve need us now more than ever."