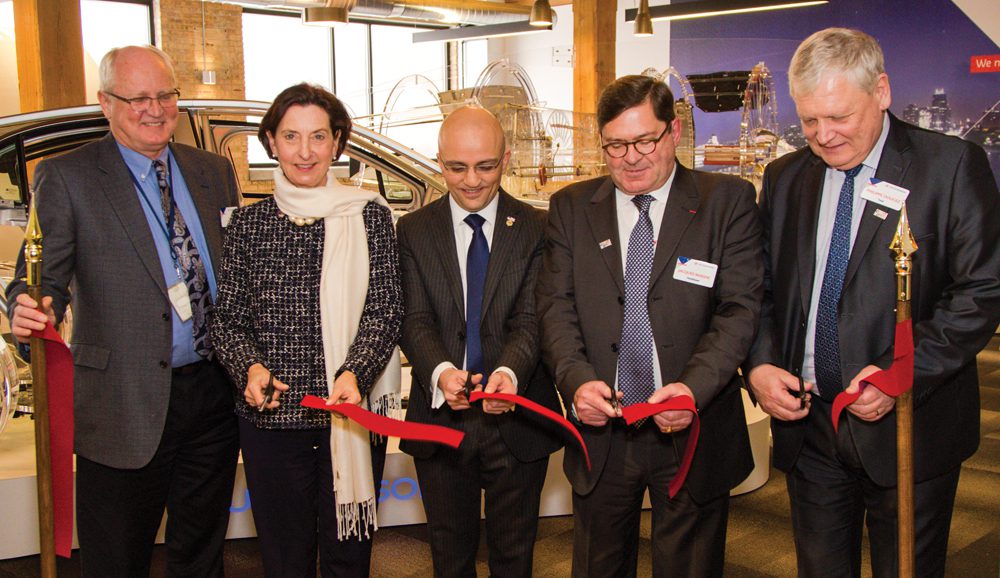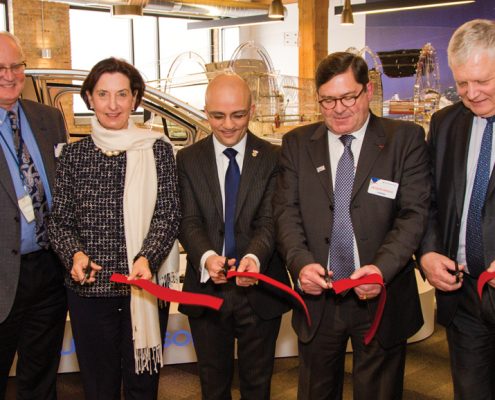 At the new Hutchinson Innovation Center in Grand Rapids, its first in North America, customers, colleagues and collaborators can peer inside an acrylic jet engine and see the components made by Hutchinson. They can watch prototypes and plans on a 12-by-five foot video wall made of Christie MicroTiles and brainstorm using a full wall, custom interactive light board made of architectural glass panels edge-lit with LED.
They can tour active labs and experience the whisper-quiet effect of Hutchinson-made acoustic insulation for jets and helicopters in a simulator and conference with folks in Paris, Suzhou, China, and other Hutchinson offices worldwide.
These are some of the technological innovations that bring presentations, conversations and products literally to life. This is the new world of product showcasing, an effort to bring together global divisions and partners, customer groups and trade tours, and share what one company is doing for the benefit of everyone.
Unveiled early this year with a grand opening celebration, Hutchinson's North American Innovation Center is a strategic step in this global company's goal of expanding, serving and, frankly, innovating in a way that pushes the definition of what is currently known in business circles.
To build an innovation center is one thing; to locate it in Grand Rapids, Mich., is another, a strategic step in a city on the rise, where a company like Hutchinson can rapidly emerge as a major player on the global scene.
In a recent report, Forbes ranked Grand Rapids number 18 among U.S. cities most likely to prosper in the next few decades. The iconic business magazine looked at the 53 largest metropolitan statistical areas and ranked them on social, educational and economic factors including birth rate, migration and job growth, and identified Grand Rapids in the top tier. In comparison, Detroit came in as number 31.
Grand Rapids is a city devoted to its upward trajectory. It was also the site of Hutchinson's first U.S. location; the company had been there for 30 years, when it purchased Corduroy Rubber Co. The 13,400-square-foot Innovation Center is known as 616 Fab House and occupies the renovated third floor of Hutchinson's 30-acre campus at 460 Fuller Avenue.
"We've always had very good support from the city," says Cedric Duclos, Hutchinson North America president and CEO. "You want to be in a [place] where you feel like you are wanted. This positive economic context is important."
Grand Rapids Mayor Rosalynn Bliss echoes that sentiment.
"Hutchinson's innovation and dedication to advancing research and development are exactly what the city of Grand Rapids needs to be a leader in this country," Bliss says. "Everyone needs to be at the table – and be an active participant – for economic development to occur in a sustainable manner.
"Business breeds business, and business breeds vibrancy and empowerment," she adds. "This ripple effect of opportunity ripples across a community. Economic development done right [has] an emphasis on community, collaboration, inclusion, opportunity and empowerment."
Grand Rapids is big on workforce development initiatives like the city's Great Housing Strategies, which offers incentives for employer-assisted housing and live-work spaces, among other ideas. Plus, the lower cost of living on the west side of the state versus southeast Michigan offers more bang for the business buck, attracting companies to innovate in creative ways, much like Hutchinson is doing.
Hutchinson's life story
In 1853 Hiram Hutchinson opened his first plant in France, making rubber cover cloth for a wide range of applications. The company's products have been important ingredients in some of the momentous inventions of history. Several dirigibles used for reconnaissance by the French Army were made of Hutchinson cloth. So were the wings of Nieuport planes used by l'Escadrille Lafayette, the first American volunteer aviators who fought alongside the French Army before and after the United States entered World War I.
As the company grew, it remained committed to its rubbery roots while expanding to how it's known today, as a system developer and material science specialist. The majority of its products are made of rubber, in addition to component material, structural plastics and more.
The global company reported 2015 revenues of 3.5 billion Euros, operating in 100 sites worldwide in 23 countries and employing some 35,000 people.
Hutchinson is a supplier to most automakers (its most robust sector), the company also serves oil and gas, aerospace, defense and industry.
Innovation is clearly central to the company's character, it having created fire protective products for the aerospace industry, as well as rubber and glass encapsulation for cars, and the standard hydraulic engine mount to name just a few.
In Grand Rapids, Hutchinson occupies an industrial site with six interconnected buildings. This Innovation Center is not the company's first; its precursor, 507 Fab House, is in the company's Montargis headquarters in France, which was constructed by the legendary Gustave Eiffel on the exact historic site where Hiram Hutchinson started the company in 1853, a 90-minute drive southwest of Paris.
In addition to being committed to its 30-year relationship with the city of Grand Rapids, the company chose to locate its second Innovation Center in Grand Rapids due to its central location to major clients and vendors.
Collaboration and trust
The key difference between creativity and innovation is execution, according to a 2013 Harvard Business Review article titled "The Five Characteristics of Successful Innovators."
But more than that, innovative companies must support the individual, and their team, in taking the risk to innovate. Innovation expert Jeffrey Baumgartner wrote, in an article on the seven essential traits of innovative companies, that "an environment of trust" is one of those core tenets behind organizational innovation.
The person and their team must be supported by a culture of innovation, and encouraged by leaders who allow failure as an option and risk as a key detail in day-to-day operations.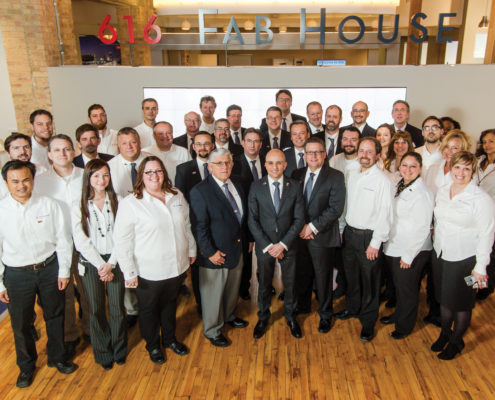 Hutchinson's North American Innovation Center occupies a former industrial work space in a building that dates back more than a century. Original wood floors were kept, sanded but still showing the impressions of tools that dropped and hit the planks during various manufacturing processes, giving the space a true sense of history.
Before this, the space served as a storage area. Construction took a quick eight months, led by Pinnacle Construction and R.O.I. Design. There remains 10,000 square feet of unused space on the third floor, with intentions for future expansion.
The new space includes a mix of meeting rooms, videoconferencing technology, product and robotic displays, and banquet facilities. Some of the highlights are its interactive product showroom and its fabrication lab and 3D printer center.
Employing 300 people, the Grand Rapids Hutchinson campus focuses on developing, engineering and manufacturing NVH (Noise/Vibration/Harshness) systems for the automotive industry. 616 Fab House is intended to serve all five of Hutchinson's global divisions.
A lot of players had a hand in making this center into a reality, says Chuck Aman, NVH lab manager. Hutchinson partnered with Custer, Inc. on technical, using LG, Samsung and Christie products; Modern Office Interiors and Steelcase blend old and new in the space, showing what is possible in modern business environments.
This collaboration between local companies to build a center of innovation was an essential process for the center to contain a culture of creativity, say Vette and Aman. The project was guided by an unspoken universal truth that the more narrowly you focus your story, the more local you make something, the more widely applicable its message.
West Michigan musing
Grand Rapids is uniquely positioned to support Hutchinson's new Innovation Center – and invites other companies to follow suit, says Mayor Bliss.
She's proud that Hutchinson not only has a decades-long connection to the second largest city in the state; moves like this she says keep Grand Rapids in the public eye as a home for development and growth.
Larger cities seem like the natural place to locate a big company. But slightly smaller cities – with vibrant local cultures and verdant entrepreneurship – are even better locales for innovation. Grand Rapids is a rising star on the nation's destination list, the who-knew-it-was-so-cool locale where hard-working, kind people see endless possibility.
In a place like that, which is also home to what Bliss says is one of the strongest economies in the nation, a skilled workforce and a business-friendly environment, a company can't help but succeed.
Grand Rapids is home to 22 colleges and universities, all of which combine to help build a robust talent pool. Bliss says it's the place you never thought you'd go but are so glad you did. "Most often, innovation is as simple as finding the place that supports forward-thinking and provides the talented workforce to get it done."
Hutchinson's Innovation Center is likely to set up a domino effect of innovation throughout the region, says Bliss. "When one business sets up shop or expands and succeeds, it creates an environment for other businesses to flourish. Business brings economic development to the community – and that success means greater wealth and empowerment for workers and neighborhoods."
Like Grand Rapids, other communities need to be committed to retaining and fostering employment opportunities, she adds. "This can be done by continuously looking for ways to strengthen the business environment and encourage sustainable business development. In Grand Rapids, we do this by facilitating greater levels of economic prosperity through innovation, collaboration and the linking and leveraging of resources."
In short, she's "very proud" to have a long-term commitment from a forward-thinking company like Hutchinson invest in the city. "We welcome this new and exciting chapter in the company's 30-year history here in Grand Rapids, and we look forward to continuing our strong partnership with Hutchinson."
Innovation requires open eyes
Most employees of large, multinational corporations have little to no understanding of what goes on company-wide. By virtue of job focus, they stick to what they know, the job in front of them, the tasks assigned to their division. Hutchinson is no different.
In fact, says Aman, who oversaw the day-to-day construction of the new Innovation Center, this development "allows you to have a big picture understanding of our individual segments, and be able to draw from our knowledge of each other and share resources, to move forward together."
A great example of that is a lab that has started doing additional testing for other product lines that may not otherwise have come to mind, says Aman. "We're able to share customer vision as well as equipment to make sure the group has a better opportunity to move forward."
Additional growth opportunities are anticipated as groups visit from Europe and elsewhere in North America, says Michele Vette, purchasing manager. "We'll hold customer days here. Going through this, we met a lot of people who said, 'I really didn't know what you guys did. I didn't realize how big you were.'"
Hutchinson is doing what it can to accentuate its diversity of products.
"Typically when companies showcase their products, they just [use] a glass case," Vette says. "Ours is different. We have a mock vehicle, and everything is acrylic, to show our parts sitting in the spot where they would sit in the vehicle."
This is a place with open spaces, the better to bring in the open mind required for innovation, says Duclos. Displays explain all the products, and the engineering behind them, and a robotic room is used to train engineers and demonstrate for customers.
"It's a source of pride for our employees," adds Duclos. "It's important to reward our employees who do a fantastic job on a daily basis."
It's also something of a "permanent tech day" for customers to visit, conduct technical reviews, meet specific needs and put conversations into play.
But more than that, building this center, says Duclos, is "our contribution to the effort of making our state great, and also to attract young talent. It's a great tool to show them who we are and what we can do and the type of careers that are offered, the possibilities with this company."
Building the center also speaks in a way that's culturally significant, says Duclos.
"We're very pragmatic people and we're also oriented toward innovation. We have a global R&D center which focuses on advanced research and feeds all the divisions. We have a very strong tool when it comes to research and development and innovation, that allows us to be very fast to develop new products. The fact that you are supported that much, when it comes to making things happen, is really a strong motivator for a lot of people, including myself."