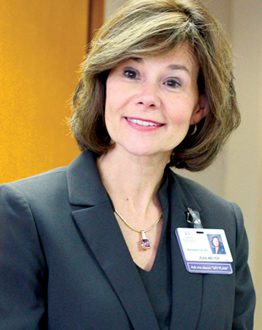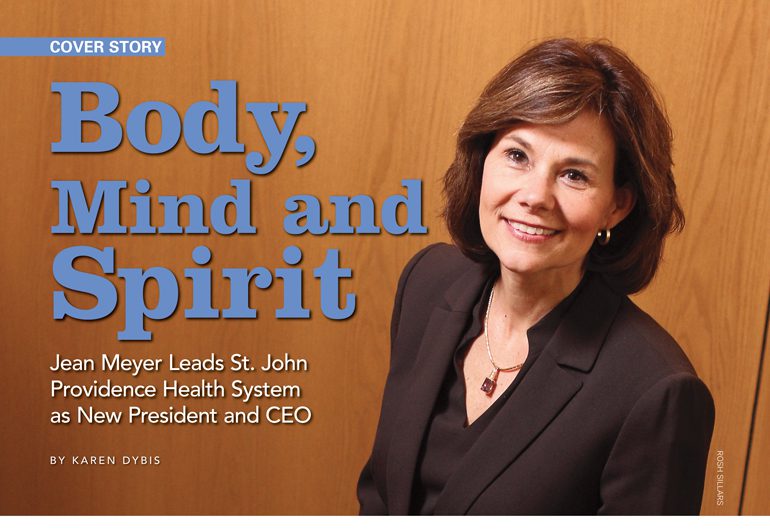 Jean Meyer, the new president and CEO of St. John Providence Health System, is many things: She is the head of one of Michigan's largest health systems. She is the leader of more than 17,000 associates ranging from award-winning doctors to life-saving researchers to clinicians on call 24/7. In many ways, she sets the tone for the health system's future.
But despite her impressive title, she still is that oncology nurse that held patients' hands as they lay dying. She is that hospital worker that has seen health care shift from a calling to a business. She is that employee in the trenches, hoping her words and actions can boost morale at a time when things feel the bleakest.
In her first sit-down interview since becoming the public face of St. John Providence, Meyer talked about her passion for working within a faith-based hospital setting, her affinity for the staff and mission of her health system, her concerns for the future of care in the United States and her personal inspiration for how she will shape her job going forward.
Her new position gives her the ability to focus on issues that she believes will be significant to St. John Providence Health System and health care in general. The Affordable Health Act. Workplace-wellness programs. And, most importantly in many ways, the connection between body, mind and spirit that she believes separates her Catholic facility from others in Michigan.
"For years, I never wanted to do anything but be a clinician. I never wanted to be a manager; I wanted to do what I thought was 'the important work.' But as I was put into leadership positions, I realized you still have a responsibility to your staff and your patients, even in a leadership role," Meyer said.
"Even to this day, I still go into the hospital and talk to patients. It keeps me grounded, being able to be comfortable in a clinical setting. And it gives me credibility among the physicians and the nurses. I've been in those rooms. I know the stresses and their frustrations and the challenges and the rewards you get from that kind of work," Meyer added.
Meyer comes to St. John Providence Health System at time when the industry is in massive transition. As a nation, people and hospitals are trying to understand the impact of the Affordable Health Act. The economy and the shift toward employees paying more for their own health insurance have put people on the fence about elective surgeries and the like. And wellness issues within the workplace in particular have those same people worried about their health and what they could be doing to maintain their weight, stop smoking and a myriad of other things.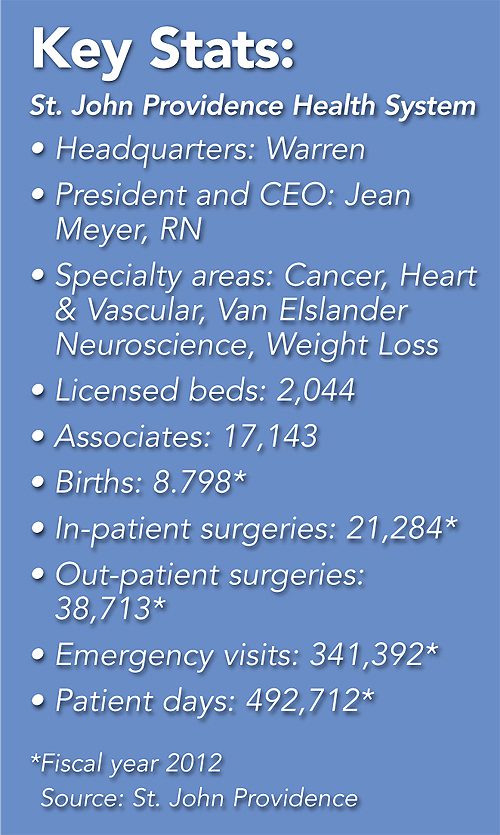 Michigan hospitals, especially those in Metro Detroit, are profitable organizations that are working hard to build modern facilities while battling population declines, fewer in-hospital stays and increased competition among one another, said Allan Baumgarten, an independent research consultant whose work focuses on health care policy, finance and local market strategies.
Baumgarten, author of the annual "Michigan Health Market Review," works with a variety of clients within the health care system to help them analyze the conditions in their area and issues they must address within a challenging industry.
The health system that advertises itself the best may have an advantage in such a marketplace, Baumgarten said. While Michigan hospitals have enjoyed profit margins between 3.4 percent and 3.7 percent over the past three years, the number of in-patient stays has been flat for about five years. Add in the cost of building and remodeling facilities, and hospitals may have to poach patients from the city or the suburbs, depending on location.
"Many hospitals have made significant capital improvements, and St. John Providence is among those on that list," Baumgarten said. "That's good for the construction companies, but it raises a question. How much in-patient capacity is needed given the falling overall population in the area, particularly Wayne County."
St. John Providence Health System is unique because of its commitment to mind, body and, in particular, spirit. Its mission states that as a Catholic health ministry, it is committed to providing "spiritually centered, holistic care which sustains and improves the health of individuals in the communities we serve, with special attention to the poor and vulnerable."
St. John Providence Health System is a member of Ascension Health, a national faith-based health ministry sponsored by the Sisters of St. Joseph of Nazareth, the Daughters of Charity, and the Sisters of St. Joseph of Carondelet. Ascension Health is the largest not-for-profit Catholic Health Ministry in the United States, with acute care facilities in 20 states and the District of Columbia.
Meyer comes into the position with high praise from her peers and friends. Those people who know her best say that Meyer has a rare mix of intelligence, compassion and innate leadership skills that have made her rise in the ranks not only natural but necessary in this day and age.
Meyer will be a leader to watch in Southeast Michigan health care, said Dr. Patricia Maryland, president of Healthcare Operations and Chief Operating Officer at Ascension Health. Meyer replaced Maryland, who took her position with Ascension in 2013.
"I am looking forward to seeing Jean imprint her vision and character on St. John Providence Health System. She brings sharp business acumen and fresh thinking to the role, and she's not afraid to shake things up when it's needed. I think she will be a leader to watch in Southeast Michigan health care," Maryland said.
That sentiment was echoed by Vivian Pickard, president, GM Foundation and GM director, Corporate Relations, who serves on the St. John Providence Health System Board of Trustees.
"I am continually struck by the fact that Jean, as a former oncology nurse, has the wonderful ability to keep a sharp focus on the patient through all of the tough decision making she, and our board, are required to do," Pickard said.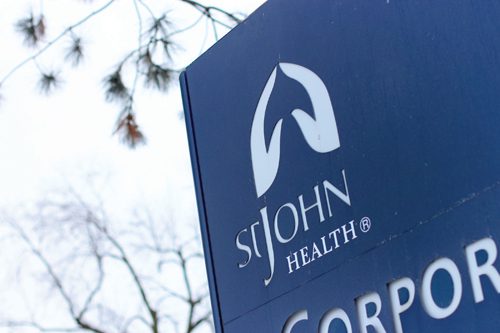 "One of the most impressive things a leader can do on a daily basis is to keep the people around them motivated and focused on the desired results. In my opinion, Jean has this rare ability and it is one of the many ingredients that make her successful," Pickard added. "What I appreciate most about Jean is that she is authentic. Her passion for her industry is ever present. She fights for what she believes in and the result of that is shown through the quality, service and efficiency St. John Providence Health System puts forth on a daily basis. She was the perfect choice for the new CEO."
One of Meyer's long-time associates said he saw her potential from when they worked together in Indianapolis. Meyer's dynamic personality didn't take long to spot, said Michael C. Wiemann, MD, who serves as the senior vice president for St. John Providence Health System and the president of Providence Hospital. Prior to joining St. John Providence, Dr. Wiemann served as the senior vice president and chief medical officer at St. Vincent Hospitals and Health Care Center in Indianapolis.
"At the time, we were both working at St. Vincent in Indianapolis. I was the medical director of oncology program, and Jean was one of the lead nurses in in-patient oncology department. I covered the breast center where they did the mammography. The department was in disarray. Morale was low. It just wasn't functioning well. It needed a new leader," Wiemann said.
"We were in a small group, talking about where to find the right person. Without hesitation, I said we need to put Jean Meyer in charge of this. Some argued she wasn't the right person because she had limited experience with radiology or running a business. I told them that what we needed was leadership. And what we needed was Jean Meyer," he added. "She did a terrific job. … She's dynamic. She's a visionary. She has the ability to pay attention to the details. But at the same time, she can see the big picture."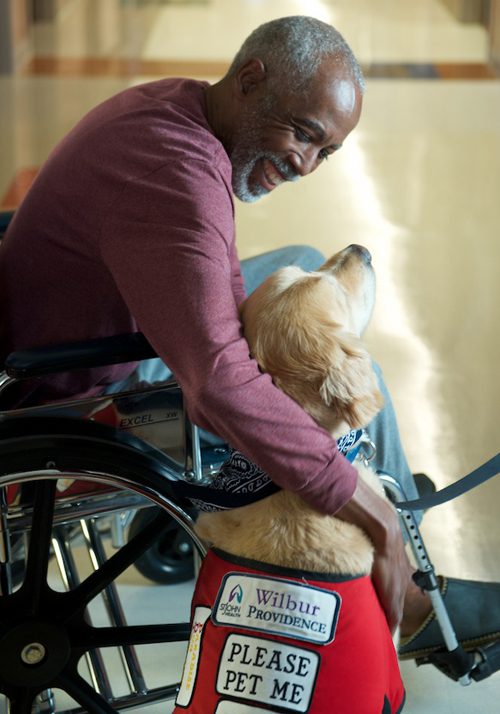 Meyer spent 15 years in various leadership roles at St. Vincent, where she ultimately served as senior vice president and chief nursing officer. Previous to that, she was an oncology clinical nurse specialist in Chicago. She received a bachelor's degree in public health education from the University of Wisconsin in La Crosse. She completed her work for a bachelor's degree in nursing as well as her master's degree from Loyola University of Chicago.
At St. John Providence, Meyer held the position of senior vice president of Patient Care and chief nursing officer, served as president of Acute Care Operations and executive vice president and was the president of Providence Park Hospital from 2008 to 2011.
An ability and desire to teach
Believe it or not, Meyer actually wanted to be a teacher long before she walked into a hospital setting. But it was when she was at the University of Wisconsin that she found nursing offered similar benefits and the ability to teach others along the way.
It was then when she found her calling in oncology.
"At the end of my nursing education, I couldn't decide what kind of nurse to become. I went through my rotations, then I had my oncology rotation," Meyer said. "I had a great experience with a patient who was a very sick man, and I spent all day with him. He never said a word all day long. And at the end of the day, about 3 p.m., I was leaving and I said, 'I'll see you tomorrow.' And he asked me if I would pray with him.
"So I sat down, took his hand and we prayed together. Then, the next day I came back and I saw he had passed on. I checked his chart, and I'll never forget the documentation on his chart said, 'The patient was found without pulse or respiration at 3:10 p.m.,' which was just after I had left," Meyer continued.
"It bothered me for two reasons. One was I was the last person to see him alive. And I wondered, did I say the right thing? Did I do the right things? The impact that you had on someone like that was amazing," Meyer said. "And the fact that he was found alone bothered me. I thought what an opportunity for me – what a connection I could make with patients and really make a difference. In oncology patients, you get to know them. You get to know their families. There's a lot of teaching. So I really found my niche in oncology nursing."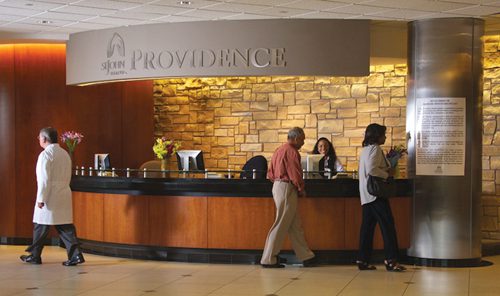 That feeling of compassion was reinforced many times along the way, Meyer said.
"Another part of my nursing career, I was assigned to the unit that took care of teenage kids with leukemia. Nothing will smack you in the face with reality more than a 17- or 18-year-old kid going through life-threatening treatments," Meyer said. "I got to know those kids very well. I remember, one of the moms sent me Christmas cards for 10 years after her son had died because we'd gotten close as people.
"I think it was that experience that made me think, you never know how short life can be. I thought, I'll never get up and dread going to work. Every day was special. Since then, I've never took a job I didn't like. Either I took the job and I liked it and was good at it or I didn't take it. So I never found myself in a career rut because to me life was too short to do that," Meyer said.
Having that time in the field, so to speak, is why Meyer feels she is effective as a leader to her fellow clinicians.
"When you deal with patients, it is a team effort. It's funny, when something happens, you put all your issues aside. You all work together to get that things done. You grow as a team regardless of the specialty.  When you're seeing people at their most vulnerable. No one comes to the hospital that isn't scared. You put them in a gown. All of a sudden, they lose their sense of self, their security. It's a scary, scary place. Having those folks around that care, it's so important," Meyer said.
Body, mind, spirit and renewal
Being in Michigan has taught her as well how important it is to be resilient. Although the state and Detroit in particular have been through so much, people still have the resolve to push forward and hope for better things. That is one reason why she believes so strongly in the connection between the mind, the body and the spirit – something St. John Providence Health System promotes through its leadership, its staff and even its brand promise.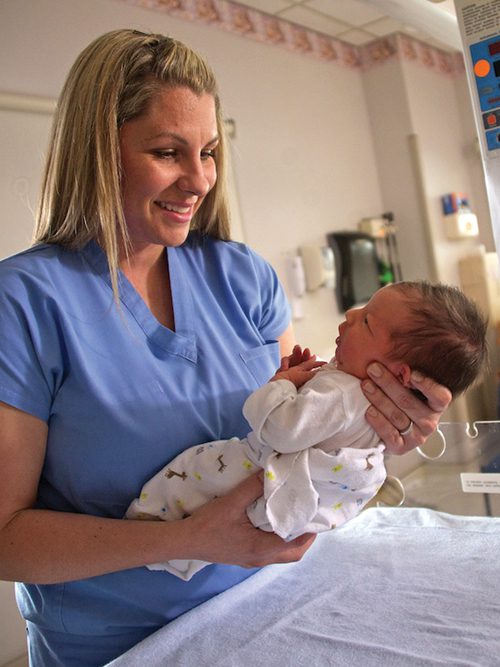 "Our motto is the body, mind and spirit. You can cure the body, but if you don't help the spirit or the mind you haven't done anyone justice," Meyer said. "We try so hard. We have thousands of associates and six different hospitals. Part of it is really instilling in our associates that idea of body, mind and spirit and what our vision and our values are.
"In January, we brought 300 of our leaders together for Mission Renewal Day. We don't talk about the budget or strategy. We try to renew them as leaders. It's so stressful being a leader. Health care is changing so much. We went over our vision and our mission in detail. It helps our associates and staff stay grounded and renewed. It takes a full commitment. I'm not sure how many health systems would take people off site for six hours to talk about renewing them. They're so grateful that we take the time and spend the resources to take them out and have this experience," Meyer said.
That willingness to take on adversity is ingrained in St. John Providence's history and its people, Meyer believes. That is why she thinks the health system is ready to take on the ups and downs of the Affordable Health Act and any other changes it brings. More importantly to her is St. John Providence's continued focus on wellness – taking care of the body before people see their health decline to the point where hospitals are their only solution to their problems.
"I'm excited. I think we're excited about some of the changes. What we're trying to get to as a health system is a focus on prevention and wellness. We're actually trying to keep them out and well. Personally, I believe in it as well. The trick is how we get there," Meyer said. "There are those who are right on board and there are those that are pushing and shoving and not ready to get there."
That starts with the staff first.
"We have lots of programs for our staff, such as smoking secession and weight care. We emphasize the need to take personal accountability for their health. One of the most important things that we're trying to do is making sure that everyone have health insurance," Meyer said. "Everyone should have affordable, high quality health care. It should be a basic thing. You should have a primary care physician you can trust – from birth through death."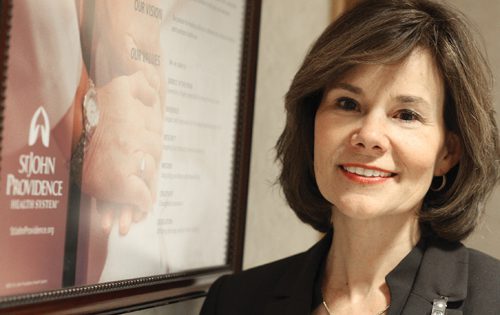 Knowing that St. John Providence doctors, nurses and everyone associated with the health system are seen as true caregivers is a point of pride for Meyer. Part of her goal for the months to come is to ensure there are times for renewal, mentors for those in leadership positions and lots of discussion around what it takes to push her organization toward its mission even further.
The bigger we are, the harder it is. If you can get them in small groups, they come together and it's a very open, welcoming group of leaders and associates," Meyer said. "A lot of what we do is offer support. Leadership can be a thankless job. It's great to give them as much support as we can."
To that end, she is willing to field any suggestions she can from those who work with her at St. John Providence, no matter where they stand in the organization structure.
"I'm very open to feedback. I want to be someone people feel very open to giving feedback to. I don't want to be in an office where people cannot feel like they can come in. I'm known for being down to earth, and I want this office to be welcoming," Meyer said.
That even goes for her new desk, which is a mix of work surface and a treadmill. She has several co-workers that use it when she is out at meetings, so the pile of gym shoes around the area is growing, she laughed. But for her, having a place to exercise her own mind and body was essential, especially given the weight of this new job and undertaking. She, like the health system's motto says, believes in better. For herself and for others.
She especially wants to see other businesses do more to ensure their people are as well cared for in their body, mind and spirit.
"It shows they care about you and keep you healthy. In the long run, it's cheaper and more cost effective for companies to invest in prevention and wellness," Meyer said. "Right now, it's about getting out into the community and signing people up for health care. It's about partnering with different groups – schools, churches and others – for wellness programs. It's working with physicians. We want to lead the way. Our goal is that our community sees us as their health care partner of choice for life."
Timing, as Meyer well knows is everything in this field. A single decision can mean life or death for a patient. So being innovative and staying current with technology also will play a huge role in what St. John Providence does going into the future.
"Telemedicine is an amazing technology," Meyer said. "We have saved lives. We've helped people stay in their hometown and be cared for properly. It gives us the ability to help people from far away; it is very cutting edge and innovative. I'm extremely excited about that.
"For example, we recently had a neurologist who was called in Florida while he was on vacation. He pulled over, went onto the Web and logged into the hospital. Within five minutes, he was helping a physician help a patient," Meyer said. "Having those resources saved a patient's life. And that's all in an average night's work."
Maintaining costs. Building a brand. Developing relationships. Creating wellness programs. Implementing change. It's a huge order. But Meyer feels like she and the many employees of St. John Providence Health System are up to the task.
"There is a lot of work to be done. But it is fun work," Meyer said.