Corp! magazine's annual Michigan's Food and Agriculture Awards honor individuals and businesses that are helping to ensure the state doesn't store all of its economic eggs in one basket.

Michigan's food and agriculture industry contributes more than $90 billion annually to the state's economy, making it the second-largest industry in the state behind the longtime bellwether, manufacturing. The agriculture industry's growers, processors, retailers and other operators provide direct or indirect employment to more than 900,000 Michigan residents.
And much of the sector is largely recession-proof and is riding positive momentum. Michigan's agricultural economy has been expanding at a rate five times faster than that of the general economy, according to statistics cited by the Michigan Farm Bureau. Industry members are also confident about the future, based on the results of the Michigan Agriculture and Food Index survey of 100 industry members conducted by the Michigan State University Product Center. The index has held steady at a robust 145 or higher since April 2013. (Based on the MSU Product Center's scoring system, a rating of 100 on the index is considered neutral; ratings above 100 signal an overall positive outlook, and below 100, an overall negative outlook.)
The industry produces a number of points of pride for the state of Michigan:
• The agriculture industry adds to the positive side of the state's trade ledger. According to the Farm Bureau, one in every three rows of Michigan field crops is exported. The total value of the state's agricultural exports is $1.75 billion, with Canada, Mexico and Japan ranking as the top destinations.
• Michigan produces more than 200 commodities, making the state's agriculture industry the second most diverse in the nation behind California's. Michigan ranks No. 1 nationally in the production of dry black and cranberry beans, begonias, blueberries, tart cherries, pickling cucumbers, Easter lilies, geraniums, low-fat ice cream mix, impatiens, petunias and squash.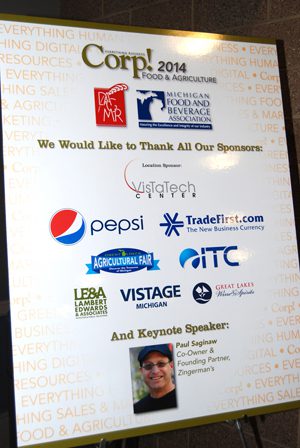 And let's not forget that Michigan's food and agriculture industry is constantly evolving and innovating in other ways:
• The state is gaining a growing reputation as a wine producer. Michigan is now home to 107 wineries, up from just 19 in 1998, and the market share for Michigan-made wines in the state now stands at 6 percent, according to the Michigan Grape and Win Industry Council.
• Michigan has also become a hotbed of craft beer production, with 131 craft breweries operating in the state as of 2013, the fifth most in the country, according to the Brewers Association, a national organization. The craft beer industry has a more than $1 billion impact on the state's economy, the association calculates. Grand Rapids has earned the national honor as Beer City USA.
To honor these accomplishments and more, Corp! created the Food and Agriculture Awards. This year's winners were honored during a Nov. 5 ceremony at the VisTaTech Center on the campus of Schoolcraft College in Livonia. Also at the event, which featured a keynote speech by Paul Saginaw, co-owner and founding partner of Zingerman's in Ann Arbor, the Detroit Association of Grocery Manufacturers' Representatives presented its Annual Industry Honorees awards.
A note about our Food and Agriculture Awards criteria: In addition to honoring food producers and processors, Corp! also recognizes creativity and success within the food-related retail sector, including restaurants and other storefront operations. We consider them a vital part of the web that literally injects flavor into the lives of Michigan residents.
A quick look at the Food and Agriculture Awards winners reveals how varied and innovative Michigan's food and agriculture industry is. The group includes growing restaurant companies, a nonprofit organization aiming to build the food economy in Detroit, an outstate farm that specializes in selling its produce directly to consumers at farmers markets and another family-owned operation that boasts one of the largest dairy herds in the country.
Here, in detail, are your 2014 Food and Agriculture Awards winners:
Corn Marketing Program Of Michigan
Industry Champion
Lansing
www.micorn.org
The Corn Marketing Program of Michigan (CMPM) is charged with enhancing the economic position of Michigan corn growers by providing for the growth and expansion of the state's corn industry through foreign and domestic market development, promotion and research that will stimulate the demand for corn. The organization, enacted in 1993, works to increase demand for and utilization of the crop, disseminate market information, discover new and more efficient marketing and production methods and enhance markets for Michigan corn. For every bushel of corn grown in Michigan and sold, one penny comes to the CMPM and is used for research, education, market development and new uses, according to its website.
Fair Food Matters
Industry Champion
Kalamazoo
www.fairfoodmatters.org
Fair Food Matters was founded in 2001 based on the principle that the community deserves information that helps residents make good choices about how they feed themselves. It aims to improve access to healthy, local food by educating, connecting and empowering the Kalamazoo community. It envisions thriving communities growing and distributing safe, nutritious, locally produced foods that foster healthy communities, environments and economies. It aims to accomplish this through programs such as the Can-Do Kitchen, the area's only food business incubator and commercial kitchen, and Growing Matters Garden Program, an urban educational gardening program, according to its website.
Foodlab Detroit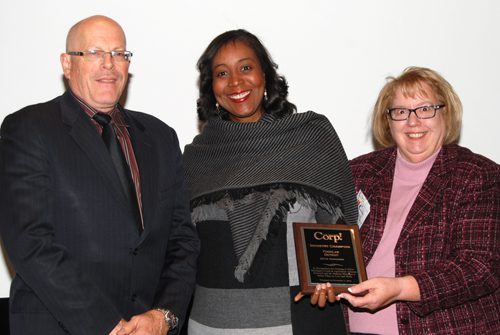 Industry Champion
Detroit
www.foodlabdetroit.com
FoodLab Detroit is a member-based community of food distribution, processing and retail businesses that are committed to making healthy, fair and good food accessible to all Detroiters. It works to provide entrepreneurs with the tools, resources and skills they need to start and grow strong businesses. It offers workshops, technical assistance and networking opportunities to more than 120 businesses in metro Detroit — all with the goal of cultivating a strong local food economy. In October, FoodLab became an official 501(c)3 organization, one of many accomplishments in 2014. Detroit Kitchen Connect, a program launched in partnership with Eastern Market, was awarded a $25,000 grant from Toyota and Oprah Winfrey. Also this year, FoodLab joined with Keep Growing Detroit to launch the Detroit Grown and Made campaign to facilitate the development of products or menu items prepared by emerging food businesses. "The potential in Michigan for a thriving economy, sustainable resource use and equity for all is greater now than ever before," said Devita Davison, FoodLab's co-director. "Across the state, citizens and organizations are coming up with innovative strategies to provide and promote good food, and it is critical that we have policies and laws in place to fast-track those innovation strategies that are driving a good food culture."
Harvest Michigan Inc.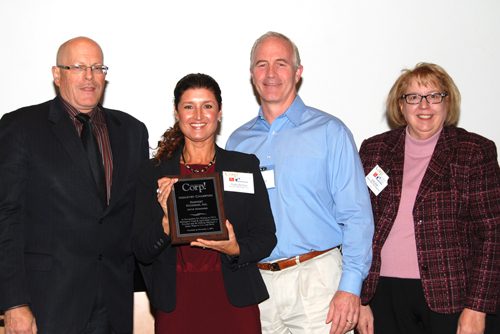 Industry Champion
Pontiac
www.HarvestMichigan.com
Harvest Michigan started in 2008 as Oakland County's first developing "regional food hub," defined by the U.S. Department of Agriculture as "a centrally located facility with a business management structure facilitating the aggregation, storage, processing, distribution and/or marketing of locally/regionally produced food products." Harvest Michigan's vision is to build a diversified culture of food producers and to bring more local, farm-fresh products to consumers, said co-founder and CEO Yvette Berman. "We envision our regional food chain building capacity to create a sustainable and equitable food system for our region," she said. The past year has brought growth for Harvest Michigan. Its 3-year-old Community Supported Agriculture Produce program's sales increased by 33 percent. Two to four part-time workers packed an average of 650 pounds of organically grown produce for consumers throughout metro Detroit for the weekly program. Also this year, Harvest Michigan accomplished a pilot "Farm to Business" program and moved its offices to the Indian Hill District in Pontiac. An improving economy is allowing more consumers to "buy local," Berman said. Long term, Michigan needs to diversify from mono-cropping (growing corn, soybeans and wheat on a mass scale) and create a balanced food system, she said. Harvest Michigan's goal is to secure additional funding and achieve aggregation of year-round production while establishing its brand.
Keep Growing Detroit
Industry Champion
Detroit
www.detroitagriculture.net
Keep Growing Detroit (KGD) aims to create a Detroit where most of the fruits and vegetables consumed by residents are grown within the city's limits. KGD operates a number of established and nationally recognized programs, including the Garden Resource Program, which promotes urban gardens and farms, and Grown in Detroit, which supports fruit and vegetable growers within the city by providing a space to sell at Detroit-based farmers markets and restaurants and assisting them with production, harvest and post-harvest handling education and resources. The organization's approach to achieving its mission facilitates beginner gardeners becoming engaged community leaders and food entrepreneurs, addressing the immediate needs of the community while promoting sustainable change in our food system, according to its website.
Meritage Hospitality Group
Industry Champion
Grand Rapids
www.meritagehospitality.com
Ironically, the 2008 financial downturn launched Meritage Hospitality Growth on a growth cycle. One of the nation's largest Wendy's franchisees, Meritage retrenched in 2008 and began focusing on the casual dining sector. The company canceled its franchise agreements with O'Charley's and opened up its own concept centered on locally sourced products. Its first Twisted Rooster restaurant opened in Grand Rapids in 2010, and two more followed in metro Detroit a year later. Twisted Rooster's adjunct pub concept, Crooked Goose, opened in Grand Rapids in 2012, and Freighters Eatery and Taproom began operations in Port Huron in 2013. The company in 2014 broke ground in downtown Grand Rapids for its fourth concept, The Wheelhouse, which is slated to open in late 2015. Each restaurant features scratch-made, locally sourced menu items. Meritage's goal was to reach 125 restaurants in 2014, and it is ending the year with 141. Meritage's "Commit to the Mitt" philosophy has not only moved the company forward but has also helped strengthen other Michigan businesses. Community involvement is also part of the Meritage growth story. The company has participated in more than 40 local events and philanthropic causes during the past year alone.
Michigan Association Of Conservation Districts
Industry Champion
East Lansing
www.macd.org
The Michigan Association of Conservation Districts (MACD) is the umbrella organization for the 78 local conservation districts statewide, which provide natural resource management services that help citizens conserve their lands and the overall environment for a cleaner, healthier and economically stronger Michigan. Each district is a local, special-purpose unit of government, and the MACD's guiding philosophy is that local people should make decisions on conservation issues at the local level, with technical assistance provided by the government. Among MACD's initiatives is the Michigan Agricultural Environmental Stewardship (MAEAP) program, which helps farms of all sizes and all commodities voluntarily prevent or minimize agricultural pollution risks, according to its website.
Michigan Food & Farming Systems
Industry Champion
East Lansing
www.miffs.org
Michigan Food & Farming Systems was formed in 1998 to connect beginning and historically underserved farmers to resource opportunities for developing profitable and environmentally sustainable livelihoods. Its vision is to play a critical role in making smaller-scale farming an attractive and viable livelihood. Among its initiatives is the Michigan Family Farms Conference, an annual gathering and forum for beginning, small-scale and culturally diverse farmers to network, learn and build sustainable family farms, according to its website.
Vimax Media LLC
Industry Champion
Southfield
www.vimaxmedia.com
ViMax is a multimedia publishing and marketing company that specializes in producing custom content for food-related clients. Its creative services offerings include food photography, recipe videos and the Twisted Onion, a community-based website that aims to peel back the layers of the metro Detroit food scene. The ViMax staff includes certified executive chefs and graduates from the College for Creative studies in Detroit, according to its website.
Avalon International Breads
Industry Leader
Detroit
www.avalonbreads.net
Avalon International Breads produced its first loaves of bread in 1997 in a newly installed hearthstone oven inside a converted storefront in the Cass Corridor. Since its humble beginnings, the company has grown into an around-the-clock operation that employs 45 people who produce a variety of baked goods, including Avalon's signature organic bread loaves. More than 1,000 customers stream through the business's doors each day, and three trucks leave each morning, delivering to more than 40 restaurants and markets in Greater Detroit. Avalon also has served as an anchor in creating a vibrant commercial scene on West Willis Street, according to its website.
Bald Mountain Mushroom Farm
Industry Leader
Lake Orion
www.baldmountainmushrooms.com
Bald Mountain Mushroom Farm owners Ed and Michele VanDevelder organically grow exotic shiitake, oyster and cinnamon cap mushrooms that they sell at their Lake Orion locale, as well as at the Oakland County Farmers Market, the Eastern Market in Detroit and the Birmingham Farmers Market. Mushroom enthusiasts also can order directly from the company. Bald Mountain Mushroom Farm maintains that its gourmet offerings are good simply sliced and sautéed in hot butter or margarine, but it also offers a variety of recipes on its website, according to its website.
Bavarian Inn Restaurant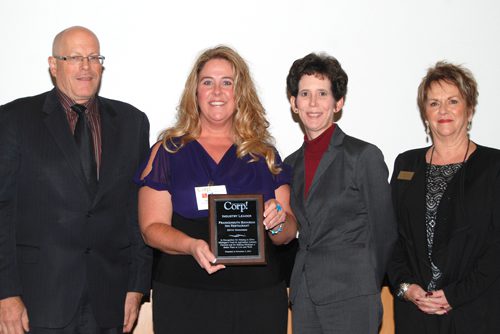 Industry Leader
Frankenmuth
www.bavarianinn.com
The Bavarian Inn Restaurant is an anchor of Frankenmuth's commercial district, one of Michigan's top tourism destinations. The William "Tiny" Zehnder Jr. family has owned the restaurant since 1950, but the eatery's roots trace back much further. Since 1888, more than 20 million patrons have feasted on the Bavarian Inn's famous all-you-can-eat family-style dinners featuring platters of chicken, breads, soup and salads, dressing, mashed potatoes and gravy, buttered noodles, hot vegetable and homemade ice cream. "Comfort food? We didn't invent it — we perfected it," the restaurant proclaims, according to its website.
Better Made Snack Foods
Industry Leader
Detroit
www.bettermadesnackfoods.com
Better Made Snake Food founders Peter Cipriano and Cross Moceri began a business in 1930 with the goal of making a better potato chip, hence the company's name. Today, the company makes a variety of flavored snacks using 60 million pounds of chip potatoes every year. The company uses Michigan potatoes the eight months of the year they are available then turns to other states as the harvest schedule dictates. The company ships to military installations throughout the world and encourages friends and family members to send a taste of Michigan to members of the U.S. armed forces, according to its website.
Blueberry Haven
Industry Leader
Grand Haven
www.blueberry-haven.com
Tiffany Balk's idea for her business came virtually literally from her backyard. Southwest Michigan produces 44 percent of the blueberries in the U.S. market. Balk's business, Blueberry Haven, turns part of that production into a variety of products, including trial mix, yogurt- and chocolate-covered blueberries and jams, spreads and sauces. Balk was looking forward to a robust holiday season, her fourth at her storefront in downtown Grand Haven. "Every year we have been growing," she said. "People just need to know these small businesses exist and shop them." Going forward, Balk aims to expand Blueberry Haven through Internet sales and possibly another location in the Grand Rapids area that will give her business more visibility.
Burnette Foods Inc.
Industry Leader
East Jordan
www.burnettefoods.com
Burnette Foods produces a variety of fruit, vegetable products, juices and sauces that are sold to many of the nation's largest retail companies, food service distributors and industrial users. The company is now in its third generation of Sherman family ownership and continues to add to its product lines through internal innovation and strategic acquisitions. The company's brands include Mothers Maid, Romeo and Deshler, and it also produces private label products, according to its website.
Busch's Fresh Food Market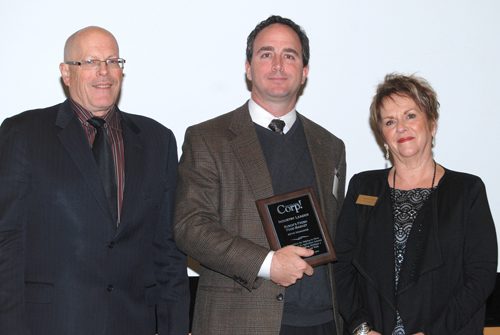 Industry Leader
Ann Arbor
www.buschs.com
Busch's is a relative rarity in today's grocery industry: a privately held, independent supermarket chain. The family-owned business traces its roots to 1975, and it now operates 15 stores that employ a total of 1,400 workers throughout southeastern Michigan. The operations range from 26,000 to 51,000 square feet and are either freestanding or anchored to neighborhood shopping centers. The company says that it aims to blend the best of today's freshness and style with traditional values, personal service and wholesomeness shoppers expect from a neighborhood grocer, according to its website.
C.F. Burger Creamery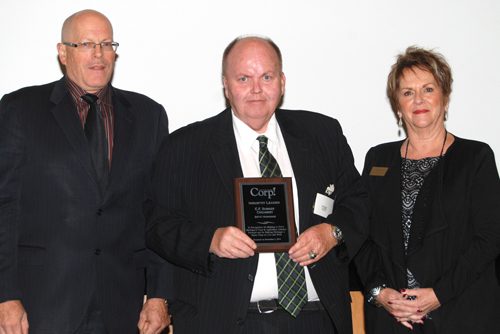 Industry Leader
Detroit
www.cfburger.com
Family-owned C.F. Burger Creamery proudly proclaims that since 1926 its dairy products have been made from all-natural milk and cream fresh from its network of dairy farmers. Its products, including half-and-half, heavy whipping cream, egg nog and coffee cream, are top sellers throughout the Midwest. The company is a multiple recipient of the industry All Star Achievement Star, certifying that its quality protocols exceed industry standards. It also is a certified Safe Quality Foods facility, according to its website.
Country Dairy Inc.
Industry Leader
New Era
www.countrydairy.com
Country Dairy Inc. is family-owned operation that has been processing and bottling milk in West Michigan since 1983. It is a producer-handler, meaning that it owns and controls the process — from its herd of registered Holsteins, to its processing plant to the gallon of milk on retailers' shelves. The company touts that its dairy products come from cows not treated with a synthetic bovine growth hormone. The hormone, approved for use in 1994, can increase a cow's production by as much as 20 percent, but Country Dairy says shoppers from across Michigan have said they want to choose dairy products from animals not treated with what is known as rBST, according to its website.
Country Fresh
Industry Leader
Grand Rapids
www.enjoycountryfresh.com
Country Fresh lays claims to industry firsts and other innovations since its beginnings as the Grocer's Co-Operative Dairy of Grand Rapids in 1946. It introduced one of the first half-gallon milk cartons in West Michigan, in 1952, and was the first Michigan dairy to market grade A milk, in 1957. The company, which changed its corporate name to Country Fresh in 1980, now sells ice cream and novelty treats, milk, creams, juices, tea, water, cottage cheese, sour cream and dips. Its lineup of brands consists of Dean's Country Fresh, Stroh's, Trumbo, Swiss and Fruit Rush, according to its website.
Da Edoardo Restaurants
Industry Leader
Grosse Pointe Woods
www.daedoardo.com
Third-generation restaurateurs Eddie Barbieri and Ann Barbieri-Kolinski are continuing the family tradition of serving up award-winning Northern Italian cuisine. The siblings continue to operate the original Da Edoardo restaurant in Grosse Pointe Woods, founded by their father and grandfather in 1978, as well as the newer Da Edoardo North in Grand Blanc. Their other holdings are the Foxtown Grille in Detroit's Fox Theatre District and the 38-seat Cafe Nini in Grosse Pointe Farms. The company also performs catering, and its pasta sauces are available at specialty food markets in the Detroit area, according to its website.
Dawn Food Inc.
Industry Leader
Jackson
www.dawnfoods.com
What began as a small but thriving bakery nearly a century ago has evolved into the international bakery supplier known as Dawn Food Products Inc. The company, named after the time of day when bakers do their work, now has more than 40,000 customers, more than 4,000 products, more than 40 locations worldwide and 3,500 employees — all while maintaining its Jackson headquarters and Jones family ownership. The third generation of the Jones family is now in charge, according to its website.
Eden Foods
Industry Leader
Clinton
www.edenfoods.com
Eden Foods is the oldest natural and organic food company in North America and the largest independent manufacturers of dry grocery organic foods. The company began in the late 1960s in Ann Arbor as a cooperative of friends sourcing natural foods, which were hard to come by at the time. It grew into a natural foods store and then added a cafeteria, bakery and books, becoming known as the Eden Deli. From there, it grew into a manufacturer and distributor of products to natural food stores, co-ops and supermarkets. Most of the ingredients for its products are grown near its headquarters or elsewhere in the Midwest.
Founders Brewing Co.
Industry Leader
Grand Rapids
www.foundersbrewingcompany.com
Founders Brewing Co. is aiming to ride Americans' ever-growing taste for specialty beer into becoming a top 10 craft brewer in the nation. The company already distributes the beer it brews in downtown Grand Rapids to 32 states. "We've benefited from being part of an accelerated growth industry," said Sarah Aldrich, Founders' communications manager. "We've also worked to build up a sound leadership team and have continued to expand our facility to allow for continued growth." As such, Founders is largely immune to the ups and downs of Michigan's economy. Still, any initiatives that allow the Michigan hop industry and other suppliers of raw materials to breweries to become better established would prove beneficial, Aldrich said. Founders sources materials from in-state suppliers when possible. For example, this year's batch of Harvest Ale used more Michigan hops than ever before (73 percent of the total). As for its ultimate goal of joining the ranks of the top 10 U.S. craft brewers, "we will get there with smart, responsible growth that maintains the quality of our world-class beers," Aldrich said.
Ftoni Meat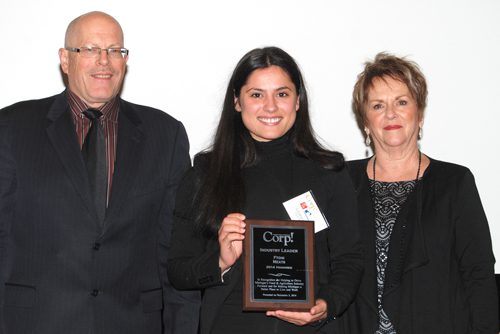 Industry Leader
Detroit
www.facebook.com/ftonimeat
Good customer relations have helped Ftoni Meat weather a tough 2014, when inflation caused price increases in the meat it sells in bulk and bundles to the public. "We tried to keep customers that came through the door knowledgeable about what has been happening with prices," said President Luciana Ftoni. It helped that the business has always strived to create an atmosphere where customers feel like family. "This has helped maintain customer loyalty," Ftoni said. Ftoni is also working to upgrade the store in Detroit's Eastern Market, keep fresher products and track how customers shop and what they want from a meat market. Michigan's ability to grow its own products makes it possible to provide customers organic and natural food that is good for them and the state's economy, Ftoni said. Within the next five years, Ftoni hopes to open two additional stores within metro Detroit. Ftoni estimated that 40 percent of customers live as far as an hour away, and new locations would make it more convenient for them and also allow the business to capture new customers who rarely if ever visit downtown Detroit.
Graceland Fruit
Industry Leader
Traverse City
www.gracelandfruit.com
Founded in 1973, Graceland Fruit has grown into one of the largest providers of dried fruit in the world, primarily producing dried cranberries, blueberries, cherries and apples for commercial and consumer use. Graceland's dried fruit is used as ingredients in products such as breads, muffin mixes, bagels, trail mixes, ice cream and frozen dough. The company distributes its goods throughout the United States and 40 other countries. Its exporting prowess has earned it the Edward R. Madigan U.S. Agricultural Exporter of the Year Award, as well as National Ag Marketer of the Year, Michigan Manufacturer of the Year and Michigan Exporter of the Year awards, according to its website.
Grand Traverse Distillery
Industry Leader
Traverse City
www.grandtraversedistillery.com
At Grand Traverse Distillery, proof of the company's success is in its physical expansion and growing product line — 2014 saw the addition of three new tasting rooms and the introduction of several new spirits. The grain-to-bottle distillery produces vodka, whiskey and gin from locally grown rye, wheat and corn. Customers who value quality and want to know the source of their spirits are fueling the company's growth, President Kent Rabish said. "They are asking who distilled this spirit and where was the grain grown," he said. Still, operating a distillery business is tougher in Michigan than most other states, Rabish said. Michigan's tax on spirits is one of the highest in the nation. The Michigan Craft Distillers Association was formed to work on taxation and similar issues. For the near future, Grand Traverse Distillery is setting its sights on opening several more tasting rooms and having its still run at maximum capacity. Whiskey is becoming the company's main product, with 75 percent of its distilling time devoted to the spirit, Rabish said.
Green Meadow Farms Inc.
Industry Leader
Elsie
www.greenmeadowfarms.com
The statistics involving Green Meadow Farms are impressive. The family-owned dairy farm, which has one of the largest herds of registered Holsteins in the United States, feeds more than 8,000 animals and milks 3,600 cows each day, produces 12 million gallons of milk annually, grows crops on 7,500 acres and employs 80 people. Green Meadow President Velmar Green credits those employees for being willing to work long hours this year after weather conditions forced a late planting and late harvest. Despite the weather challenges, 2014 was a good year in the dairy and beef markets, Green said. "Consumers have money now to buy our higher-priced products," he said. "Michigan government just needs to keep doing what it is doing, only better." The farm is in its third generation of ownership, and the fourth generation was just born, Green said. "Since it was founded by my grandfather in 1922, I see no reason not to keep growing, particularly with our workforce, many who have been with us a very long time," he said.
Jamesport Brewing Co.
Industry Leader
Ludington
www.jamesportbrewingcompany.com
Jamesport Brewing Co. is in the Jamesport Center, a late-Victorian six-storefront complex in downtown Ludington. The ground-level portion of the building was used by a wide variety of trades since 1890 before Jamesport Brewing took over part of the space in a quest to satisfy Michigan's growing thirst for craft beers. In addition to more than a dozen beers it brews on-site, Jamesport offers a full food menu. It has a banquet room to host large gatherings. Lead brewer Tom Buchanan, who began as a home brewer in 1991, had purchased property for retirement near Ludington when he was hired by the founders of Jamesport to help set up its brewing operations, according to its website.
Jerome Country Market
Industry Leader
Jerome
www.jeromecountrymarket.com
Jerome Country Market has been producing award-winning meat products, including jerky, since 1987, when Bret and Pam Griffis bought a country store in eastern Hillsdale County. The couple soon began processing deer in the back of the store to earn extra income. Over the years, the store became known for its quality deer processing and custom butchering service for domestic animals, as well as its supply of choice meats and specialty items. The business eventually outgrew the original store and in 2005; it moved into a state-of-the-art facility that won an architectural award from the local chamber of commerce. The meat products Bret Griffis has created have also won numerous awards in state and national competitions, according to its website.
Leelanau Cellars
Industry Leader
Omena
www.leelanaucellars.com
Leelanau Cellars' wines have evolved over the years from the Jacobson family's first release in 1977, but the philosophy has remained constant: to produce quality, consumer-friendly wines that are affordable to everyone. Leelanau Cellars was one of the first wineries along Michigan's now-bustling Wine Coast in the northwest portion of the state. The winery produces more than 30 varieties of wine from fruit grown on 90 acres of vineyards in picturesque Leelanau County, and its tasting room is open year-round. (Information compiled from the company's website.)
London Chop House
Industry Leader
Detroit
www.thelondonchophouse.com
The London Chop House in 1938 began a tradition of serving Detroit's elite the finest aged steaks, chops and fresh seafood. It soon became known as the premier restaurant in Detroit and one of the best nationwide. Located in the city's then-vibrant business district, it catered to auto barons, judges, attorneys and entertainment stars. It gained a reputation as a one-of-a-kind destination before it closed in 1991. Nico Gatzaros reopened the London Chop House and LCH Cigar Lounge in 2012 with many of the same interior features and menu items but updated to reflect today's tastes, according to its website.
Love MI Seasons LLC
Industry Leader
Dryden
www.lovemiseasons.com
Love MI Seasons was founded in 2011 by a family of self-described certified foodies. The company sells its lineup of gourmet spices online and at specialty stores throughout the state and also in several Kroger stores in Michigan. The spice blends are the creation of an executive chef at a private hunt club. The company says the secret to its success is fresh ingredients that are sourced as locally as possible. Love MI Seasons buys fresh herbs year-round from Michigan growers, according to its website.
Maitland Family Farm
Industry Leader
Melvin
www.maitlandfamilyfarm.com
The Maitland Family Farm touts the fact that its animals are raised in a natural, healthy environment. It sells beef, lamb, roaster chickens and eggs produced by chemical-, hormone- and GMO-free methods. The 30-year-old operation uses organic practices in raising its animals and crops. For example, its beef cattle are raised on grass, and aged manure from the cattle and natural minerals are used to enhance the soil. The family sells the products at area farmers markets and through online orders. It's a seasonal business because the farm sells only what it raises each year until it's gone. (Information compiled from the company's website.)
Mastronardi Produce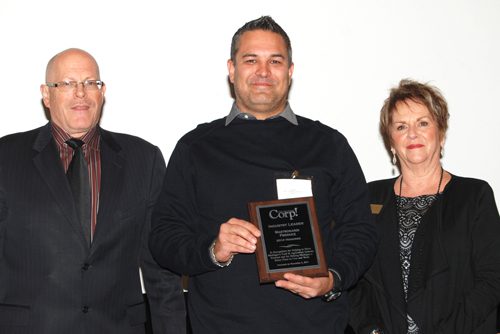 Industry Leader
Livonia
www.sunsetgrown.com
The Mastronardi family is in its fourth generation of providing consumers with fresh greenhouse-grown vegetables. The family owns and manages what it describes as the leading greenhouse vegetable company on the continent, growing and selling world-class tomatoes, peppers and cucumbers. The operation, which sells produce under the Sunset brand name, has a total of more than 2,000 acres of growing and distribution operations in Livonia, Ontario, Florida and California. The family maintains that it is obsessed with flavor and that it is constantly learning and refining, according to its website.
Matador Restaurant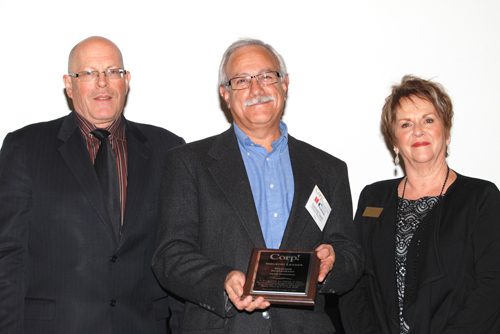 Industry Leader
Taylor
www.matadorrestaurant.net
At the Matador restaurant, it's all about family. The family-owned eatery serves Mexican food using recipes passed down through four generations over 60 years. The food is made fresh daily, using fresh ingredients and no preservatives. Many friends and family members have worked at the restaurant and dined there, so treating everyone as family is part of the Matador's culture, co-owner Ray Tejada said. His mother, Margaret, 81, still comes in three days a week, and his son, Anthony, is one of the cooks. Last winter's bitter cold and the monsoon rain in August made it difficult for a destination restaurant such as the Matador, Tejada said. But the eatery's 60th anniversary helped reverse the trend. The successful campaign to thank customers featured giveaways of the restaurant's house-made fried ice cream, as well as a raffle of gift cards, CDs and Matador merchandise. The restaurant also has started showcasing its food at community events. During the economic downturn five years ago, the Matador scaled back its hours. The recovery hasn't trickled down to the restaurant's blue-collar base very quickly, Tejada said. He said he would like to see a network created between independent farms and restaurants to save costs and improve efficiencies. More specific to the Matador, he is considering creating an outdoor garden café where people can dine and he can grow herbs and vegetables for the restaurant.
National Coney Island
Industry Leader
Roseville
www.nationalconeyisland.com
National Coney Island started with a single location in Roseville in 1965 and now owns and operates 20 restaurants in southeastern Michigan. Each location features Detroit-style Coney Island hot dogs and Sanders hot fudge sundaes, among other all-American classics. National Coney Island strives to create a bright, enjoyable and family-fun atmosphere in each restaurant. The company also is proud of its community involvement, having supported hundreds of charities, schools, athletic teams and other organizations and individuals over the years. It also offers fundraising opportunities to schools and nonprofit organizations in its restaurants, according to its website.
National Food Group
Industry Leader
Novi
www.nationalfoodgroup.com
National Food Group's expertise centers on institutional feeders such as correctional facilities, schools and colleges, health care companies, corporations, casinos and other high-volume food service providers. The company, which employs more than 60 people, provides custom products that address each organization's specific meal pattern requirements. National Food Group has experienced consistent annual growth, leading to its placement on the Inc. 5000's list of America's fastest-growing private companies for five consecutive years. It cites growth of 59 percent in the past three years alone, with revenue topping $60 million in 2013, according to its website.
Peterson Farms Inc.
Industry Leader
Shelby
www.petersonfarmsinc.com
Peterson Farms is the largest privately owned fruit processor in Michigan. The family-owned group of companies includes Peterson Farms Fresh Inc., a fresh-cut facility that focuses on the production of apples. Peterson Farms Inc. is a marketing leader of frozen fruits. It annually markets more than 150 million finished pounds of frozen fruits in addition to 7 million pounds of single-strength apple juice and juice concentrates. The frozen commodities it processes are apples, tart cherries, sweet cherries, cultivated blueberries, peaches and plums. The company's vision is to become an industry leader not only in quality processing but also in sustainable business practices and social accountability, and in 2012 it achieved its goal of sending no waste to landfills, according to its website.
Pretty Pasta Co.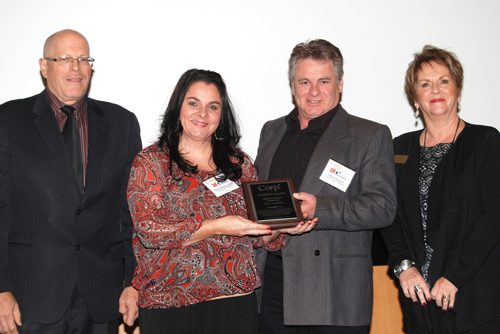 Industry Leader
Fenton
www.prettypasta.com
Combining her love of cooking and art, Shawn Murray Laursen created what is billed as the world's first graphic design and photo imaging pasta. Her Pretty Pasta Co. makes pasta designed with edible patterns, messages and photographs. Customers can create appropriately themed pasta for any occasion, such as weddings, holidays, corporate events and birthdays. A patent is pending on the process that, according to Laursen, makes the most entertaining pasta on earth. Pretty Pasta's online and storefront sales steadily grew in 2014, as did publicity for the company. Its products were included in the gift bag for nominees and attendees of the annual News and Documentary Emmy Awards in New York and were also featured on "ABC World News." The company's fortunes have proved largely independent from economic conditions in Michigan, Laursen said. She said Pretty Pasta is preparing to scale up for mass production and worldwide sales, which would boost employment opportunities in the Greater Flint area.
Quality Dairy Inc.
Industry Leader
Lansing
www.qualitydairy.com
Quality Dairy has undergone several transformations since it was founded in 1936 with an original mission of providing bottled milk on a cash-and-carry basis from small milk stores, a change from the common practice of home delivery. The company now gas 31 stores in the Lansing area, most of which sell beer and wine and some of which also have gasoline and Laundromats. In addition to the retail stores, Quality Dairy also operates a dairy that produces milk and ice cream, a 37,000-square-foot bakery that serves outside customers, a commissary and QDC Plastic Container, a blow molding operation that serves the drink industry, according to its website.
Right Brain Brewery
Industry Leader
Traverse City
www.rightbrainbrewery.com
Right Brain Brewery, named one of the 10 best breweries in Michigan by MLive.com, is located in a renovated and updated warehouse that was originally built more than 50 years ago. The company strived to reclaim and reuse as much of the building as possible while creating an inviting atmosphere for beer drinking and dining on signature waffle sandwiches. Its selection of craft beers is constantly rotating, with 15 to 25 of its own beers on tap at any time. The brewery's name is based on interaction Right Brain founder Russell Springsteen had with his creative writing teacher in high school. The company isn't afraid to poke fun at itself, with a section of its website devoted to complaints from critics, according to its website.
Roast
Industry Leader
Detroit
www.roastdetroit.com
Michael Symon's Roast is an 8,000-square-foot restaurant on the street level of the Westin Book Cadillac Detroit. The 200-seat restaurant has three sections: bar/lounge, main dining room and a semiprivate area. The Detroit Free Press named Roast "Restaurant of the Year," and Cleveland native Michael Symon has won numerous awards, including a James Beard Award for Best Chef Great Lakes category. Also, Esquire magazine recently awarded Roast with having one of the best beer menus in the country, according to its website.
Roberts Restaurant Group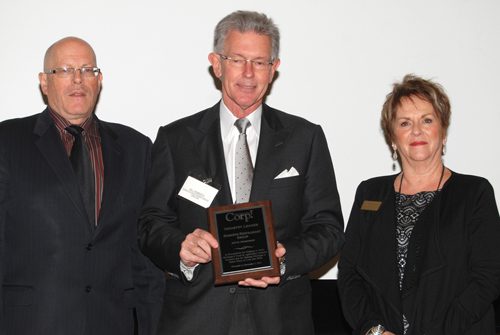 Industry Leader
Beverly Hills
www.robertsrestaurantgroup.com
Despite challenges such as inclement weather, a lack of qualified employees, increased competition and rising food costs, 2014 was another year of growth for Roberts Restaurant Group. It recently opened its sixth restaurant — its third in three years. The company now operates six establishments: Bill's in Bloomfield Hills, Café ML in Bloomfield Township, Beverly Hills Grill in Beverly Hills, Town Tavern in Royal Oak, Streetside Seafood in Birmingham and Roadside B&G in Bloomfield Township. A key is to create designs and menus that fit each restaurant's location, said proprietor William Roberts. He said the elimination of the Michigan Business Tax and personal property tax will eventually benefit the restaurant industry. But success ultimately depends on employees, Roberts said. "We find that it is best to develop people ourselves, but this takes time," he said. Doubling in size during the past three years was a huge undertaking, Roberts said. "It will take time to again develop our 'bench strength,'" he said. "So I see the next couple years as time of rebuilding the depth of our management team, both in the dining room and in the kitchen."
R.U.B. BBQ
Industry Leader
Detroit
www.rubbbqdetroit.com
R.U.B. BBQ is proud to show its Michigan heritage by using Michigan suppliers for its menu of barbecue items and lineup of microbrews and liquors at its three locations, in downtown Detroit, Warren and Ann Arbor. Each restaurant's meats are smoked on-site, and R.U.B. mixes its own rubs and sauces from scratch using more than 20 different herbs and spices. The R.U.B. establishments aim to create the atmosphere of a local Michigan hangout where patrons can watch their favorite sports teams — they have more than 30 flat-screen TVs and 60 beers on tap — while enjoying the tastes of an old-school smokehouse, according to its website.
Rugby Grille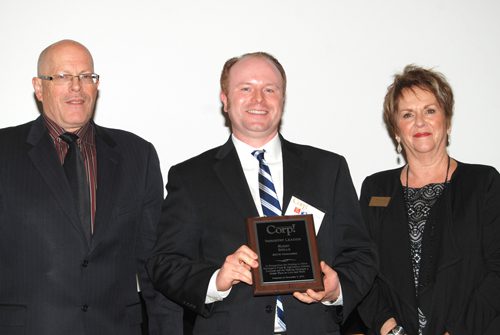 Industry Leader
Birmingham
www.townsendhotel.com/view/rugby-grille
The Rugby Grille, located within the Townsend Hotel, describes itself as a world-class, unpretentious restaurant serving in a classical setting an array of appetizers, entrees and desserts created by executive chef Drew Sayes and his staff. It has gained third-party validation from Zagat's Restaurant Guide, which named it one of the 10 best restaurants in the United States; AAA, which blessed the Rugby Grille with a coveted Four Diamond award; the Forbes Travel Guide, which bestowed a "Recommended" rating; and The Wine Spectator, which gave an Award of Excellence for the restaurant's wine program, according to its website.
Srodek's Campau Quality Sausage Co.
Industry Leader
Hamtramck
www.srodek.com
Srodek's Campau Quality Sausage Co. is a second-generation family-owned business that specializes in a wide selection of homemade and imported products. The store is particularly noted for its homemade kielbasa and pierogi. Since the store's opening in 1981, the demographics of Hamtramck have shifted, with many in the Polish and European community moving to the suburbs. To cater to that relocated clientele, Srodek's is opening a second site in Sterling Heights that will feature a 5,000-square-foot restaurant with an indoor/outdoor patio and in-house microbrewery and a 5,900-square-foot market and European-style bakery, according to its website.
Steiny's Restaurant and Banquet Hall
Industry Leader
Shelby Township
www.steinysrestaurant.com
Steiny's Restaurant and Banquet Hall has brought stability, profitability and growth to its locale in Shelby Township. The property had changed names and owners four times in 10 years before current owner Cheryl Steinhurst opened her full-service restaurant and banquet hall there in fall 2011. She now proudly proclaims that the business has exceeded its goals each year, and that sales are up 30 percent this year and are projected to go even higher in 2015. Helping fuel the establishment's growth is this year's acquisition of 2,500 square feet of additional space adjacent to the original 5,040-square-foot restaurant, which allows Steiny's to accommodate the large groups that regularly flock there for made-from-scratch food that includes made-in-Michigan ingredients to the extent possible. Steinhurst said the change in the economy has made her clientele smarter regarding what they want in food and how it is prepared. But as long as Detroit's restoration continues, the region's businesses will continue to grow and prosper, she said. For her part, she's already scouting for locations for Steiny's 2.
Team Schostak Family Restaurants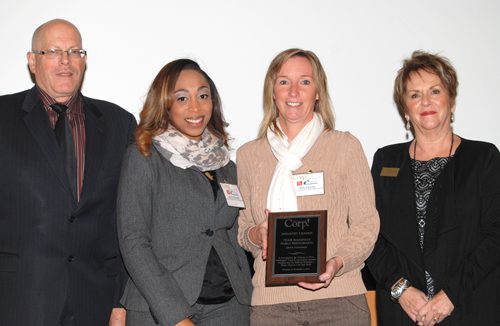 Industry Leader
Livonia
teamschostak.com
Family-owned TEAM Schostak Family Restaurants operates under the philosophy that, in the restaurant business, success is centered on building relationships in the community. To that end, the company makes a concerted effort to establish relationships with the chambers of commerce in the communities it serves, as well as partner with a number of schools and organizations statewide through its Dine and Donate program, which donates a portion of customers' food bills to an organization or cause. TEAM Schostak, now in its fourth generation of ownership, operates about 140 Burger King, Applebee's, Olga's Kitchen and Del Taco restaurants throughout the state. In 2014, it completed a $12 million revitalization of its Applebee's outlets and added more than 500 management and hourly positions across its restaurants. It also recently opened another Del Taco restaurant in Livonia and is in the process of unveiling two more Appelebee's — in Livonia and Southfield — that combined will bring another 300 jobs to metro Detroit. The company says that one of the main reasons for its success is an ability to adapt to customers' wants and needs, such as by evolving menus to include healthier options and revamping drink selections to include more Michigan craft beers and cocktails. TEAM Schostak is aiming to further solidify its standing as one of the largest restaurant groups in Michigan by not only expanding its current operations but also vetting new restaurant concepts to see which brands might best fit the company going forward.
The Maple Grille LLC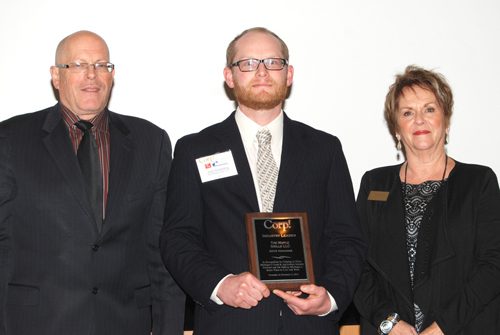 Industry Leader
Hemlock
www.themaplegrille.net
The Maple Grille was originally designed as a hobby maple syrup evaporator, and under the Schaeding family it is evolving into a full-service restaurant. Its overall goal is to become a one-of-a-kind, fresh, seasonal full-service wood-fired kitchen that provides mainly local Michigan products. The eatery now offers seasonal food cooked solely from an outdoor wood-fired kitchen. The operation is located on six acres, which allows it to grow and harvest most of its produce and ingredients on-site. Limiting the number of outside suppliers allows the restaurant to pass savings on to patrons. The Maple Grille also purchases whole animals from Michigan farmers, helping to guarantee freshness, according to its website.
The Platinum Chef
Industry Leader
Southfield
www.theplatinumchef4u.com
Rhoda St. Luce, a.k.a. the Platinum Chef, prepares meals for families in their own homes through her personal chef service, and she also offers cooking classes and catering services for large gatherings. The main selling point of the personal chef services is convenience. Busy families can come home to a healthy meal and not have to deal with shopping or kitchen cleanup. The Platinum Chef also caters to dietary requirements and preferences, offering low-fat, kosher and vegetarian items. The service is more affordable than some people might think, St. Luce maintains, and they can earn free meals through a customer referral program, according to its website.
Tirrell Farmstead Specialties
Industry Leader
Charlotte
www.micheese.com
Change has been one constant at the Tirrell family's farm, now in its seventh generation of ownership. Over the years, the farm has produced dairy, beef, maple syrup, strawberries, pigs, sheep and more. It still raises beef and lamb, and it now also lays claim to having Michigan's only sheep dairy. The family operates an on-farm store, called Tirrell Farmstead Specialties, where it offers its cheeses, along with locally grown meats, eggs, honey, seasonal vegetables and other goods. The store also offers a viewing window into the cheese plant. During warm months, the family also operates a petting farm, according to its website.
Tree-Mendus Fruit Farm
Industry Leader
Eau Claire
www.treemendus-fruit.com
Tree-Mendus Fruit Farm offers pick-your-own and fresh harvested fruits in season. Apricots, cherries, peaches, pears, plums, apples, blackberries and raspberries are all grown on the family-owned spread. The on-site country market boasts a variety of Tree-Mendus products, and the farm is also home of the International Cherry Pit-Spitting Competition, which happens on the first Saturday of every July and is recognized by the Guinness Book of World Records. Tree-Mendus Fruit Farm also hosts picking and/or touring motor coach visits and offers ideal settings for weddings another gatherings, according to its website.
TV's Deli & Diner
Industry Leader
Trenton
www.tvsdelidiner.com
TV's Deli & Diner prides itself on quality food, experienced service and guest satisfaction, which pays off in the form of 80 percent of its business being repeat restaurant and catering clientele. Tracey Wipp and Victor Stroia established the business in 1995, after meeting while working for noted restaurateur Jimmy Schmidt. Their stylish diner serves up freshly prepared food and features an extensive menu created by Stroia. He has won several contests for his unique soups, including a first-place award for his Reuben soup, reminiscent of a Reuben sandwich, according to its website.
Valentine Distilling
Industry Leader
Ferndale
www.valentinedistilling.com
Rifino Valentine, who founded Valentine Distillery in 2008 after 11 years on Wall Street, proclaims that he is "taking a stand against mass-produced spirits. I am here to prove that American ingenuity and quality American manufacturing is still alive." Judging by the industry accolades the distillery's products have garnered, he is accomplishing his mission. Valentine Distillery produces vodka, gin and bourbon. Its spirits are available for purchase at the company's tasting room in Ferndale and at more than 1,200 bars, restaurants and liquor stores throughout Michigan. The products are also distributed in Illinois, Tennessee, New York, Connecticut, Delaware, Maryland and Washington, D.C., according to its website.
Value Wholesale
Industry Leader
Oak Park
www.valuewholesale.com
John Loussia founded Value Wholesale Distributors in 1991 in Detroit, and word began to spread about the pricing and service the secondary grocery wholesaler provided to independent grocery stores. By 1995, the company had outgrown its 80,000-square-foot warehouse and it moved to a 90,000-square-foot facility in Oak Park that offered higher ceilings and more loading docks. Value also established a cash-and-carry operation that provided small convenience stores and gas stations a place to purchase groceries much cheaper than having them delivered. Loussia's sons, Brian and Matthew, now manage the business, which continues to distribute more products each year. The company, which employs more than 40 people, also has a new Taylor facility, a 50,000-square-foot freezer and cooler that operates under the name Great Lakes Frozen & Dairy, according to its website.
Visser Farms
Industry Leader
Zeeland
visser-farms.com
The Visser family likes to say it is "living a legacy of local, sustainable farming." "We are a family-owned and –run farm," owner Cindy Visser said. "We sell at farmers markets and we love what we do." The farm also sells its wide variety of produce to restaurants and operates a U-pick strawberry patch. Although 2014 brought serious weather challenges, "overall it was a great year," Visser said. The farm was named Small Business of the Year by the Michigan West Coast Chamber of Commerce. Michigan's gradually improving economy has the Visser family hopefully looking forward. "People are enjoying a little freedom financially and are spending a little more on their food," Cindy Visser said. "They want to buy healthier and want to buy local." Visser Farms traces it roots to 1902, and it has been operated by a succession of generations. Today's owners, Cindy and Phil, are aiming to grow the business so that their seven kids are able to work there and eventually own it.
A&B Packing Equipment Inc.
Industry Innovator
Lawrence
www.abpacking.com
A&B Packing Equipment Inc., formed in 1995, touts itself as the leader in fresh packing and cleaning equipment for fruits and vegetables worldwide. It promises to deliver superior equipment that provides speed, accuracy and gentleness for processers that use the equipment, according to its website and Facebook page.
Ferry Farms
Industry Innovator
Litchfield
Ferry Farms is a fourth-generation family-owned and –operated dairy farm that traces its beginnings to 1906. It milks around 300 cows twice each day and farms about 1,200 acres of corn, soybeans and alfalfa. Ferry Farms is environmentally verified through the Michigan Agriculture Environmental Assurance Program, a voluntary and proactive program that helps farms prevent or minimize risks of agricultural pollution, according to its website.
Fusilier Family Farms
Industry Innovator
Manchester
www.fusilierfamilyfarms.com
The fifth and sixth generations of Fusiliers are farming 200 acres at the edge of the Irish Hills. The majority of the farm is devoted to growing a large array of fresh, high-quality produce that is marketed directly through farmers markets, a "Share the Farm" Community-Supported Agriculture (CSA) program and area public schools, which also use the partnership as an opportunity to educate students about how food is grown. Through the CSA program, members receive a basket of fresh, all-natural produce weekly from June through October. A small amount of the farm's acreage is planted for commercial corn and soybean production, according to its website.
Heeren Brothers Inc.
Industry Innovator
Comstock Park
www.heerenbros.com
Heeren Brothers Inc. acts as wholesale receiver and distributor, handling a full line of fruits and vegetables from around the world. It is the largest family-owned full-line distributor in the state. The company this year moved into a newly built corporate headquarters and distribution facility. The complex consists of 53,000 square feet for produce and food distribution, 40,000 square feet of controlled atmosphere and cold storage for Michigan apples, 70,000 square feet for apple processing and packaging and 15,000 square feet of office space. The company also maintains its own fleet of tractor-trailers, according to its website.
Kit's Garden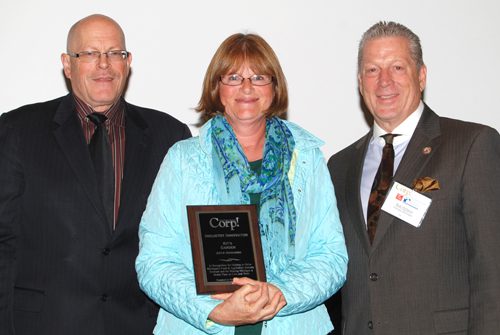 Industry Innovator
Rochester Hills
Native Traits Corp.
Industry Innovator
Kalamazoo
nativetraits.blogspot.com
Native Straits Corp. President and CEO James W. Friedrich envisions his company becoming the go-to place for naturally occurring genetic traits in corn, allowing the company to expand its presence domestically and internationally. The company touts itself as the premier developer of native genetic traits that make corn resistant to drought and tolerant of temperature extremes. Friedrich said naturally occurring traits hold many advantages over genetically engineered traits. JumpStart is the flagship product of the company's proprietary NT RECOVERY technology. Support from the agri-business community, in Michigan and elsewhere, has proved essential to Native Traits' development, Friedrich said. It has executed material transfer agreements with seven major corporate players, and precommercial tests are under way. Collaborating companies have expanded their trials and are testing a total of 10 genetic traits. The company is expected to close a major round of financing late in 2014, and it plans to move its research operation to a larger building near its main office in early 2015.
Verndale Products Inc.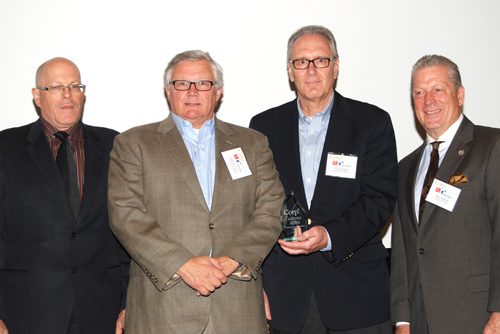 Industry Innovator
Detroit
www.verndaleproducts.com
In its own way, VernDale Products Inc. is adding flavor to the world. A family-owned business since 1958, it is a leading manufacturer of roller-dried milk powder that is used primarily by premium chocolate manufacturers. Founders LaVerne and Marlene Johnson were 50-50 partners at a time well before women's liberation. In September, the company completed construction of its Weaver Street manufacturing facility, which provides additional capacity that VernDale says will allow it to meet or exceed customers' expectations, according to its website.
Waterford School District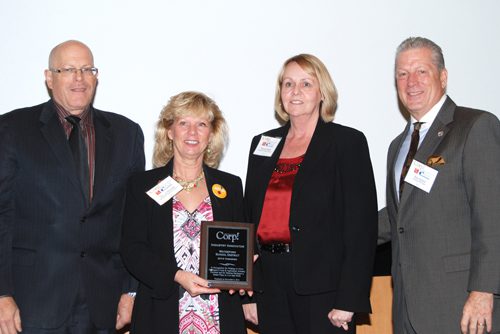 Industry Innovator
Waterford
www.waterfordschools.org
The Waterford Community Garden/Outdoor Classroom, originally planted in 2011, was developed to provide multiple learning and community service opportunities for Waterford School District students. In 2012, the district received a $45,000 Farm to School Planning Grant from the U.S. Department of Agriculture. The grant was used to help the district in planning farm-to-school programs that improve access to local foods, with the district using the Waterford Community Garden to launch the initiative. The farm-to-school program is a response to growing concerns about childhood obesity and the viability of the American family farm. The program aims to source fresh and nutritious foods locally, providing educational opportunities for students about food choices and where their food comes from, and helping to reinvigorate the local economy, according to its website.