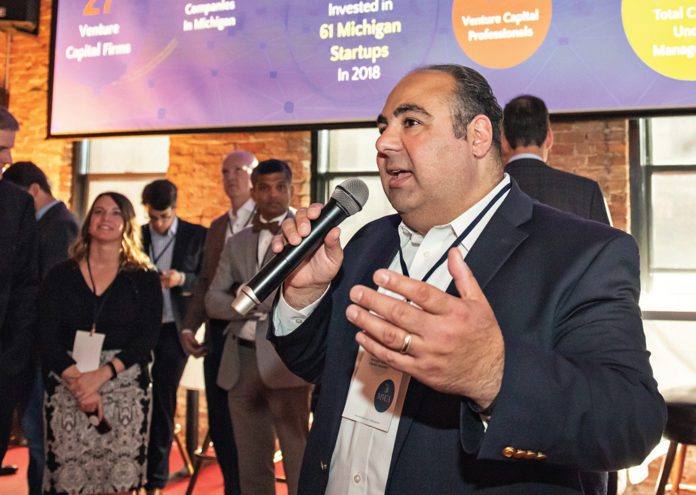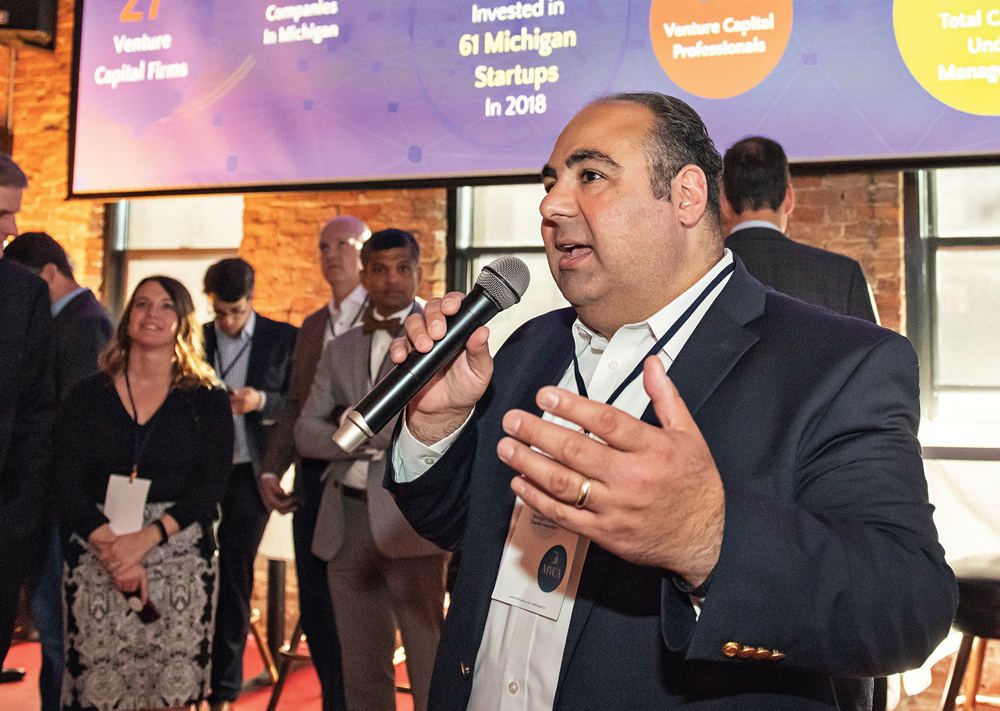 Growing up in Oakland County, Ara Topouzian wanted to be a journalist. But when he graduated with a journalism degree from Wayne State University, he was advised by his professors to "do something else" because there were no jobs available.
That something else started out with a stint as a small-business owner and joining the Farmington Hills Chamber of Commerce. After serving on the chamber board, he was invited to apply for a position there and the "rest is history," as Topouzian says.
Fast forward almost 25 years, and Topouzian has made his mark promoting economic development in metro Detroit. Serving in roles as president and CEO of the Farmington Hills Chamber of Commerce, economic development director for the City of Novi and, most recently, president and CEO of the Troy Chamber of Commerce, Topouzian has been laser-focused on creating business growth.
In March 2019, the Michigan Venture Capital Association (MVCA), the nonprofit trade association founded in 2002 to increase the amount of capital and talent for Michigan's entrepreneurial and investment community, hired Topouzian as its new executive director.
We spoke with Topouzian about his new position working with a range of constituencies, including venture capitalists, entrepreneurs and public officials, to advance entrepreneurship and access to venture capital.
Corp!: Tell us about your foray into business ownership after graduating from college.
Ara Topouzian: I was doing mail order audio books for a short period of time. I had an office in Farmington Hills and I parlayed that into starting a world music record label. I needed recordings to show people who I am (as a musician) and wondered can I make that a business? I did for a bit. I thought I may as well join the chamber since I had a business in Farmington Hills. I got active with them. They had a position that opened up.
What I learned from the entrepreneurial journey: you have to have a lot more discipline than what I probably had coming out of college. I really learned more from my first job working at the chamber.
Corp!: What is your guiding principle to live by?
AT: I believe in honesty and transparency. I believe in getting the job done and really doing the best that you can. The most important thing is that you have to enjoy what you are doing. If you don't enjoy it, it won't last.
Corp!: The Association just moved its office to Novi. What's ahead?
AT: The organization has done well over the years, but it's time to really look at where do we go from here? To me that's exciting. There's a positive vibe out there from the community that wants to become more engaged and to see more from this entire ecosystem and it puts us in a great spot to offer some new and different services.
Corp!: Is the MCVA seeing more investment in Michigan businesses?
AT: We track a bit of it every year through our research report. Those numbers are increasing and I think there's probably more going on than we necessarily know. The angel community is an important one and we are seeing more interest in Michigan in general. I am absolutely amazed at the tech that is being developed and who is doing it. Part of our goal is to keep those deals here. We are seeing out-of-state investment, but we are not necessarily seeing as much in-state. For every $1 spent here, we are getting close to $8 from out-of-state.
Overall, there has to be better awareness of not only what the entrepreneurs are doing, but how important venture capital and angel investment is in this system.
Corp!: How do you convince venture capital funds and angel investors to put their dollars into Michigan?
AT: I think we still need out-of-state investment, but it's still not enough. I think Michigan is a great place to do business. I think that with the tax base, talent and resources, you can do anything here. We have some of the best universities and colleges in the region. I think you tell the same story to the people in the state. The deals that do happen here are solid ones.
Corp!: What is the biggest management myth?
AT: When you are a leader there has to be trust. You can't be a micromanager.
Corp!: What is your pet peeve in the office and why?
AT: I don't like too much silence. I have always been in the people business — there's talking. I'd rather see my team be out and about working with their stakeholders than sitting and staring at a screen.
Corp!: What is your favorite way to spend your free time?
AT: I always like to be busy. My weakness is I don't know how to relax. I like spending time with family and friends. I am also a musician. I perform traditional Armenian and Middle Eastern music on an instrument called a kanun (a Middle Eastern harp with over 70 strings).