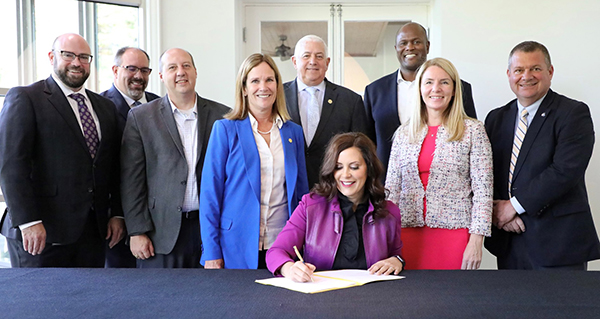 LANSING, Mich. – Gov. Gretchen Whitmer on Tuesday signed SB 844, a bipartisan bill securing resources to help Michigan grow, attract, and retain businesses bringing billions in investment and creating thousands of jobs to Michigan.
The bill makes a substantial deposit into the state's bipartisan Strategic Outreach Attraction Reserve (SOAR) fund, established last December, and includes resources for site development to create space for future business investment.
"Today, I am proud to sign another bipartisan bill that will build on Michigan's growing economic momentum, attract billions in investment, and create tens of thousands of good-paying jobs," Whitmer said. "The bipartisan legislation will help us grow, attract, and retain businesses in Michigan, ensuring we can lead the future of mobility and electrification and bring supply chains of chips and batteries home to Michigan. Our work on economic development is a testament to what we are capable of when we work together. Let's keep putting Michiganders first and moving our state forward."
Sen. Jim Stamas, a Republican from Midland, said the hudgets "invest part of our $7 billion surplus to support economic growth, create good jobs, help struggling students afford to go to college and support the mental health of invaluable first responders."
"Economic development is critical to our future," Stamas said. "As our economy faces the challenges of high inflation, labor shortages and supply-chain issues, we must help our state remain competitive for long-term, high-wage jobs."
Creating Good-Paying Jobs and Attracting Business
To maintain the Michigan's momentum attracting transformational projects, the bipartisan bill includes a significant deposit into the State's Strategic Outreach and Attraction Reserve (SOAR) fund. This funding has the potential to create thousands of new, good-paying jobs in Michigan. Additionally, the supplemental includes:
$496 million for future economic investments
$350 million for site development statewide, including:
Grants to regional and local economic development organizations
Strategic site improvements
Remediation and redevelopment for future projects
$27 million for upgrades to secure an investment from Hemlock Semiconductor, bringing the supply chain of chips home from China to Michigan.
Bipartisan Economic Development
In December 2021, Whitmer signed bipartisan economic development legislation establishing the SOAR fund. Since then, the state has attracted three projects securing the future of mobility, electrification, and semiconductor chips in Michigan.
Additional Bills to Improve Road Safety
The governor also signed two other bills, HB 5662 and HB 5663, both of which amend the Michigan Vehicle Code to implement uniform standards for commercial drivers and make our roads safer.