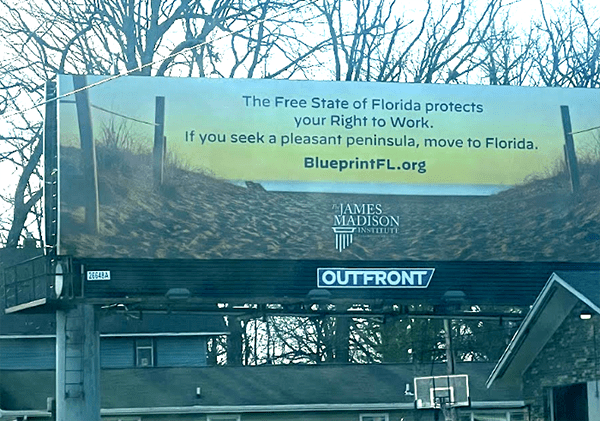 LANSING – A billboard along Interstate-496 in Lansing promotes the virtues of Florida with a warped version of Michigan's motto: "If you seek a pleasant peninsula, move to Florida."
Other states attempting to poach people to their states is not unusual. But this advertisement points to the recent repeal of the state's right-to-work law.
"The Free State of Florida protects your Right to Work," reads the billboard paid for by a conservative think tank called the James Madison Institute. It is a nonprofit organization that has ties to the right wing billionaire Charles Koch and is a member of the Koch-funded American Legislative Exchange Council.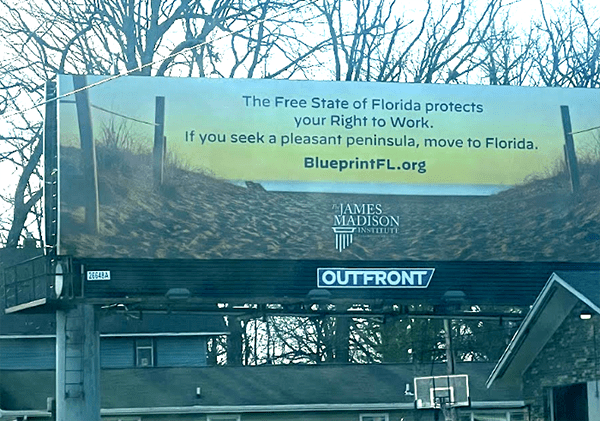 The group's aim is to try and bring people to Florida, said Robert McClure, the president of the James Madison Institute. He cited Michigan's declining population as a problem and that the people leaving should consider coming to Florida for the state's Republican policies.
The nonprofit did the billboard to "tweak" Michigan Gov. Gretchen Whitmer when she signed the repeal of the right to work law, which means employees can now be required to join a union as a condition of employment at a workplace.
"We're just reminding people that Florida's a free state, and people are moving to Florida and they're leaving states like Michigan," McClure said.
The governor's office declined to comment.
The James Madison Institute also belongs to the State Policy Network, a Koch-funded network of conservative think tanks that the Midland-based Mackinac Center for Public Policy also belongs to.
Jarrett Skorup, the center's vice president for marketing and communication, said he knew about the billboard before it went up. He declined to say with whom at the James Madison Institute he discussed the billboard.
Florida wasn't the only state to attempt to leverage the repeal as a recruitment tool. The North Carolina Chamber of Commerce placed a full-page advertisement in the Lansing State Journal touting the Tar Heel state's low-unionization rate and that it is also a "proud Right to Work state."
North Carolina has the second-lowest unionization rate in the country, with 2.8% of its workforce unionized. That state passed a right-to-work law in 1947.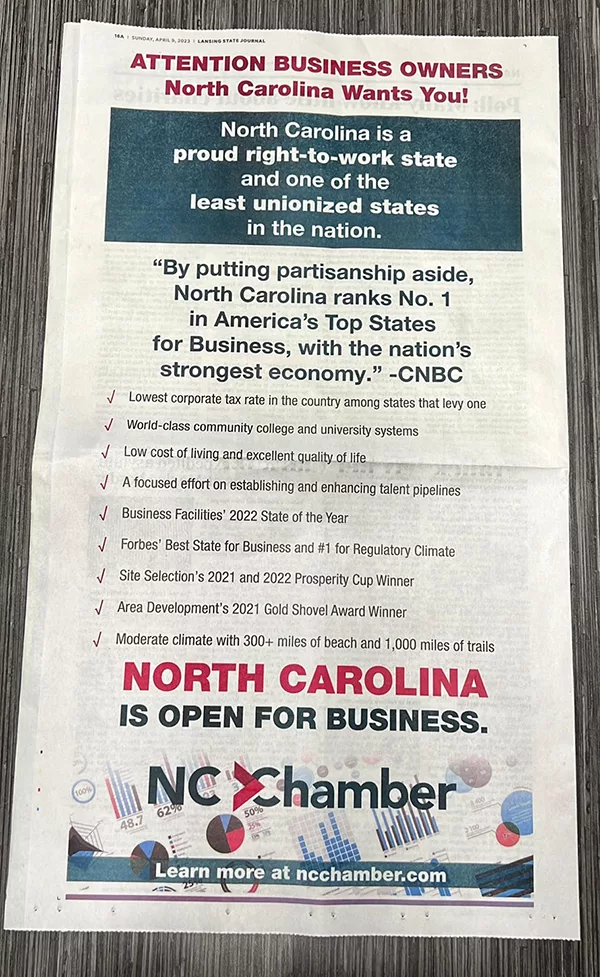 In Michigan, the right-to-work repeal has been a priority of Democrats since Gov. Rick Snyder signed it in 2012. The bill repealing the labor law was one of six key priorities first introduced by Democrats in the current legislative session.
Gary Salamido, the president of the North Carolina Chamber, said the purpose of the ad was to let Michigan businesses know his state is "open for business."
The North Carolina Chamber, Salamido said, wants to attract some of the "great" businesses in Michigan with his state's low taxes, quality of life and beaches and mountains.
Salamido said the chamber chose to advertise in Lansing to make sure "the people who are making the decisions to change policy would see it."
He is not concerned about offending workers in North Carolina or Michigan and the North Carolina Chamber has no plans for future advertisements, he said.
While there was not a discussion between the North Carolina and Michigan Chambers of Commerce before placing the advertisement, Salamido said that there was afterward and that the two chapters have a "good working relationship."
"They said, 'We understand, and let's compete,'" Salamido said.
Other states viewing the repeal of Michigan's right-to-work law as a marketing opportunity is unsurprising, Jim Holcomb, the president of the Michigan Chamber of Commerce, wrote in an email.
"Frankly, we anticipate more states may start targeting Michigan and our employer," Holcomb said.
Whether right-to-work laws help economic growth has been studied for many years, but conclusive results have never been reached. Many scholars say it is hard to isolate right-to-work as a factor.
However, the American Journal of Sociology reported a study in 2020 that found after right-to-work laws are instituted, economic inequality in a state increases, as a result of decrease in wages and union power.
Dan Netter is a journalist who started at Michigan State University in 2019. His interest in journalism includes policy reporting, identity reporting and a little bit of news design.