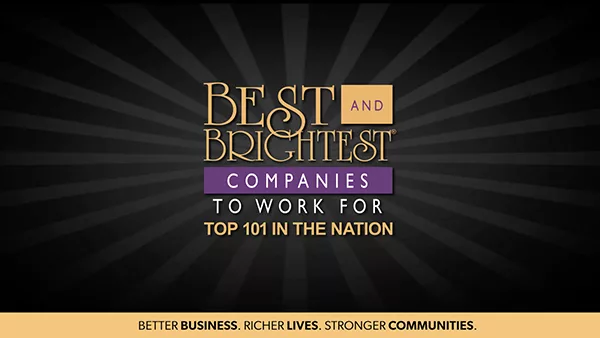 With a huge pool of companies from which to choose, it's clear that companies vying for the designation "Best and Brightest Companies to Work For" would be strong, high-quality businesses.
That was certainly the case for the 2022 group, which honored 510 winning organizations around the country. From that winners pool, the group also showcased the Top 101 highest-scoring companies in the Nation.
The winners were celebrated during the Best and Brightest Programs' Virtual Summit the week of Feb. 7.
"Those companies that made the list of the nation's Top 101 Best and Brightest Companies are truly remarkable," said Jennifer Kluge, President and CEO, National Association for Business Resources and the Best and Brightest Programs. "These companies have proven they are elite thinkers and this honor demonstrates their commitment to excellence."
All participating companies were evaluated by an assessment created and administered by SynBella, the nation's leading wellness systems firm. Company entries are examined statistically for quantitative and qualitative data.
The Top 101 Best and Brightest Companies to Work For included:
Albemarle
Amerisure Mutual Insurance Company
AmTrust Financial
Andy J. Egan Co
AppFolio, Inc.
Arrow Strategies
Ascendo Resources
Aspirent
Associa
Assurance, a Marsh & McLennan Agency LLC Company
Barnum Financial Group
Barton Malow Company
BDO USA, LLP
Blue Cross Blue Shield of Michigan
Brio Living Services
Brose North America
Buist Electric
CBIZ
CHEP
Cielo
Community Health Centers, Inc.
Consumers Credit Union
Coretek Services
CoSourcing Partners, LLC
Daugherty Business Solutions
DeMaria Building Company, Inc.
Dematic
DriveTime
Echo Global Logistics, Inc.
EDSI
Eight Eleven Group
Epitec
EV Construction
Evantage Inc
Fairway Independent Mortgage
Flagstar Bank
Florence Healthcare
Gables Residential
Greenleaf Trust
Greenstone FCS
Honigman LLP
Hungerford Nichols CPAs + Advisors
Impact Networking, LLC
InfoTrust
iVision
Jonathan Wesley Inc
Lake Michigan Credit Union
Lakeshore Recycling Systems
LaSalle Network
Logical Innovations, Inc.
Manifest
Marsh & McLennan Agency | Michigan
Martin Brower
MCM CPAs & Advisors
Michigan Medicine
Milhouse Engineering and Construction Inc
Moffitt Cancer Center
Morae Global
Morrison Healthcare
Mortenson Construction
MSU Federal Credit Union
National Futures Association
New York Presbyterian Hospital
Next College Student Athlete (NCSA)
NOW Health Group, Inc.
Office Revolution
Omron Automation America
OneDigital Health and Benefits
Origami Risk
OxBlue Corporation
PADNOS
Panasonic Automotive
Paragon D&E
Phaidon International
Primex Family of Companies
Redwood Logistics
Ridgemont Commercial Construction
Ripple Effect
Royal Cyber
Rural Sourcing Inc.
Sachse Construction
Salem Media Group
Shure Incorporated
Sony Electronics
SpartanNash
Swoon
Tallahassee Community College
The Lifetime Value Co
The NRP Group
T-Mobile USA
Total Quality Logistics
Towne Mortgage
Trilogy Real Estate Group, LLC
United Wholesale Mortgage
University of Michigan Health – West
VDart Inc.
Wade Trim
Walbridge
Wheels Donlen
WOW! Internet, Cable and Phone