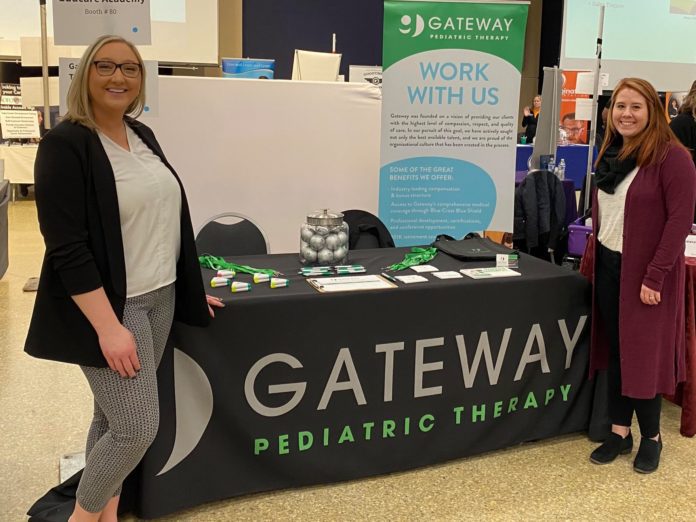 As an autistic young man, Anthony used to have a behavioral problem that saw him throwing things, hitting people and yelling and screaming.
Four years ago, at the age of 20, Anthony (Corp! is withholding his last name to protect his identity) sought – and received – help with the problem. And, four years later, he's living the life at college, hanging out with friends and holding down jobs.
It's what assistance from Bingham Farms-based Gateway Pediatric Therapy did for Anthony that made this more-normal life possible.
Gateway, whose flagship clinic is in Bingham Farms but which also has clinics in Toledo, Sacramento, Calif., Duluth, Ga., Dearborn, Lansing, Shelby Township and other areas, specializes in Applied Behavioral Analysis, a holistic approach to problem solving and skill development for autistic clients.
They took Anthony on as a client when he was 20. Now Anthony, a Farmington Hills native, is going to college in Grand Rapids. From all indications, it's been a successful partnership.
"Anthony has told us numerous times, 'You guys have helped me so much,'" said Frank Pinkham, Gateway's director of adolescent services. "The fact he's at a school away from home, in an apartment, with roommates, his classes are going well, he's managing his schedule … it's very self-evident."
Gateway's mission is essentially to provide ABA therapy to children, adolescents and teens (18 months to 21).
According to Pinkham, who earned a bachelor's degree in psychology from Oakland University in 2006, ABA is a scientific approach to understanding behavior.
"We use some of these principles to understand and focus on how behaviors change or are affected by the environment," he said. "In turn, we kind of understand how learning takes place. In its simplest form, we use behavior analytic interventions to help clients learn appropriate skills, and apply those skills in their daily lives."
Of course, Anthony's work with Gateway was all pre-coronavirus. The COVID-19 pandemic has dramatically reshaped the way Gateway delivers its services.
Like nearly all other businesses, Gateway's services were traditionally delivered in person, with personal interaction between client and technicians. Once the pandemic hit in March 2020, all of that changed.
Like all other businesses, Gateway shifted to a much more virtual model of service delivery.
"We've relied on video a ton," Pinkham said. "Everyone is PPEd up, there's a lot of distancing that's going on, so physical measures that have been put in place are along CDC guidelines.
"If we have a technician in the home or in the therapy room working with clients, that technician is obviously abiding by all the guidelines," he added.
That can be a tough adjustment for Gateway staffers.
"In some ways, it makes it tougher to deliver the service," Pinkham acknowledged. "For someone like me, who is always very hands-on, side-by-side coaching – that's how I was brought up in this field and that's how I learned to apply supervision – it was difficult at first. You had to kind of get creative."
The pandemic made service delivery hard in other ways. Gateway's methods depend on programming for a good life balance, which typically involves social interaction, productivity in the home and in the community and relaxation and leisure skills.
Therapists strive for clients to each a balance in those three areas, and the pandemic has affected at least two of them, Pinkham said. Social groups — which used to be in-person in a social room with activities specifically developed to build social skills — couldn't be done in-person.
So those activities all moved to virtual social groups, doing on-line activities in a screen-share format.
"On the one hand it was definitely a challenge, because social interaction is one of the core deficits of autism, and there were certain clients who were here just for that," Pinkham said. "Moving them to a virtual group developed into something really great and effective. I thought that was really cool."
With so many stuck at home because of stay-home orders from the governor, Gateway's therapists found themselves having to increase the teaching of leisure skills greatly. They weren't the only ones, Pinkham pointed out. Everyone was doing that.
"It's not even specific to the kids we work with," he said. "If you think back, why was my on-demand movie bill $3.50 in February 2020 and then like $65 in March 2020? I myself was struggling to find a variety of leisure activities, basically stretching out the few that I had.
"That was the tough part with our clients," he added. "There were limited leisure skills to begin with … it wasn't as apparent before because they were spending the day at school and then maybe coming to our clinic for a few hours of social skills training. Then, on a dime, that all stops, and now we have a growing number of parents saying, 'He doesn't do anything else, how can you help us?' In a broader sense it changed what we were targeting because we had to help our clients adapt to the situation at the same time we were adapting."
It's that socialization/leisure behavior where Gateway may have helped Anthony the most. From a youngster who yelled and screamed and threw things, Anthony developed into a dependable worker who has been able to wrangle several different jobs, most recently at Pizza Hut.
While he hasn't yet decided on a major – "I'm just taking classes that are required right now … When I get to my junior or senior year I'll take classes I'm interested in," he said – he has moved in with roommates and been able to socialize a little as the governor has eased COVID-19 restrictions.
"I've been able to socialize," Anthony said. "I went to Culver's, went to a mall with friends. I'm worried about getting covid a little bit, but as long as we're wearing a mask, I'm not really worried about it that much.
"Before treatment life was tough because I used to throw and hit people and scream and yell, and I don't do that any more," he added. "Gateway gave me strategies on what I should do instead. It helped."
The pandemic, Pinkham said, has taken away from the balance of life activities, which he said "takes away from quality of life."
"That's across the board, I don't think that's anything specific to the autism population," he said. "It wasn't specific to the diagnosis, I think it was something as a whole we were all dealing with, and it affected our clients in the same way."
Still, like most businesses who successfully adapted to delivering services in a pandemic era, Gateway staffers "learned some strategies" through working through more of a virtual model that the clinic may "keep to some extent beyond the pandemic."
One example: Parent meetings.
"The convenience for our parents and our families to meet with us on video has increased our ability to meet with them more frequently, and it's lending itself to better client outcomes," Pinkham said. "As we got more comfortable using this, and coming up with some creative solutions to continue to provide our service, we're seeing these are some things that could be helpful to us as we move forward."