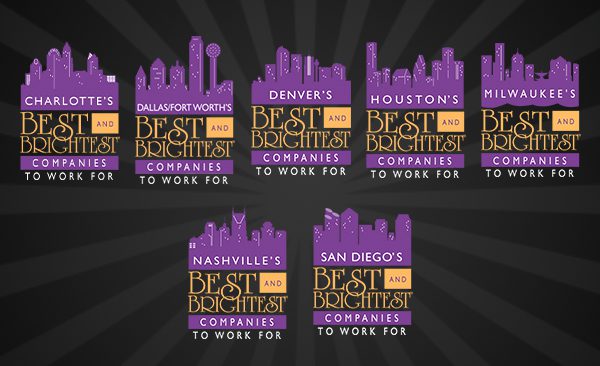 The Best and Brightest Companies to Work For announced and welcomed the newest 2022 winners from Charlotte, Dallas, Denver, Houston, Miami, Milwaukee, Nashville and San Diego to the Best and Brightest Community.
The 2022 winning companies were assessed by an independent research firm, which reviewed a number of key measures relative to other nationally recognized winners. The Best and Brightest Companies to Work For winners are not ranked. This year, the Best and Brightest program honored 56 winning organizations out of 400 nominations.
The Best and Brightest Companies to Work For winners will be honored during the virtual Best and Brightest Conference during the week of Nov. 7.
"These 2022 winning organizations have stood out during unpredictable times and have proven they are an employer of choice," said Jennifer Kluge, President and CEO of NABR and The Best and Brightest Program. "They continue to keep the needs of their employees first and provide perks that include development, wellbeing, work-life balance, rewards and recognition. In addition, these winning companies offer a fantastic work culture and workplace environment that attracts and retains superior employees."
The categories that the applicants were scored on include: Compensation, Benefits and Employee Solutions; Creative, Wellness and Wellbeing Solutions; Employee Enrichment, Engagement and Retention; Employee Education and Development; Recruitment and Selection; Employee Achievement and Recognition; Communications and Shared Vision; Diversity, Equity and Inclusion; Work-Life Blend; Community Initiatives and Corporate Responsibility; and Leadership, Strategy and Company Performance.
Here's a shout-out to the winners, which included:
Charlotte's Best and Brightest 2022 Winners
ECS Southeast, LLP
Finzly
Frank Recruitment Group
Jabian Consulting
Opkalla
Phaidon International
Progressive AE
Service Express Charlotte
ScentAir
The Intersect Group
Thirty Capital
Townsquare Interactive


Dallas/Fort Worth's Best and Brightest 2022 Winners
Brinson Benefits, Inc
Frank Recruitment Group
Ridgemont Commercial Construction
Texas811
The Vested Group
Venn Technology
Denver's Best and Brightest 2022 Winners
Asset Living Company Denver
CBIZ
Ethos Consulting Group
IDR Denver
JMJ Phillip Executive Search
Nuspire
Sentinel Technologies, Inc.
Service Express Denver
Total Quality Logistics
WOW! Internet, Cable and Phone
Houston's Best and Brightest 2022 Winners
ComboCurve
Energy Ogre
Abitos CPA and Advisors
Allen Morris Company
ANF Group, Inc.
Ascendo Resources
CBIZ
Coastal Wealth
Coyo Taco
Everest Business Funding
Famis
H & CO, LLP
International Finance Bank
One Park Financial
Top Score Writing
Milwaukee's Best and Brightest 2022 Winners
Briohn Building Corporation
MARS Solutions Group
Health Payment Systems
Zeigler Automotive Group
Nashville's Best and Brightest 2022 Winners
BDO Nashville
JumpCrew, LLC
OVATION
Pivot Point Consulting
Service Express Nashville
Stratasan
Total Quality Logistics
San Diego's Best and Brightest 2022 Winners
Associa – The Prescott Companies
Tealium
The Best and Brightest is a powerful community of the nation's elite leaders who share ideas, practices, and have proven they are employers of choice. With more than 20 years of experience conducting the Best and Brightest competitions, the NABR has identified numerous best Human Resource practices and provided benchmarking for companies that continue to be leaders in employment standards.
The Best and Brightest Companies to Work For is a national program celebrating those companies making better business, creating richer lives and building a stronger community as a whole. There are numerous regional celebrations throughout the country, such as Atlanta, Boston, Chicago, Dallas, Detroit, Grand Rapids, Houston, Milwaukee, San Diego, San Francisco, Miami, New York, Charlotte, Denver, Nashville and the Pacific Northwest. Nominations are now being accepted for all programs. Visit thebestandbrightest.com to nominate your organization.