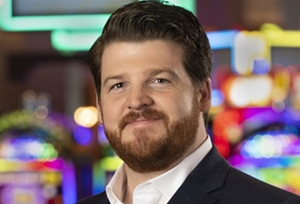 DETROIT – MGM Grand Detroit announced that Carter Bair has been appointed Vice President of Marketing. Bair will assume leadership over the strategy and execution of advertising, brand positioning, casino marketing, database marketing, special events, VIP services and public relations for the property.
With more than 14 years of marketing experience, Bair joins MGM Grand Detroit from Del Lago Resort & Casino in New York, where he served as Vice President of Marketing for nearly four years. In this role, he led several marketing campaigns across regional gaming markets spanning from comprehensive player development programs to digital marketing campaigns and non-gaming revenue growth opportunities.
"My family and I are excited to relocate to the Detroit area and explore all that the city has to offer," Bair said. "I'm grateful for the opportunity to work with the team at MGM Grand Detroit and can't wait to get started."
Bair has an extensive marketing career within the gaming and hospitality industry with regional casinos operated by Peninsula Pacific Entertainment, JNB Gaming and Boyd Gaming. Carter also held brand and casino marketing roles at Kansas Crossing Casino, Kansas Star Casino and Diamond Jo Worth Casino in Iowa.
"Carter's knowledge and understanding of the gaming industry makes him a natural fit for this position," said David Tsai, President of Midwest Group, MGM Resorts International. "I'm confident that with Carter's background, he will help solidify MGM Grand Detroit's leading position in the market."
Bair will report to Tsai, replacing previous SVP Marketing & Operations Matt Buckley who is now the General Manager of MGM Northfield Park in Northfield, Ohio.