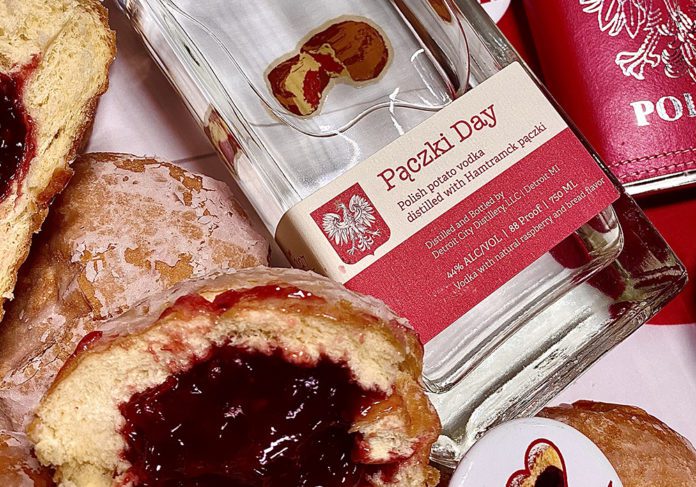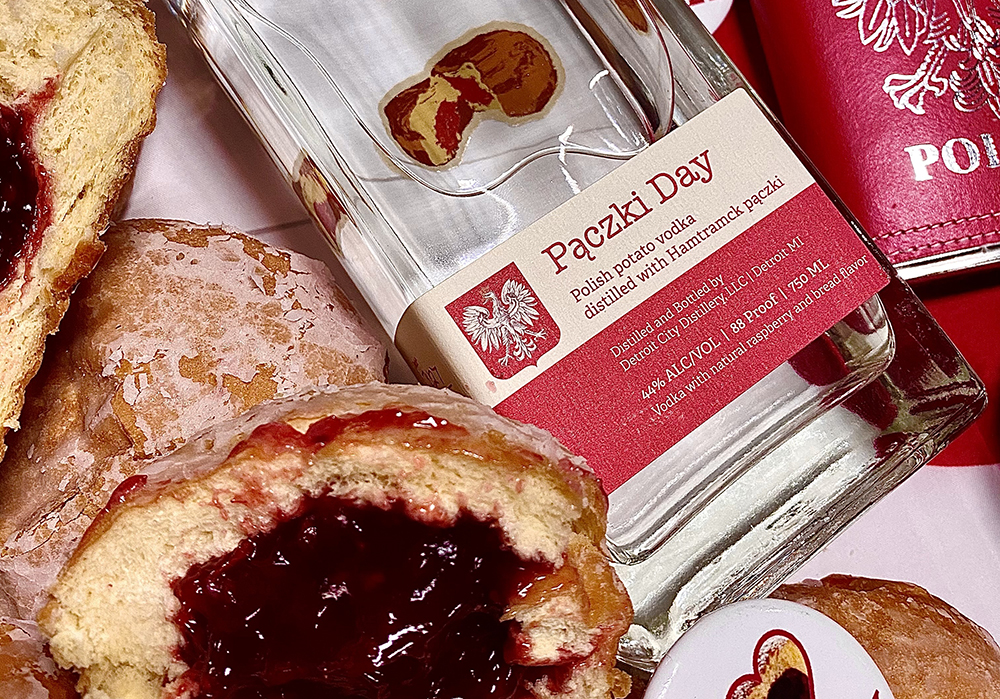 Paczki Day Vodka by Detroit City Distillery has turned into a Metro Detroit tradition – and it has proven hugely successful for the Detroit-based business and its partners, selling out for a second year in record time.
Detroit City Distillery recently announced that its Paczki Day Vodka, along with its ulta-limited-edition flavors, Powidl and Wild Rose, and bottled cocktails, Polish Daisy and Polish Bloody, sold out during online sales in just 22 minutes. Bottles are still available in limited numbers at Metro Detroit-area grocery and liquor stores.
"HOLY PACZKI!!! We are SOLD OUT of Pączki Day Vodka! We are speechless. THANK YOU for the love, Michigan! Now the treasure hunt is on… Pączki Day Vodka is being sold in many of Michigan's finest liquor stores. We've published a list on our website at detroitcitydistillery.com/news to help you find it. We don't know how we could humanly make any more than we did, but we'll figure it out for next year. NA ZDROWIE!" the Distillery said in a statement.
Just days before the virtual sales launch of their popular Pączki Day Vodka (PDV) on Monday, February 1, Detroit City Distillery announced the addition of two small-batch PDV flavors made with traditional pączki "Powidl" (Plum) and "Wild Rose," as well as bottled cocktails, "Polish Daisy" made with PDV, and "Polish Bloody Mary," made with Srodek's horseradish, along with pączki-themed hats, hoodies, t-shirts and beanies.
"After witnessing the epic response to Paczki Day Vodka, we decided to get even more creative by producing small-batch versions of PDV, like plum and rose, that will transport die-hard pączki-lovers back to their childhood memories in grandma's kitchen," said Michael Forsyth, co-owner of Detroit City Distillery. "The folks at New Palace were kind enough to whip up a few batches of pączki with these traditional fillings, and we distilled them with the same polish potato vodka we sourced from Poland. The result is 200 bottles each of Paczki Day Vodka in "Powidl" and "Wild Rose."
For the uninitiated, pączki (plural) or pączek (singular) are rich, filled donuts in various flavors enjoyed on Fat Tuesday before Lent. Pączki resemble donuts but are made with an enriched dough that often incorporates eggs, butter and milk, as well as vodka, which limits the absorption of fats during frying, keeping the exterior crust crisp. Pączki are coated in powdered sugar or glaze and come in traditional flavors like raspberry, strawberry, lemon, plum, apple, rose and custard.
Pączki Day Vodka is made by distilling fresh raspberry pączki from Hamtramck's New Palace Bakery with the finest-quality potato vodka imported straight from Poland. The pączki soak for 24 hours in the vodka inside a 500-gallon copper pot still. Next, the magic of distillation transforms the pączki and vodka into a crystal-clear spirit that is smooth, buttery and has a distinct finish corresponding to the pączki's filling (raspberry, plum or wild rose). The spirit is 88 proof and is best enjoyed chilled over ice, mixed in a cocktail or as a pączki chaser.
Detroit City Distillery creates small batch artisanal whiskey, gin and vodka as well as limited-edition spirits, using the finest local ingredients sourced directly from farms near its Distillery and tasting room located in Detroit's famed Eastern Market. The result is a drink of distinction made for the revolutionaries rewriting the history of a great American city. Its products include Pączki Day Vodka, Butcher's Cut Bourbon, Homegrown Rye, Bloodline Whiskey, Gilded Age Vodka, Railroad Gin and Peacemaker Gin.