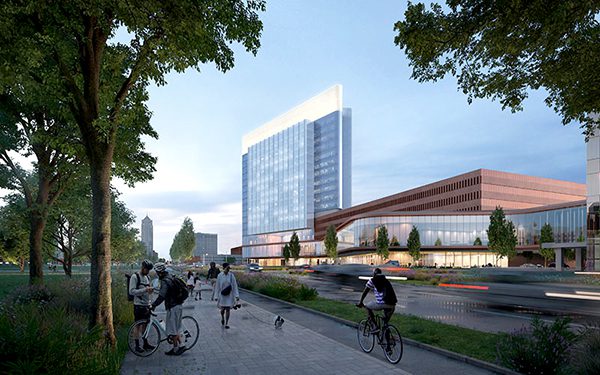 DETROIT (Globe Newswire) — A sweeping community development sponsored by Henry Ford Health, Tom Gores and the Detroit Pistons, and Michigan State University intends to invest $2.5 billion over the next decade to turn Detroit's New Center neighborhood into a vibrant, walkable community with state-of-the-art residential, commercial, retail, recreational and health care components.
The development will be anchored by a reimagined Henry Ford Health academic healthcare campus, the highlight of which is a major expansion of Henry Ford Hospital including a brand new one-million-square-foot plus facility and patient tower.
It also includes a new, cutting-edge medical research facility for Henry Ford Health + Michigan State University Health Sciences, part of Henry Ford Health's 30-year partnership with Michigan State University.
The plan includes a significant expansion of the partnership between Henry Ford Health and Gores and the Detroit Pistons, who joined on a $137 million facility in 2019 that relocated the Pistons franchise back to Detroit and into the new Henry Ford Detroit Pistons Performance Center and Center for Athletic Medicine on Second Avenue adjacent to New Center.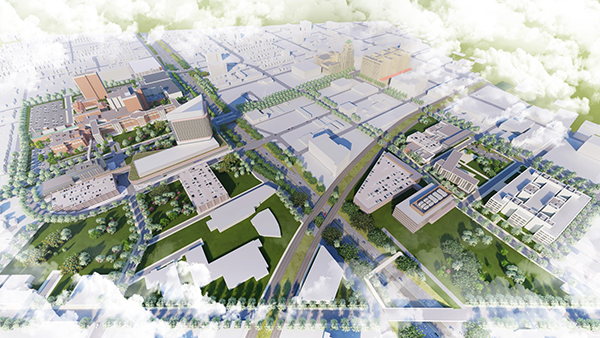 "When we acquired the Pistons more than a decade ago, our vision was larger than simply owning an NBA basketball franchise," Gores said. "I viewed this from the start as a 'community asset' that was uniquely positioned to participate in the continuing reinvention of Detroit and to be impactful in the lives of its residents.
"Our plan in Detroit has focused on bringing people and organizations together and creating meaningful partnerships that accelerate growth, create opportunity and contribute to the revitalization of the city," he said. "We are uniquely positioned and fortunate to have our partners at Henry Ford Health support the reimagination of our shared neighborhood, which will create jobs and housing for a new generation of Detroiters."
Gores praised the President/CEO Robert Riney and the Henry Ford Health team. Riney said the power of partnership is vital in redefining and rebuilding neighborhoods across Detroit.
"The reimagination of our healthcare campus in Detroit has been a long-held vision for us and we've taken exceptional pride in challenging ourselves – a quest to discover what's truly possible alongside our partners," Riney said.
Riney said the hospital component alone will represent the largest single healthcare investment in the city of Detroit in the health system's history. Renderings shared today detail the initial conceptual areas of focus for future development in creating a unique destination to live, work and play in a community that supports tomorrow's healthcare advances, drives economic growth and inclusion, and provides a new welcoming and accessible urban environment.
"Like all major U.S. cities, our great city of Detroit deserves a premier academic medical center and destination for the most advanced care, research and education," Riney said. "As an anchor institution that's been committed to building strong, healthy communities for more than a century, we know we can deliver on that promise – to double down on our commitment to being relentless advocates for those we serve."
Detroit Mayor Mike Duggan praised the vision and investment of three like-minded institutions focused on the impacting the community and driving economic growth.
"Detroit is seeing more investment, construction and job growth than it has in a half century and today's announcement of this $2.5 billion development takes things to a new level," said Mayor Duggan. "This partnership between Henry Ford Health, the Pistons and Michigan State University represents an incredible investment in our city. Detroiters will have not only a new state-of-the-art hospital and medical research facility, but also more opportunities to live, work and play, right here in this neighborhood."
The partners plan to bring connectivity between Henry Ford's hospital footprint north and south of West Grand Boulevard and transform the section of New Center which currently houses the headquarters for both Henry Ford Health and the Detroit Pistons – an area south of West Grand Boulevard, north of I-94, east of M-10/The Lodge and west of Second Avenue – into a walkable, connected community infused with innovative mixed-income living spaces, retail and dining options, and green space.
In addition to the new building, Henry Ford Health plans to integrate and connect its Detroit facilities through a series of tunnels, bridges, and walkways to ensure seamless travel, as well as infuse inviting green space. With Henry Ford Health's Board of Directors expected to approve the plan later this month, the health system hopes to break ground in 2024 and will release more details as plans are finalized.
Teaming Up for Medical Research
With a groundbreaking also planned for 2024, the joint research facility previously announced by Henry Ford Health + Michigan State University Health Sciences will be constructed south of the new hospital facility – along Third Street, across from the Henry Ford Detroit Pistons Performance Center and Henry Ford's One Ford Place administrative building.
The new facility will align basic and translational research, fueling innovation and discovery through an academically and clinically integrated partnership of doctors, nurses, scientists, academics, and public health practitioners.
"Together, our organizations have the collective knowledge, skills and drive to usher in a new era of medical education and research excellence," said Teresa K. Woodruff, Ph.D., interim President, Michigan State University. "By joining forces and building on our rich academic and medical heritages, we are truly poised to transform the way in which people receive and experience health care."
Henry Ford Health and the Detroit Pistons are in the beginning stages of engaging stakeholders from the community to solicit feedback on the proposed transformative future development vision that will build upon the successful development of the Henry Ford Detroit Pistons Performance Center, which opened in 2019.