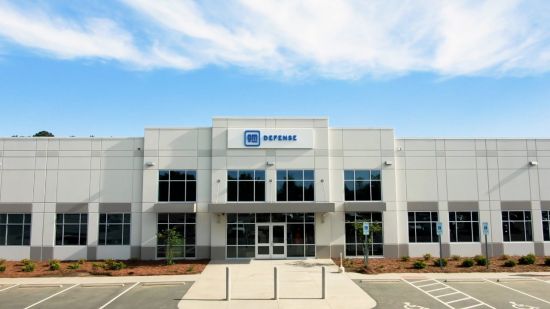 CONCORD, N.C. —GM Defense LLC, a subsidiary of General Motors, announced Steve duMont as its new president, while also celebrating the official opening of its new production facility in Concord, North Carolina, where it will manufacture the Infantry Squad Vehicle (ISV), a light and agile all-terrain troop carrier for the U.S. Army.
DuMont joins GM Defense from Raytheon Intelligence & Space, a business of Raytheon Technologies, where he led and implemented a focused strategy for global growth. He held various leadership positions during his more than 13 years at Raytheon, as well as previous systems engineering and program leadership positions with BAE Systems and Boeing. Prior to the private sector, duMont served as an aviation officer and attack helicopter pilot in the U.S. Army.
"Steve's robust defense, business development and military experience position him well to advance the vision of GM Defense," said Pam Fletcher, GM vice president of Global Innovation. "As we welcome Steve to the GM family, we also thank Tim Herrick for serving as interim president in the recent months."
DuMont said he was "honored to be joining GM to lead the GM Defense team."
"I wanted to continue my career with an organization that can provide solutions to address some of the toughest problems that our defense customers are facing, and GM Defense is doing just that," duMont said. "The company has the ability to disrupt the industry by bringing significant commercial innovation forward, and I'm truly excited to lead this team at such an important time for our defense and government customers around the world."
In his new role as president, duMont will leverage the best-in-class capabilities of GM to bring world-class manufacturing and quality, design and engineering, and commercial innovation to defense and government customers.
One such example of leveraging GM's strengths in manufacturing is GM Defense's new Concord production facility. In just over 90 days – from the start of construction to the start of vehicle production – GM Defense has demonstrated its fast-to-field capabilities by standing up a state-of-the-art tactical wheeled vehicle manufacturing center. The facility will build ISVs in support of a $214.3 million U.S. Army contract award. The Army has an acquisition objective of 2,065 vehicles for the Infantry Brigade Combat Teams.
The new 75,000-square-foot plant includes some of the latest manufacturing tools, including a digital operating system utilizing Bluetooth-enabled tools to meet U.S. Army requirements with extreme precision. The advanced tools will help ensure the highest level of quality while enabling greater efficiencies throughout the ISV build. Now the newest and one of the most advanced production lines for tactical wheeled vehicles, the GM Defense Concord facility will support ISV full rate production.
"Our ability to build vehicles after the start of construction in just over 90 days, combined with the rapid delivery of the first ISV to the U.S. Army 120 days after contract award, underscores the world-class manufacturing capabilities and innovation we bring to our customers," said Herrick, former interim president of GM Defense and GM's vice president for Global Product Programs. "I look forward to supporting Steve as he the expands the company's North Carolina footprint and pursues new defense and government contracts."