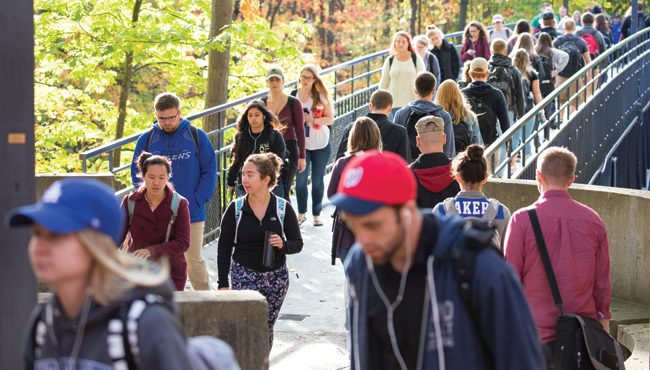 Grand Valley State University students living on- and off-campus have been ordered to stay where they are for the next two weeks.
The Ottawa County Department of Public Health, in cooperation with Ottawa County and GVSU, has issued a "Staying in Place" order for GVSU students living and studying in Allendale Township to help mitigate the spread of COVID-19.
The two-week order runs through October 1 and directs students in Allendale Township to remain in their on-campus or off-campus housing except to attend class, utilize food services, obtain groceries or medicine and medical care, for worship and religious practices, intercollegiate medically supervised athletic practices, or for employment.
GVSU President Philomena V. Mantella said when Grand Valley made plans for the resumption of campus learning and residency, adjustments would be made when needed to ensure the continued health and safety of the Laker community.
"All of us share the goal of keeping our communities safe," said Mantella. "GVSU remains committed to following all public health guidance and to stopping the spread of this virus, and I want to thank all of our students who have been acting responsibly. The university has partnered with OCDPH from the beginning, and we ask our students to cooperate with this two-week order and do their part for their friends, family, and the greater community. We can slow down the spread if we work together."
Staying in Place required actions:
All GVSU students attending classes at the Allendale Campus will be required to wear a mask at all times, indoors and outdoors, if in public both on and off campus.
In-person gatherings with non-household members are strictly prohibited for the duration of this order. Under no circumstances are visitors permitted in on- or off-campus housing for the duration of the order.
Students will be allowed to leave their room/residence for purposes of physical activity in groups of no more than two with strict adherence to preventive measures.
Students can attend in-person classes, including labs and physical education classes with strict adherence to preventive measures.
Students can leave their room or residence to pick up food and other basic needs, go to medical appointments, pick up medication, attend religious practice activities or obtain COVID-19 testing with strict adherence to preventive measures.
Students can attend work with the approval of the employer if the work is essential and cannot be done remotely with strict adherence to preventive measures.
Students can have clinical rotations, student teaching or other off-campus experiential learning assignments to continue only with approval from the college dean and disclosure to the organization of placement and renewed approval by that organization with strict adherence to preventive measures.
More: Facebook 'Cowboys' Debate Ends in Understanding at Sheriff's Office
More: Program Will Help Address Climate Impact on Public Health, Emergency Preparedness
More: Bank CEO: Pandemic Boosted Customers' Use of Digital Tools, Changing the Way People Will Bank Going Forward
FAQs about the Staying in Place order can be found on the Lakers Together website.
Greg Sanial, vice president for Finance and Administration and interim director of the Virus Action Team, said it's important to understand and accept the highly contagious nature of the virus.
"Strict adherence to preventive measures is required, so students should take careful note of the new requirements for face coverings, distancing and contract tracing," said Sanial. "Fully disclosing contacts is strictly for the purpose of keeping our community healthy. Please comply to keep friends and colleagues out of harm's way."
The Virus Action Team and Senior Leadership Team said the GVSU COVID-19 dashboard is now at Alert Level 3.
"This means extra vigilance is required of us all," said Sanial. "Adherence to the order will help us reduce the positive diagnoses, especially in off-campus housing areas, and make sure the order is lifted in 14 days."
Mantella said students are expected to attend in-person classes on their schedules; she said campus operations will continue and offices will be open.
Grand Valley has support systems in place to help students with a variety of circumstances, including technology, food and mental health issues. The GVSU COVID-19 Call Center is available at (616) 331-INFO (4636). Personal health-related questions can be directed to the GVSU/Spectrum 24-hour call center at (833) 734-0020. For other questions, email [email protected]