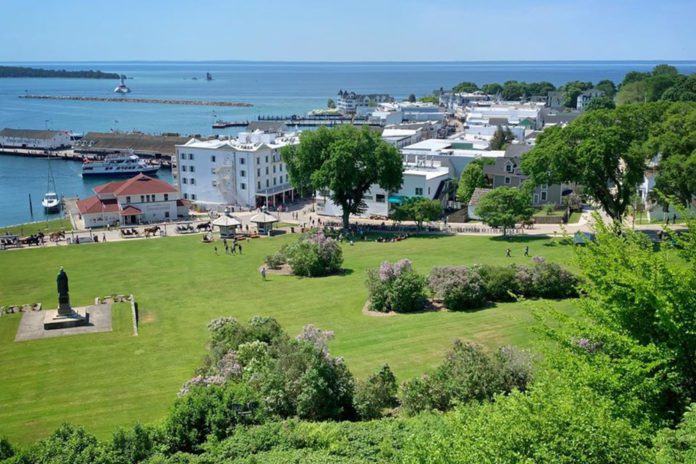 As Michigan residents begin to travel again in the wake of months-long quarantines, travel advisors and industry experts agree that coronavirus and related concerns have changed the way people will experience vacations both in high-population areas as well as tourism-friendly destinations.
As a result of social distancing and health concerns, travel observers say they expect road trips to become the main way people will go on vacation for the rest of 2020, that families will focus on "under-the-radar activities" or second-tier cities and that regular tourist hot spots will have to work harder than ever to get not only customers but employees.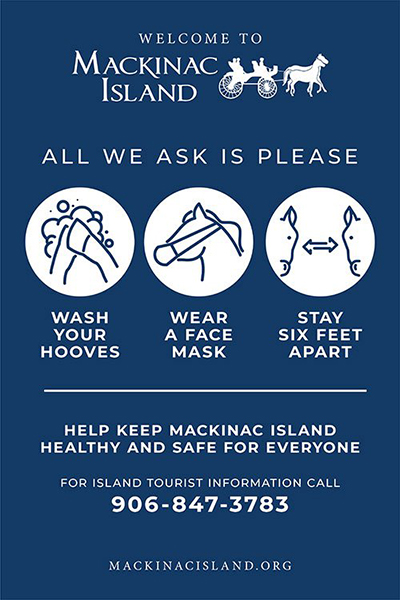 For example, Mackinac Island stores and resorts are opening later than expected and will have to recruit employees throughout the Island's regular tourism season to have enough people filling those all-important hospitality jobs, said Tim Hygh, Executive Director of the Mackinac Island Tourism Bureau.
Over the weekend, the well-known Grand Hotel reopened and the Mackinac State Historic Parks and related attractions have begun a phased reopening. Most of the Island's ferry services, restaurants and hotels are open, Hygh said, they are ready to serve people with masks and those staying six feet apart. Resort Mission Point also will open June 25.
"There was a (delay in opening) for two reasons: We wanted to make sure we had new protocols in place and, physically, it takes a while to get open," Hygh said.
As for hiring, "we're scrambling," Hygh said, but the Island is doing all it can to bring in local workers and make sure the housing options are safe and socially distanced as well to keep employees healthy throughout the busy season.
Changing and innovating
Travel Michigan's Vice President Dave Lorenz traveled to the Upper Peninsula and Mackinac Island last week to celebrate the Island's reopening efforts. He said he saw lots of work being done to keep people feeling safe while visiting the many tourism spot around the Island. For example, the popular carriage tours have plexiglass between the rows in the carriage and people were staying six feet apart while waiting in line to get on board.
"We can get out there and do it safely, but we need everybody to play their role in it," Lorenz said. "Places like Mission Point are doing a lot of improvements and new offerings, like picnic lunches to purchase and enjoy out on the lawn. Simple innovations like that are going to get us through this and change the way our vacations are done."
Lorenz said he recommends booking things now so people can get a spot in these tourist areas like Mackinac. But he also encourages Michigan residents to look at other beautiful locations around Michigan such as the Upper Peninsula for a vacation. This helps these tourist-dependent areas recover and spread the wealth among other destinations, he noted.
As part of Travel Michigan, Lorenz will be going to all of the state's popular destinations including the central and north central parts of the UP, Traverse City and the Sunrise Coast of the state to help spread the message that the state is open for tourism, he said.
Under the radar
Coronavirus and its lasting effects will have a huge impact on this year's travel planning and traveler behavior as a whole across the United States, said Lizia Santos, CEO and co-founder of City Catt, a travel platform that helps families find great vacation options through the help of local residents and social media.
Specifically, Santos said heightened caution and focus on preventing COVID will create winners and losers, allowing second-tier cities or suburbs adjacent to big centers to capture more tourism revenue that was once dominated by top-tier destinations.
City Catt did a survey with nearly 400 travelers, where it found that pre-COVID, 85% of travelers preferred destinations with both traditional tourist attractions and local charm, compared to recent results showing that now, 54% of travelers want to avoid any destinations with top tourist attractions.
This paints a gloomy picture for the future of tourism but also highlights the unique opportunities for second-tier cities to capture this market share, as well as for big city centers to show they have more to offer than pre-packaged attractions, Santos said.
"From what I've been seeing, there have been two reactions to reopening and travel after COVID. One group of people is merely resuming life as it was before, and decisions such as where to travel remain based on the same parameters as before," Santos said. "For this group, destinations are chosen based on popularity and the excitement that a good number of attractions provide.
"I live in Orlando, and I can attest the city is back on track, with thousands of visitors in the same attractions, except that now they wear masks and wait patiently to be accommodated in attractions/ restaurants operating at a 50% capacity," Santos added. "So, the opportunity for these already popular destinations – Orlando, NY, Atlanta, Miami – remains if they offer safe alternatives to a less-cautioned traveler."
However, Santos noted, COVID expanded the number of cautious travelers. The pandemic led people to now make decisions based on the latest data available to keep their families safe. And for this group, arrangements will be based on numbers and also the perception of safety they have of destinations.
"This will be based on how much effort cities put into empowering people with information about their attractions and local charm, ensuring travelers there's a way to explore them safely," Santos said. "For this group, destinations less popular like Denver, Philadelphia and Minneapolis that offer an array of outside activities and under-the-radar experiences and restaurants and have managed to keep COVID number low, have an incredible opportunity to attract the people eager to travel after a long period of isolation."
She predicts road trips and domestic travel will win the day for summer 2020.
"People are opting for destinations they can get to by car, and hotel chains are starting to get occupation up because a more corporate approach to keeping CDC guidelines seems more secure than trusting an individual vacation homeowner with deep cleaning," Santos said. "I plan on going on an East Coast road trip this summer. I can't wait to change sceneries, and a road trip puts me in control of my family's safety, also opening doors to the fun unpredictability of finding new things on the way and being able to stop and get to know them."
As for 2021, a lot is still up in the air, Santos said.
"I think that a couple of news cycles later, and with the possibility of a vaccine, plus the accumulation of data on how other countries reacted and recovered from COVID, people will be more adapted to the 'new normal' and more willing to take risks," Santos said. "I believe international travel will start its recovery around springtime, and the Olympics could be a landmark in this process, showing people whether it's safe or not to cross borders safely as long as the proper safety procedures are put in place."