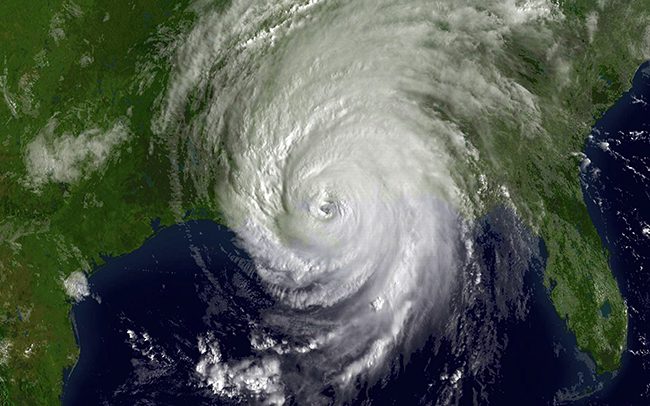 CHICAGO — Some economic analysts are scaling up earlier projections of more modest damage to the local and national economy following the barrage of Hurricane Ida, which left more than 1 million people in Louisiana without power and shut down more than 90 percent of oil refineries and production in the Gulf region.
The Category 4 hurricane ripped through the Gulf of Mexico more than two weeks ago, destroying homes, transmission lines and extending flood damage as far north as New England. Electricity has been restored for 98% of New Orleans residents. But rural and harder-hit areas still are potentially weeks away from having electricity.
According to a Sept. 13 update from the U.S. Department of Energy, 164,000 Louisiana residents still remained without power two weeks after the storm.
Two weeks later, the damage projections also have ranged from $25 billion to as high as $95 billion. Economists still expect higher retail gas prices in the weeks to come. But the real economic trouble could come from disruption to the petrochemical and plastics industries. That could have major, cascading effects on other industries, according to Robert Handfield, a professor of supply chain management at North Carolina State University.
"It's going to impact plastics. It's going to impact packaging. It's going to impact other chemicals that are used in other supplies," Handfield said in an interview with Corp! Magazine.
Refineries and petrochemical plants produce most of the country's plastics, Handfield said — everything from shrink wrap to medical supply tubing and molded automobile parts.
Many of these plants already were struggling after being shut down for a month by an unseasonably cold winter in Texas that burst pipes and left many without power. On top of that, they're also already dealing with pandemic- labor and supply chain shortages too.
"And then Ida comes along," Handfield said. "I don't see anything but shortages and inflation in our future."
As of Monday, 49% of Gulf of Mexico oil production and 54% of natural gas production in federally administered areas remained shut in, according to the U.S. Department of Energy.
The refineries account for about 4% of total U.S. refining capacity, according to DOE. Three remained shut-in as of Monday, while two have gone back online in the Baton Rouge area. Four others are in the process of restarting but remained below normal operation Monday. It's a significant improvement from Aug. 30, when the DOE reported that 1.1 million customers were without power and 96 percent of oil- and 94 percent of natural gas production in the Gulf were shut in.
Seventeen oil refineries in Louisiana process close to one-fifth of the country's refining capacity, about 3.4 million barrels of crude oil each day, according to the U.S. Energy Information Administration.
Analysts predicted two weeks ago that Ida could lead to an uptick in gas prices, with much of the Gulf's oil production and refining paused by the hurricane.
Immediately following the storm, oil and gas futures rose by 2% because of investors trying to weigh how much Ida would disrupt the energy sector and the economic toll of rising Covid-19 hospitalizations, the New York Times reported.
Since then, crude oil prices have risen in the wake of persisting supply issues, according to S&P Global Platts, which offers analysis of the energy industry. Production is still sluggish post-hurricane, in part due to power outages and other infrastructure damage.
AAA previously predicted gas prices could increase 10-20 cents a gallon as a result of Ida, local media reported. While other economic analysts say they still anticipate an increase, it's still likely too early to tell how big the jump might be.
Adam Kamins, an economist with Moody's Analytics, told Corp! Magazine he agreed Ida could complicate existing supply chain issues in the manufacturing and plastics industries, and is likely to have a modest increase on retail gas prices.
Kamins said the damage looks like it may end up being costlier than some initially expected, too. It could impact the supply of manufacturing equipment in the energy industry because equipment factories were shut down after Ida, too, he said.
But he said the storm's impact on the U.S. economy is overall unlikely to be significant. The true economic toll is mostly local.
"My sense is that there may not be a huge impact out of this compared to Katrina or some other storms that have done physical damage to the oil and gas extraction infrastructure," Kamins said. "This one doesn't seem to have done as much damage.
"I don't see it's going to have any sort of broad, macroeconomic effects that's going to change the trajectory of where we are right now," Kamins added.