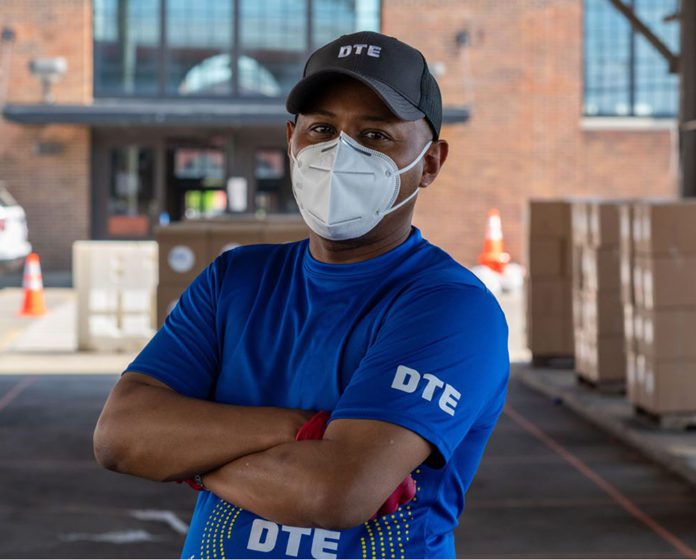 COVID-19 has posed an existential challenge for businesses of all types and sizes throughout Michigan. Business owners had to figure out how to keep their employees and customers safe as COVID rates and state regulations frequently fluctuated.
Throughout all of these ups and downs, DTE Energy's 2.2 million electric customers and 1.3 million gas customers in Michigan continued to enjoy electricity and heat without interruption.
"I'm proud to say alongside our community and government partners DTE's 10,000-plus team members rolled up our sleeves, put on our masks and found new ways to serve," Jerry Norcia, president and CEO of DTE Energy, said in a statement attached to DTE's 2020 Sustainability Summary. The company serves 450 Michigan communities.
According to the sustainability summary, DTE was one of the first companies to suspended non-critical infrastructure and maintenance work to reduce the potential for Coronavirus spread. Employees who could do their job remotely were switched to working from home.
Helping hands
The company re-focused its philanthropy and volunteerism on COVID-related needs. In 2020, the DTE Energy Foundation awarded $21 million in COVID-19 relief funding to communities where DTE operates and its employees reside. According to the report, DTE assisted Michigan communities in multiple ways including:
Basic needs assistance for 500,000 families.
Funded 3 million meals.
Donated 2 million KN95 masks to first responders.
Assisted 40 faith-based partners with their community support programs, including COVID testing.
Gave $1 million to domestic violence shelters.
Contributed $2 million for the Michigan Association of United Ways and other nonprofit organizations.
DTE also worked with other organizations to help state businesses that were adversely affected by COVID-19. Early on, DTE Energy provided 6,000 PPE kits to help small businesses statewide, working with local Chambers of Commerce and the Michigan Minority Supplier Council.
In addition, DTE Energy contributed to an Emergency Fund established by the Detroit Small Business Stabilization Fund. Collaborating with more than 60 other businesses, DTE created an online resource hub — Detroit Means Business — to help businesses cope with COVID-19. This website provides information about loan and grant programs for small business, as well as other assistance.
Helping customers in need was an important focus last year. According to the report, DTE suspended all utility service disconnects due to non-payment and COVID, and awarded more than $90 million in energy assistance to customers. In conjunction with the Michigan Department of Health and Human Services, DTE forgave $13 million in customers' past due balances and reduced balances for some other customers. In addition, a contribution was made to the Heat and Warmth Fund, which annually raises money to help low income individuals with their heating bills.
Critical initiatives
Despite COVID challenges, DTE continued efforts to improve service reliability. This entailed an extensive tree trimming program and equipment upgrades, including natural gas line improvements. The company reports that electric reliability has improved 25 percent in southeast Michigan.
But DTE's central focus is "building a cleaner energy future for generations to come" as stated in its recently released report Serving With Our Energy—Driving healing, recovery and progress in 2020 and beyond.
That report states "…climate change is one of the defining issues of our era. We know it's our duty to act and that's exactly what we're doing."
DTE has an ambitious goal of operating with net zero carbon emissions by 2050, relying partly on solar and wind energy generated at sites throughout Michigan. The company seeks to reduce its carbon emissions from energy procurement through delivery by 6 million metric tons per year. Three of its five coals plants will be retired soon, one year earlier than planned.
The new $1 billion Blue Water Energy Center, which DTE describes as the most fuel-efficient power plant in the state, will open in 2022 to provide electricity when weather and other conditions limits wind turbine and solar output. DTE's 31 solar farms and wind farms produce energy to power 900,000 homes.
In his statement, Norcia sums up DTE's initiatives as "What we're doing to build a safer, smarter and more reliable energy grid—and a cleaner energy future for generations to come."